Skinstitut Vitamin C 100% 10g
Is this for you?
Enjoy the full effects of vitamin C with Skinstitut Vitamin C 100%, a pure powder of 100% L-Ascorbic Acid concentration.
Frequently bought with
Please wait while we find a match
Questions & Answers
(17 Questions)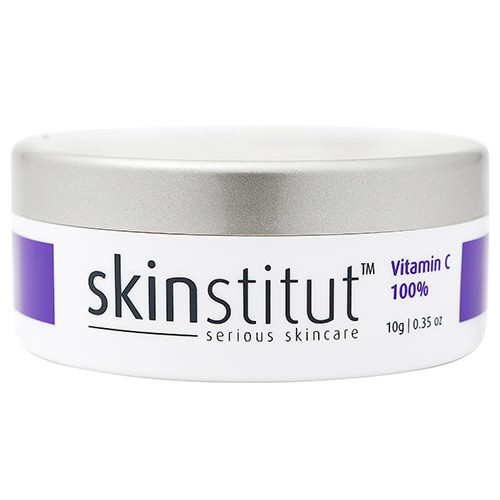 Skinstitut Vitamin C 100%
Get an expert to answer your question about this product!
91% recommend this product
Most Helpful Positive
amazing
definitely noticed the difference. A little bit goes a long way, hydrating and clears the skin nicely
Most Helpful Criticism
Unsure
Not sure if this product has done much for my skin... Be careful when applying as you only need a little
amazing

definitely noticed the difference. A little bit goes a long way, hydrating and clears the skin nicely

Great for pigmentation

I mix it with Skinstitut Even Blend serum for pigmentation from 3 pregnancies and sun damage. Pigmentation is almost gone. Takes a bit of patience but is definitely a miracle in a jar!

Love this product!

I love this product! I use it morning and night and have definitely noticed the difference. A little bit goes a long way. Have already repurchased once.

Not for me

I really wanted to love this product, unfortunately I don't. It's a great price point however I just find it too fiddly/messy dealing with powder. I'll stick with creams and serums.

great product

Only need a pea size drop to cover your entire face which is great. These serums are LOVELY. It's light and hydrating, which is so nice. it just melts into the skin and my skin looks SO good. Has really helped smooth my skin and reduce redness and pores.

New to vitamin c

This is my first try with vitamin c, I think it must be contributing to the improvement I noticed. I love how you can mix this with most skinstitut products but it's a little hard to get the rice grain amount out and mixing it is a little tricky. I'll be buying again though!

Nice

Good product that brightens and hydrates your skin. Will purchase again.

Vitamin C that works!

Another repeat purchase product for me because it works. It looses a star for packaging & the clumping that happens to the powder ( easily fixed with a fork to refine it again). I think this would be best without the shifter and left open but supplied with a tiny scoop/spoon inside the canister to use as a way of scooping out the powder. Aside from the packaging challenges the product itself is th...

Read More

Unsure

Not sure if this product has done much for my skin... Be careful when applying as you only need a little

did not do a thing

this did nothing for me. absolutely nothing. i hated it after a while, it was messy, it tended to clump after a while in the jar and i honestly did not see a shred of difference in my skin.

Love

I love this product!!! So easy to use, goes such a long way and I use it twice a day along with my other skinstiut products! Such a small tub but great

Inovative!

I love that the Vit C is in powder form which makes it more potent than a serum or a moisturiser. I add this to my basic moisturiser (that doesn't have other actives) and I get all the Vit C benefits. I think it will last forever too as only the tiniest amount is needed. Only thing I don't love is the grittyness if you don't mix it in properly.

Little gem

I have been using this powder blended with retinol serum and noticed a brighter, smoother skin tone in a short amount of time. However, I got some patches on my skin since using this combo alongside itchy burning sensation after application. Not sure why, but hopefully this will go away and I will keep on using to see greater results.

Amazing vitamin c

I get a lot of dark spots from past acne and this
Product gets rid of them really well it can be a big drying so, do use a moisturiser and only use 3 times a week


Game changer

I've only started using this regularly, but it's made such a difference to my skin. I have acne prone skin and it's made it clearer, brighter and more even toned. I put a couple of shakes into my hand and mix it into my serum (The Ordinary's Buffet) at night. Feels a little tingly but nice to know it's doing something. I like the fact that it's another step in my skincare routine, without adding a...

Read More

Am questioning effectiveness as product is impossible to use

The tub of vitamin C I received is completely chunky, almost like moisture had gotten into it during production. It's impossible to get it to shake out properly, as when it does it goes everywhere (think that's a design fault too, especially when needing small dosage amount).
As a result I'm doubting it has any potency or delivering any benefit to my skin.

Healthy skin

My skin has never felt better. So bright and soft

Hydrating and glowy skin

My skin has been left feeling glowy and hydrated! I use it with my other serums and is amazing.

Good vitamin C product but packaging is annoying

This vitamin c product has helped with my pigmentation, however, the 'grains' in this are so chunky! It is hard to mix in with my existing products. For this reason I only wear it at night.

Not sure

I think if I used this product more regularly in my routine I would see more results, however the itching burning sensation really puts me off using it more often!

LOVE

I add this in to the skinstitut hydrating masque and I love how my skin turns out, so hydrated and glowly, my skin tone is left nice and and even

Works great but packaging is inconvenient

I use this in conjunction with the skinstitut retinol after derma rolling at home. After 3 weeks I have noticed my skin texture change and love these products together. The only downside is the packaging as it is hard to not waste product with the tip type opening. My skin is so soft and even especially the day after and I can't wait to continue using it.

Good product

I did like results from this but I did not like the powder form and the fact you had to mix it with a product. I mixed it with even blend
Much prefer to use a vit C serum

Great product but difficult application

I purchased Skinstitut Vit C powder a couple of months ago and I have to admit it works a treat with my skin.
It feels & looks plump & healthy.
The only downside, it's a Powder so you have to mix it with your moisturiser & about a rice grain worth.
I would recommend it although it would be nice if it was in a bottle. :)

Huge difference, great start to the day

Love! Protects my skin from the weather, I am in cold weather a lot and I find it goes perfectly with my sunscreen as a barrier for my skin, love it so much, only need to use a little and it goes with a variety of products like my Ordinary serums and some ASAP products.

Not a fan

I used this with the even blend serum as recommended & found out did nothing but make my face feel sticky..

Amazing.

I've been using this product for almost a year now and have seen a huge difference in my skin. It's clearer and feels so smooth. I use it with the even blend serum. So easy to use. I love how it's a fine powder, you only need the tiniest amount and it lasts me months. Super affordable, compact and delivers results for the fraction of the price. Highly recommended.

Vitamin C Saver

Great product you can mix with a range of the skinstitut products. I've used it with Laser Aid yo make a mask, retinal serum to promote less redness, it's a great additive!

Good for brightening

Brightened my skin but didn't change pigmentation

bright skin

like how this makes my skin look even and bright

love

I suffer from dry skin and this product keeps my skin very hydrated! I would recommend this to anyone!


Great for brightening

I found the product did brighten my skin almost instantly however it did not lighten my pigmentation spots

Amazing

I love this product, I mix it with retinol and the even blend serum to add potency. I love it, easy to use (just sprinkle a little bit onto your hand and combine with your serums) I think this brand is very good value for money as they use a lot of active ingredients essential to all skincare routines and ageing.

Pretty good

I have been using this product in conjunction with my Skinstitut Retinol. I do like this product and believe it has made an improvement to my skin (minimised pores, reduced redness and acne). The only thing is, it is really messy to use as the powder does not come out easily and when it does, it tends to spill and fly everywhere. I will repurchase this.

Extremely versatile

I love this vitamin C powder. I particularly love that it can be added to any moisturizer, cream or serum, which makes it extremely versatile. I add it to my night cream. I have noticed a visible improvement in the clarity and brightness of my fair skin since I started using this product. I am loving the results and would highly recommend it to anyone looking to transform dull looking skin, or wan...

Read More

I love it

My skin feels wonderful and bright when I use this. Helps my scars so so much and helps to intensify my products for sure. I love it!

Brighter and clearer

Love this! I mix this with my The Ordinary Hyaluronic Acid Serum in the morning and have noticed almost immediately that my skin is brighter and less red since I started using it. Amazing new staple in my routine!

Great results

I love this product. Really good quality vitamin c cream at an affordable price.

Wonder treatment

I mix this with the even blend serum. Since I started using this my skin has definitely improved. It's more even and clearer!

Great product but not easy to use

The product itself is great I noticed a difference in my skin almost straight away, however as it is a powder you mix with your moisteriser it can be messy and time consuming to use on a regular basis. Would recommend to buy but need to be aware of the process involved

Ride or die product

This product is powerful without irritating my skin. My skin is brighter, more even and has stopped drying out during the day/ over night. You only need the tiniest amount and you get loads in a container. Very happy.

Amazing

Kept my skin clear and was extremely effective

ok

Not a huge fan of this. I haven't noticed anything different with my skin. Its a bit chunky and sometimes hard to get out but it mixes well. Not sure how long you need to use it for to see a difference but i have been using it for a few weeks and haven't seen a change.

amazing to clear skin

amazing at keeping my skin clear and also plump my skin for a radiant complexion, transformed from a dull dry skin

Definitely needed

Really helped my skin feel and look better

Glowing skin

I've been using thing once a day for a few months and I've noticed an improvement to my overall skin pigmentation. Just be careful as it can stain for fingers yellow as I learned a few times when I applied too liberally. A small container but you only need a small amount. Good value for money from skinstitut yet again.

Great product

I mix this in with my even blend serum works great noticing a big difference in my pigmentation

Favourite

I mixed this vitamin c with my moisturiser during day time and it has brightens my skin complexion. Definitely love it.

Perfect add in!

I have tried many many skin care products, but Skinstitut is the one I will be sticking too! I add this to the Rejuvenate 15 Serum every night. In the morning my skin feels fresh, bright and soft, wouldnt go without it! It has helped to calm the dryness and redness I did get previously.

skin feels smoother

I have been using this for a couple of months now every night and my skin looks so plump and soft when I wake up. I don't think the results are long lasting though so probably wouldn't purchase again

Glowing complextion

I mix this every morning with the Skinstitut Even Blend Serum. It mixes well and feel like it makes my skin glow slightly. I have really fair/sensitive skin and have never had an issue.

Great brighten

Great to brighten up the skin, helped heaps with my pigmentations. Definitely recommend

Calming for irritated/ dry skin

I would really recommend this to people that suffer from red and irritated skin like I do. You add it to your daily moisturiser. I find that I will wake up soft and flawless after I add this to a routine night cream.

best vitamin c product

This is one must have in your daily skin care routine. I've been using it for years. I mix it with my night cream and wake up with glowing skin.

Incredible

Amazing quality for the price! Made my skin feel and look so much healthier and brighter! Better than expected

great product great price

bought this product around three months ago as i needed to try to get rid of some pigmentation that pimples have left on my face. used it with skinstitut even blend and it worked wonders on my skin! some scars were darker and older and some quite new but it has really helped in fading them quite a bit! my olive skin is easily scarred and i will keep using this as it really works well for me. it c...

Read More

My fav skinstitut product

By far this is the best Skinstitut product. It is the best value for money as it lasts for ages and goes well with a lot of other products. I use it with most of my other Skinstitut items (retinol, rejuv, even blend & moisturiser) I use it in my products every day and I still haven't had to repurchase, it has lasted me about 6 months and I am only halfway through the tub. I love it so much and wil...

Read More

Great product

I love this product. I use it mixed with my moisturiser during the day and find that it brightens my skin.

Good product

It works well, your skin is glowing at the moment you apply this on your skin. I mix it with my Clinique moisturiser gel and it works fantastic. The only bad thing is the packaging, can be a little messy and I think I will prefer a serum for my next one.

Good Brand

For the price I really enjoyed this product, it is the perfect replacement for expensive serums. I have noticed my complexion has improved using the vitamin C. This product lasts a long time as you only need a small amount.

Perfect replacement for serums

This is the perfect replacement for expensive serums. Highly concentrate and easy to use

I love it!

Definitely a must in your beauty routine. Good pricing and it really works! I usually add this to my retinol and moisturiser.

i like it

For the price I really enjoyed this product! You will see a gradual result just after a few days. My skin looks quite moist!

still early days

ive only been using this properly every day for a week or two - but i have noticed my skin is becoming brighter. i use it in the morning mixed in with my moituriser (ive been advised its best to use in the morning so it protects your skin during the day)



Best form of vitamin c you can get

This is truly a great product and I love how you can mix it in with anything and still be in its highest potency, (besides retinol and spf from my understanding). Powder form is so much more potent and stable then vitamin c in liquid form and incorporated with other ingredients.

I used this religiously with Skinstitut's even blend serum and found it made a huge difference to my skin...

Read More

Works!

I include just a sprinkle into the skinstitut retinol serum to enhance the anti aging effects. It makes my skin appear brighter.

Worked for me!

I started using this powder post pregnancy/breast feeding when I noticed a few spots of pigmentation on my nose, cheek and forehead. Not really big patches and not too dark, more like small clusters of freckles and this powder did the trick for me!

I've bought this product twice and both times, instead of peeling the entire sticky cover back, I just peeled back and cut and removed a ...

Read More

Use with serums/ creams

I use this Vitamin C powder in conjunction with serums and it has helped my pigmentation. I mainly use with Aspect Pigment punch in the evening.

Best value vitamin C!

I have noticed my complexion has improved using the vitamin C and love the powder form that skinstitut offers. I definitely recommend this product for anyone wanting to improve the look of their skin.

Brightened and evened my skin

I mix this in with my Skinstitut Moisture Defence and it works perfectly. I have noticed a big improvement in how bright and even my skin is. I only use a very small amount to avoid dryness the next day.

So far so good

I have only been using this for a week so I haven't noticed much difference yet but as I have dry & sensitive skin it is a good start that it hasn't dried me out or caused irritation! I used this for a while a few years ago and definitely noticed brighter and more even skin tone after a few weeks.

Holy Grail for pigmentation

I had tried so many products in the past to clear pigmentation from melasma. I tried this mixed with my even blend serum and noticed results within a week. My melasma is now barely noticeable. This product lasts a long time as you only need a small amount

Good Brand

First I saw this brand in the Laser Clinic. And I was start to use it for 5 years. When I saw this brand at Adore Beauty I was started to buy from here. All products definitely helps your skin about everything. I am very appreciative of their all products.

Good stuff!

This is pretty damn good. I mix it with even blend and I see a difference within the dark spots/ acne scars in my skin. It's a little messy which can be annoying but other than that I really like it.

Bye bye pregnancy pigmentation

As a beauty therapist I've tried many product in my time in the industry but I have to say after my pregnancy I was left with a reasonable amount of pigmentation and found myself reaching for this and mixing with the even blend serum. I have seen a wild improvement in my pigmentation over the past few months and would highly recommend it to anyone who is suffering from dark spots on their face. Th...

Read More

Amazing

Amazing product and a definite must have if you want bright glowing skin! Doesn't irritate my sensitive skin and works so well to brighten and fade pigmentation

makes my skin glow

I mix this vitamin c every night with one of my Skinstitut moisturisers and my skin looks so soft and smooth the next morning! definitely worth re purchasing and super affordable

Good value product

I use this mixed with skinstitut serum and it works well, it absorb very fast in my face. Only dislike is the packaging, it is hard to get the powder out.


It works for me

I mix this in with the even blend serum and it has definitely made an improvement in my hormonal pigmentation problems. Needs to be used regularly. Spots aren't entirely gone but have certainly faded.

love!

This powder is amazing and evening my skin tone and getting rid of pigmentation! also makes my skin glow the next day. Definitely would NOT recommend using twice daily as it says that is way too much, I use this every second day with perfect results other wise my skin will become very red and irritated. As other people have said the packaging could be better as the product clumps together over tim...

Read More

Beats vitamin C serum

I've tried three different vitamin c products before and this is my favourite, simply because of the price point and the longevity. It performs just as well as the Clinique C serum without the short expiration date and can be mixed with anything! Will definitely
Be repurchasing

not sure if worked for me.

I mixed this with the serum or cream at night only but not sure if this made difference after all. Toward the end of this jar it was a little hard for the powder to come out so had to shake many times.

A great skin boost!

This powder is really versatile as it can be mixed in with any serum or light moisturiser as an extra skin boost!

Great price and potency

I love that this comes in powder form as serums tend to go off quite quickly. I was using a drunk elephant vitamin c serum previously which did not compare to this powder.

Already see a difference

Didn't realise this was a powder until I received it. Once I got used to it it's actually quite easy to mix in with the skinstitut retinol or serum of your choice. A little goes a long way, this will last a while.

Great Vit C

This product has helped with my pigmentation and I use it a few nights a week when I don't use my retinol. This has also helped with many of my other skin concerns, including texture, and it lasts for such a long time!

Great product.

Love this and use it morning and nite. (Mixed with moisturiser in morning and retinol at nite) I m 45 with fair sun damaged skin and this brightens my skin.
Highly recommend it.

Value for money

I'm battling pigmentation and this is one of my newest weapons. The product seemed to have good reviews and the price was extremely reasonable. I had been wanting to incorporate a vit c product into my routine, but had read that it can be a volatile active so decided to go with a powder form to get the most from it.
I found the packaging abit cumbersome, so removed the inner lining so I cou...

Read More

Worth the price

This vitamin c powder is worth the money as a little bit goes a long way. I still have mine from 2 years ago and will be repurchasing a new one soon. Since it's in powder form, there is less chance for it to go off like the other liquid vitamin c serums. It works well when mixed with my even blend serum. Will continue using it until I come across a better vitamin c serum.

Brightest C

I have tried numerous vitamin c products to help with pigmentation and dullness, I can actually see an improvement with this product. I love the formula, i can choose how much product to add to my favourite serum. The product lasts ages and i will repurchase when i run out.

Mixes nicely with gentle cleanser

I have been mixing this into the skinstitut gentle facial cleanser which i use every morning, and it lathers in very nicely, however I personally haven't seen a huge difference in my skin using it, I might try mixing it into my moisturiser and see if that makes a difference, and the packaging is a little silly, but usable if your careful.

Goes a long way

I'm still getting used to working this product (in conjunction with skinstitutes retinal) into my skin routine. It goes a really long way and I like how the product works. I think it's probably one of the best methods to fight pigmentation based on value. It's quite quick and easy to use too.

Love love love

I add this onto my defence moisturiser and apply twice a day and it has definitely helped my pigmentation. Last few months I've been breaking out a lot. But this has helped me tremendously.

Pores smaller, visibly better texture and even tone

I use this almost daily at night, mixed into my vitamin E moisturiser. A visible difference in complexion can be seen in the morning, and over time unevenly textured skin on my forehead has smoothed out dramatically!

Regarding dispensing, I use a tiny spatula to scoop a grain of rice amount - it's easier and there's no concern about clumping!

No cons about this product....

Read More

Perfect for glowing skin

I use almost daily and add to any base product, such as my skinstitut moisturiser or enzyme mask. Gives a slight tingle and a smidge pink for a little bit leaves my skin glowing and smooth!! Love this!!!

glowing skin!

I only used this for 2 weeks and my skin has improved so much. its texture is so even and I breakout far less than before

A real game changer

I started using this product about a month ago as I wanted to add Vitamin C into my skincare routine having read all the benefits. Knowing I didn't want to pay $130 for a C Serum this seemed like a more affordable option. Every day I have been tapping a small amount of the powder into my palm and mixing with my 'the buffet' ordinary skin serum. AND WOW! Such a dramatic difference in my skin. My po...

Read More

Perfect for the price

Very impressed with the quality of this vitamin c cream! My normal/oily skin felt so much brighter and smoother. Ive used more expensive versions of this and skinstituts is definitely worth trying!

Hydrating mixed with Skinstitut even blend.

Works well mixed in with Skinstitut even blend. Very hydrating.

Great Price!

Let's face it, vitamin C is excellent for the skin and every time I have used this product, the results have been great! I am 43 and my skin is going through changes and this definitely slows the process down! I do over kill it and it comes out sludgy but that is at night. Day time just small amounts applied to my serums.