Skinstitut Age Defence SPF50+ 75ml
4 instalments of $8.58
Or 4 instalments of $8.58 with
LEARN MORE
4 instalments of $8.58
Or 4 instalments of $8.58 with
LEARN MORE
Official Stockist
Is this for you?
Skinstitut Age Defence SPF 50+ is a low intensity broad spectrum moisturiser with Vitamin B3 and antioxidants. Beneficial for all skin types and conditions.
Frequently bought with
Please wait while we find a match
Questions & Answers
(6 Questions)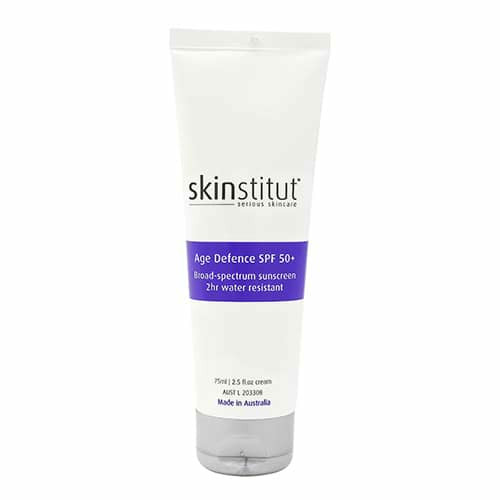 Skinstitut Age Defence SPF50+
Get an expert to answer your question about this product!
Skinstitut Age Defence SPF50+ Reviews
76% recommend this product
Most Helpful Positive
Lightweight
Akinstuit sunscreen is light weight and not greasy It doesn't clog my skin.
Most Helpful Criticism
Decent coverage but doesn't spread well
Gives good coverage but I don't like the consistency or smell. Very thick and unnecessary fragrance. Does not spread easily. If I wear makeup with it, liquid foundation does not sit well on top. Would not re-purchase.
Lightweight

Akinstuit sunscreen is light weight and not greasy It doesn't clog my skin.

Feels like sumscreen

I was hoping even though this was a spf50 that it would be a nice light product. It's very thick and heavy and hard to slide across the skin. Leaves a noticeable whitened skin appearance. If I was going to the beach and wanted to feel really good and lathered in sunscreen I'd use it. But for everyday use it's just too heavy and clogging

Great Purchase

I purchased this for my partner who generally forgets to use SPF unless we're off to the beach so this product is great for him. It's not too heavy on the skin and absorbs quickly.

Perfect

I have used this product nearly every day for the past two years, since I received a sample at my local laser clinic. Despite being in my mid 20's I am acne prone, and was very hesitant to try something new in case it broke me out. This has never once broken my sensitive skin out, and feels lovely as it soaks into my skin. What prompted me to write this review is that yesterday I was in the Austra...

Read More

Very thick

I don't like wearing this everyday. It's too thick for me personally and I feel like it doesn't blend well into my skin. However if I'm having a day out in the sun or going to the beach I always grab this sunscreen as the 'heavy duty' feel of it makes me feel more protected.

Effective and hydrating SPF

I've been looking for a sunscreen that doesn't irritate my face or form balls of product. This one ticks both of those boxes. It is light and hydrating and does sink into the skin fairly quickly. When you first put it on it's quite think and looks like it's going to stay white on your face, but it does absorb. It does dry a bit sticky, which I don't have a problem with. It works as a reasonable pr...

Read More

Love it!

Best SPF 50 I've ever used. Doesn't leave skin feeling oily at all.

A very trusty sunscreen

This is super trusty and a sunscreen I always come back to. It's light and keeps my skin clear and protected. It's a little bit greasy but under makeup you can't tell. It's really good! Highly recommend for acne prone skin :)

Thick but Amazing

I have oily/ sensitive skin so am really particular with sunscreens as most break me out. I'm so glad I've finally found a sun cream I actually want to wear outside. It's thick and does make me a shade lighter but I use it whenever I'm doing activities outside, eg. running, outdoor workouts, walking the dog etc., and it holds up.
I don't wear it under makeup however, the most I'll put is som...

Read More

Good protection very thick

Good protection very thick as expected for spf 50+

Very thick

This product was very disappointing to me. Its so thick and like a sun cream. Hard to soak into the skin.
It will be perfect to bring to the beach but definitely not a daily facial spf.

Sunscreen and Primer

The texture of this sunscreen is thick and creamy, which I find also leaves an icky feeling. That allows this product to also work great as a make up primer. I would not recommend it for anyone who prefers a light sunscreen. I really like that it is SPF50+ which is great against the harsh UV rays, especially in summer.

The best!

This is the only sunscreen that does not make me break out. Although it is thick in texture and is hard to rub in I feel hydrated and never greasy.

Amazing sunscreen

I love this sunscreen and it is now one of my go-to daily staples. It has a dewy finish and pleasant scent (which is hard to find in a sunscreen!) and the best part is the SPF50.

Works well..

This works well, but I can't get past the thick consistency.. wish it wasn't like that

good choice

A super easy-to-use sunscreen, the sunscreen effect is really great. After applying it, the skin is very moisturizing, non-greasy, refreshing and sunscreen, and the effect is very good. Let people use it at ease! Make me trustworthy!

Favourite sunscreen

I've struggled with sunscreens my whole life, I seem to be allergic to a lot of them. This one works so well for me and doesn't clog my pores either which is incredible. Unfortunately it has a white cast but I just put my makeup over the top and you can't tell, I'd highly recommend!!

Favourite sunscreen

I've struggled with sunscreens my whole life, I seem to be allergic to a lot of them. This one works so well for me and doesn't clog my pores either which is incredible. Unfortunately it has a white cast but I just put my makeup over the top and you can't tell, I'd highly recommend!!

Great

This is quite thick but still easy to spread. You don't need too much either which is good. I use it daily

Thick!

I'm extremely picky with face SPF and this one is way to thick for my liking. It's difficult to rub in and leaves a white film over my face. It also has a playdough like smell. I've been using it on my shoulders as I like a thick sunscreen for the areas that catch the sun most, however I will not repurchase.

Typical Sunscreen

When I first used this, i felt terrible as it was the typical sunscreen that doesnt spread well, is thick and makes your face white. I was expecting something better from Skinstitut as it being one of the best brands out there. You really need to take a very small amount and i dont know how my make up will sit on top of it as currently Working from home so not using any make up. I dont feel confid...

Read More

Lovely Day Cream SPF 50+

I was very hesitant about buying and using this SPF. Had read a few reviews of it being quite thick and leaving a white cast.
I received a sample and absolutely loved it and have purchased the full size since. I use it every single morning after serums, find for my 40 Year old Combination Skin that it is wonderful. I tend to not use a moisturiser beforehand as it is quite hydrating on its ow...

Read More

Essential

This is highly protective and moisturising is great for every day wear

Works a treat

Unlike a lot of SPF products, this one is not sticky and heavy. It's really effective and feels almost more like a serum than a sunscreen or moisturiser.
Wore through the entire summer and never got burnt nor did my face feel dry.
I highly rate this product.

Heavy duty!

I feel like this sunscreen knows what it's doing, great coverage and quite thick.
Like a lot of sunscreens though I feel like if you use the amount you're supposed to your face would be quite white but at least you would be fully covered! Feels very nourishing too

Sun protection

I like this sunscreen for a few reasons: it is affordable, I like the Skinstitut brand and it adds hydration and a dewy look to my complexion.
It is quite thick application but doesn't feel heavy.

Perfect SPF that acts as a primer

Great SPF, the consistency is quite thick but once you put on to your face and pat in, it feels like a primer and is a great base for makeup

Repeat buyer

This is a staple in my morning routine as I'm conscious of sun damage and want to use a high SPF. I use this as a moisturiser and sunscreen in one, after serums, as it's very hydrating. I love the fact that it doesn't smell like sunscreen.

Great product

My all time favourite daily moisturiser. Only need a tiny amount, doesn't sting as the spf is aided by zinc so it's gentle on my skin. Non greasy, absorbs quickly.

Cannot find any product providing more protection than this

My skin is very sensitive to uva. I tried hundreds of products. This is the only one so far which really prevents dark spots and doesn't sting eyes.

Holy grail

I am now wearing sun screen every single day after using this I love using this every day it's so perfect for my sensitive skin and leaves skin so hydrated and healthy looking. New holy grail product!

i recommend

I do really like this sunscreen, very good protection, however quite thick.

Must have skin protection

Me and my husband have been using this for years now. Doesn't feel like sunscreen and has great texture. I would never go without

Thick & Creamy

I think I expected this to be a bit more of a moisturiser type texture due to the description but when I first put it on my face I had a bit of a shock. It's a pretty think zinc-y texture that made my face go white haha! I have no doubt on its SunSmart effectiveness but it's not great under makeup as it's thick and shiny looking after you've heavily massaged it all in. Probably won't purchase agai...

Read More

Screen screen rather than moisturiser

I find this product very thick to use. It is good for my partner as he is in the sun all day so needs 50+ but for a base moisturiser it is very thick and unless rubbed in very well, leaves a white sheen.

All Purpose Sunscreen

I have normal to oily skin (depending on the season, more oily in summer). My main concerns a breakouts (hormonal) and fading old red spots left from spots (for which sunscreen is a must). I really like this sunscreen as I can use it without a moisturiser and not be too oily or dry. I would say its more of a legacy sunscreen in terms of formula (i.e. takes a bit of rubbing in to get rid of the whi...

Read More

Decent coverage but doesn't spread well

Gives good coverage but I don't like the consistency or smell. Very thick and unnecessary fragrance. Does not spread easily. If I wear makeup with it, liquid foundation does not sit well on top. Would not re-purchase.

Best all in one

Tried this product after years of using a 50+ over my moisturiser. Now I use this all-in-one every single day and I love it. Doesn't leave any grease or residue. Also doesn't congest to cause breakouts. Absorbs quickly and I think the price is really reasonable. Great for my sensitive, dry skin.

Great daily protector

I use this daily over moisturiser and find with use of moisturiser underneath it spreads well and sits lightly on the face

A vital part

After using the vitamin c powder and Retinol this is a must everyday to prevent further UV damage.
At first it goes on a little zinc like, but then absorbs quite well. It works well after makeup too.
A must in any skincare kit!

Nice

I really like this product.It is quite a thick consistency but I find it good on my skin,I just make sure I don't go too heavy handed. You don't need much at all.
I really like that this is a 50+ SPF. For us Australian women it is so important to use a 50+. It really is the best way to prevent premature aging.

Great SPF!

I didn't think i'd like this sunscreen as much as i did considering the consistency is quite thick but i really enjoy using it! It doesn't make my skin sensitive and has a high spf rating. It can leave a slight white cast if applied incorrectly. If you dispense it into your hand then rub it between palms to warm it up then press it onto the skin it sinks in really well. Great to use on beach days ...

Read More

nice but wouldnt repurchase

this is a nice SPF, provides good coverage and never failed even when starting retinol and using glycolic acid regularly. it's moisturising but is a bit greasy for my oily skin although not a big deal for me. the reason i wouldn't repurchase it is purely because it's too thick and not easy to spread

Good

I use a moisturiser and then this. It works nicely for my dry skin and it is more affordable than other sunscreens

Not bad

I don't mind this spf, however I find it a bit too greasy for my skin type (oily/combination) and if I move it down to my neck and chest I tend to break out. If I was on the drier side I think I would enjoy it.

Love this product

This is my second time purchasing this product. I ran out and immediately missed it in my routine. I have oily skin and so it's hard to find an SPF moisturiser that doesn't make it more oily throughout the day. This product is perfect because it has a mattifying effect on your skin and I find my doesn't look so oily throughout the day when I wear this product. It's also lightweight and doesn't fee...

Read More

Works for me

Most days I dont wear makeup, but sunscreen is a must for me when leaving the house. This product is a bit thick, but I personally love it as I feel it provides very good sun protection for both daily wear, and during outdoor exercise/ adventure (hiking, triathlon, etc). I think the product consistency would not be suited to all people, and if you prefer something light that absorbs like a moistur...

Read More

Very thick but great spf coverage!

This product is extremely thick and works best when it's rubbed and warmed up in your fingers before spreading on the face. I wouldn't recommend for oily skin as it is slightly greasy.

Good

I have oily skin and I found this too greasy for me but it might work for dry skin. It has good protection

It's ok

Great sunscreen but is very thick and tacky feeling. Not a big fan to be honest.. feels very heavy on the skin so I would not use under make up or with other products, strictly just at the beach.

So thick!

I really dislike this! It is way too thick and feels horrible on my oily skin! Also takes ages to absorb so my skin feels like its covered in thick gross cream for forever!

Thank you Skinstitut for a great 50+

This is my saviour and as i have recently moved to a hot climate, this is a wonderful product. Yes, its a bit thick in consistency, but for my skin being sensitive i thought i would break out and i never did. The thick consistency doesn't bother me at all as the end goal is to provide daily protection & minimise wrinkles. I am a person that only uses concealer, mascara and the tiniest bit of powde...

Read More

Not a fan

I've loved every Skinstitut product I've ever tried, except this one. I wanted an SPF50+ moisturiser for daily use on my face. This product is incredibly heavy, sticky, shiny and creates a strong white cast (and I'm very pale). My hair just kept sticking to my face and my face looked very oily. Do not recommend.

Good moisturiser

Good moisturiser for dry skin and sun protection as well. I use it over moisturiser for extra hydration during summer months it gives refreshing felling to face .

Really thick sunscreen

Found this not a great moisturiser more a good sun cream. Definately need to use with a moisturiser with it. Lovely going on though

Another great Skinstitut product

This moisturiser is perfect under make up and doesn't leave my skin greasy. Very well priced also. Skinstitut has fast become my #1 brand. Love the price, quality and supporting an Australian brand.

Not for sensitive skin

Normally I love Skinstitut products but this made my sensitive skin badly react. It also left a white cast and was very thick.

Impressive

Love this product & the fact that you know your skin is protected by SPF 50+.

HORRIBLE!

I love Skinstitut products, so I am not trolling the brand, but this product was absolutely horrible. I have oily skin, so I am weary of unknown SPFs to begin with. Immediately after application, it turned my face into this greasy, excessively shiny oil slick. it was just heavy on my face and generally disgusting to wear.

My advice - if you have oily skin avoid, if you have dry/dehyd...

Read More

Great protection

I wore this before a skin mapping appointment and the beauty therapist couldn't see my skin through the blue light. Enough said, coverage is great. I use it on my body too and haven't been burnt once with it on. The only downside is that if its a humid day this can be a bit sweaty as it is so thick.

A bit heavy

I was really excited to try this one because I've heard good reviews but I wasn't a fan. It's a nice feeling on your skin but for someone who sweats a lot, it felt so heavy like you're wearing a face mask all the time and you just want to take it off. I was previously using Alpha H's SPF so it's a big difference in the consistency!

Best moisturiser

Third time purchase .it is good sunscreen for all year around .doesn't feel heavy on face as the other sunscreen lotions do .

Too thick, but okay

My first impression on this was that its consistency is too thick when applied on face. It also leaves the face a bit oily, so really need to apply loose powder to reduce the oil. But other than that, it looks fine. Most importantly it does not contain comedogenic ingredients, which is rare to find in sunscreen.

Anti-aging

It is a good anti aging sunscreen lotion. I use it every day in the morning even in winter

Never been burnt

Great sunscreen, anytime I've worn this under my makeup I have never been burnt even though I've been in direct sunlight for hours. Sits nicely under my makeup, but it quite thick to apply, it does leave my skin shiny.

Dewy and Somewhat Fresh Look

I love how dewy this makes me look because I personally love the dewy look but at the same time, I find it very sticky and within a few hours I think my face becomes oily instead of dewy.

Important Step

One of the most important steps of skin care is sunscreen in the day!! Love this sunscreen although I do think there a nicer lightweight ones out there. I am a massive fan of Skinstitut so have tried a lot of their products. Would purchase this again but also will keep my options open.

Every body should use sunscreen

I'm on my third bottle of this stuff it amazing. I even brought it for family members. Not only I have managed to never get that horrible sunburnt nose my skin looks great and it's great under makeup. Rub in well on days without makeup so u don't look white. It's thick and feels wonderful I love it under really matte foundations to make them more dewy!!! Highly recommend

sun protection

it is a very good sun protection. light formula. it has creamy texture that is not too flowy.

A little bit thick

Not too oily, as some suncreams can be... But it is a little thick and I have found it leaves a bit of a white sheen on my face

Sunscreen for Acne Prone

If you have acne prone skin and have been looking for a sunscreen that doesn't aggravate it, this is for you. This sunscreen doesn't make your face feel oily yet provides amazing coverage/protection. Dries quickly and I wear it everyday under my makeup with no issues. Would recommend to double cleanse at the end of the day to ensure it has been removed completely. LOVE!

Good daily use for the price point

Sure, I have used more luxe lightweight high end 50+ but for the price point this is definitely a solid performer. It has an initial whitecast that disappears in seconds, its not a matte finish its more of a dewy finish but I like that personally. Goes nice under makeup. It has a subtle, pleasant scent. Overall a happy, repeat customer made!

Take this to work with me

I wouldn't consider this as good as any of my 'luxury' sunscreens but it's ok for the price and how long it lasts. Feels hydrating on the skin due to the thickness which is easily hidden under makeup. Easy to spread and doesn't pill. I personally don't mind the shine/hydrated look it gives my skin although I understand some would fine it too greasy.

We all scream for sunscreen

I love this product, it's moisturising, non-sticky and makes my skin look smoother. A real winner.

the only sunscreen i use

this is the only sun protection i use. it has maximum sun protection i am very happy with it. definitely worth the price.

Great sunscreen

This is a great moisturiser and sunscreen but it is quite thick in consistency. I generally mix it with a little water based lotion to help apply it to my face

Best moisturiser

Best thing I can use it under makeup it keeps skin hydrated.

Good

I have oily skin and I liked this sunscreen but it does not look the best on my skin compared to my fav sunscreen but it is still good

perfect spa

I love using this with the moisture defence in themornings, a perfect pair together. This product is thick but it glides on the skin so nicely and feels cooling on the skin.

Too heavy for daily application

I bought this a while ago, and was hoping it would be the answer to my SPF prayers. But, it is too thick for a daily application, especially with additional moisturisers and serums that I use daily.
My skin is normal to dry, so maybe it is better for someone who has quite dry skin ? Ultimately, I wouldn't buy again - especially when there are lighter sunscreen serums/ products now available...

Read More

Love it

Absolutely love this SPF, it's nice and thick which I like because I have dry skin. After sinking in I feel that it leaves a nice sheen to the skin like a nice glow. I use it with a moisturiser underneath and feel hydrated and protected all day.

Quite thick

This one is quite thick and does not apply well. Might be more suitable for someone with dry skin who need extra moisturising benefits with spf.

my favourite face sunscreen

My skin is early 40s, dry, hormonal, I have struggled to find a facial sunscreen that doesn't leave a white layer on my face, AND doesn't block my pores AND actually works as a sunscreen even after swimming, hot days, exercise etc.
This is the first sunscreen I've tried that actually ticks all 3 boxes.
I got it in the starter kit and i love it, will definitely buy again.

...

Read More

Brilliant

Light not greasy, and long lasting

Great to use as a primer for makeup

I use this as my last step in the mornings before I apply my makeup and it works great as a primer. It took me a little while to get use to the consistency but I love how nourishing this product is. I also love that it has high spf and I use it as my daily sunscreen for my face. I haven't had any issues with my face getting sunburnt since using this product which I did have occur quite a lot befor...

Read More

thick, not for under makeup

this is very thick and greasy. i think it breaks me out too..but all sunscreens do unfortunately still searching for one that doesnt.

Not great for darker skin tones

I have a medium to tan skin tone and this leaves a purple cast on me, and it's quite thick in consistency which I don't mind but it may bother some. It's ok, but the purple cast is a pretty big downside for me.

Best sunscreen

I have combination acne prone skin so all sunscreen break me out or is drying. This sunscreen feels like normal sunscreen and whitens my face like sunscreen (I have Indian brown skin) however it moisturises well and my skin doesn't dry out or get too oily.
I don't break out too. It'll be nice in a bigger tube as it's costly and I can use it for my body. It because it's small and expensive ...

Read More

White cast

White cast. Too thick. Greasy. Sticky. Perfect for someone who who has dry skin.

Decent Product

I find that it does really work for my skin but the texture is very thick and might not be the best choice if you have really oily skin.

I put on a light moisturiser first, though and then put on the sunscreen.
It helps it go on more easily without that tough, thick texture that it kind of has.

Otherwise, it protects my skin really well and sits underneath makeup n...

Read More

Apply daily as part of my skincare regimen as wrinkle preventative

I was recommended this product by a skin specialist and decided to use it when overseas in Bali. I have very fair, sensitive skin and I'm not usually keen on wearing facial sunscreen as they are often heavy and greasy. I applied this sunscreen to my face and neck, every morning. On days when I was wearing makeup, it acted like a primer and I applied the sunscreen after my moisturizer. My makeup sa...

Read More

Not great for oily skin

Quite a thick, zinc like product which didn't go so well with my oily and acne-prone skin. Did not break me out but definitely needed to be used sparingly on the face. Otherwise, it is an affordable high SPF for the face and had no concerns with its use under makeup.

My favourite sunscreen ever

I'm very happy with this as I've always struggled with sunscreen clogging my skin. This does a great job at protecting me and helping my acne. Great spf product and I will forever use this!

A bit heavy

Quite a thick consistency for me. Love how it leaves my skin looking like its dewy when I'm make up free, but it doesn't work well under my make up after a full day.

Amazing

Leaves my skin feeling fresh

Nope!

Far too heavy, thick and greasy for my oily combo skin. I hate wasting product but just can't bring myself to use it past the two applications. Do not recommend if you are after a light weight, absorbing formula.

Nope!

Far too heavy, thick and greasy for my oily combo skin. I hate wasting product but just can't bring myself to use it past the two applications. Do not recommend if you are after a light weight, absorbing formula.

Too thick

Sorry to say I didn't like this at all . I have acne prone skin and this is definitely a no go. Feels very thick. If you do use it it would be best to pat onto the skin. Wouldn't recommend for oily skin type

My daily

Does not leave skin feeling oily or greasy. Great product to apply before makeup. I use this product daily and highly recommend.

Everyday must have

I love this product, I work outdoors and I use this daily. It has really helped protect my skin and prevent more pigmentation. In summer it is my daytime moisturiser in winter I apply over the top of my age defence.