Skinstitut Even Blend Serum 30ml
Questions & Answers
(4 Questions)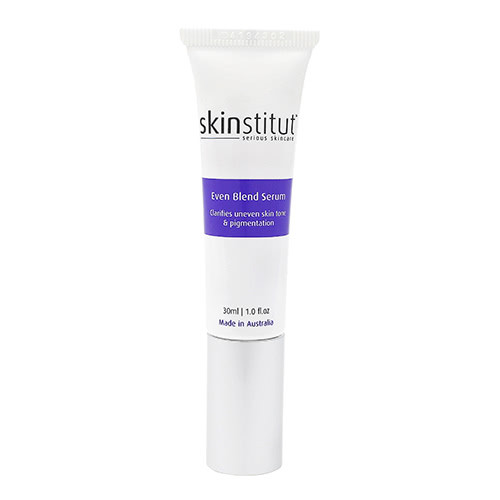 Skinstitut Even Blend Serum
Get an expert to answer your question about this product!
Ask a Question
85% recommend this product
Most Helpful Positive
Love love love!
Fantastic to use with their vitamin C! It works fabulously! I can really notice a difference!
Most Helpful Criticism
Smooth but creamy
I have combination/oily skin. This product feels smooth but a bit heavy and creamy on my skin. It works fine but I just don't like the feeling on my skin.
Smooth but creamy

I have combination/oily skin. This product feels smooth but a bit heavy and creamy on my skin. It works fine but I just don't like the feeling on my skin.

Nice Product

I liked this serum, felt nice on the skin and left it feeling very smooth. Would buy again

Light, calming hydrating serum

Feels fantastic on your skin, very hydrating. Calmed down my redness.

Good but not amazing

I am 33yrs old, I have combination skin, and am very freckled - Irish skin. The reviews left here make it sound like it's an absolute miracle worker, it's not. However it does deliver on what it promises. I combine this with their vitamin C powder as recommended by other users. Together they reduce the depth of wrinkles, and possibly even eliminate some of the finer lines, like crows feet area. Overall my skin does look healthier, more glowy, I feel more comfortable going makeup free than before, and my complexion is clearer. But like I said, not a miracle worker, I still have freckles, I still have some redness, and I still have wrinkles. I may be less inclined to purchase at the full price. I also think that the vitamin C powder does a lot of the work - and it may not be permanent, you probably have to keep using it to see the results or it may wind back the work. The vitamin C leaves orange on my sink and my pyjamas which makes me think that it may not actually be correcting pigmentation but covering it up. Just a thought. If it stayed at the $30 price I would buy again. Doing a face scrub every 2nd really adds to a luxurious texture on the face.

A little goes a long way

You really only need a tiny amount of this, a little goes very far! It's very runny, but I think that's what makes it spread easily, making the product go further. I've only just finished my first full tube, but I like it enough to continue to use it. I'm pretty sure so far it has slightly reduce my pigmentation,
So I'm hoping with continued use I'll continue to see better results.

Unsure

Personally didn't help with my pigmentations,
I didn't find it made any difference..

My face is so soft!

I ordered this as I am getting laser hair removal. I, admittedly, have not used this on my layered areas, rather I am using it on my face. Of a morning after cleansing, I put a small amount on my fingertips and rub onto my face and then follow with SPF50 sunscreen. Of a night I put it on with a drop or two of vitamin c oil (also contains apricot kernel oil and a few other bits and pieces) and seal it in with moisturizer, however, I think I may change it to go (serum and then moisturizer and then oil). My skin is feeling much softer and more hydrated and less textured. I'm not sure if it is only from this serum, but I will continue to use it and I will be purchasing more asap. It feels and smells okay, too. I would like it to start lessening the marks on my face and maybe reduce redness, but I don't think that's what it is meant to be used for?

Love love love!

Fantastic to use with their vitamin C! It works fabulously! I can really notice a difference!

I can notice the difference!

I am on to my second purchase of this product and I can see the difference in my skin tone and texture. I mix it with the Vitamin C powder in the morning and my pores seems noticeably smaller and my skin smoother. I have very pigmented skin and whilst it doesn't get rid of it, I feel that it has evened out some of my skin tone. Feels hydrating on my skin too. The packaging is a little annoying as sometimes too much comes out.

Heavy and runny

I find this serum very heavy. The packaging can be improved as it dispense more product than I need when the serum is so runny and package in a tube. Would much prefer it in a bottle.

Perfect for nights

I love this even blend serum. I mix my vitamin C with it for optimal coverage. My skin is definitely has a more even skin tone and my pigment has improved. A little goes a long way which I love!

Decent

This is pretty good. I didn't notice a huge difference in my acne scars going away but it's not bad. I prefer other skintitut products more.


Goes hand in hand with clinic skin treatments

I've recently been getting a series of skin needling and microdermabrasion treatments along with peels for my pigmentation. Given I have dark skin I cannot have laser. I started using this product leading up to and post treatments to help fade my pigmentation and it has worked wonders. I've noticed lighter brighter skin. It also is great to use to build your skin's residence up to more active retinol products

No difference

Only Skinstitut product that I personally haven't noticed a difference with. Felt basically pointless putting it on. Will have to add it back into my routine later on to see again.

Must have in your skincare.

I use this to diminish my sun spots with alternating with the skinstitut retinol. It has worked wonders on my skin. It has a strange smell and an orangy colour but it dries quickly and isn't oily at all. Will continue using it.

Staple

Second time purcashing, pigmentation, un even skin tone is looking amazing and I can't fault it for clearing up congestion prior to use my chin was so congested no matter what I did and I have had no troubles since using even blend! Thank you once again

Melasma be gone

With help from the lactic cleanser, over the last three months my Melasma, which is quite bad has significantly faded. I could not be happier with this product. I use it morning and night. Sunblock goes on in the morning and a vitamin b cream in the evening, that's it!

Great product good value

I have some sun spots and red marks left behind by pimples on my face. I follow the instructions of using a pea size amount every night. And add a dash of Skinstitut Vitamin C powder. My face is looking looks less red already. I will definitely continue using this!

AMAZING!

I've been using this coming up two weeks and i can see a huge difference already. I started applying just in the evening, now am applying morning and night, it really does do what is says and I'm super impressed. My pigmentation and scars are fading, it doesn't irritate your skin in the slightest. I can't wait to use this with the vitamin c powder. This product is a must for sure, I'm excited I've finally found a skin care range i LOVE, thank you adore beauty.

Amazing for skin tone

I love this product. It has quickly become a staple of my skin care regime. It has noticeably evened out my pigmentation and reduce redness. I love it

Good for minimizing PIH

I'm very prone to post inflammatory hyperpigmentation and this product was recommended for me to use few days after a peel. I've kept it on my routine as I find it also helps my skin recover from a pimple and I've used it as a moisturizer replacement in the morning. It's moisturizing enough for me (I have oily skin), doesn't clog up my pores, and it sits well under my sunscreen.

Effective and fast working

I've only been using this product for two weeks but I have already noticed an improvement in my melasma.
It's more watery that some serums I've used but it goes on easily and you don't need very much.
I tend to have sensitive skin so am always a bit apprehensive trying new products however this has been great for my skin.

great, use twice daily with vitamin c

This serum is perfect for putting the vitamin c powder in, it's a lovely texture and feels luxurious on my skin

Some benefits

I found this product helps really well with uneven skin tone and pigmentation however hasn't been doing much for uneven texture and congestion. I certainly will continue to use it to see - but that is my current results

Didn't work for me

I have recently come to love AHA products they've done tonnes for my skin. I have a lot of texture. My skin is combination and acne prone.... but this product didn't do that much I felt iv tried it twice now different seasons hit it was just a bit meh and it didn't do too much for my texture, congestion's or evening skin tone, also the packaging leaks into the lid and makes a mess which I'd forgive if the product worked better for me. I'd rather spend a bit extra and get Alpha h liquid gold or ASAP B complex serum which both made a huge difference in a short period of time and helped clear up my skin.

Smooths and brightens skin

Have been using this for a few weeks now, my skin feels smoother and definitely looks fresher and brighter.
I have some dark pigmentation post pregnancy and haven't noticed any improvement yet but I will persist and hopefully this will improve with time.

Works for me!

I have aging skin and have been trying various serums. This one works well for me, mostly because it is not oily. It is easily absorbed in my skin and my skin feels softer and looks better each day. I have bought my second tube. I will keep using this one.

Great product for acne scarring

This product applies very easily has a nice smell and appears to be improving my hyper-pigmentation acne scarring. I have combination skin and this product does make my face look shiny but it doesn't feel oily.

Game changer

I use this in combination with the Vitamin C powder in the mornings before my moisturiser, and find it to be a combination that has changed the texture and clarity of my skin.The scarring from old pimples disappears much quicker, and my skin is glowing. I think it's a real game changer. I found it made my skin tingle/sting for the first few uses, but not for very long. I like the packaging and find it very easy to use and store in my skincare cupboard. Great product.

Holy grail product to tackle pigmentation!

I am onto my 4th tube of this and absolutely love it. I have oily skin and had awful breakouts during my teen years. This helped alot with reducing the appearance of acne scars and I found it even prevented blackheads and breakouts. I tried similar products from different brands but had to come back to this as nothing else compares. I use this morning and night and it sits lovely under makeup too!!

Nice feeling

I have been use this for quite a few months now at least 2-3 times per week it is definitely helping reduce my pigmentation. The one thing I would advise is storing the tube with the cap upwards because if you stand them on cap when you open the tube too much squirts out (you only need a small amount of serum).

Great for sensitive skin

This was given to me by my skin clinic with a package of skin treatments I purchased. I was surprised by how much I liked this - I have very sensitive, breakout prone skin and I'd definitely say that this has contributed to the improvement of my skin texture over the past few months. You only need a small amount too so 1 bottle goes a long way.

Awesome for pigmentation

This is one of my favourites from Skinstitut, I've been using this for months and it is really lifting my pigmentation. I have had LED, Laser and peels to help with my pigmentation and nothing has helped. Then I got put on to this and haven't looked back. It has taken constant use and I do mix it with the Vitamin C 100% powder every other day but my skin looks and feels better now than it did in my 20's! (39yrs) I recommend gradually introducing this into your skincare as it can cause some peeling if you use every day at the beginning.

Keeps my skin clear and fine lines smooth

This product is fantastic. I bought it for fine lines but I continued using it because it does an even better job keeping my spots away! I use this with the powdered C. When I've used other serums with the C my spots return so now I just keep this in stock. Keeps my fine lines smoother too and skin more taught.

Great Product that actually works

I have been through a few of these tubes now and just love this product. I have oily skin that I get occasional spots and find this really helps take the redness away and helps reduce scarring. I stopped using this product for a while to try things from other companies and came back to this as nothing else I used worked as well. Great product and great price.

Promising addition to my Skinstitut regime

Have only recently added this to my Skinstitut regime...nearly finished my 1st purchase and have purchased 2 more. My skin feels plumper and it has reduced the redness on my cheeks. Also seems to be helping with blackheads & pimple breakouts. I have normal skin with an oily t-zone.

Cult product!

I am absolutely live with this serum. I feel like talking to much about it is useless, you need to buy it & try it for yourself.

I use it with the vitamin c powder, and my god it's sooo nice in the skin. The consistency is light and gel like but it smooths on like a richer serum would. I am a little naughty and apply it a little under the eyes as well, but I can't help it. It makes everything look so nice and clear. I don't have pigmentation issues, but I have congested skin and visible pores. Even blend is definitely brightening my skin, clearing the congestion and hydrating.

You won't regret this purchase. I am falling so I live with Skinstitut. I've used high end products that promise results but don't deliver, or do deliver but are far too expensive to maintain use. Skinstitut is so affordable and genuinely delivers! Go and buy this serum!

P.s is beautiful under makeup!

Saved my life!

Use this product with the Skinstitut Vitamin C powder and did wonders for my hyperpigmentation. I had the worst hyperpigmentation due to a bad bout of hives and was recommended this by a staff in a clinic. It literally cleared up my skin back to my natural colour. I literally thought I had to live with purple legs for the rest of my life. Saved my life!

Good value for money

Great product and so light. You barely use any each time.

WORKED SO FAST!

I have medium to dark skin and have had stubborn hyper pigmentation and acne scarring since I was 11, I've tried a lot of products that only ever did little to nothing. I use this in conjunction with the Skinstitut Vitamin C 100% powder every night before bed and seen extremely good results within the first 2 weeks of using the products. Nothing has cleared my skin the way this has done!

Amazing for freckles

I have oily/combination skin which can be dehydrated at times - my skin also becomes freckled when exposed to the sun. This serum applies smooth on the skin and has become apart of my daily skincare routine. My complexion appears brighter - especially compared to how it would normally look in Summer. Pleasant smell.

Nice product

I have been using this for a few months as a night serum and also with my daily moisturizer. After a few uses, I have noticed that the pigmented areas are getting a bit lighter. The serum is light and easy to use with reasonable pricing. I would definitely recommend this to be included in the daily routine.

Targets stubborn redness

I love this product - its perfect for my morning routine before my SPF 50+
It has targeted so much of my redness caused by acne scarring

So good

I have been using this with the vitamin c powder and my skin is looking so much more even after just one week! It's light enough to wear in summer but also super hydrating I don't need another cream on top!

Its alright

I was recommended this product by LaserClinics to even out my acne pigmentation, i use it at night, its alright. The texture is lovely, soaks into the skin, but it does leave the skin looking shiny, its looks oily, but its not actually oily....i recommend using a tiny amount. I havnt seen a dramatic difference i evening out the tone, slightly, but i think if u dermal roll and use AHA alongside this product then you will see a bigger difference. I don't think id buy it again.

Good

This product did make my skin more plump and looked really healthy when i used it but i didnt notice and help with my hyper pigmentation
so while it was nice on the skin didnt do wonders for me

Great

This gentle, light weight serum definitely made my skin feel brighter and reduced some sun spots of my face noticeably. I wore it under my make up and moisturizer and it did not affect the look of my makeup. Would buy again

5

can i just say that i love the skintitus products !!i use the even blend serum twice daily mixing it with vitamin c and they helped so much to improve my skin tone .i never felt more confident with my own skin untill i started using these products .

Oh yeah...

It's good. I like the feel of it but I'm not 100% sure if it's doing much for my skin. I use it because it's there and I feel better about using a serum during the day.
.

Great for evening skin tone

I put this serum on everyday to try and help with evening my skin tone and scarring. I think over a while it's actually helped long term. A small bit goes a long way, again a pea sized amount is enough and it spreads really nicely. It soaks into the skin nicely and it doesn't go on thick. I really love this serum.

Great for pigmentation concerns

I have lots of freckles on my face, which I've always tried to downplay against my fair skin. I've been using this product daily for over a year and my skin is brighter, complexion clearer, and it has helped keep my pigmentation concerns at bay.

I use this product in the morning after I've cleansed my face, as step 1 of my skincare program. The product itself is quite liquidy (be careful to only use a small amount!) and my skin soaks it up.

It's great under moisturiser and hasn't interacted with my foundation and sunscreen. Completely recommend this product for anyone looking to make their freckles and pigments less intense.

Great Product, Excellent Price

such a good product for the price. the packaging can make this a little tricky to dispense the amount you need at first, but after using it a few times I got the hang of it. the serum is light and sinks in quickly. I also add a shake of Vitamin C in powder form to the serum and it mixes really well. I'm onto my second tube now, and my skin feels and looks great since I've been using it.

Love it

This has been great for my spots and scars. Very gentle on the skin and you only need a little bit for coverage. I use every day before my moisteriser and foundation. I will continue to use this product!!

LOVE

I use the Even Blend serum twice a day. And I pop the Vitamin C powder in at night. It's really good. It evens out skin tone, minimises breakouts and isn't too harsh on my sensitive skin.

I would recommend this to anyone.

Skin has never looked so good!

Can I just start by saying I love Skinstitut!?
I have been using this for only a week now but my skin has never had a more even tone. All the redness from my face has disappeared and it's even started clearing/lightening some of my acne scarring! Love this product!

Didn't notice any difference

I didnt see any real difference to dark spots and acne scars. I feel like the Vitamin C suspension form The Ordinary works 3 x better for less than half the cost

Skincare without a hefty price tag that works!!

Ive been using this serum along with the Skinstitut vitamin C powder and this is one hell of a product. It has helped me with my scars ( acne, pigmentation marks) significantly. What Im shocked even more with is the fact that it isnt like any other brands out there where you've got to pay quite a bit with the hope it might work or it might not. This has truly changed my perspective in relation to how I look at skincare and much rather be driven by the price tag ( higher the price , better the product.
Its a must try product and use it along with the vitamin c powder . You also dont need a lot of this product either so one tube will last you a while. I currently use this product twice a day.

Noticed no change

Used an entire bottle of this and noticed no change in my skin. Gave it a star because it didnt break me out.

seems to help with pigmentation/brightness

I have been using this product a few times a week for about a year now. My skin is fairly oily and my main concern was the beginning of pigmentation in my skin, which I only noticed in the last few years. This seems to be keeping any further pigmentation at bay as well as brightening my skin in general. I will continue using in conjunction with Vit C and Rejuvinate by Skinstitut.

Tube can be messy

This product seemed quite runny for something presented in a squeeze bottle with cap. The serum itself gave my skin a slight tingling and a slight sting in my eyes if I went about one centimetre below the eye. However my skin was quite smooth after.

Thumbs down for packaging

The packaging is a let down and sometimes leaks but the product itself is amazing and works wonders for your pigmented skin. I found using it for just only a few weeks helped alleviate my acne scars !

Excellent

I am using this serum daily morning and night. Its really works for stubborn pigmentation . Easy to use and after applying it leaves skin dry and smooth . Definitely i will buy more,

Pigmentation

Leaves my skin feeling so soft and gives my face a vibrant glow. It has not helped me with pigmentation as much as i would've hoped but it has still done amazing things to my skin.

Love it

Has helped immensely to keep my breakouts at bay, I always leave it sitting on face for a minute or two, or until I start feeling a tingling sensation on my face and then wash off. I find it helps speed up the process of clearing breakouts that have just begun popping up

Been using this serum for over 5 years

I can honest say evenblend helped improve my skin pigmentation and got rid of acne scars I had for year prior. I won't use anything else. Mixed with vit c, it works wonders.

Found the best product for my skin type

Even blend is the only product that really fixed my pigmentation and acne scarring tried a lot of products but this one is the best.

Great serum

Since using this serum I have noticed my skin having more of a glow and balanced tone.

Great product

This has really helped me keep pigmentation at bay. I usually mix tiny bit of Vit C with it and it works well at brightening my skin and reducing any pigmentation. One of my favourite serums to use.

Great for scars

I have a little bit of scaring from previous breakouts on my chin. I use this once per week on it and it helps with the redness. I sometimes will also put it on the parts of my face that I have freckles. I dont notice huge differences but seems to work.

Nice product but not completely sold yet...

I've been using skinstitut products for a little over 8 weeks now, I use the even blend serum on average 5-6 times a week mixing it with the vitamin C powder. I was really hoping for a bit of a miracle in terms of pigmentation that developed during pregnancy but I haven't really noticed a difference - It's only early days so I will definitely keep using these products! They can be a little bit drying alone but once I let it sink in I use the eye and neck cream along with the age defence daily moisturising cream over the top and don't have any issues.

Helps even my skin tone

This mixed with the vitamin c powder has really helped improve my uneven skin tone.

Great mixed with vit c

I use this mixed in with vitamin c powder and it helps my skin feel and appear fresh

Asorbs well

I brought this product over a week ago, as I've only been using it a short time I haven't seen much difference as I have never had a skin care routine before and my skin is very congested so needs more time. I found this serum absorbs well into my skin, it's quiet light weight too. Only down side is the tube it's in does come out a bit too much so I do waste some (only need a pea size amount) I might transfer it into a travel container, to avoid further wastage. I will continue using this product.

Seems to be working

I have quiet stubborn pigmentation and I do see some results with this product

Great serum

I alternate this serum with another skinstitut serum and mix the vitamin c powder in. It makes my skin look brighter and more full.

Great product

I have combination skin and I find this serum doesn't irritate or cause breakouts at all! My skin always feels nice after, and I've noticed subtle differences in texture

Love

Light weight, beautiful on and ive noticed a massive difference in my complexion

Day Time Prep for a Jessner Peel

I purchased the Even Blend Serum to prep my skin during the day for a Jessner peel. The lady doing my peel asked which products I was using as my skin was perfectly prepped, showing great 'frosting'. I will continue to use this to maintain my skin after the peel has healed.

Great for scaring

I use this once a week just on my skin and nose where I have a little bit of scarring from breakouts etc. My skin always feels firmer and the next day the redness really is reduced. I dont see HUGE differences. Just little ones.

Easy to blend, not sure if it's doing anything

I use this as a part of my evening routine, mixing in the Skinstitut Vitamin C powder. I'm not sure if the serum or the powder is keeping my pimples at bay (probably a combination of everything). I'm not confident I agree with the hype for this product. My skin is normal/dry so sometimes I can get away with just this product & other times I mix in some other oils/serums or a moisturizer.

Average Serum

It was a rather average serum. I tried it out after being recommended this for my acne scarring and pigmentation. I used the entire serum and didn't see any significant reduction in my scars. HOWEVER, every day my skin looked a lot brighter. The packaging could be improved to reduce wastage as well

10/10

A lot of people recommended this online to be best partnered with the vitamin c and it is the best combo ever! My acne scars are fading and my skin is just looking so clear and healthy now, I only apply this at nighttime.

Great serum

I alternate between this serum and another skinstitut one. It seems to have really helped clear my redness and pigmentation spots.

It's okay. Didn't see that much of a difference

I've used this product for a while now but never really saw that much of a difference. It's quite a sticky solution and I found it caused my moisturiser to pill after using it, even after waiting 30 minutes for it to dry before applying any further skin care.

My skin is oily/combination and I sometimes get a few breakouts; my age is 29

It's not bad value for the amount of product you get but I was hoping to see much more of a change to my skin.

Overall I don't think I'll try this product again.

True to description

I like this product because it makes my skin feel more vibrant and firm and when used repeatedly I can see an improvement in my skin tone.

Great for melasma and pigmentation

I have used plenty of products to help my melasma and this is the only one I have noticed much difference. Will definitely keep using...especially during summer months. Definitely remember to use sun protection while using this product

Great Eye cream

I have used this product for over a year now, I recently ran out and stopped using it for a few months and noticed the colour under my eyes got worse again. I have since then restarted using each night again and can see a huge difference in puffiness, darkness and fine lines. I am super happy with this eyecream.

Great product

This is a great serum I have noticed a difference in my skin tone and completion

Amazing Serum that really works

breathtaking results after 1 week of use.
you feel the serum work right away as it tightens and firms your skin with a slight nice tingle so you know its working.
My blemishes and red harsh marks have dramatically reduced thanks to this serum.

I will always use from now on!

Excellent cosmedical grade product

Mix with Vitamin C for best results - this product really works at fading pigmentation and evening out skin tone. HIGHLY RECOMMENDED.

Did not do anything for me

i have been using this for more than 3 weeks now. i used it in morning and night everyday but i did not see the difference. it did not work for me, wished it would have lightened the blemish marks at least.

Brighten and even out

started seeing results in less than 2 weeks. brightened my skin and evened out my skin tone.

Mix with Vitamin C powder for extra boost!

I've been using this every morning mixed with Skinstitut Vitamin C powder and love the way it feels. Skin is looking clear and feeling smooth and clean, and it's definitely corrected some minor pigmentation. Highly recommend!

Fixed my eczema!

Have been experiencing eczema all around my eyes for the first time in my life over the cold winter and no kind of moisturizer was able to fix it. After just 2 uses of the even blend serum it was completely gone and my skin has been feeling amazing! Never have I used such a quick acting and effective product. Not only this, but my skin is looking a lot brighter overall.

Works well

A very reasonably priced serum, which makes my skin feel plump and soft, Not sure about lightening my pigmentation but I am persevering! Has a slightly sticky texture, which takes a little while to absorb, but overall a quite good product.

Good serum

I bought this serum with skinstitut kit and I'm in love with this brand my skin combinations but this serum slightly reduces my pores size I use it every single night.

Effective

Skin type - combination
Target areas - congestion, dry patches, dull uneven skin tone

I use this serum AM + PM (mixed with vitamin c in the AM) and I have found my skin is truly starting to brighten! It's only been about a week, I'm noticing a glow and signs of pigmentation starting to lighten but I think I will need to use for longer to lift that deep pigmentation colour. It is a bit sticky.. but I always moisturise after so it doesn't bother me too much, I just go away and do something while it dries before moisturising.

My skinstitut AM routine
Gentle cleanser
Multi active mist
Even blend serum + vitamin c powder
Oily skin moisturiser

My PM skinstitut routine
Gentle cleanser
L- lactic cleanser
Multi active skin mist
Even blend serum
Oily skin moisturiser

My PM skinstitut routine (every 2nd night)
Gentle cleanser
Enzymatic peel (left on overnight, washed off next morning)


Olive skin review

Used it for 6 months along with powdered vitamin C. Didn't work much on my skin tone, pigmentation was the same.
I reckon it varies from type of pigmentation and skin tone because I did hear good reviews about it.

Removed pigmentation!

I used this product with the vitamin C powder by Skinstitut for two weeks in the lead up to laser treatment for a dark pigmentation on my cheek. In the two weeks I used them, the dark spot went away! I had to cancel my treatment. The laser clinic which sold me the products was in shock. They're truly such effective products. I have oil-prone skin and my concerns are pigmentation and ageing. I only have a small gripe in that this serum is quite sticky feeling. Small price to pay for such effectiveness.

Gentle on skin for a flawless complexion

Add this into your morning routine, after cleansing and before moisturiser. Won't clog up the skin at all with product and you'll find your complexion so even toned at the end of the day when you wash your makeup off. A must have.