Skinstitut Enzymatic Micro Peel 75ml
Questions & Answers
(5 Questions)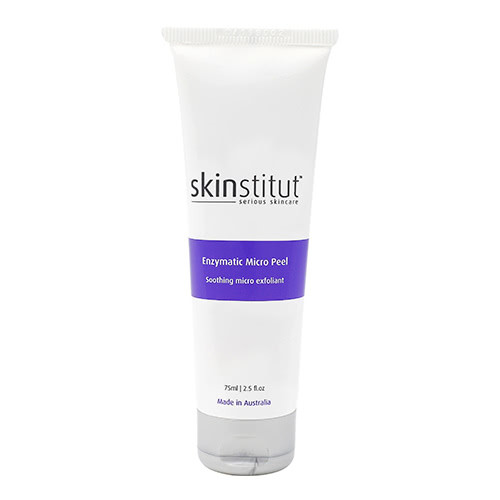 Skinstitut Enzymatic Micro Peel
Get an expert to answer your question about this product!
Ask a Question
90% recommend this product
Most Helpful Positive
no irritation whatsoever
great peel for sensitive skin! :)
Most Helpful Criticism
Feelin fresh
Using this micro peel constantly leaves my face feeling smooth as a babies bottom it's also makes my skin feel rehydrated
no irritation whatsoever

great peel for sensitive skin! :)

Good mask to use regularly

Great results when exfoliating before hand, glowy skin!

Use for glowy and smooth skin

This is such an amazing product leaves my skin moisterized and smooth. No need for harsh exfoliants, this is amazing and gentle and makes my skin glow.

This is a must have product, been using it religiously for 5 years.

Miracle Worker

I have been using Skinstitute for years now. Their products are well priced (cheap in my opinion) and actually work. You can use this peel over night - it says to rinse off but i leave mine overnight and wash off in the morning. My skin is soft, supple and over time I have seen a nice glow. Smells nice too

My favourite skinstitut product

My beautician has the most beautiful skin. I asked her what her secret was and she told me she uses this twice a week as a night cream to sleep in. I bought it based off that and I have to say the results really are amazing. I sleep in it and give my face a good cleanse in the morning. It eats away at pimples and helps clear them as well as brightens and hydrates my crappy dry skin. Cannot love without it!!

Great

This little mask is great. Leave it on overnight and you'll wake up feeling extremely hydrated.

Awesome

I use this like a face mask once a week and then follow it with a clay mask and it keeps my skin very clean and vibrant.

Beautiful product

I try to use this mask weekly, it always leaves my skin bright and refreshed. It's not necessarily a peel as in one of those ouchy peel off masks but more of a wash off mask.

Great mask

Love using this to brighten skin tone before a big event, skin is left so smooth after!

GREAT PRODUCT!

This product works great! I use it once a week or when my skin is feeling a little congested and can certainly notice a difference after I use it as my skin is much smoother and decongested.

My skin is sensitive so I leave it on for the recommended time only as I find if I leave it on for any longer my skin becomes irritated.

LOVE

I love this product so much, I use it once a week and the next day I wake up with bright clearer skin. It is strong and if left on for longer than suggested it can leave your skin red and slighly irritated but after an hour it goes away.

One of my fav masks

Absolutely love this one. It's lightweight, doesn't have a harsh smell, it's not rough but you notice a considerable difference in your skin after using it. Kind of like magic!

I never finished the tube

I bought this one almost a year ago and honestly didn't ever see much result from the product. I'm glad to see it's been a positive experience for so many other shoppers because I love the skinstitut brand and range. This one just left me a little bit confused, I didn't notice any improvement in my complexion, it didn't feel as though much was happening at all.

New Skincare Staple

I will never be without this product! It's so gentle yet effective - my mum (55) and I (28) use it every few days and it removes dead skin but also gives a nourished glow and smooth feeling. It's easy to use and not messy like other peels I've used where the skin is rolling off everywhere. It smells amazing and is Australian made which I like.

Glowy skin

My skin looks amazing and glows after I use this peel. I often sleep with this mask on and wake up with super soft skin!

So Good!

Gentle yet effective! I mix this with the vitamin c 100% granules. It's an amazing combo. My skin looks and feels clear the next day.

AMAZING

I love this mask. It is so easy to use and there is very minimal to no irritation. I find this makes a huge difference to my skin when used weekly. Love it

Perfect gentle exfoliating product.

I am missing my normal AHA/BHA complex. This stuff is perfect. My texture is significantly improved and my breakouts are settling. My skin looks much better and clearer. Would recommend.

Very hydrating

I have only used this product a couple of times, but it has worked really well at smoothing my face and making it feel softer.

Love it

This is beautiful and light, I use it weekly for extra moisturising.

Fresh and exfoliated

Such a great product for an at home facial. It deep exfoliation leaves my skin feeling smooth, clean and bright

AMAZING

Ok, I love this product so much. Best exfoliator ever. It doesn't make my sensitive skin angry and red but it does exfoliate and my skin always feels so nice and smooth afterwards. It does purge my skin after each use but its great having clearer softer skin after each use. Great in winter when your skin really needs something to perk it up.

Skinstitut must have!

This peel/mask smells so good! You can feel it working yet it's gentle enough to use around your eyes! Not many products can do that! It kind of gently eats away dry/dead skin cells. Great price too!

Feelin fresh

Using this micro peel constantly leaves my face feeling smooth as a babies bottom it's also makes my skin feel rehydrated

Skin magic

I use this product 2-3 weeks after using the derma roller pen. It keeps my skin clear and bright! I also use more often when I start to get that PMS break out and I find that it stops pimples and red spots appearing.
You know how you feel those deep painful spots developing but can't see it? Using the derma roller pen and the micro peel will stop those spots in there path!! This product is magic! I would recommend this product to everyone wanting glowing skin and wanting to get rid of those PMS break outs

Great for my sensitive skin

I started off using this product for 10-20min but none regilary sleep in it. It calms my dry sensitive skin especially well after I have had injectables or waxing done. Perfect for my dry, sensitive, breakouts prone skin.

Great for sensitive skin!

I use this once a week and it doesnt strip the oils from my face. I leave it on for the full 15 minutes and find it makes my skin tingle a bit but It's cause no irritation at all.

Nope

This does nothing for me. Absolutely nothing, wouldn't repurchase. Only plus is it doesn't break me out.

Love it!

I love how gentle this peel is. It works beautifully on my skin to gently peel away any dead skin and impurities, without stripping my skin. It leaves it feeling nourished and super soft afterwards! I use it a few times a week and it never irritates or dries out my skin, instead leaves it super soft!

Favourite exfoliator

I have red and sensitive skin, this is one of the best exfoliators I've used. Doesn't leave my skin feeling hot or irritated, used weekly it makes my skin look brighter and clearer.

amazing product

I have sensitive skin and am prone to redness and eczema patches on my face. Since using this product for five months I have noticed a huge improvement. My skin feels softer, is less red, pores look smaller and the eczema flare ups are much less frequent, when I do have a flare up I just put this peel on the areas and leave it on over night, it has pretty much cleared up the next morning and is no linger itchy. My makeup now sits so much nicer on the skin and generally my skin just looks clearer and smoother all the time.

Super Soft Skin

I use this product once a week/two weeks depending on the breakouts/dryness of my skin. I find this product to be a little tingly when first applied however that quickly goes away. After rinsing, skin is left feel super soft and smooth. Highly recommend if you have acne prone skin like I use to - helps in a big way!

Love the feeling!

This peel is great , my skin feels so smooth after using it definitely recommend.

Love It!

I was advised that I could put this peel on under my moisturiser at night and leave on until the morning. Best advice ! My skin feels so soft when I wash it off in the morning and I am so happy with it.

Lovely!

I use this once a week and it is a gem. Super gentle but super effective. I use this with the Skinstitut Vitamin C 100% granules just for added exfoliating and its fantastic. Highly recommend. Being an ex acne sufferer, whose also been on roaccutane medication, I am quite hesitant with beauty products. Totally recommend this product.

The BEST

Ok this is amazing. I have sensitive skin so using regular scrubs is a nightmare. This however, always exfoliates my skin and just does it so damn well. My skin will usually break out a little after I use it as sort of a purge if if I haven't used it in a while, but only for a few days and then it looks nicer than ever and is so soft and smooth. I always make sure I have this and use it about once to twice a week (depending on the time of the year) and it has never failed me.

Made my skin so soft

This product really made my complexion glow! Such an amazing and versatile product. You can use for 5-10 mins in the shower, as a mask for more than 10 mins or you can even leave it on overnight!

Magic?

I swear this is a magic potion, it applys like a mask but does the job of a face peel. It exfoliates dead skin cells and hydrates the skin at the same time. What I find fascinating about this peel is that it knows when to stop exfoliating so as never to damage the skin! I use this overnight whenever I need a deep hydration boost and my skin feels so amazing come morning! Highly recommend this to anyone wanting easy exfoliation plus a hydration boost.

Super soft and hydrating

I read some reviewers saying to leave this peel on overnight so i tried it. Great results! Feels really gentle on my skin and i woke up feeling super hydrated, soft and glowwy.

Wouldn't buy anything else!

This product is great for my oily skin, it clears my pores and doesn't leave my face feeling tight and dry. It's so smooth and definitely a new favourite.

Not really for me

Used this at night before bed and woke up extremely oily and had actually broken out. I do have acne prone skin, so nothing unusual. I have used it a few times and have not noticed anything besides a breakout. Just be careful, maybe try a sample before purchasing.

Yes please

This makes my skin so soft

Love using this after Lactic cleanser !

I have very sensitive skin and also suffer from eczema in some parts of my face. Usually exfoliants are too harsh on me and leave my face raw,irritated & sore. I use this after the Lactic cleanser it leaves my face feeling so fresh,new & supple. Definitely recommend this.

Great for my skin type

I have dry and eczema prone skin, and purchased a line of skinstitut products. I didn't like many of them but this product was a standout! I do leave it on for longer periods, sometimes a few hours, sometimes overnight. Although it is marketed as exfoliating, I find it very hydrating as well (not sure how as I normally put oils and moisturisers on and this can match them!). I have just reordered and this will always be a staple in my routine. Love how it clears out my blackheads and flaky skin super gently. Definitely get this!

Skin is left soft and smooth

Every time I use this my skin feels really soft and smooth afterwards. Gets rid of all the flaky skin.

Amazing for pigment

I bought this on recommendation from an instagram influencer because I had just gotten rid of my acne and my skin was still pigmented and red, it makes your skin feel amazing and gives you a lovely glow the next day- I've been using it for 2 months now every second day and I'm in love !!

Love it

Have used other Skinstitut products but this one is my favourite. I use is 2 -3 times a weeks and sleep in it (advice from clinician at my skin clinic) and find it very hydrating, reduces redness and helps reduce breakouts. Love how my skin looks great when I wake up after using this.

Its okay

The peel is nice, you feel hydrated the next morning but definitely doesnt have the wow factor as some other masks do, has an uncomfortable sting
i mean it works i feel more hydrated when i wake up but never a noticable result

Perfect Pick Me Up

This mask is a must have for me, especially when I have dry patches, general dullness or a few days after having a facial treatment. Whether I put it on in the morning before I shower or leave it on over night, it hydrates and plumps my skin and gives me a definite glow!

A weekly treat!

I love to use this peel a few times weekly and my skin definitely benefits from using it! It does a great job of cleaning my face and removing dead skin. It reveals a soft, glowing new layer of skin which looks dewy and radiant!

Good, if you're after a gentle peel

This peel is pretty mild. I had hoped it would be similar to the cosmedix fruit enzyme peel but it was not nearly as strong. I've got pretty sensitive skin and have no problem leaving this on for 30 mins (where as the cosmedix is max 7 mins)
If you're after a gentle peel I'd recommend this, but if you're wanting something that packs a punch, go for the cosmedix fruit enzyme peel

A very gentle peel

This helps keep my blackheads at bay. I only use a thin layer once a week and it suits my skin well.

the BEST

been using this peel 2-3 times a week for months now and honestly nothing clears my skin and unclogs my pores like it! The best thing to do before an event, it makes my skin so clean and glowy, the perfect base for makeup.

One of the Best

Enzymatic is one of those products that I just can not live without. It works as a micro peel and also as a hydrating mask or moisturiser if left on overnight. Works great with derma rollers too.

Leaves skin feeling smooth

I leave this on cleansed skin for 10-15 minutes and after washing off my skin feels really smooth and flake free.

Smoothing face peel

A lightweight exfoliating peel. I apply a thin layer after cleansing and leave on for a hydrating smoothing overnight treatment. When you wake up your skin is super soft and hydrated

not bad

makes my skin feel so soft but other than that i dont see any other difference

Doesn't work as well as it used to

I think my skin might have built up a tolerance to this. It used to tingle and feel incredibly smooth afterwards, but i feel like it's not working as much as it used to.

Don't know

I like it, it smells nice and it doesn't require intense scrubbing like other exfoliating products but honestly don't see much difference in my skin after using it.

Made My Skin Feel Amazing

I wasn't really sure what to expect...I think I literally thought it was going to be like a chemical peel, but of course, it's not, however, after just one use, my skin did feel beautiful and soft and refreshed.

lovely peel

I switched to this product from the Skinstitut glycolic acid scrub, which was too harsh for my acne-prone skin. The peel smells fruity - it's not the best I have ever had but it's still pretty nice. It goes on smooth and is a little tingly. I've used it for a few months and it does make my skin clearer - I'm sure it'd be more effective if I actually stick to my routine and use it regularly!

Gentle yet effective

I love that this peel/mask is just that, hydrates my skin while removing all my dead skin and the best thing is that it's not like other masks that can be messy. I sleep in it and wash it off in the morning and my skin is nice and smooth.

awesome exfoliant

This mask is very easy to apply and goes on smooth. However it does have a tingly effect which you know it's working it's magic by removing dead skin. I have sensitive to combination skin and it did make my skin reddish afterwards but no adverse reactions.


Perfect for calming breakouts

This product has been my saviour! I was expecting it to be much thicker than it is but you truly only need a small amount to get great results. Over the last few months I've tried many products to help calm my breakouts and this has by far given me the best results.

Great exfoliation

I found scrubs were too rough for my skin, this has completely changed my skincare routine. I use it twice a week and it leave my skin feeling smooth. I add the Vitamin C powder and leave in on over night sometimes for an extra exfoliation and hydration.

Nice smooth cream but what does it do?

I was recommended Skinstitut by an online AdoreBeauty consultant for my 50 year old dry, sensitive & red skin.

This product is not fragrance free & soon after applying it my eyes started watering. It's a nice smooth cream that sits on top of the skin & eventually soaks in during the 15 minute treatment period.

After washing it off my skin looks the same but it feels tight. I've used it 3 times per week for 3 weeks and am yet to understand what this product is really about. Is it an exofliant as suggested by the phrase 'micro peel' or is it a moisturiser designed for "dry, dehydrated & sensitive skin as suggested on the back of the product? In either case it fulfills neither objective for my skin which is a shame as I was happy to be recommended an Australian product.

Nice, smooth cream but what does it do?

I was recommended Skinstitut by an AdoreBeautiy online consultant for my 51 year old sensitive, red & dry skin.

This product is *not* fragrance free which is a big disappointment. While it went on nicely, my eyes started watering immediately from the smell.

I've used 3 times per week for about 3 weeks now & each time I wonder exactly what this product is meant to do. The product says it's a "soothing micro exfoliant" especially for dry, dehydrated & sensitive skins. When I remove the product my skin looks the same but it feels tight from the product. Maybe this is better suited to a normal/oily/combination skin type?

Fun to use but no outstanding results

This mask is silky smooth and easy to apply. It has a tingly effect which is quite exciting although I wouldn't suggest it for people who have very sensitive skin. I have sensitive to combination skin and I had a bit of redness after (but no adverse reactions). Not really anything to write home about but a good product nonetheless!

Removes all the dry skin

I use this every few days to exfoliate and remove any dry skin. Its really smooth almost like a facial and if I leave it on for 10 minutes it really works and my skin feels silky afterwards.

First peel that works for my dry, sensitive skin skin

This one is the first one I've found that works for my skin without irritating it and making it dry out even more. I use it twice and week and sometimes even sleep in it

Lovely calming mask

This is amazing for my dry, sensitive and breakout prone skin. I use it as often as needed when I'm breaking out from hormones or eating sugar / carbs.

Magic in a bottle

so glad I found this product!! my skin has never felt better

Strong smell & no discernible result

Was recommended Skinstitut by online AdoreBeauty consultant & was pleased to try an Australian product.

Unfortunately this product has a strong smell which left my eyes watering & which lingered after I had washed off the product. I couldn't see any discernible difference after using 3 times a week.

I'm male, 50s with sensitive, dry & red skin.

Great Peel

I have sensitive dry skin and find it hard to get products that don't make my skin red and itchy. This product is great, you feel a cool sensation when you first apply it but it makes your skin feel very soft afterwards. I leave it on for 20 mins or more and if you have dry lips this can also make your lips feel smoother if you rub it all over face and lips. Use 2 times per week to help my face feel soft and get rid of dry patches

Amazing for sensitive skin!

I'm so glad I found this product as normal masks and peels are too harsh for my skin. This does not dry out my skin and leaves it feeling deep cleaned / pulls all my imperfections to the surface.

Great product

My favourite product out of the whole range. skin feels so smooth and supple. doesn't irritate my skin. lovely mask!


Love it

This leaves my skin so smooth and fresh! It does tingle a little but thats the only irritation I have experienced.

Must have for dry skin

If you are prone to dry skin this product is a must. I recommend wearing it overnight and you'll wake up with silky smooth skin. A little goes a long way so you will find a bottle lasts a really long time, making this product even more affordable.

Smooth Skin

I love that after every use of this my skin feels really smooth and all dry skin etc is gone. Really great peel!

Great gentle peel

This went on smoothly on my skin with a really nice scent. I have pretty sensitive and dry skin and this felt cool and soothing going on. My skin felt fresh and soft afterwards.

Fantastic

Great peel, goes on nicely and leaves skin looking/ feeling great. Only drawback would be some slight tingling (but I quite like that cause it makes it feel as though it's working)!

Amazing peel

I love this peel, it does tingle a bit the first time you use it, but I absolutely love it. It has left my skin looking so clear and so much texture has dissipated. I have only left it on for 30 minutes at a time and I am seeing such amazing results, especially for the price.

Great for clearing up break out prone skin

This product is amazing for clearing up my dry, acne prone, sensitive skin. I use it 2 or 3 times a week for a hour or even a few hours and sometimes even sleep in it.

at work while i sleep

I have very oily skin & when my beautician recommended I leave this on overnight I was very pleased with the results. It has a pleasant smell & its like little pac man working on your skin. Visible smoothness in the morning after a scrub wash

amazing

my skin is dry and i wanted a peel that would make my skin smooth and glowing. and this did the job. it feels a bit warm on your skin when you put it but does not irritate my skin. i love the smell of it i put a thin layer of it on my face leave it for about 30 min because my skin is dry but when i wash it, it leaves my skin so soft and hydrated. totally recommended.
i use it 4 times a week.

One of the best

I use this product before I go to bed and sleep with it on. It gets rid of all the dead skin and dryness, making my skin feel amazing and it looks way better when I apply makeup

Great for dry skin - but don't leave on overnight

Had used this product on 4-5 occasions for up to 3 hours at a time with no problems - loved how smooth and supple it made my skin feel! However, on one occasion a fell asleep with it on and woke up with a terrible reaction (despite the package saying it can be left on overnight). Would still recommend this product but would definitely encourage you to patch test and limit how long you leave it on.

More a moisturiser than a peel

I've been using this product for a few months now, 2-3 times a week, I use it after the Skinstitut Glycolic Scrub 14%. i feel like it is more of a moisturising mask than a peel. it leaves a film on the skin after i wash it off so it is best used before bed, I wont be repurchasing but it is a sound product.

Perfect for skin temper tantrums!

This is one of those incredible products that I can not do without. I am somehow blessed with extremely sensitive skin prone to dermatitis, eczema and acne. Now whilst I love my chemical exfoliates I can sometimes overdo it and my skin gets cranky, flaky and red. Heavy moisturising leads to more breakouts so this is the perfect solution to cranky dry red flaky acne prone skin as it super gently exfoliates but also doesn't dry out skin and keeps it comfortable and soothed. Hands down one of my favourite products to deal with my skin when it decides to flare up with eczema or dermatitis. Gets my skin glowing and soft again in no time.

Gentle on skin

I bought this because it was cheaper than Cosmedix Pure Enzymes Exfoliating Mask which I had used previously for several months, This product gives me similar results and does the job, I alternate between this and the Skinstitut Glycolic Scrub 14%. My skin definitely feels refreshed after using it. I have sensitive skin so I don't leave it in longer than 8 minutes.

Great Micro peel!!

I love love love this peel! I have dry/sensitive skin and prone to hormonal breakouts. It is so soft, smells so great, and the results are incredible. I read some of the reviews and have yet to try this as an overnight mask! I am keen to try this! I usually leave it on for about 10mins, followed by my serum and moisturiser and my skin is so fresh and soft the next day I can't even tell you how good it is. If your skin is feeling a little dull and tired and need a bit of a prep up, grab this as it has great enzymatic ingredients that are so good for brightening up your complextion!!

Amazing Product!

I have used the Skinstitut range religiously for a couple of years now and it has transformed my oily acne prone skin. This product is a staple of my skin care routine which I use a couple of times a week. I apply a layer to my skin after cleansing of a night time (using the Gentle cleanser) and sleep in it overnight. The next morning, my skin feels so much smoother and really improves the texture of my skin. I have had no problems with this product even though my skin can be sensitive at times.

Excellent mask

I have dry eczema prone skin. This product is non-irritant on my skin and is very hydrating! Very gentle. Highly recommend this! Really love it

Holy grail

Skin type - combination
Target areas - congestion, dry patches, dull uneven skin tone

This product I believe is the shining star of my skinstitut routine. I sleep in this every 2nd night and wash the next morning. It is a gentle (non abrasive) exfoliator and within a week has started to eradicate the random dry patches around my nose and chin that is not typical of my usual skin behaviour and had been worsening for months (like 6 months) it was really starting to get me down and this product has almost fixed this issue! I usually wouldn't have thought to exfoliate dry patches for fear of drying it out further, but this product somehow seems to moisturise at the same time. I love it. If you choose one skinstitut product, make it this one.

lovely

one of the best! leaves my skin so smooth

Great gentle peel

Ive used this a few times and it is a great peel for people who don't want to spend a fortune getting facials. The bottle is quite small but you only need a little product making it worth the cost.

Wake up to perfection

Holy grail product! Apply this at night after cleansing and sleep in it, you'll wake up to plump gorgeous skin. The texture of my skin has improved dramatically and makeup just glides on. Can not recommend enough!

Um wow?

Wow basically sums up my review.. this is truly wow!!! Love love

Nice and gentle

I picked up this product as I wanted to improve the appearance and texture of my combination skin. It felt nice when applied and didnt sting or burn. Immediately my skin looked smoother and felt nicer but I dont think it made any difference to my skin in the long term. Will continue to use and test this product.

Salon facial in a bottle!

My skin feels like I've had a salon facial after using this product. Gentle with a slight tingling, my skin is super clear and smooth after using. LOVE!