Skinstitut Moisture Defence - Normal Skin 50ml
4 instalments of $8.58
Or 4 instalments of $8.58 with
LEARN MORE
4 instalments of $8.58
Or 4 instalments of $8.58 with
LEARN MORE
Official Stockist
Is this for you?
Skinstitut Moisture Defence Normal Skin a low intensity moisturiser that provides intense hydration with antioxidants. Ideal for normal to combination skin.
Frequently bought with
Please wait while we find a match
Questions & Answers
(1 Question)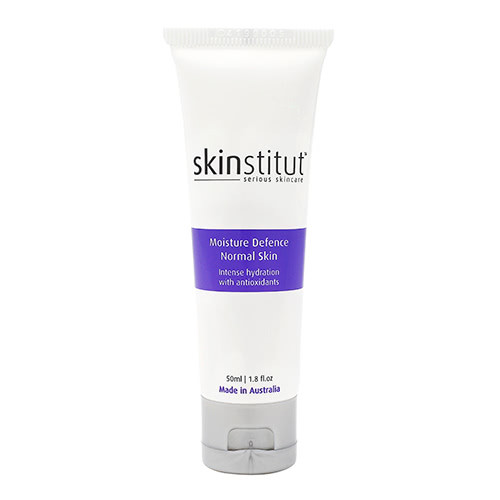 Skinstitut Moisture Defence - Normal Skin
Get an expert to answer your question about this product!
Skinstitut Moisture Defence - Normal Skin Reviews
95% recommend this product
Most Helpful Positive
Great moisturiser
Hydrating lightweight moisturiser, as someone with oily-combination skin this moisturiser is perfect.
Most Helpful Criticism
decent product
a decent moisturizer, it did the job but nothing special, great for normal to oily skin type
Great moisturiser

Hydrating lightweight moisturiser, as someone with oily-combination skin this moisturiser is perfect.

Lightweight

This moisturiser has a great texture and is moisturising. Good for the summer but not thick enough for winter

Good daytime moisturiser

Slightly sticky after application but nice and hydrating

Moisturising, clean and simple!

For my sensitive and upset skin (due to acne and harsh acne treatments), this is easily the best moisturiser I have ever used. You use a pea-sized amount and it soaks into the face in moments, all of my dry and irritated areas soothed. I use it twice daily and it goes really well under make-up - my make up never slides/moves around as it has with other moisturisers. It is unscented and feels reall...

Read More

Perfect Moisturiser

I have dry skin and this moisturiser does the perfect job for me! Its super lightweight and glides along the skin so easily.

Average

This moisturiser I received as a gift with other products and it's okay nothing really special. I use it at night before bed to give some hydration to my skin. Doesn't irritate or cause anything to my skin just a average moisturiser.

Just alright

a normal moisturiser but doesn't seem to be very moisturising for a dry and sensitive skin

Very lightweight

This moisturiser is good. Super lightweight and glides along the skin so easily. However I have very dry skin and it just didn't feel like it was giving me enough moisturiser for the day.

Gentle on sensitive skin

This is a lovely hydrating moisturiser this brand is yet to dissapoint me. I'm so greatful for this brand as it is salon quality at home. And it is very rare that I do not have a reaction to most brands. This brand is very gentle and this moisturiser is very gentle and lovely on your skin. P

good

This feels light on the skin and is good for the morning but not occlusive enough for the night

Hands down best moisturiser

Honestly I am so shocked with how amazing this product is I have tried others top of the line therefore I wasn't expecting much from this but it has really proved me wrong I don't know what sorcery is in this bottle but I'm sold on it

Great!

Great moisturiser! Your skin drinks it up (light consistency) and doesn't cause breakouts. I would prefer a slightly larger size tube but it is handy for travel bags etc. Made is Australia is always an added bonus!

decent product

a decent moisturizer, it did the job but nothing special, great for normal to oily skin type

Great for combination skin

I have true combination skin with oily surface and dry underneath. This is a great light mousturiser that delivers real benefits. It penetrates fast, without a greasy feeling, which is great in warm climate.

Best moisturiser

My skin goes between oily and dry super easily and this moisturiser is great! I've tried so many different gel/light moisturisers and this one provides the perfect amount of hydration and leaves a silky feel to my skin

cool and refreshing

I find this product has a cooling sensation which is really refreshing on application. I do find that it does also leave a greasy feeling, however is very hydrating.


Kept coming back to this product

Was looking for a moisturiser that was hydrating and something that didn't cause my makeup to slip off! A lightweight yet hydrating gel like texture with a really pleasant smell! I have dry/very dry skin and this keeps me hydrated all day without feeling heaving or light I need to re apply. Wasn't sure the first time using it but I have since tried others and come back to this as it doesn't cause ...

Read More

really good

this is really good and hydrating

It is okay..

I really do like this product, however, there was a period of time my skin got really dry and was flaking, and unfortunately, this moisturiser wasn't enough to hydrate my skin. I wouldn't purchase this again just because it is not as hydrating as other products available. However, like all of their other products, it still makes your skin feels amazing.

Hydration Station

I receive a sample of this and boy did I love it. I've just only now finished the sample (over 10 uses so it goes far) and I loved it. I have dry skin and I applied this last after my moisturiser. Fantastic way to feel hydrated through the night and morning.

My favourite moisturiser

This is definitely my favourite moisturiser I've literally ever used. I've been using it for years and it's the perfect thickness. My skin absorbs it quickly and it works well under any makeup I wear. It's a must have, I have never tried anything else because it's going to be my number one forever!

Day cream

Loved using this as a day cream. The tube lasted me months

Good Moisturiser

This moisturiser works well under makeup and doesn't leave the skin too shiny. It's quite thin and doesn't feel super rich as it can feel tacky on the skin - however it goes on smoothly and the texture is nice. I would recommend it for use during the day under makeup.

My go-to

use this every day and night. Absorbs quickly and feels like it really hydrates my skin!

Amazing value for money!

I received a sample of this product when I purchased a moisturiser three times the price and it did not disappoint. Since then, I've bought it for my sister and recommended it to some friends.
I saw some reviews mentioning the smell, but I disagree. The smell is fresh and fruity if anything.
It is a gel consistency and I've found it hydrates my skin perfectly. Does what I expected it ...

Read More

Love this product!

I have repurchased this moisturiser multiple times, it just does the trick for me! Its hydrating, I like the gel-like consistency (its pleasant to apply), works well over the few serums I've tried so far and is LOVELY under makeup. Total staple for me!

Love the work it does

This came as a sample product by Adore beauty when i ordered skinstitut kit and i really like the ob it does. It moisturizes my skin really well. I mix my Vitamin C with it. The product spreads out well and leaves my skin feeling soft.

pretty good

I am very picky on moisturisers as I love the feeling of it soaking into my skin, does a pretty good job at that and makes my skin feel super soft after. goes well with serums too!

Great product

received as a free gift and I love it! Lightweight but nourishing and smells lovely. Skin is more hydrated and soft with regular use. Will purchase full size.

Kinda weird, but okay

I had high hopes for this after reading some reviews but for me, it just isn't it. I do have quite sensitive skin so perhaps this was one of the main issues, but whenever I apply this, my skin feels a bit tingly with a very subtle burning feeling... not pleasant but it goes away after about 10 minutes. It is hydrating, but I found it made my face look like it had a clear film on it. Also, I'm not ...

Read More

Great for everyday

This is a super affordable lightweight daily moisturiser. I use it alone or in combination with a serum depending on how much hydration my skin needs

Not the best but not the worst

I didn't find it made much of a difference to my skins hydration. It's more of a gel than a moisturiser that I personally don't like and the fragrance is quite strong.

Amazing moisturiser

I've been buying this moisturiser on repeat for a couple of years now and absolutely love it. It's smooth, lightweight and absorbs into the skin nicely, and you don't need to apply much - a little really does go a long way. My skin always looks and feels hydrated and it doesn't flare up any breakouts I get. Very happy I switched my skincare to Skinstitut :)

best moisturiser

this is clearly the best moisturiser. my skin feels so hydrated by just a small amount!

Overall a nice moisturiser and affordable

Positive about this moisturizer is it has nearly no scent, which is great as I do not like too sweet or artificial scent on face (why not use perfume if like lovely scent) . The texture is gel and smooth on skin. Absorb very quickly, so it is more suitable for normal/oily skin during summer and suits my boyfriend (he has combination skin). But I have dry skin and used it in winter, it still does i...

Read More

super light

I love this!! Super light and sinks in fast. Does the job well!

Essential

I used to have dry skin and use the 'ultra dry' version of this moisturiser. After one tube of the ultra dry my skin had restored its moisture and I am now using this version. The dryness has not returned to my skin and this is the perfect maintenance level of moisture for everyday use. Needless to say, I am happy I switched my skincare to skinstitut.

Nice Texture

This moisturiser had a nice and soft texture and was quite hydrating, however it did leave my skin a bit greasy and I found it actually clogged my pores a bit. It didn't fully meet my expectations but is super nice for my neck area just not my face.

glowy moisturiser

I really love the finish this gives. It's a bit more slippy than the heavier moisturisers and give the skin a nice glossy appearance. it also doens't irritate or itch my skin so I can use it every day. Lovely under makeup as well

Great Moisturizer

I enjoyed using this mosituriser. I have used it for about a year. I found for my skin it worked well in summer and winter. It glides on easy and sinks in well. While I didn't have a reaction from this moisturiser with my sensitive skin I have moved onto moisturisers that help alleviate redness. This was a good basic all-round moisturiser but I now want something that addresses some of my specif...

Read More

Great Moisturiser!

Great gel-like moisturiser that isn't greasy and doesn't clog pores. Goes great under makeup, and fine to use a primer on top. I found I need something more moisturising in the PM though. Will definitely repurchase.

Pleasant surprise

Great moisturiser. More of gel texture than a cream but I'm now converters! Spreads really well on the face, you only need a pea sized amount. Good moisture withoit looking oily.

Beautiful

Oh man. The things I would do for skinstitut for them to sell it on their larger bottles. I love this moisturiser and how it sits on my acne-prone skin, and never breaks me out. My only qualm is that the tube was quite small and I was hoping to get more bang for my buck like with the cleaners!!! I will consider buying again when I finish it

Love this moisturiser

This is one of my favourite moisturisers, it is great for my combination/acne covered skin and is not too dense and oily. Have definitely noticed a difference in my skin since using the Skinstitut range - I recommend getting help to tailor a regime to suit you.

My perfect work from home moisturiser!

I wanted a moisturiser without SPF for when I'm working from home and on video calls alllll day... this is the perfect moisturiser! Great for day time, non greasy, hydrating and great price point! Happy and repeat customer over here!

Fantastic, non sticky moisturiser

I love how lightweight and non-sticky this moisturiser is. I've been using it daily for nearly three years and my skin is develops less dry patches. I use in the morning, before primer and makeup

Good for price point

Good moisturiser for price point. hydrating and doesn't irritate my skin. The gel like formula leaves my face a bit greasy by the end of the day though. I find that the cucumber smell is very strong too.

Fresh Face

I put this on daily morning and night, after I have cleansed and put a serum on. It is not a heavy product which I love about this. This is a great sized bottle, you only need a small amount to cover your face/ neck. I absolutely love this product.

All rounder

This moisturiser is a good all rounder, however not the BEST. It feels nice, it is easy to apply, it leaves your skin hydrated.

go to moisturiser

it is a great everyday moisturiser it was recommended to me by a laser clinic and i have been using it ever since. it is so lightweight on the skin and gets absorbed by it in seconds. love it. it is great for aged skin too.

Perfect for acne prone skin

I have really bad hormonal acne that hates all moisturisers. This is the only one that doesn't clog my pores ! It keeps my skin so hydrated and Doesn't make my skin so oily during the day. It also makes a great base for makeup ! Love it so much

Amazing

Leaves my skin feeling very hydrated and plumped, a little heavy however that subsides as it sinks into the skin

Great for combo skin

It took me ages to discover gel based moisturisers are soo good for combo skin. This one is great - not too heavy and not too light, nice and soothing and cooling on the skin. I wear it every morning and evening and have found it to be really gentle and hydrating.

A sigh of relief

Finally a moisturiser that works! Have been trying to find the perfect moisturiser for a long time that works with my skin - and this is it. Pretty stingy at first after a few uses, but skin normalises. I use this in conjunction with other Skinstitut products, however for that extra boost of hydration I add in a bit of the multi active oil. My skin looks so plump and glowy in the mornings

Great Everyday Moisteriser

I love this moisturiser its light and feels hydrating on the skin. I also really love the subtle and calming smell.

It's ok

I find it to be lightweight and hydrating. I would describe the scent to be like pears. My only problem with it is that it balls up on my skin which I'm not sure why. It might not be the same for others. Overall, feels nice and hydrating but might ball up on the skin.

Perfect for oily skin

I have really enjoyed this moisturiser for day time. I struggle with breakouts and this has kept the oil stay away during the day without feeling dry. Absorbs easily and quickly, so sunscreen and makeup goes on well. I will buy again.

Perfect Everyday Moisturiser

I have combination/sometimes problem skin - oily T-zone, sometimes congested but can be seasonally dry & sensitive. This is the perfect moisturiser for everyday use. I don't find it oily or too heavy, absorbs nicely and leaves my skin feeling soft. The only thing I would love Skinstitut to do with this product is add SPF to it & make it a bigger size (although a little does go a long way with the ...

Read More

Amazing

perfect moisturizer, no fuss, light weight and great under makeup plus its unscented!

A beautiful moisturiser

I absolutely love this moisturiser, it's pretty much perfection. Has some great antiaging and protective properties to it and feels soothing and lightweight as it goes on, perfect to wear in the morning and then i follow it with an oil at night. Not too greasy but also not too light weight. Only con with this is I feel like I go through it pretty quickly, can get quite pricey when repurchasing. Wi...

Read More

Amazing product!

This moisturiser has the perfect balance of not feeling heavy on the face and yet feeling so hydrating on the skin. The gel texture feels so nice when applying, and the smell of the product is amazing and so refreshing. This moisturiser has become an essential for my everyday skin routine, just wish they had bigger ml sizes!

Super hydrating

I love this product as I suffer from very dry skin from being in the ocean a lot. The smell is beautiful and you do not need much, only a pea size amount. My skin feels very hydrated after 2 days of use! I will definitely buy again

Love this moisturiser!

This moisturiser is great. A little goes a long way and it leaves your skin feeling soft and refreshed. A great price, too. Will definitely repurchase!

Good

This smells nice and gives my skin a light hydration. It has nice ingredients too

Great everyday moisturiser

I love using this moisturiser in warmer month as it's not to greasy on my combo skin, I use the dry skin one in winter and both sit well under make up.

the perfect moisturiser

Finally a moisturiser that does the job without making my oily skin shinny! Very happy with it.

Not a huge fan

Can't say i'd repurchase this moisturiser, it left a sticky residue on my face and I didn't really feel as though it was doing anything at all. I'd much prefer to spend a little more money on a product that makes a difference to my skin.

Great everday moisturizer

Started using Skinstitut as was having breakouts. My skin has been great ever since. This moisturizer is light, great under makeup and lasts a long time.

Amazing Product

Great moisturiser, but after a while my face was too oily so I switched to the oily Skin version of this one. Works well for my boyfriend tho.

Thumbs up!

Prior to the purchase of Skinstitut Moisture Defence - Normal Skin & Skinstitut Rejuvenate 15, I had dry skin. My cheeks were flaky & red. I decided to purchase both products & within one use, my painful red cheeks recovered. My skin feels so soft & well moisturised. I definitely worth the purchase!

Good but not great

This product is a nice and gentle moisturiser, it does leave my fingers feeling very sticky after applying though. It's good but not great - there are better ones on the market for the same price point. A bonus would be its scent-free.

so great!

the best moisturiser ever. it feels so nice on my skin. it's light and not oily and leaves my skin feeling amazing!

Love this moisturiser

A simple, no frills moisturiser that I love using to mix with my other oils and serums. It provides a great moisture barrier for me during the day.

A drink for your skin

I struggle with breakouts but dryness in some areas so I was sceptical to buy moisturiser for "normal" skin but this is honestly the best moisturiser I've ever used. After a full day at work and a workout at the gym, it's still on and barely shiny! I have to stop myself from putting too much on because it just feels so beautiful on the skin

Really great light moisturiser!

I love using this as my day time moisturiser, i prefer something creamier at night. Even though this has a light consistency it is still super hydrating and feels lovely on the skin. I like the consistency and scent and it's great value. Will always have a bottle in my bathroom.

Thoroughly Impressed.

I have to say this is one of my favourite hydrating products I've tried, and I've only tried about 5 thousand. It's very easy and smooth on the skin without being too oily or leaving a greasy residue as most hydrating products do. You also get a good amount of product for the reasonable price!

HOLY GRAIL

This is my holy grail moisturiser!!! I have tried soooo many and always come back to this one. I have been using Skinstitut since 2014 and its never let me down!!!! It is at such a great price and works well with all the cleansers!! 100% always recommended to people who ask me what my skin secrets are!!

Skinstitut Moisture Defence Normal skin

I have been using this for about a year. It's amazing.

Good

This moisturiser is gentle for my sensitive skin and it lasts me ages.

Beautiful Product

This is an excellent everyday moisturiser that makes my skin so soft and supple. It smells beautiful and you only need a tiny bit for your face. 100% will repurchase!

So nourishing!!

I love everything about this moisturizer! Especially when my skin is feeling dry as it has quite a thick, creamy consistency (similar to laser aid which is amazing for irritated body skin) but excellent for the face. I love the scent, smells fresh and clean. Really good for sensitive skin and those prone to dryness, or who sometimes have eczema, psoriasis as I do.

Great

My skin has been so moisturised after using this and a little bit goes a long way

Another great Skinstitut product

This is a great simple moisturiser. Feels great on, however feels slightly too thick. Love Skinstitut products, only wished they'd bring out a moisturiser with spf!

moisturiser

not too thick or rich, but still gives a good level of hydration without looking greasy. no complaints

My Holy Grail Daily Moisturizer

I have repurchased this moisturiser probably ten times now and it's my favourite. It is very moisturising and is so lightweight that it works perfectly under makeup. I don't love it is a nighttime moisturiser because I prefer something heavier but nevertheless I love this product and use it every morning.

Hydrating and glowy

This is my favourite moisturiser I cant be without it! It hydrates my skin so well and leaves it looking glowy and feeling so smooth and soft. I love that it doesn't have a strong overwhelming scent as well and it does last a long time you only need a small amount to moisturiser your entire face.

Lightweight moisture

I've got sensitive dry skin and I'm not a fan of thick rich moisturisers but this one is a nice balance of making my skin feel moisturised without looking or feeling greasy.

supple and smooth

this moisturiser would be great for normal skin as it provides moisture without being too heavy, however i have noticed that my dry patches started to re-appear as it was not heavy enough for my combination skin.

Product has changed

I used to love this product. It was light and easily absorbed. But it has recently changed. It's now thicker and doesn't absorb as well. It also doesn't smell as nice. The ingredient list is exactly the same so not sure what the manufacturers have done?

Great moisturiser

This is a great day time moisturiser. Great under makeup and as it's SPF free, it photographs well. My skin is pretty normal, not overly oily or dry.

Love everything except the scent

This moisturiser feels so nourishing on the skin but there is something about the scent I find really off-putting. I'm not usually bothered by scents but cannot put my finger on what I can't handle with the smell. Sort of like a natural lanolin scent that's just not for me which is such a shame because the Skinstitut products are such high quality.

Tiny tube

I brought this and thought it was a large tube like some of the other skinstitut products but it's small.
I have been using it and it's lovely and will purchase again.

good moisturizer

This is a good moisturizer although I tend to opt towards an oil-free product most mornings (I have combination/oily skin). It is also quite a small product in comparison to the Skinstitut Cleanser or Scrub.

Good all rounder

A good all round moisturiser for every day use. I like the formula its very hydrating for my skin but it isn't too thick and doesn't break me out. I have combination / dry skin and I do get some acne so for my sort of skin its perfect. Whilst I think it is reasonably priced for the quality the tube is quite small, I think 75 ml would be perfect.

Good value for money

This product feels nice on my skin and isn't heavy, its moisturising and great quality for the price.

Hydrating without being oily

I have dry and sensitive skin which makes it hard to find food products. I started using skin skinstitut after a friend recommended it and they haven't disappointed. The moisturiser is hydrating without being oily and the consistency makes it really easy to apply. I've noticed the difference since I started using it.

So moisturising!

This moisturiser is genuinely one of the best I've used! It really hydrates my skin and doesn't leave it feeling tight like ones i've used in the past

Great product

I've been using this product for a couple of years now and have to say it's a favourite. Any time I've tried anything else my skin just doesn't like it. It's lightweight and I find it hydrating for my skin. A lot goes a long way too. I would definitely recommend.

My Favourite Moisturuser!

A very hydrating moisturiser which makes my skin look and feel super dewy and fresh. I apply each morning and night and it does a great job of keeping the moisture in my skin! I have been using this for a few years now and my skin loves it!

Good for oily skin

Not overly hydrating, probably best for normal to oily skin types. Seems suitable for sensitive skin and post-procedure irritated skin (ie after micro).