Skinstitut Hydrating Mask 75ml
Questions & Answers
(2 Questions)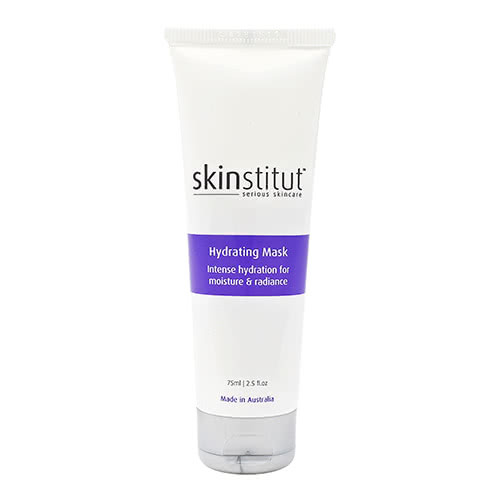 Skinstitut Hydrating Mask
Get an expert to answer your question about this product!
Ask a Question
89% recommend this product
Most Helpful Positive
great!
so refreshing, I love using this mask it makes my skin feel plump and full of moisture
Most Helpful Criticism
Not sure
I don't know if I see amazing results from this. I think my normal moisturiser does just as much! It's nice but yeah probably not worth it.
Mosturising

I have combination/oily skin. This product moisturise my skin and make my skin feel hydrated and fresh. However, the normal skin moisturiser works similarly so personally I think there is no need to buy both product. Just pick one and save money.

great!

so refreshing, I love using this mask it makes my skin feel plump and full of moisture

Amazingly hydrating

This is such an amazing product.
If I could only have 3 skin care products to use for the rest of my life, this would be one.

Amazing stuff!

I use this twice a week after exfoliating my skin. It hydrates my skin and makes it feel so much softer. I absolutely love it and don't know how I ever lived without this product in my skin care routine

Not sure

I don't know if I see amazing results from this. I think my normal moisturiser does just as much! It's nice but yeah probably not worth it.

average

I don't know if this does a whole lot. My skin feels fine after, but not amazing. I often feel more hydrated after other masks or just my usual moisturiser.

Definitely hydrating

It's easy to use and leaves my skin feeling soft and hydrated

Replenishing!

This is by far the best mask I've ever tried! After only 10-15 my skin feels noticeably moisturised. I have very sensitive-dry skin and try not to put unnecessary products on it but this makes the cut. I do avoid putting it on any area when I have a break out, but that's just my personal preference. I already have soft skin but this brings it to life. I definitely recommend this!

Calming and moisturising

My skin was a little red on my neck and face. This calmed it right down and skin felt so moisturised after. Very happy. I'm a relative new user to skinstitute but am very impressed with their products so far

Very hydrating

Love this mask! Exactly what I need to give my skin a pep up, leaves my skin feeling very soft and smooth. Definitely worth it.

Nice soothing feel

My skin really enjoys this hydrating mask as it seems to feel refreshed and smooth after applying.

Gentle mask

I really like how gentle this mask feels on my skin , I haven't tried leaving it on overnight yet but after reading some reviews might give it a try.

Pretty good

I have sensitive skin but also 'normal' (not dry or oily). I use this product 1-2 times per week and find that my skin feels very refreshed. I wouldn't use it more than that though or my skin gets a bit red and raw.

So soft and smooth

I love this, I tend to leave it on overnight once or twice a week and it leaves my skin feeling really soft and smooth. Plus it definitely feels firm. Love!

Love it.

My skin felt great after using this product. I use it twice a week.

Hydration mask that works

Happy with this product, instant moisture boost

Plumping and Hydrating

Nice little after cleanser mask. I usually apply this to dry skin and leave on for 10-15 minutes. Skin feels really plump and fresh and hydrated after.

Excellent Boost

I have oily skin so i dont need the extra moisture very often. I tried this after my skin was a little dry. Left it on for the recommended time and wow. My skin felt moisterised and plump. Nice addition when you just need a little extra.

Great for dry skin

This makes really hydrates my skin. I can see and feel the difference after I use it.

Water for your skin

This mask gives you a instant boost of hydration and leaves your skin feeling silky smooth. I have oily to combination skin and doesn't make my skin break out the slightest.

Boost your skin

Instant boost of hydration for your skin. Don't freak out when your skin tingles it's just working it's magic

Great for extra hydration

This mask is great for extra hydration. You can leave it on longer then it says on the packet too

Gentle, hydrating mask

This mask if gentle and hydrating on my sensitive skin. I usually leave it for longer than it says on the bottle.

Needed for Australian summer

I love this product, I often sleep in it and I wake up with such fresh, hydrated and dewy skin.

Super Duper Hydrating

I looove this mask and use it nearly every day! I like to leave it on for a bit longer than 10 mins when it's my lazy day and it really hydrates my skin when it's in need. I generally have dry skin so this product is perfect!

Hydration plus

Great for hydrating after being in a/c too much in summer or when skin is very dry in winter

Hydrating

This mask is super hydrating, after the first time I used it my skin felt fresher and healthier. It didn't leave you with that tight feeling a lot of other masks leave you with.
Would recommend this product!

So hydrating and smooth

This product is so hydrating and leaves your skin feeling smooth and rejuvenated! Would definitely recommend if you want a skin calming product to use as a relaxing mask.

Hydration!

So hydrating! Love using this during winter or when my skin needs more TLC.

Very Hydrating!

So happy with this. My skin felt so soft and hydrated the next morning after using the night before. You could really see the difference. Will definitely purchase again.

Very hydrating

Love this product, initially I used it twice a week as my skin was very dehydrated. I use it once a week now and can honestly say my skin has improved considerably.

Okay product

This hydrating mask delivers on hydration but need to leave it on for at least 1hr to see results. My skin type is sensitive combination. This is a gentle hydrating mask with no tight feeling after.

Excellent Mask

I love this mask - I use it straight after a peel or detoxifying mask and my skin loves it.
It feels quite light weight, but really packs a punch in the hydrating factor.
Its short timed - you only need it on for 10 minutes, but you can leave it longer if you choose.
I find it great before a night out - my skin stays dewy and soft, even out in the cold and the wind.

Skin saviour

I have combination/dry skin that gets exceptionally dry in winter. I use this mask 2-3 times a week and it ensures that my skin stays hydrated, plump and glowing all year around. I have sensitive skin as well at it does not irritate it at all which is really great. Overall i would definitely recommend this mask to all skin types.

Amazing

My skin can be dry if I don't look after it properly and this product makes my skin feel amazing

Great mask to wear to bed

After cleansing before bed I use this product every second night and sleep with the mask on. In the morning my skin is nice, plumped and refreshed.

Perfect solution to dry irritated skin.

I ordered this product when i heard lots of good reviews. I have dry skin, especially in my cheeks which are red and irritated. I have only been using this product once a night for about a week or less and my skin has already transformed to smooth, soft and clear. I highly recommend this to anyone of my skin type!

Great for Flying!

I was reading up about how to prepare skin for a flight because I always happen to breakout whenever I get off a flight (annoying).

For years, it never occurred to me it was due to dehydration.. until now. Coupled with lots of fluids, I treated myself with this mask the night before then added the Skinstitut Repair Balm into my everyday moisturiser in the morning and this worked amazingly throughout the flight; I also spritz myself with the Hydrating Mist when I felt a bit dry and needed a pick me up.

Brilliant product. I mask myself at least once a week now.

Great soft mask

I've used Skinsititut for a long time but have only just added this to my routine. It is nice and soft on my skin, doesn't give that really raw feeling some other masks do.

Love this!

I have combination and sensitive skin, and I use this mask whenever my skin is feeling dry or dehydrated or just needs a pick me up. After using this my skin feels so incredibly soft and glowing. This is a really good mask that is so effective! Sometimes i will even leave it on overnight if i want extra hydration. Overall, I would really recommend this hydrating face mask.

Does what it says

I have combination/oily skin and found this worked quite well. It's great to use in winter for really dry skin, but doesn't break me out. The only downside is the smell and texture of the mask, but if you can get past this it really is a great mask. I would overall recommend this!

Made my skin red

I bought this product to boost hydration on my skin. I am asian with normal/dry skin. For the first two times, I left it on for 15 min as directed then when I washed it off my face was all red. As my skin rearly reacts to skincare products it was a shock.Now I set a timer for 5 min. and seemed fine. Dont know how some people leave it on over night! I like the texture and its suttle smell. My skin does feel smooth and no tightness after using it but cant say I notice much difference, maybe I am not leaving it on long enough?





A must have

Hydrating mask is a must have in my skincare resume. I use it every second day mixed with Vitamin C & sleep with both on my skin.
C adds the brightness but hydration is a necessity for illuminated skin that looks fantastic. I'm almost 50 and people are astonished at my actual age which is because of my skincare beliefs and rituals.

Leaves my skin plump and fresh

I love this mask!
My favourite way to use it is after the enzymatic micro peel. This routine leaves my skin so wonderfully refreshed and vibrant.
I don't wear make up very often anymore, but I have found if I use this mask prior to doing my make up my skin is much easier to apply my foundation to.
I also lobe using it when I go on a flight. The mask itself is clear and you don't need to use much. Whwn I can I use it was a moisturiser before I fly and my skin doesn't dry out at all.
Like all skinstitut products you don't need much of this.
I love it and recommend highly.

Favourite Mask!

If you're after an instant boost of hydration for your skin, this mask will certainly deliver! I leave it on my face for up to 15 minutes, then wash it off and afterwards my face instantly looks and feels super soft and hydrated! My face looks fresh and dewy and it means me feel good knowing it has high quality ingredients in it too! Very affordable for a hydration pick me up!

Great for when you over use retinol and products with alcohol in them

If you ever use skin products that contain alcohol you'll notice how fast it dries out your skin... This definitely is like a magic wand, instantly hydrating your skin in such a short period of time.

I've slept with this on several times and it makes your face sooo soft in the morning.

I 'adore' Skinstitut products in general but with this one, I'm sadly disappointed :(

I have normal to dry ageing skin. I have tried this product 3 times now...the first time I thought maybe my skin was already hydrated enough because the product didn't seem to settle into my skin and was pilling/balling up within minutes. The second time I used less product and had left my skin all day without moisturising then cleansed with Skinstitut's L-Lactic Cleanser (love that product!) then applied the mask once my skin was dry and it pilled again! The third time was just to make sure it wasn't my method so mixed up my cleansing routine a bit but the product still pilled and didn't leave me with much more hydration than I started with. Others may not have this issue but it certainly doesn't agree with my skin :(

Incredible

Well this product is just amazing. I buy a lot of products from adore beauty and I find their service is so,fast and heaps of free samples. And always a chocolate. This particular product is amazing. I love institut but this particular one is the best. Thanks Adore.

A good mask

I bought this mask with the idea of using it during air travel to protect my skin from drying out. I haven't tried it ou on a plane yet but played with it a few times at home.

During my first use, I only managed to keep it on my skin for a few minutes before it started tingling uncomfortably, but my second use I managed 15 minutes without problems. I have occasionally dry/sensitive skin so maybe not one for the super sensitive girls?

The mask did leave my skin soft afterwards but not any more than a good scrub/cleans and moisturise could do. I think as a protectant it might do better though.