Mirenesse Secret Weapon Mascara 10ml
4 instalments of $8.75
Or 4 instalments of $8.75 with
LEARN MORE
4 instalments of $8.75
Or 4 instalments of $8.75 with
LEARN MORE
Official Stockist
Is this for you?
You've never tried anything like it! Exclusive curling formula for really curly lush thick lashes: smear proof, sweat proof, smudgeproof, sleep proof, water resistant yet easily removed just with warm water and cotton wipes! Great for sensitive eyes.
Australian Made
Artificial Fragrance Free
Certified Organic
Sulphate Free
Frequently bought with
Please wait while we find a match
Questions & Answers
(1 Question)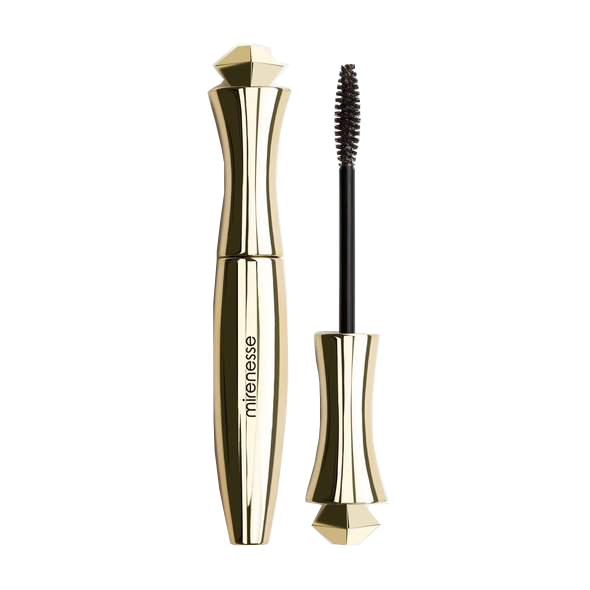 Mirenesse Secret Weapon Mascara
Get an expert to answer your question about this product!
74% recommend this product
Most Helpful Positive
Great
Great mascara that gives volume and doesn't smudge
Most Helpful Criticism
not for me
I dont have much eyelashes to start off with, so maybe that's why I didn't love this mascara it left fallout under my eyes
Lots of fall out

I found this started dropping black bits of mascara only an hour into wear time leaving me looking like a mess. Won't purchase again

Great

Great mascara that gives volume and doesn't smudge

Wins awards for good reason

Bought this after seeing it take out so many beauty awards. Easily applied, doesn't clump or smudge. I liked the intensity of the coverage and it's durability. Great mascara.

Great for easily irritated eyes

firstly the packaging is so sleek. It's cruelty free, Australian brand and clean beauty. It never flakes and never irritates my eyes which is so handy. it comes off with water in the evening and never leaves panda eyes. Because it comes off so easily I never lose lashes either.

Gives good volume and length

It looks good on...

I got this in a very good-value Christmas try-them-all pack. It looks nice on, very lengthening, but I do find it a little flakey and it is hard to remove. Double cleansing in warm water doesn't get it off completely which I find very annoying, for future I will go for clinique curling mascara which wears better and removes really easily.

Volume volume

This product give my eyelashes heaps of volume. It does not clunk all my eyelashes together which I love. The packaging is very sleek also. I'll be purchasing this again

My go to

This is one of the rare mascaras that I have found that does not smudge in humid weather. As I prefer a natural look, this is my favourite mascara to use.

longwear

it is the longest wear mascara i have ever tried. it is beautiful mascara that stays on for long hours and also gives volume to my lashes

A Real Waterproof Mascara

I work in a warm environment and need a reliably waterproof mascara which I've finally found. Unlike some other, and often more expensive mascaras, this one stays put and doesn't end up below my eyes by lunchtime. It is also easy to apply and doesn't clog.

worth every cent!

I LOVE this mascara, I have long lashes already but love to plump them up and get a little more volume to make my eyes pop behind my glasses and this mascara delivers - with no clumps!
As a bonus, it doesn't irritate my sensitive eyes, doesn't smudge or flake and it is easy to remove at the end of the day.

Great Tubular Mascara

This is a great mascara for preventing panda eyes! I just wish it had a little more volume - lengthening is spot on though.

not for me

I dont have much eyelashes to start off with, so maybe that's why I didn't love this mascara it left fallout under my eyes

The best mascara ever

My go to mascara. Does not budge and leaves my lashes looking long and thick without glugging. Love how it washes out so perfectly in water and does not damage my lashes.

Volume

This gives the best volume to your lashes!

Buildable Lashes

To begin with, the packaging of this mascara looks and feels fantastic and really suits the price point of the product.
The mascara itself provides a good, buildable colour that lasts throughout the day. The pigment is also great.

My only small complaint about this product is how difficult it was to remove - I found that it could clump and cling to the lashes which meant that t...

Read More

Amazing

A lot of mascaras transfer underneath my lower lash line but not this one so I love it. This formula is perfect for a day look when I use one coat on my lashes and perfect for a night look when I built up the coats. Also, super easy to remove

Dont bother buying anything else!

This mascara is the perfect formula and the only one ive ever used that doesnt end up on my lower lash line ruining my under eye concealer.

The brush is thick but not so much it ends up all over your lid and stays in place all day!

And yet so easy to remove at the end of the day so no excessive rubbing.

Great, No Transfer Mascara

I have quite long lashes and have found it so hard to find a mascara that does not transfer! This little gem doesn't transfer at all, goes on like a tube style but you can layer it and it doesn't transfer at all throughout the day and is easy to take off at night. Highly recommend if you have long lashes.

Love it

This mascara has survived even the sweatiest of gym sessions and not smudged one but! It comes off super easy with water in the shower. I don't find the volume effect to be that big on this one compared to other mascaras like better than sex or any of benefits... but for a daily wear and exercise it's perfect.

Pretty Good

Easy to get off with just water. good for sensitive eyes.
Do find it adds volume and length without clumping however each time i purchase, it tends to dry up really quickly...definitely doesn't last as long as some other brands I've used, therefore not sure if its worth it for the price...hence the 3 stars

Stays put, but hard to get off

I have trialled many different mascaras, and this one certainly has some guts. I find I have to scrub at my eyes a fair bit to get this mascara to lift (I have even trialled using my face balm to lift it to no avail). I also recently travelled with this product, and noticed that the mascara actually pooled to one side, which then caused a lot of clumping of my lashes. Not sure I would recommend; h...

Read More

Great

product that doesn't budge and i have watery eyes! although it doesn't add much in terms of volume or anything.

Good..

But definitely not my fav
I don't really like it first opened but after a couple of weeks it's somewhat better but probably won't purchase again-

Won't budge

I have tried many a waterproof mascara attempting to find one that doesn't give me panda eyes at work. I work in an environment where it is hot and I often sweat to the max. No mascara has been able to stand up to this test. Until now. This is a lovely natural looking mascara that doesn't smudge onto my eyelids or under eye area. I wish the applicator brush had longer spikes. But apart from that, ...

Read More

Easy to apply

This mascara gives a lift nicely and curl my straight and thin lashes well. Suitable for natural look make up day. Love the packaging.

good

I do like this mascara but as someone who has very fine lashes, I found that though it lengthened did not really add much volume.
It does wash off with warm water and does not smudge if not removed before bed
Probably won't buy it again -think more suited to someone with thicker lashes but is very stylish packaging

Great for a natural look

If you're keen to add a 'natural look' mascara to your arsenal, this is a good option. It extends the lashes nicely, but doesn't add a heap of volume. Which actually suits me just fine, because I tend to mix and match my mascaras according to the situation.

For the gym / brunch with the girls / a natural workday look, this mascara is terrific. If you're after more of a night-time loo...

Read More

Why the hype?

I was so disappointed in this - yes it makes lashes look good when it first goes on, but i had flaking with hours.

Great

Great mascara that's light but makes my lashes super full

Doesn't flake or smudge at all!

Very impressed. It lengthens the lashes well but doesn't do much for volume. I have super straight lashes though so it doesn't hold the curl at all, but for lengthening it does great and does not budge whatsoever. Comes off great too when cleansing.

Love this

I love this mascara!! Other waterproof mascaras irritate my eyes, but this one feels great and my eyelashes look soft and long. Only negative is the price.


Not worth getting excited about

I tried this after reading a heap of rave reviews. I didn't have the same experience with this mascara. I found that it flaked and smudged so that I had black bits collecting under my eyes throughout the day. Also, it didn't do too much in terms of accentuating my lashes. It had a very subtle effect. Not worth the price. There are much better options from brands like L'Oreal or Maybelline at very ...

Read More

nice for a natural look

I found this to be a decent mascara. It gave a natural look to the eyelashes, so good for a natural makeup day. I found that it didn't give enough volume to my lashes for my preferences. Te brush was very small and precise, however it took a while to properly coat all the lashes with it. I think this wasnt helped by the formula being quite dry.

Good mascara

Stays put all day with no panda eyes, easy to remove, nice ingredients, good on sensitive skin.
Would personally prefer a more volumising finish, and it's quite a dry formulation. I might try one of the other Mirenesse Secret Weapon Mascara;s next time

HG Mascara

The best mascara I have found! I have trouble with itchy eyes, mascara flaking under eyes, panda eyes from sweat!! This is the only mascara that isn't waterproof yet doesn't fall under my eyes. I have tried lots of Mirenesse mascaras, like them all except for the ones with extensions in the formula as they make my eyes itchy. :D

Great for Sensitive Eyes

I have really sensitive eyes so I had always struggled to find one that works for me. I used to use MAC but this is a great alternative for the same cost- maybe even a little cheaper and much more natural with it's ingredients. I have to say this a great daily mascara and I highly recommend it. It doesn't flake or rub and it easily washes off with face wash at the end of the day. No panda Eyes!!

best mascara ive ever tried

ive always had issues with sensitivity with my eyes and mascara but no more huzzah!

ive had no reaction, no itching or redness at all to this mascara and im so glad i tried it!

and its true! it barely smudges!! i work outside and even the recent sydney downpour couldnt smugde this stuff!
only once you get home and rub with warm water and a bit of remover does it c...

Read More

Love a good tubular!

I just purchased this for the fist time. It went on easily without clumping and definitely made my lashes longer!

FANTASTIC

I absolutely love this Mascara!!

So easy to apply, makes your lashes look long, thick and luscious and so easy to remove! I will never stray away from this: an ultimate staple!!

LOVE IT

This is my all time favourite mascara. I have it in brown and in black. It always looks sensational, stays on well all day and it easy to cleanse off at the end of the day!

Love love love it!

Fantastic product! I am a PE teacher and need something that can last in all weather conditions and this product does just that! I have no dark marks under my eyes and it makes my eyelashes extra long! LOVE LOVE LOVE IT!

Best Mascara I have ever used

No black eyes, great staying power, waterproof and looks great all day, no clumps. Try it you will love it :)

Best Mascara

This is a great product as it is easy to apply,stays on 24hrs and is so easy to remove----no smudging.
It is tear/water proof.
Simply the best Mascara no wonder it has received beauty awards.
Fabulous beauty product!!!!


This is truley is the holy grail of mascaras

Since I discovered this secret weapon I have & will never wear another mascara. I love how I can simply take my mascara off whilst I'm in the shower and remove it with just water & have no panda eyes when I'm finished. Love, Love, Love!!!

Surprisingly Excellent

I'm not new to this price range of mascara, with my previous two mascaras being Stila and Kevyn Aucoin, both $50+ from Mecca.

This Mirenesse is by far the best of both of the pricey other mascaras I owned.

I have very fine lashes which are relatively short, which tend to clump together with ordinary mascaras. However this mascara actually defines and lengthens like it s...

Read More

Long wearing and comes off with water!

I'm not too sure how this mascara can be waterproof, but still just wash off with water, but strangely it has the ability to do both. I got this as part of a TV shopping network package and I do love it. On its own, its a bit pricey but its still a great mascara. Keep an eye out for the specials on TVSN or the mirenesse website!

Smudgey

Dissapointed with this mascara - especially as I only purchased this after reading some of the reviews saying that it was smudge proof. I found that this did smudge and that I ended up with black bits under my eyes after wearing it for a day. I have a pretty full and heavy fringe so not sure if this was the cause but I wont be buying this mascara again.

Great mascara

Just had to post a review to answer all the other reviews saying that the consistency is too thick. You are given a leaflet with the mascara when it's sent to you which says that if the consistency is too thick, add 1 drop of distilled or boiled then cooled water to the tube. I've done this and the consistency is perfect. I know you're not supposed to keep mascara longer than a month, but I've had...

Read More

Best Mascara ever!

Okay so it doesn't necessarily lengthen or thicken much but it never smudges and you will never have to use eye make up remover ever again. Just use warm water on your fingers and slide tubes off your lashes. I am not faithful to any particular product except for this. I have been using it for past 6 years and would die if they stopped making it!

The bomb

I have very sensitive eyes, usually when I put mascara on, I get watery eyes and subsequently smudges. This is the only mascara I have used where this does not happen, not to mention how incredibly easy it is to take off, making it completely ideal for day and business wear. For me it does not have the features of the other mascaras, but being able to wear it without a reaction is enough to make t...

Read More

I have used this product before and found it quite good as in long lasting, non smudging and easy to remove however after opening the mascara the tube dries out too quickly. After about 4 weeks the product had dried out and is unusable.

One of my favourite mascara's. This is a tube mascara so I get no black blobs under my eyes, no smudges in fact it does not budge until I remove it with warm water. Great for everyday wear lengthens and curls lashes perfectly.

Love this mascara for everyday wear. I have super long eyelashes already, and this is enough to make them pop. I wear this to the beach, it that's smudgeproof. Not a fan of the black flakes that stick to the shower wall, but it's a small price to pay for a mascara that stays put, yet washes off so easily.

I have really long lashes and when I use other brand mascara I end up with black marks near my eyebrows and below my eyes. I don't have this problem with Mirenesse, I've been using this mascara for over 2 years and I'm never going to change. It doesn't smudge or give me hideous black circles around my eyes. The only downside is you do have to replace every 3 months because it begins to dry and get...

Read More

doesnt smudge, easy to apply, long lasting

I was one of the lucky ones to receive this sample mascara from Adore. Loved the sleek, sexy black and gold tube that houses this mascara. Just looking at it excited me to try this alluring cosmetic product. Enthusiastically as I unscrewed the tube I was a tad disappointed, as it seemed quite thick and gloopy, and extra product came out more than what was necessary. Applying it to my eye lashes...

Read More

excellent for a natural look. I like wearing this when I am wearing minimal eye makeup as it is easy to remove. doesn't smudge or clump and no panda eye if you wear it to the beach.

I was excited to be given a sample size tube of this from Adore, but unfortunately it did not live up to my expectations. I thought it would be non-flakey and lush but it was quite clumpy and difficult to apply and it flaked throughout the day. The worst part of the experience was when I removed it in the shower(as per instructions) and my lashes were damaged. I am not sure if perhaps the sample...

Read More

I love tubing mascara - will never go back! easy application, no more "panda eyes". Next timei will try one of the other mirenesse secret weapon mascaras as i would like a better brush. Comes with clear instructions for use for tubing mascara newbies

one of the best mascaras, lasts long, doesnt smudge

I was given a sample size about five years ago and have continued to buy this product since. Occasionally I have bought others but always return to mirenesse brand. Doesn't flake, stays on amazingly well. I think the only problem is when I have removed it in the bath and then wondered what the black bits were on the side of the bath and they don't want to come off easily. Removal in shower is s...

Read More

One of the only mascaras that doesn't give me pandas eyes. I found it quite lengthening and thickening and really easy to wash off. It did leave me lashes feeling a big rubbery though, and the brush is a bit big. Other than that, it's a great mascara!

This mascara doesn't budge, i never had any problems with all being under my eyes. Its not black or thickening enough for, although its a probably a good daytime mascara,

When I first tired a sample tube of this I love love loved it so I straight away bought a full size for when the sample ran out. However, I'm just not loving the full size. The curved brush I'm finding difficult (the sample had a straight brush) and I had to thin the product down because it was clumping everywhere and drying before I could comb it through (and I normally never have to comb through...

Read More

i love this mascara , never have i been loyal to a mascara before , i haven't bought another brand for years ! it tends to be a bit light / runny for a week or so but then it is FAB , non clumpy , non streaky & fab BIG lashes , you can just build it up to the level you choose & so easy to take off . i just dampen my lashes & then gently slide off the "tubes" between my fingertips note: the ...

Read More

I so wanted to like this one but it was so hard to apply - dry and hard to adhere to my lashes. Pity because it really does rinse easily without leaving panda eyes and the packaging looks very glam. But too much time and effort wasted trying to apply it.

Did not see the whole fuss about this mascara. But then again I like my lashes to be as big as drag queens. If you like a natural look this mascara would be good for you. Packaging is pretty boring.

This is simply the best,most natural looking mascara I've ever worn.No clumping ever,no panda eyes,and no probs for my contacts either.Very easy to remove too.Yay!!

This has got me back into wearing mascara again! I gave up wearing mascara after getting "panda eyes" after a short time even with waterproof ones, and as for getting them off, its a nightmare! Secret weapon does not smudge, I wear it all day and into the night with not a single smudge and it comes off with warm water, so no scrubbing at my delicate eye area, I don't need to be doi...

Read More