Kérastase L'Incroyable Blowdry Heat Lotion 150ml
4 instalments of $10.50
Or 4 instalments of $10.50 with
LEARN MORE
4 instalments of $10.50
Or 4 instalments of $10.50 with
LEARN MORE
Official Stockist
Is this for you?
Kérastase L'Incroyable Blowdry Heat Lotion is a miracle reshapeable heat lotion. Kérastase L'Incroyable Blowdry Heat Lotion redefines heat-styling with long wear hold and repositionable shape control.
Hair Concern:
Breakage and split ends

Colour protection

Curl control

Dull, lacking shine

Fine or limp hair

Frizzy hair
Hair Curl Type:
Curly

Straight

Very curly/African/Caribbean

Wavy
Frequently bought with
Please wait while we find a match
Questions & Answers
(2 Questions)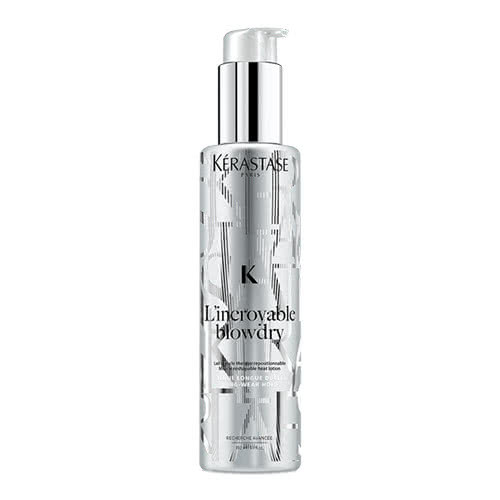 Kérastase L'Incroyable Blowdry Heat Lotion
Get an expert to answer your question about this product!
Kérastase L'Incroyable Blowdry Heat Lotion Reviews
94% recommend this product
Most Helpful Positive
Nice product
Nice product that feels soft in hair and reduces frizz.
Most Helpful Criticism
Good
I got this as a gift with purchase. It's good and does what it claims to do, however it does leave a tacky residue on my hair and does slightly texture it on the roots which mattes my hair. I have very thick and curly hair though but this would be great for those with fine and thin hair
Nice product

Nice product that feels soft in hair and reduces frizz.

Does what it says

I bought this product just recently based on the raving reviews, and am fairly satisfied with the purchase so far Pros: smells amazing and comes in a very cute bottle, adds shine to hair and keeps hair less frizzy after drying it. Cons: as others have said, I have noticed that it leaves a bit of a residue on hair if used by the roots, so I have to use it only from the mid-lengths and down, which i...

Read More

Good

I got this as a gift with purchase. It's good and does what it claims to do, however it does leave a tacky residue on my hair and does slightly texture it on the roots which mattes my hair. I have very thick and curly hair though but this would be great for those with fine and thin hair

Oh my goodness

I bought this as I was uncertain which heat protectant I should get. I kept gravitating back to it & finally but the bullet & bought it. I'm so glad I did. My hair is fine, curly & frizzy most of the time. This is brilliant. I straightened my hair Wednesday (I tried but I really can't love my natural curls) & it's now Sunday night & my hair still looks the same as it did Wednesday & there's no ...

Read More

Love it

I received this product as a free sample.
I really like it.
Some heat protectants can feel like they leave a residue but this one doesn't.
Its easy to apply and i feel it working.
Will happily purchase in future.

Love!

Received this as a gift with purchase from Adore <3 Absolutely love it!
The scent is beautiful and lingers but isn't too strong. A little also goes a long way, will definitely be repurchasing once my sample runs out!

Lovely product

Been using a sample I recieved for a while now. Its a lovely product, it smells great and it help smooth out my hair and eliminates my frizz. High recommend

really good for blow drying

this really helps smoothes my hair! I use it in damp hair and blow dry my hair :)
Also, it gives the hair a beautiful shine and feels so silky! love it this brand never disappoints! i feel like iv been to the salon after using this

One of the best products I have experienced - smooth natural results

I have very long and thick wavy/curly hair. I have always in the past gone for heavy creams and oils to weight down my hair in an effort to tame and smooth. First time I used this product after I finished blowdrying I was sceptical of it's results. It left my hair feeling light and soft with natural movement, not what I was used to. I styled my hair the following day with hot barrel tongs, my dail...

Read More

This brand never disappoints!

Have been using Kerastase for awhile now, and I love their products. I received their blow-dry cream as a sample in one of my orders and I was excited as I haven't used it before. It smells so good, and it really does stop the frizz. I use this on damp hair, and then blow wave it straight - works a treat!

great for blow drying

this is great for blow drying, adds some extra shine and protects my hair

Great for curling

I received this as a sample and am loving it so far! I use it just on my ends before I blow dry and curl my hair. Will probably buy the full size once my sample runs out

Great styling product

I received this as a sample and ended up buying the full size product. I find it especially good when blow drying but then further styling such as straitening or curling. Good for frizz prone hair

Lightweight

Recieved a sample and its perfect for my fine hair - it doesnt weigh it down but manages to keep some frizz down. Shiny blowdry after and my hair feels softer. Not life changing but definitely a big improvement.

This is THE ONE

I have mid length fine coloured hair, prone to frizz at the ends. This produce not only smooths and protects my hair while blowdrying, but also gives it a little oomph. First product I've ever used that gives it body and smoothness, WIN WIN !

Can't Fault!

This product smells absolutely amazing! Great size, will last a very long time. I love that it re activates and protects when using any heating tools for your hair, I feel confident my hair is still protected when I wake up and do some re touching with my iron before leaving for work. Its light and creamy, my hair just soaks it right up, it doesn't leave a tacky or sticky feeing after applying as ...

Read More

Great for keeping fine frizzy hair STRAIGHT!

I have lots of very fine, wavy hair, which tends to go frizzy with ANY moisture. I received this as a sample and found it really works to keep my hair straight and looking healthy. It doesn't leave any residue, but just seems to make my hair stay straight as well as healthier and thicker. Not sure how it could thicken my hair, but it works for me so I'm happy.

My current go to heat styling treatment

I received a sample of this from adore and I was surprised at how soft and silky my hair felt after using this before blow
Drying and straightening my hair. It's a fantastic cream based heat styling protectant. Currently using my second bottle and I would definitely recommend.

tame the mane

I bought this to help manage frizz and tame my curls, whilst heat styling or air drying my hair. it has a mild scent and isn't sticky.

Works well

Cuts blow drying time down and I noticed it first go. Silky feel as you blow dry the hair with a round brush

Lovely and light

This lotion is nice and light so my hair doesn't feel or look like it has product residue in it. Not 100% frizz free but smooths nicely.

Uncertain

I'm not actually sure what this product does. Perhaps it protects hair during styling, but I was unable to determine any difference in my hair quality.

Smells so good

I smells so good and I have fine short hair and i used it just before blow dry and it gave body to my flat hair. It also made my hair soft too. Totally worth the try


Good protection for damaged hair

My hair is damaged from henna and bleach, so it's important I use good heat protection products when styling. I've found this product helps keep my hair in good condition while still being able to style it, helping with the long grow out!

Great product

Smooths, protects and hydrates your hair.

Does what it promises

Another great product from kerastase. Will definitely hold your style from the get go with out being hard or crunchy on the hair. It is quite a thick cream so less is better or I found my hair got quite greasy really fast. May not be good for thin or fine hair but does give good heat protection also.

Protects Hair from Heat

Protects hair against hot hair tools - I often let my hair air dry until it's 80% dry, add a hazelnut amount to my hair, and then blast my hair with a hair dryer until dry (giving me volume at the roots, without having to use a lot of heat - I have fine hair). If I later curl my hair using hot rollers, I find my hair is protected and smooth without having to add additional product!

I've just started using this on my hair.

I've just started using this on my hair. It's doesn't feel like you have product in your hair but gives it some hold along with body movement. I was pleasantly surprised! 

This product claims to be heat protecting, and also has the ability to be reheated and restyled without the need to wash your hair.

This product claims to be heat protecting, and also has the ability to be reheated and restyled without the need to wash your hair. This sound particularly tempting especially if you are the kind of girl who likes to restyle your hair through the week, or if you are travelling. The product comes in a bottle and comes out using a pump. I have long hair, so i use 3 pumps each time. It is best applie...

Read More

Nice one

I got this as a sample and I love it. This have a beautiful scent, it also works wonders with my frizzy hair! It helps protecting against heat damage and makes you hair shiny and manageable.


Extend your blowdry!

I love this product. I received a tube as a sample with my purchase and love it so much I can't wait to buy the product. I put it in the ends of my damp hair then style with hairdryer and perhaps add a curl with my ghd. I find it extends my blow out for 2 or more days (I need a bit of dry shampoo for my roots!). It goes in your hair nice and easy, texture is non-greasy and non-oily. Perfect hold!

Always the best

Not only does this have a beautiful scent, it also works wonders with my flyaways and frizzy hair! Keeps my locks healthy and fresh by protecting against heat damage.

Essential to protect hair before blow drying

Essential to protect hair before blow-drying, it really helps my hair as I blow dry it daily.

So lovely

I'm so impressed and over joyed with how wonderful this is working for me. I'm really happy I've found this incredible brand and product!

Love this!

I initially received this as a free gift so I thought I would give it a go. I have hideous hair that is difficult to style. This product is incroyable! It smooths fly always and does not leave a sticky product feel in my hair. I use it with heat tools. But it even improves the look of air dried hair by taking away the frizz and leaving it lovely and smooth. I love it!

My hair is much healthier after using this

I've started applying this lotion before blow drying my hair and it's made a big difference. My hair isn't frizzy after blow drying like it used to be.

Leave-in styling power without the weight!

I received a sample of this lotion AGES ago in an AB order and after finally using it, I LOVE IT!
A little goes a long way - especially for thin hair girls like me (even with my middle-of-back-length) and it does protect nicely against my blow-dryer.
It feels creamy and thick, but doesn't weigh my sad, thin locks down.
I'd love if it somehow managed to create more shine in my ...

Read More

Love

This stuff is a holy grail for me. Absolutely changes my hair from frizzy dull mess to shiny and sleek. Will never be without it

A product that actually does what it says!

My hair is thick, long, lots of it and frizzy. Using this and Olaplex 6 has made my hair feel the most supple and manageable that it's ever been. I use this in conjunction with Olaplex 6 and will never go away without them. I put into dry hair, tied up in a bun and went to sleep. Woke up the next day with no frizz, feeling hydrated and easy to style. my lazy 2min hair up - high pony braided looks ...

Read More

Lasts a long time

I feel like when I use this my hairstyle lasts so much longer!!

Light weight and effective

I love Kerestase products and this one has been a favourite since recently being released. Great for blondes and achieving a smooth blow dry without the frizz. I really need a good protector as my blonde hair can get a little frizzy with heat styling. This lotion is not too heavy that it weighs my hair down, but just gives it a nice sheen after drying and ironing. Worth the price tag!

Smoother shinier and healthier hair!

Got this as a GWP. Surprisingly I really liked it, so much so that I've gotten the full size. I was resigned to having dry and frizzy hair (my hair is long and colour treated) but after I started using it my hair looked smoother and healthier instantly. Def recommend!

Smooth results

I received a small sample size of this product as a gift with purchase and after a few uses I can truly say that this is a product I plan to purchase once my current heat styling products run out! I tend to avoid hair creams/lotions because my hair is quite fine, but I find that this lotion does not weigh down my hair and really helps to smooth and soften my frizzy ends. It also has a lovely smell...

Read More

Great!!

Such a great product that leaves hair silky while protecting your hair! Love it

Would purchase again

This heat lotion definitely helps smooth out your hair whilst blow drying and doesn't weigh it down. Has a nice smell and it might seem expensive but the bottle lasts for ages.

Beautiful!

I received this product in sample size as a freebie with my order and loved it so much I'm now ordering the regular size!

Best heat protectant I have ever used

Whilst this didn't give my hair body as reported by other reviews it did provide amazing heat protection without weighing my hair down and smoothed fly always. This product is a real winner

effective and nice smell

I got this as a free sample and I definitely noticed my hair is sleeker and more manageable after a blow dry. the smell is also really nice. Not sure if I would purchase simply because ie never really gotten into hair products but if I did decide to I would be confident going with this one because I've tested it and found it to be effective.

Lovely smell and really works!

I received this as a freebie in my last order and absolutely love it. A little goes a very long way. I only apply to the ends of my hair and noticed its been quicker and easier to blow dry. Will be purchasing when the sample tube runs out!

Nice product!

I've really liked using this product! I've felt like my hair has been protected from the heat (it feels nice and soft). I usually wear my hair in natural waves so it's helped shape them and reduce frizz! Will definitely continue using! I love kerastase products!

I'm in love

I've only just discovered this product & im already a convert! I love the Kerastase products but this is fab, it gives my hair body & it feels so soft & leaves no residue at all.

Best product ever!!

I purchased this recently as I blow dry my fine hair most days as it can lack volume & this product is awesome. I love Kerastase products in general but this is my new favourite. Gives my hair volume & sits nicely in the style all day whilst still feeling soft.

Decent hair protection

Got this as a small size and noticed it's quite effective in terms of protecting your hair from heat damage. I use the straightener everyday and this product does assist in making your hair look healthy. Do recommend, however I prefer the kerastase thermique milk.

Very happy.

I apply this heat lotion once I have washed and conditioned my hair. Once I towel dry my hair I apply a small amount and rub it through the ends of my hair. My hair is streaked, shoulder length, so I really don't want any breakage. I have used other 'heat protectors' in the past and have found this one to be the best, thus far. It comes in a fairly large bottle with and in my opinion is well w...

Read More

Kerastase L'Incroyable Blowdry Heat Lotion

I didnt love this product as i found it made my hair so limp the day after and flat on my head . I wouldn't buy this again.

Must have for my curly mess

I bought this product originally to protect my frizz from all of my heat styling that I use & I have re-purchased it since many times. The smell is so lovely & it leaves your hair frizz free post blow drying & straightening. A must have - I would recommend!

LOVE IT!

This product is an absolute must for curly hair. I know it's designed for heat styling, but when i want my curls to be frizz free I use this after the Nutritive Nectar Thermique and they protect my hair, keep the curls really nice and smooth, and if i need to straighten my hair it keeps it really soft and frizz free as well (although it's not foolproof in Brisbane's summer humidity, but nothing is...

Read More

My hair loves it

Thank you to Adore Beauty who gave me a sample from the last purchase.

I was actually surprised that after using this lotion, my hair looked volumised. I only use it once a week and a small amount goes a long way. It's not sticky and leaves your hair shiny and smooth throughout the week.
Apart from the price of the product, this is great!

Love how protected I feel

I got this as a free sample and I'm so glad I picked it! I love that it will continue to protect my hair after the first use of heat. It smells good and leaves my hair feeling soft.

Love it!

I usually use Wella leave in cream but decided to try Kérastase L'Incroyable Blowdry Heat Lotion. I love the smell! I blow dry and straighten my hair daily so I definitely need a good heat protector.

Best product I have bought in ages

I was a little reluctant to buy this product at first due to the price but I have no regrets.
I have fine frizzy hair so regularly use straighteners.
I have found this product to be great and it does exactly what it says. My hair seems less damaged and I went on holiday where it was really humid and my hair went far less frizzy than usual.
You don't need to use much so it will la...

Read More

Leave in must have!

I got a sample of this product with my last order & I've been pleasantly surprised. I'm usually pretty hesitant to use leave in products for my hair as it can become really oily so I try and stay away from adding anything to it before drying.

You can imagine my surprise when I used this product on wet hair, blow dried & straightened to find it wasn't oily & it was SO incredibly soft ...

Read More

Smells nice and smooths my hair!

The worst thing about Adore Beauty is all the lovely and generously-sized samples they regularly give out with special offers. I received this recently and have been using it on work days to ensure I don't have to worry about my hair throughout the day. And it turns! It's a bit pricier than that I have been using, but it's so easy to use and smells very luxurious that I might change my heat stylin...

Read More

Great for preventing flyaways

I always use this when blow drying my hair, and I don't get flyaways anymore. Am very pleased with this product.

First time using a heat lotion

I haven't tried a heat lotion before because I have always concentrated on using a styling product that will tame my frizz.. I saw this heat lotion, read reviews and just hoped it would definitely what it promised for me. I can honestly say the heat lotion is Working beautifully with my thin, frizzy hair. Actually getting my hair to work with me - for a change! I use this also on the days that...

Read More

Incredible for humidity protection

I absolutely love this product, I bought it as a heat protector but it does so much more. Leaves my hair looking so smooth afterwards and sometimes I put it in without blow drying and it still gives an amazing finish. Definitely recommend.

This product has helped my hair alot

Hi there
The Kerastase blowdry has helped me a lot to keep my hair in style and very smooth even in the humid whether. It makes me feel confident in my hair which is something that I didn't feel it before.

Amazing!

A friend with the most gorgeous hair hooked me up with this baby, I have tried too many heat protectant products that I have never loved (which means I've skipped them and my hair has suffered as a result). This product is easy to use, leaves a beautiful finish on the hair and most important to me sleeps well (as in I can blow dry my hair at night, go to sleep and wake up with great hair).
<...

Read More

Incroyable indeed!

In case anyone didn't know, incroyable translates to incredible, and this product is in fact, incredible!!
Does exactly what it says it does, protects my hair from heat styling while offering smooth and shiny hair that is soft to the touch. It really does reactivate with the reapplication of heat days after blow drying, it does not weigh my hair down and smells gorgeous!

GREAT!

Great heat protectant - really keeps hold your heat styling in place for longer while adding great protection to high temperatures. Plus is lightweight and smells great!

Smells great but maybe not for me

I received this product as a sample after purchasing my usual Kerastase items from Adore. I absolutely love kerastase and the difference their products have had on my hair quality. Now, I do not blow dry my hair often so when i received this I figured I would try it out. Unfortunately the product didn't work out for me, I found it sticky. But as previously mentioned...... I do not blow dry my hai...

Read More

Beautiful smell and gives me lots of shine

I have been using a sample of this for a few weeks and I am pretty happy with it. I normally just use a heat spray but this definitely makes a difference with keeping my hair from going frizzy. Make sure your hair is still damp or it can get sticky - I let it airdry too long before blowdrying it once.

Great for thick frizzy hair

I received a sample of this product over Christmas. I'm not familiar with Kerastase products so it was a great way to try one of them out without the cost. It is quite strong smelling but blends in once I've blow dried my hair. My hair is thick and naturally very frizzy so this has been a great product to help tame my hair in the mornings. I use this product most days but the only downside is that...

Read More

My hair feels amazing

Smells beautiful and doesn't weigh my hair down at all, Can definitely see that it's helping my hair by protecting it from my hair straightener and dryer and not causing further damage I'd caused by using a different brand Which caused heat damage to parts of my hair. Yay now I can still straighten without freaking out!!
LOVE IT

It smells good

I am not sure if it does protect my hair from the heat. It is hard to tell. But the good thing is it smells good and easy to apply. I still has dry hair end despite various trial of hair products. I believe it is due to repeated hair colouring. This product did not seem to make the dryness worse, which is good.

My hair god!

With naturally curly hair, I straighten my hair a little too often. However, since using this, I've noticed my hair is so much stronger, healthier and I barely get any split ends! I'll definitely be holding on to this one for a while

Great haircare product

i have different kind of sprays before blow drying my hair but never liked any because they would make my hair dry. this product does what it says and felt my hair were actually softer than they normally would be after styling. i have colored and long hair.

Hair Saver!

Love this product. My hair has been damaged from going back to blonde, and while i was using lots of treatments and masks i notice a huge improvement after starting to use this product (i blow dry my hair most days).

Works well with Dyson airwrap

I received a deluxe sample size of this product a while ago, it worked okay with my GHD (I have very frizzy curly hair naturally) however I would prefer to use my Kerastase oil.

I used this product prior to styling with my airwrap and WOW it makes a huge difference, tames the frizz and 'finished' my look (using the smoothing brush), now that I have the airwrap this will be my new be...

Read More

Beautiful Blowdry!

I received a deluxe sample of this product and just thought I'd give it a go - we'll its just so lovely! I have very tight curly hair and I find this helps give a more smooth blow dry and it holds the style super well. Is it 100% necessary - maybe not.... but I would highly recommend!p it!

Very impressed!

I am usually hesitant about products like this because they make my hair too shiny and greasy throughout the day. But wow. I was actually astonished that this product kept my hair soft all day and not greasy.

One of the best styling treatments I've used

I style my hair with heat almost every day and have tried SO many serums, creams and protective sprays - this is definitely the winner. Don't need to use much and it leaves my hair smooth and with no frizz!

Worked well.

Kérastase L'Incroyable Blowdry Heat Lotion worked well. I often use it if I know I'll need to use my ghd. You don't need too much lotion otherwise it can make your hair feel straw-like. Other than that, I think it is a great product.

Best Product I have ever used

I live in a humid area and I have fine straight dry hours frizzy hair. I wanted to to see if this product could really keep my hair frizz free for 96 hours . So i washed my hair and left it in my turbie towel for 30 mins then applied this product and blow dried my hair. I didn't wash my hair for 4 days, just used some dry shampoo on the roots on day 2. I went for walks in the rain (lightly) and...

Read More

Best product ever for frizz

I have very thick hair and prior to finding this have always had to straighten it to make it look half decent. With this product in I can blow dry or even air dry and still wear my hair out because the frizz is gone. Saves me so much time and saves my hair from being damaged. You only need a small amount too so it's very cost effective because it lasts forever.

Sadly didn't live up to expectations

I was so keen to try this as I love Kerastase products and this looked lovely. Unfortunately it left my (normal, long) hair feeling like dry straw. The next time I tried using less product - same result. And one more try for luck but same result. So back to my previous Kerastase products but not going to use this one again as it was so disappointing.

It does what it says but I am not sure i'd buy again

I am a huge Kerastase lover and I enjoyed using this. It claims to protect you hair up to one of the highest heat temperatures I have seen. I didn't notice a huge difference as far as my hair feels etc - But given it's Kerastase, i'm sure it was doing it's thing!

omg im in love

i have tried heaps of heat protection products and this is the only one that lived up to my expectations ,it took me less time to straighter my hair and it left my hair soft and no fizzy hair.
this is the one girls

Incredible frizz control

I have very thick, unruly hair that reacts to the slightest bit of humidity. After living in the tropic for 25yts I had tried every product out there. Then I saw this and thought it wouldn't hurt to try. Finally, a product that does exactly what it says it will do!!!!! It's currently 33C and about 80% humidity, and no frizz all day.

Unique product

I have extremely fine hair which I straighten, and which goes extremely curly in damp or humid weather. I assumed (incorrectly) that this product was a spray, but it's actually like a serum. I only use one pump and rub it between my hands and apply it down the lengths of my hair. It feels awesome to apply, and it really does protect my style from the humidity. I definitely feel that it protect...

Read More

No immediate results, but the protection it offers is great

I bought this after my hairdresser recommended it. I blow dry and straighten my very frizzy hair every day, and he suggested I use this as it offers the best heat protection of any hair product. The smell is really lovely, and the product doesn't make my hair greasy.

I definitely recommend.