Dermalogica Age Smart Dynamic Skin Recovery SPF50 50 mL
Is this for you?
Dermalogica Age Smart Dynamic Skin Recovery SPF50 is a powerful moisturiser that helps effectively combat causes of skin aging.

A reformulated version of Dermalogica's best-selling Dynamic Skin Recovery SPF30, this new, higher SPF50 helps minimise triggers of skin-aging while remaining a medium-weight, emollient daily moisturiser. This formulations keeps skin feeling nourished while providing very high protection against UV rays.

Antioxidant White Tea, rich in polyphenols, inhibits lipid peroxide formations and helps neutralise free radicals (ROS), Advanced Glycation End-Products (AGEs) and Matrix Metalloproteinases (MMPs). Patented Oleosome encapsulation technology boosts sunscreen effectiveness for maxiumum protection from UV rays, while a unique polypeptide helps encourage Dermalogica Age Smart Dynamic Skin Recovery SPF50's collagen-producing activities.

Formulated without artificial fragrances, colours or parabens.
Broad spectrum UV protection.
Skin care system researched and developed by The International Dermal Institute.
Cosmeceuticals
Cruelty Free
Frequently bought with
Please wait while we find a match
Questions & Answers
(2 Questions)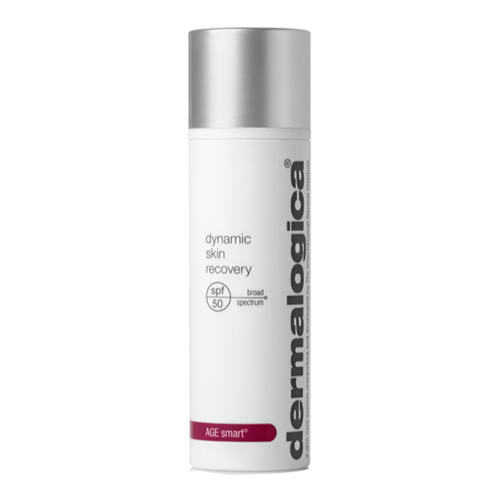 Dermalogica Age Smart Dynamic Skin Recovery SPF50
Get an expert to answer your question about this product!
94% recommend this product
Most Helpful Positive
one of the best SPF
it doesn't give you white film like many other SPF, so it's great that way.
Most Helpful Criticism
love!
this product is so amazing but its best to slowly introduce into you skin routine. I started to use daily but it was too much for my skin at once had to gradually bring into my skin routine , my skin feels amazing!
love!

this product is so amazing but its best to slowly introduce into you skin routine. I started to use daily but it was too much for my skin at once had to gradually bring into my skin routine , my skin feels amazing!

A great sunscreen under makeup

I love this sunscreen, it works well under makeup and doesn't cause any breakouts. It's a chemical sunscreen and sometimes I wonder if I react to it as my cheeks are a bit pink sometimes.

one of the best SPF

it doesn't give you white film like many other SPF, so it's great that way.

Fantastic, light weight

Non greasy and absorbs really quickly. A little goes a long way. Great packaging

bad reaction

received a sample , tried it and had a very bad reaction...strange because I dont really have sensitive skin....pores expanded and dripping sweat and felt so hot and burning... must be something in it I cant tolerate ?

repeat purchase

I use this daily as insurance against environmental damage and aging. Plus it moisturises, and is a good base for makeup. I do love a multi-tasker :)

like it

love dermalogica everything. this product is great for all ages -It is super light in texture and hydrating

Best SPF

I have tried many sunscreens and this is the only SPF product that doesn't make my skin itch or breakout. It's non-greasy but moisturizing. Just wish it was a bit larger for the price you pay

amazing

I've been trying so many sunscreens and moisturisers, I found dermalogica's mostly work well and this one might be my favourite yet! so comfortable on the skin

Great sun protection

Yes this moisturiser is a little pricy, but I love it, it's both a great moisturiser, and the highest sun protection you can get. Nice and light, non oily and soaks in quickly.

Amazing

This provides my skin with great protection, has great ingredients and is not greasy for me

Age Smart

Perfect moisturiser as my skin starts to age - non greasy, spf, leaves my skin supple and smooth. My make up also goes on smoothly over it, as it's not too dry and not too oily.

Dynamic Skin Recovery

I loved this moisturiser. I was struggling to find a good moisturiser with SPF that didn't feel like sunscreen. After using many that felt thick or greasy or even left me looking even more pale than I already am this was a game changer. I use it daily and I love the feel as well as my makeup still sits well over the top.

Great

This helps my skin when it is feeling very dry. I love that it keeps my pale skin protected too

good for mature skin

this would be perfect for more mature skin, is both a moisturiser and spf which is perfect. This product is a bit too much for my combo, teenage skin but my mum loves this product

Good but pricey

This sunscreen is very lightweight and goes under makeup well. I do feel a bit of sting each time I apply it. I don't know if this is normal, I tend to get a bit of redness after application which goes away after about 15 minutes or so. However, for the price I might go for something else such as La Roche Posay or Ultraceuticals sunscreen in between repeat purchases.

This is the BEST ever

I would strongly recommend this product if you have dry skin, with the SPF 50 is great.

Not bad

This is a little greasy for me.

Best sunscreen

Love this so much. It's a nice light sunscreen that doesn't feel heavy. But a little expensive.

Great

This product is light and non greasy or sticky. It is moisturising and have SPF50 at the same time. It's very convenient and I'm definitely gonna repurchase this.

Super light, but very moisturising

I use a few Dermalogica products, however this would be one of my favourites. It's a great, light moisturiser that has high SPF protection (which is important to me).

My skin's quite dry, and this is moisturising without being heavy. It works perfectly under my makeup and doesn't ball when makeup is added over the top.

Love it.

It's nice but shiny

I really wanted to love this because I am searching for a daily sunscreen with SPF50. I find it leaves my face a bit greasy. I have started to use a bit less to try to combat the sheen but I worry I'm not getting the full benefit of the SPF50. Maybe it's my skin type but I find it doesn't sit well under makeup and I get greasy during the day. I don't know if I will repurchase because there aren't ...

Read More

Smells amazing

Love this moisturiser and it smells incredible but it is a little pricey for the size you get

Love that it's SPF50

This is my first time using a moisturiser with SPF50 so I was a bit skeptical about how greasy/shiny it would be. It does make my skin slightly shinier than my old SPF15 moisturiser but my skin hasn't broken out so I think I can live with a bit more shine.

Great product but expansive.

Love this product because it is light, non greasy, moistures & SPF50 all in one. Like the pump pack too.
The only draw back is that it is an expensive product. So I use it in between days, but definitely when I'm outdoors.

A must use everyday

I switched to the aged dermologica range and this moisturiser when I moved to Australia, purely for the high spf! I use this every morning before applying makeup and I love it! It's lightweight and sinks in quickly after application.

Loooove this daily moisturiser and sunscreen in one!

I love this product! Moisturising? Check! High SPF coverage? Check! Antioxidants? Check! It maybe won't be hydrating enough for dehydrated or seriously dry skin, but in summer for me it's perfect. I just wish it wasn't so expensive... I use sunscreen liberally, so with daily use it runs out quickly :(

Leaves skin a bit too shiny

I've just started using this but im not a fan of how shiny my skin is left. The sheen, which I'm guessing is from the SPF, is pretty noticeable and leaves my make up looking a bit shiny too. It still feels nice on my skin, but may need to play around with what products sit well over top of it to reduce how shiny I look.

Oily and stings my eyes

This is an effective suncream and is great when my skin feels dry and dehydrated, however on warmer days I feel it's a little too oily and sweats off easily. The biggest issue however is it stings my eyes whenever I apply it, so often need to administer eye drops and not apply near or around my eyes area.

Best

This is such a hydrating, light weight sunscreen that I wear on my face, neck and hands for protection. It is slightly expensive though.

Best sunscreen & moisturiser combination

I don't like putting sunscreen on my face as it's always so greasy. I love that this product is a moisturiser & sunscreen in one but isn't greasy at all. I'm already onto my second bottle of this & it's my favourite Dermalogica product.

Yes

I wear this everyday under my makeup and it gives high sun protection and keeps my foundation in place all day.

multi use

This is a medium weight moisturiser that absorbs quickly. I love it because it moisturises, has a high SPF so protects, AND works well as a primer under makeup. So happy to have found it.

Wonderful product

Love love love this sunscreen from the age smart range. It works well with my vitamin c serums in the morning. Doesn't leave your skin greasy at all. Recommended for summer seasons. In winter I like to use a water base sunscreen

good for elderly skin

I brought this for my mother in law as a day moisturiser and she loves it. It is very hydrating as well, and due to her age she needs something that comforts her skin and boosts her hydration as she is very dry and her skin always looks dull. It has a nice brightening affect and makes the skin look alive again.

Full sun protection without breakouts

Thank Goodness for this cream!! I need full 50+ protection in summer but sturggled to find a product which was not pore-cloggingly greasy, or wouldn't leave me with a white cast

This one is perfect . Slight herbal scent, spreads smoothly and lightly, none of the clagginess I usually expect from 50+ creams. Perfect primer for makeup

Amazing

Amazing product!! Great for anyone in there 30s wanting to prevent signs of aging.. softens out my overall skin tone and makes skin feel healthy and hydrated

Finally the SPF I've been waiting for

I couldn't live without this product. I use it several times a day. It's gentle and not greasy. As well as being a sun cream it's a lovely moisturiser.


WOW WOW WOW

Wow!!! I recieved a free sample of this in my last order and it is amazing!! It is thin and so hydrating. It doesnt effect my makeup at all, as soon as you have rubbed it in it soaks into your skin and doesnt leave you oily. Plus it is spf50!! The only downfall is the cost, but... since the product is so good I think I can justify the spend.

Hydrating SPF 50 moisturiser

I absolutely love this daily moisturiser and have been using it for many years. I have tried several other brands but this one is the least like sunscreen yet delivers 50+ protection. It feels beautiful and light on my skin and very hydrating.

Sooooo hydrating

I love this product and will make it a daily part of my skincare routine. I was surprised at how hydrated my skin was after using this product- it also left a nice glow. I have normal/combination skin and this product was perfect for me.

Great

This is a great moisturiser with excellent spf protection. Leaves your skin well hydrated without the oiliness. Skin looks luminous under make up and actually looks firmer around the jowls. I have oily/dry combination skin and it does not break me out.

Great for normal skin

This is amazing for normal skin, very moisturizing

doesnt even feel like sunscreen is in here

This is such a wonderful lightweight moisturizer that isn't oily or too thick. Usually, moisturizers don't have SPF higher than about SPF15 so having a moisturizer with an SPF of 50 is amazing. It also doesn't smell or feel like a regular sunblock or sunscreen.
I recommend this product to all friends and family!

The holy grail of SPF

This has got to be one of the best SPF's I have used in a very long time! I have combination skin and the struggle between finding an SPF that protects my skin while not feeling heavy, oily or sticky is a real problem.

Dermalogica's Dynamic SPF ticks all the boxes, it is creamy and nourishing. Goes on smooth and leaves you with a healthy glow, not an oily t-zone by midday day. It als...

Read More

Perfectly moisturising

After years of searching for a good SPF/moisturiser I found this little gem years ago and have not looked back since! My skin is dry and often products aren't nourishing enough but this product is luxurious and protective. Without doubt the best!

Light and Amazing

I have used this product for awhile now and just love love it! I use it as my morning face cream and put it on before I put on my foundation. The cream is really hydrating and not oily at all. It makes your skin feel so soft and dewy and the fragrance isn't too overpowering. Highly recommend.

Best SPF

I love love love this! I'm constantly searching for a strong SPF that will fit into my routine and not be greasy or clog my pores. I can layer it easily with my skincare and makeup and my skin looks glowy and I feel protected from the sun!

Great

I struggled for a long time with finding a face cream with spf and the creams in which I did use I was always left disappointed and not wanting to purchase them again.
I received a sample of this and had to buy one straight away.
I think most people relate to a sunscreen with being oily and heavy so people don't apply them as often due to the feeling on their skin - this has a slightly...

Read More

Daily moisturiser + sun protection

I had wanted to find a moisturiser for some time that was spf, but was non-greasy and would still work well as a moisturiser, and I found it! I have been using this product since about June last year. I had tried it as a sample first and then bought one of these bottles (using it daily it has lasted about 6 months). While it is the tiniest bit greasy, it is soft and smooth and soaks into my skin w...

Read More

Lovely light sun cream

I couldn't live without this product. I use it several times a day. It's gentle and not greasy. As well as being a sun cream it's a lovely moisturiser.

Love it!! Great moisturiser and suncream

This is a great product! I have sensitive skin and have had no problems using it, where as I have had stinging and red blotchy skin after using other anti aging products. Rubs in well, not greasy and the sunscreen lasts a long time even in hot weather.

Amazing

I love this moisturiser. I have mature, sensitive skin, which is prone to redness, but this moisturiser is gentle and soothing. Being in humid Brisbane I'm really cautious about my moisturisers not being too heavy, but this is light enough for our summers. It has a fresh but not overpowering scent and even though it has a high SPF factor it doesn't leave white ghosting on my face the way other SPF...

Read More

love it xxxxx for me

This is my first time using this brand. I Love the smell and my skin feel smooth & hydrated. I apply under my makeup every day now.

Amazing

This is an amazing product. I've been using it for years now. I'm 40+ now and most people think I'm a decade younger!

The Perfect Daily Moisturiser

I love this product. I mix it with the Skin Hydrating Booster for the initial application as it goes on a bit easier. Then I add extra to my nose and under my eyes as a boost of sunscreen as those areas can be prone to extra attention from the sun. The 50mL size lasts a long time - almost 12 months and the pump pack means you get every last bit out of the bottle.

Great product

I love this SPF moisturiser! It makes my skin feel fresh and is not heavy and greasy like other SPF moisturisers that I have tried. I have normal/combination skin and this does not leave my skin feeling oily. The only part of this product that I don't like is the price. It is very expensive for a small bottle. However, you only need a small amount each application as it blends well into your skin....

Read More

Great product

Great product but not quite for me. My mum loves this so I tired it as well, I found it to be a little to heavy for my combination skin as it can get oily through the t Zone. Because it was expensive I used it up anyway and found it great using it every few days instead of daily. The days that I did use it it definitely brightened my skin up and gave it the boost of moisture it needed

good product but too expensive

this product is good, it sits on the skin well and is good under make up, i love that it has spf 50 however it isn't worth the cost and there are other products on the market that are similar and a lot less expensive

Fantastic Product

I am sadly late to the sunscreen game so am trying to be super sun smart now as I get older. I have struggled to find a sunscreen that won't make my skin breakout and leave it feeling all greasy until now. Great product that leaves my skin feeling smooth plus works well under make up. Highly recommend!

Wonderful

Product is good. I just started using it. I didn't get any samples with this product so that I could try some pure night cream. This is my first experience with Dermologica spf 50 but I feel it's good too expensive so I wish they have to give same products samples to try and if it doesn't suit we can always stop instead of giving some other product

Needed for Australian summer

Skin type: Dry/combination

I've been searching for the perfect daily spf moisturizer and this is it, its lightweight and offers high protection. Worth the cost.

Never too late to start!

Being a baby boomer growing up in Australia, there were never any warnings about the damaging effects of the sun. In fact, getting a tan was encouraged, as well as smoking. Adverts on TV for tanning oils and cigarette brands were the norm. I worked outside for years and never wore a hat or used sunscreen. Since turning 50 I have been faced with the results and quite frankly, I'm really sad about i...

Read More

Great

I requested a sample of this as I was looking for a moisturiser with strong spf (I'm just fussy, I prefer spf 50 though spf30 is not too much of a difference). Currently using Pure Light spf50 but it is oily and affects my make-up sometimes. Will change to this product after I finish Pure light as this is much less oily.

Beautiful feel

This SPF has a beautiful feel too it. My skin can be dry, but it also can get oily! No matter what way my skin wants to behave though, this is one of the first SPFs that doesn't make my skin breakout. I do find it can be a little thick and clog pores, but if I was my skin really well after use it seems to prevent any little pimples popping up. My main concerns were preventing wrinkles as my skin d...

Read More

Light & luxurious

This high UVA protection skin recovery is super light, it blends well under makeup & a small amount goes along way. It has a beautiful refreshing fragrance that is uplifting first thing in the morning and with its ingredients focused on the mature skin type, it feels like a little luxury moisturiser to help prevent against pigmentation and dehydration due to sun exposure.

Perfect moisturiser

I've slowly started changing my skin care routine from Chanel Sublimage to Dermalogica. I'm in my very early 50's and love this moisturiser. Having the spf component is always a draw card for me. Used it everyday on a recent 4 week med holiday and it worked perfectly! No sunburn at all and no dry skin either.

SPF 50

This is my go to everyday moisturiser that I've been using for about 4 years now. I started using this product because I wanted an SPF 50 that didn't have the texture of a sunscreen or an unpleasant smell like other products I've tried. It's very nourishing, sits well under primer and makeup and smells great. I love it!

Great base

I tried this after reading the reviews and it is as good as they say - a nice medium weight texture, and works brilliantly as a base with spf. I was a bit concerned about the price but a little goes a long way. I have mildly oily skin and this doesn't cause breakouts & it keeps my skin hydrated all day.

lovely

lovely moisturiser for dry sensitive skin, smells amazing and feels very nourishing

Best product

Absolutely love this product. I'm on my second bottle now and love how it's not heavy and you see results. My skin is supply, it doesn't make me breakout and another plus is that it has spf in it. I hate putting sunscreen on my face so this product is just fantastic.

Top class product

I love Dermalogica for my 'go to' in skincare. I've been using it for a long time now & was so thrilled to see that Adore stock it as my local supply closed down. The skin recovery lives up to all its promises , it leaves my skin feeling soft & hydrated even at the ripe old age of 64. The added bonus for me is the fact it has an SPF of 50!

More like a luxury cream than a sunscreen

This cream has a thick texture and great smell but isn't tacky like a lot of sunscreens. Also doesn't cause me to break out like most sunscreens.

Go to day cream

I am a great fan of most of the Dermalogica ranges and this product is one of the best I have tried, absorbs well and makeup sits well under makeup. The sun screen works well and I'm now on my second bottle - also purchased for my Mum

Best moisturizer with SPF50

I carry this in my purse, another in the glove box, a third in beach/hike bag by the door and the fourth is on my vanity. I apply after a shower &/or as vase under makeup.

Love it!!

I have combination skin and I am starting to see wrinkles and dullness in my skin so I purchased this. So far the results have been amazing. Not only is this a great SPF that doesn't clog pores but it also leaves my skin looking more youthful and radiant. Overall, I cannot recommend this enough!

Best ever

My face feels so soft and squeaky clean after using this! Will definitely be buying this again. It's become a staple in my daily beauty routine

smells incredible!

This moisturiser smells beautiful! I wish I could buy this without the SPF so that I could use it at night! I really love the scent and it feels very lightweight but moisturising, I definitely like this one!

Makes my makeup look good

After receiving this as a sample I purchased the full size bottle. I'm really impressed with how the formula feels on my skin alone and under makeup. For some reason this makes my makeup look really good, I don't even bother with a primer when I'm wearing this now. I've got dry skin and this makes my skin look dewy and moisturised not to mention it protects my skin from the sun.

As f...

Read More

Fantastic product!

I have never been able to wear moisturisers with SPF until I tried Dermalogica's Dynamic Skin Recovery. My skin has always reacted and become irritated, but not with this product, in fact it has improved the texture of my skin. This moisturiser absorbs beautifully into my skin and leaves a glow to my skin that lasts all day. I find it great under make up and a little goes a long way. Definitely wo...

Read More

Excellent product

This moisturiser and sunscreen in one is beautiful on the skin,it is unlike any other product I've ever used.
It makes my skin look flawless,gives it a smooth finish, It tingles a bit when you first put it on to let you know its working.
Love it

Love this product

I have an oily T zone and dry cheeks, and this moisturer is perfect for me. It's light weight on my skin and I love that it has an SPF. My skin looks great so I definitely recommend this product!

Perfect for all skin types

After suffering with acne most of my life and now having opposite (very dry skin) I would highly recommend this product to people with either skin type. Its easily absorbed, not oily but very mosituring. I love the smell and consistency. I use it as a night cream also I love it that much.

Amaze

Love the high spf on this. Absorbs very well and I use this all the time.

Great under makeup!

I have just received my 5th bottle of this! I love it!! I have combo/oily 41yr old skin and this provides perfect moisturisation and sits well under makeup. I took a star off for the added fragrance which just isn't needed.

Lovely but a bit oily

I am 41 so thought I better start using the age smart products. This is a beautiful moisturiser but I found it almost too heavy for me because by the end of the day, my face was quite shiny and oily. Excellent that it has UV protector in it tho. For the price I think I'll revert back to active moist or the skin smoothing cream and add the solar defence booster to it.

Perfect for under makeup

This is one of the best sunscreens I have used in a long time! I have combination skin so I tend to get oily in the t-zone. I was looking for a sunscreen that I could wear under makeup that didn't leave me looking greasy. I am so glad I found this! It is perfect for my oily skin, absorbs so well just like a moisturiser, does not leave a white cast and most importantly does not make me look oily! R...

Read More

Beautiful texture.

An update on this moisturizer. I have been using this product for about a year now and even though it has a lovely 'moisturizing' feel when I apply to my 'normal' skin type, I just find it has to much fragrance in it. I have used a couple of the other Dermalogica moisturizers including skin smoothing and active moist and they don't contain fragrance so I will not buy the Age Smart Skin Recovery ...

Read More

Winter perfect

Usually my combo skin means that I tend towards the lighter/gel end of the moisturising spectrum however since hitting a milestone birthday last year beginning with F, this winter my poor skin has been sallow and dehydrated due to my refusal to accept it's changing status. Cue the intro of this ripper after a facialist advised me...my skin has regained the plump dewy appearance of my previous deca...

Read More

Perfect under foundation!

I love this moisturizer. I love that it is SPFF 50 so I don't need to add another sunscreen on top of the moisturizer. It's hydrating and settles into the skin nicely. It also feels and looks great under foundation. I don't need any primer when I'm using this. Would defs recommend!

Love this moisturiser

It's really hard to find a good moisturizer with SPF, and this one is perfect. It feels lightweight on the skin and not greasy. I am onto my fourth bottle!

Great for dry mature skin

I buy this for my 70+ mum, she loves the scent and it soaks up straight away as her mature skin in dry. Really luxe cream for an SPF 50. Better for dry skins. I am oily and found it left a thick sheen to my face which I don't like. Mum is converted to all age smart products.

Light, hydrating moisturiser

Great hydrating moisturiser that doesn't feel heavy on your skin. There is no greasy residue left and you can quickly apply make up afterwards. A little goes a long way with this as well

Beautiful for an SPF 50!

Took of a star because I can't use it alone as a moisturiser & SPF - I have really dehydrated skin. But otherwise, no heavy greasy sticky feeling, no white casts, really nice texture and sits well on top of other skincare products and under makeup (doesn't pill or anything), and smells fancy (goes away once it sinks into the skin though)! Can't go wrong with this, will continue to repurchase!

Im converted

I received a sample of this from a beautician after a facial recently.
I have a favorite that I've used for years prior to discovering this product and now its getting given to my partner to use as i am ordering more of this moisturiser. I cant get over how nice it sits on my face under makeup and doesn't leave me oily or have the strong sunscreen scent.
I will be trying some of the o...

Read More

I can't believe it's a sunscreen!

This product is amazing....light and smooth, subtle fragrance. A little goes a long way. Mixed with foundation for me is perfect coverage and SPF50. Definitely a keeper.

Fantastic product

This moisturiser is so light in texture considering it has an SPF factor in it also, which I love. I have dry skin and this product is perfect for me as I feel like my skin is adequately moisturised, unlike others which leave my skin still feeling really dry and tight. It also works extremely well under my makeup which is another plus. You also don't need very much per use, so it will last me a wh...

Read More

Love, love, love!

I loooove this daily moisturiser! It is light, moisturises the skin well, does not leave a white cast and protects skin from the sun! In the middle of an Australian summers day, when wearing this product, my skin doesn't feel like it is over heating and it doesn't go beetroot red, winning! I apply it quite liberally on my face and neck, and because of this, I run out of the product quite quickly. ...

Read More

Best!

I love this moisturiser and is prefect to use just on it's own as a sunscreen as it doesn't leave my skin feeling or looking oily like other brands do. Occasionally I will wear makeup over it, but I prefer to use it on its own. Leaves the skin feeling so soft and smooth. Highly recommend!

Love the SPF!

Great moisturiser and excellent SPF, doesn't feel heavy on the skin. No need to say more!