Benefit The POREfessional Primer 22mL 22ml
Is this for you?
Need a POREfessional, and fast? Choose your size! A travel-sized mini so you can be primed and pore-fected anywhere, or a full size so you can be pore-free every day!
Frequently bought with
Please wait while we find a match
Questions & Answers
(1 Question)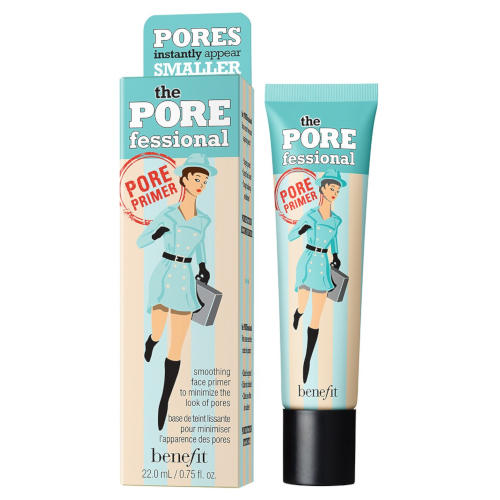 Benefit The POREfessional Primer 22mL
Get an expert to answer your question about this product!
81% recommend this product
Most Helpful Positive
My all-time favourite
This is my favourite primer. It literally makes your pores disappear. Everything looks smoothed over.
Most Helpful Criticism
Unsure about this primer
Sometimes I love this primer and sometimes I don't. I feel like it is an amazing pore filling primer but it doesn't make the makeup last too long and it rubs off my nose quite easily.
don't like it

I love almost all Benefit cosmetics products but this I just don't like. This goes gritty when I apply and I have tried using my hands as well as brushes but the texture just doesn't sit right on my skin.

not the best

not a fan of this product, i feel like it did fill in pores and fine lines i just didn't like the texture of it and feel like ot rubs off easily and didn't make makeup last longer.

Unsure about this primer

Sometimes I love this primer and sometimes I don't. I feel like it is an amazing pore filling primer but it doesn't make the makeup last too long and it rubs off my nose quite easily.

Great product

I actually got this primer not to smooth out my pores but to smooth out my textured oily skin. It defs does do the job, however only giving it 3 stars because I find it doesn't work well with all my foundations.

My all-time favourite

This is my favourite primer. It literally makes your pores disappear. Everything looks smoothed over.

blurs my pores

always apply it when I have to wear makeup for a whole day. it blurs my pores and smooth my skin after I apply the foundation. the makeup also last longer.

Hides pores!

Makes any obvious pores impossible!

Good but not good value

This is a fantastic dupe for Hourglass veil but not worth the cost. It doesn't go very far and I find it overpriced for the amount you get. While it is an effective smoothing and blurring primer, it does little for oiliness or dryness or any kind of makeup longevity- you'd need a great setting spray. I do like it, but I don't recommend it. There are many better than this.

Fave primer

This definitely blurs my pores and worn together with the Estee Lauder Double Wear foundation are my holy trail.

This primer makes your skin feel so velvety and keeps my make up in place all day and night - and I have a slick t zone.

So good

I have very stretched pores and dry skin, and I would even use this daily without makeup, it really feels like its blurred my skin like photoshop. It's a bit pricey but you need a good base to start a makeup routine!

Great for pore control

This product certainly hides the appearance of pores. The formula is quite slippery though and I have found that it can cause cakey looking makeup with ceratin foundations used over the top. I would suggest buying the smaller "trial" version before spending big $$ on the larger sized one. This seemed to work well with my oily T-zone. But I would certainly look into more reviews about which foundat...

Read More

Fills Pores, Doesn't Work With Every Foundation

I don't know what it is about this primer but not all foundations work with it. Half of my foundations work well with this and it provides a perfect base for underneath and I think it does help smooth out my pores especially on my cheeks and nose and keeps my foundation looking fresh literally all day. But then with other foundations they simply won't stick onto the silicone texture of this primer...

Read More

Great primer

Really great primer, helps to keep fundation on most of the day without touch ups. Smooths lines and pores.

best primer

best primer for pores. leaves a silky finish and great for under makeup

Didn't love this

i really did not love this. Super expensive and I am not sure why. Really not worth it, I have tried much cheaper products and got the same result.

Fantastic Primer

I have been using this primer for years after receiving a sample. I love it, it makes my skin smooth prior to putting liquid foundation on. I have combination skin and it works fine. You can see as soon as you put it on the smoothness of your face. I have had bad acne and left some little dents, this fills them perfect. Please don't ever stop making this...

Breakouts after use

I have very large pores and normal to oily skin with tendencies towards hormonal acne.
This product feels promising going on but I now realise that it breaks me out every time i use it.
Generally one day after using this product, I develop tiny pimples or whiteheads, generally where my largest pores are. I double cleanse so I am definitely removing the product but my skin still throws ...

Read More

Not great for oily skin

Not a fan. Although this product on it's own gave the appearance of poreless skin, I found after a short time, my oily skin would be more greasy and my make up would slip and slide all over my face.

Maybe not for problem skin

I want to love this primer so much but every time I use it I wake up the next day with a few new pimples. Perhaps not ideal for skin easily blocked

Not for oily skin

This does a good job at filling in pores but makes my oily skin even more oily by the end of the day.

One of the Best Primers

This was one of the best primers I have used, definately long lasting and perfect in the summer time or if you are going to humid areas and you don't want to use an oil blotting sheet constantly. A little goes a long way to make your foundation look flawless.

Fills pores easily

I use this product on a lot of clients and it fills pores so easily. The secret is to use a really small amount and press it in with fingers. Overdoing it with too much product will ball-up and not be effective.

Not bad

Goes on really well but doesn't stop the shine on my nose oops!

This primer really does what it claims to!

I am actually obsessed with this primer!! I have combination-oily skin and was yet to find a primer that effectively kept me oily t-zone matte all day...until this!! It really does leave your skin looking airbrushed and 'blurred' it has a lovely, light texture that doesn't even feel like you're wearing anything at all! I wear alone on weekends for a natural look and under my makeup on work days it...

Read More

Airbrush

One word, airbrush. This product really fills in those deep pores giving your make up a perfect finish. I find that using it on the main areas of concern (nose, cheeks and chin) and avoiding more oily areas (forehead) works best.

Magic

This is the best primer I've used! It's non-greasy/oily. It is easy to apply and doesn't take much! I love the smell- it's simply fresh and clean. As I put it on I definitely see it working as it looks like my face is being airbrushed. Love this product and definitely is a must in your make up routine!

like it

Goes on really smooth and stays on all day. Really happy with this product.

The hype is worth it!

I had heard about this product for such a long time and have finally tried it. It is amazing! It feels silky, silky smooth when applying to your skin and make up glides over it effortlessly. I also love how mattifying it is!

It leaves a thin film and too thick

I have oily skin and this primer does not help me. Instead, after a few hours I could feel see on some part of my face a thin film start to peel off. Would not repurchase,

Love the finish

Love this primer and the silky smooth finish on my skin. Defs recommend!

made my skin look flawless

I really love this primer, helps to blur out the pores around my nose and cheek, however i feel like it got a bit greasy on my forehead because i have oily skin.

Excellent

This is one of my favourite products by benefit. It really works well on my skin. It feel like velvet and super smooth. Love it!

Love this primer.

This is a great primer. I have dry, sensitive skin which at times can be flaky and this primer creates a super smooth, flawless surface for me to work with. It also helps my makeup stay on for longer. Definite holy grail.

Not sure

Not bad for my dry areas but a bit heavy for my T-zone. Have to use with another primer to make it work.

Good primer

I have been using this for a couple of years and it doesn't clog my pores nor make me break out. There's a dupe of this product now and I am tempted to try it but I am a bit of a Benefit fanatic! Highly recommend!

Doesn't do anything for me

I feel like I've wasted my money on this... it feels like any other primer upon application, a bit more slick and silicone-y. However it does nothing to keep my shine away. Will always go back to The Ordinary and Hourglass primers.

holy grail

Love this primer! Makes my pores disappear and allows makeup to transfer onto my skin smoothly and softly!

Great

This makes my pores look disappeared. Love it

One of my favourite primers!

This primer has the skin feeling lovely and well prepped for foundation. It is definitely pore filling and looks beautiful. However, I find that the staying power is not great on my nose.

Love

I wish I didn't love this primer as much as I do because I would rather use a cheaper option.... but this is the only silicone based primer that smells as good as it does. The product is works really well and feels so smooth. Great for sensitive skin too.

Great for oily skin

This primer is great, blurs pores, assists with oil, great before foundation etc. I really like it on my combo/oily skin that also has large pores. I do find it breaks me out though, so I don't use it as often as I would like unfortunately.

Favourite

Best primer I haven't found another one better.Helps my foundation stay on in summer helps control oils

PORE

I really had high expectations with this! i do not like this primer at all! it clogs your pores and also has silicone in it! disappointed to say the least! will not be purchasing again!

Sadly, not for me

I had such high hopes for this primer, since it has such a lot of people who swear by it. I have oily/combo skin and prominent enlarged pores on my cheeks and chin. I've tried this primer many times in different ways (under different foundations, only where needed, with other primers, on its own, etc) but I just can't get this to work and not end up feeling like I have an oil slick on my face. I ...

Read More

Ride or die

I can't even explain how much I love this product. When I apply this My pores disappear. Like I this big pore on my forehead and when I apply foundation it stinks right in but with it's like it's not even there.

Best Primer I've Tried

My pores literally disappear when I wear this primer. It is a lifesaver when my skin isn't at it's best! I use this one at home and have the travel size in my bag always.

Not good for oily skin!

I have a very oily T-zone and unfortunately, that is also where my pores are! This product smells amazing but turns me into a grease ball by the end of the day. I also find it exaggerates my dry patches and makes foundation go on weirdly.

beautiful when used corrrectly

when used correctly with the right foundation, this has a beautiful effect. the moment you use too much, you'll know about it, coz it will feel heavy AF and you'll look very made up. if that's your thing then power to you. i like using just a teeeeeeny bit on and around my nose and inner cheek aread to help make my face look smooth. seems pricey but lasts a long time because you need so little and...

Read More

Wear on its own

This product is a great blur on the no makeup days for the mature skin, not so great under foundation. Goes well with the agent zero shine on the days you want that makeup free look.

Such a nice primer

I like to wear this on its own (when my skin isn't angry at something). It blurs my pores and makes my skin look really smooth. Also works well under my makeup (obviously) and doesn't make me break out or causes any irritation.

Best primer.

I brought these few months back and I love it. It blurs our all my pores. My foundation looks so smooth and beautiful. It last all day.

Go to primer

I have been using this product for years. I have tried other primers in the past but always regret it and go back to Porepfressional. It is lightweight. Does not leave my face shiny and does everything it says it does. Pores look smaller and makeup sets nicer

Silky Smooth

I bought this to wear under makeup and to try and give my acne scarring a little more love. It works a treat to give you a smooth to touch finish but didn't feel like my pores were completely hidden. It is great for a little extra support and gave my acne scarring a bit of a buffer. I wouldn't wear daily, just when doing a full makeup look.

Amazing!!

I received a sample of this with my Adore order and I was amazed at the immediate results. I have large and noticeable pores both on my nose and chin and they were minimized instantly. A little really goes a long way.

A classic for a reason!

This is probably the only primer I regularly repurchase, I've tried a lot but keep going back to the Porefessional. It goes on nicely and definitely makes my pores less visible, would highly recommend for anyone with oily skin!

Great Primer

The Porefessional primer works really well. It helps reduce the appearance of pores, helps your makeup go on smoothly & stay on for much longer. I use it whenever I have a special event to attend.

Lovely product!

I have large pores and this primer is incredible to cover them up. It really fills them all in and my foundation looks great over the top.

Good

It's shuts the pores and gives u a smooth matte finish .

Good primer

Good primer, just make sure you don't use too much or it gets funny. But really good to cancel pores when you use it right.

My favourite product

All time favourite ever. Been using this primer for years and can not fault it. Creates a wonderful base and visibly refines pores! Works under almost any foundation and really prolongs the wear/quality of makeup. Could not live without it.

Poor primer

Not sure how this primer has such a huge hype, I found the primer didn't blend into my skin, it just clumped up, so I had to get a face washer to get the clumpy bits, The scent seemed to have bothered me for the remaining day, . Didn't notice a difference in the size of my pores, for the price tag it's not justified. It's one of the worst primers I have come across.

Good

This minimises my pores and makes my face look slightly airbrushed. Goes well under my foundation too or alone

50/50

I have large open pores so this is exactly the product I need.... . It does apply nicely and feel soft on the skin, doesn't have any negative effects on application of other products however I find it just doesn't make that much of a difference for me. Not worth the cost in my opinion, would certainly use again and perhaps be persuaded into buying a gift set that included this, but wouldn't buy t...

Read More

Not Great

I have normal to dry skin with large pores on my cheeks so I opt for a silicone primer to help minimise their appearance.
Everytime I've tried this, my foundation doesn't sit nicely on top. I've tried some different formulations but get the same result.
Sadly, this primer is not for me!

Benefit The POREfessional Primer

This product is a life saver! This is my goto primer! Helps keep my makeup where i put it despite my oilyness. I highly recommend this primer to all my oily girls! Combine with kickass skin care, and setting spray, you'll wonder why you never converted earlier!

Okay

I was so excited to try this after reading so many positive reviews, but honestly it doesn't stand up to its claims.I found it doesn't really blur or give the appearance of filling pores at all. Instead made my makeup application more difficult as the foundation would pill off as I was applying using a brush. I think there are other primers that can do a better job.

Use sparingly and it'll be worth the price tag!

I love this primer so much. It's pricey but you really don't need too much, just a pea size. I often don't wear makeup, just my primer and feel flawless.

Erases my pores and probably my mistakes too

I'm going to be honest, I have a shocking amount of crater-like scarring and a huge amount of large and visible pores, especially on my cheeks. This became a real issue when I'd apply my foundation and find that my face would be scattered with foundation coloured pores, otherwise known as polka-dot pores. This primer fills in my scars and my pores and gives me a noticeably smoother appearance. It ...

Read More

Best pore-filling product!

This primer does exactly as it says - it's porefessional and does a great job to minimise pores and get your skin looking that little bit clearer and smoother. The only criticism I have is that there's not much product for the price you pay, BUT if you're like me and only have visible pores around the nose area, you only need a very small amount to apply. I've had mine for over 6 months and have u...

Read More

Blurs pores

This product reminds me of spakfilla in the way it literally fills in your pores to create a blurred finish and illusion of smooth pore-less skin. It doesn't block my pores afterwards or give me breakouts. It is great for events and nights out however I use this sparingly as it is on the expensive side.

Great if you have large pores

I purchased this because the lady at the benefit counter showed me the difference in texture once this is applied on your skin. But I don't really have large pore therefore I don't notice a major difference when I use this, although it does make your skin feel silky soft. Probably will be better if you have very oily skins or large pores.

Soft skin

This was a nice primer that made my skin feel extremely soft. Can't say it did anything for my pores but my makeup looked nice and smooth

erases pores!

I love how this product makes my makeup glide over my pores and make them disappear!!

You'll notice the difference

I have combination / oily skin with large pores. I was a little shocked when I applied this product for the first time! I immediately noticed the difference. My skin appeared smoother and the pores less visible. It does have to be reapplied throughout the day though.
I think if you have large pores, this product is worth a try.

Great!

After using a sample of this I'm sold! My skin looks and feels great after using this and makes my pores less noticeable

Hides my pores!

It actually does what it says it does and that's hide my pores! Also my makeup sits so we'll all day!

Erases pores like there's no tomorrow

OMG! This primer is amazing! This is the first primer I've used that has actually work wonders! It hides all my pores and makes my makeup go on flawlessly. It allows my makeup to stay put all day long and doesn't make my face oily whatsoever! Definitely recommend

Excellent!

Excellent product! Texture and effect, wonderful! It is very worth it !!! It delivers what it promises!

Great primer

Great primer. I use it mainly on my t zone and works really well to minimise the appearance of pores.

Does blur pores

Definitely blurs the appearance of pores and creates a super smooth canvas - but! For me the smell is too strong.

Love it

I have large pores on my nose and cheeks as I have oily skin.
I received a sample of the pearl porefessional in one of my orders and loved it. I use a small amount and push the product into my pores and then when I applied my foundation my skin looked so much better so much so I brought this big tube :)

Love this primer!

This primer is expensive but for me it's worth every cent. I have visible pores (not super large) on my nose and forehead and this does an amazing job at blurring them. I use this alone without foundation and I've noticed that it also controls my oil!

Love it!

This primer allows my make up to glide on smoothly. My skin doesn't dry out and it adds time to how long my foundation stays put. It's quite expensive but I find a little goes a long way.

Not impressed

I bought this after seeing the rave reviews about this, I finally caved and bought myself one. I have enlarged pores and based on reviews and recommendations I thought this would help smooth out their appearance.
Upon application it does seem to do this, however, once makeup is applied, this primer flakes off. It doesn't stay on the skin and therefore doesn't work for me! I really wanted th...

Read More

Hides my pores so well

This hides my pores really well but I find it makes liquid foundation harder to apply, this works better with powder foundation for me. Some days I put this on by itself without make up

Helps my make up glide on and stay on

This is my favourite primer I have oily skin and this helps to glide on my matte foundation. Long lasting and my skin looks flawless all day.

HOLY GRAIL PRIMER

holy grail primer right here!!! Hides my large pores and large blemishes! Leaves me with a smoother finish

Great for oily skin

Didnt work all over as a primer for me. Only on my nose it worked blending out pores. Made my foundation go funny when i used on my whole face.

Used to love it

I loved this primer as it does exactly what it says it will do but found that after a while my foundation would 'slip off' my nose and wouldn't sit right.

Not my favourite pore minimising product

I have very enlarged pores on my cheeks and have tried a lot of different pore minimising makeup. I like porefessional if I wear it alone but I find when I use it with foundation (either before or after) it doesn't blend well. I think there are better (and less expensive) options out there so I wouldn't purchase this product again

Smoothing

Smoothing and left skin feeling velvety, a little goes a long way, found it didn't control oil in my T zone all day but did for at least 5 hours then needed to blot my chin and forehead with a tissue.

Love it

It blurs my pores and makes my complexion look really smooth!! I've recommended to everyone!

Not the best

I absolutely love Benefit products but this one was no good for me. It didn't feel particularly good on my skin and my make up didn't sit it well on it. Unfortunately only used it once or twice. Will try something else next time as every other Benefit brand product I've purchased has been spot on.

Tiny pores

This stuff makes my pores look tiny. Do be careful not to use too much product otherwise it can ball up and make make-up slide a little.

Perfect finish

Classic primer from benefit - controls oils and fills in pores. Can break me out if I use it too much though and it does have a tint which can look ashy on deep skin. It gives a great finish when you wear foundation over the top

Not sure

This stuff kind of made my skin worse, it didn't minimise my pores either. Wasn't into the smell or the thick texture which didnt feel nice smearing it on my face.

Smooths complexion

I like how this smooths the complexion, filling in pores. However, I don't think that it controls oil very well. But overall it's a nice product and I like how it makes makeup apply on top of it.

Leaves skin dry but smooth

I started using this product roughly a month ago. I moisturise prior to using this product as I already have quite dry skin. I find that this product still leaves my skin quite dry after use and the makeup doesn't glide on as it does with other primers. However it still leaves skin smooth once applied.

Smooth!

This product applies so easily, leaves your skin feeling soft and it covers up your pores I was so amazed!!

Leaves skin dry

I do like this product I feel that it helps with covering large pores before putting foundation on! Although it does leave my skin very dry around the nose area unsure if it would clog pores even more?