Alpha-H Hyaluronic 8 Serum 25ml 25ml
Is this for you?
Visibly plump and revitalise. More than just hydration, Alpha-H Hyaluronic 8 Serum is inspired by the results of dermal fillers to rejuvenate and firm.
Cosmeceuticals
Cruelty Free
Vegan
Australian Made
Sulphate Free
Skin Concern:
Dull, dry or dehydrated skin

First signs of ageing

Pigmentation, uneven skin tone

Sensitivity and redness

Wrinkles and loss of firmness
Skin Type:
Dry

Normal to dry

Normal to oily

Oily
Frequently bought with
Please wait while we find a match
Questions & Answers
(7 Questions)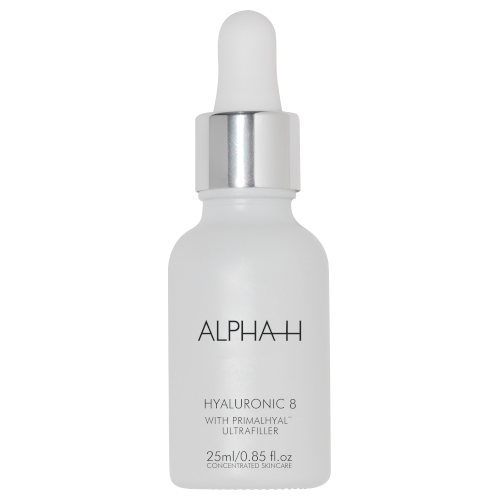 Alpha-H Hyaluronic 8 Serum 25ml
Get an expert to answer your question about this product!
87% recommend this product
Most Helpful Positive
Love love love!'
This serum is so hydrating and leaves my skin dewy and glowing. Amazing!
Most Helpful Criticism
Good but I won't buy again
So I didn't mind it but at that price I won't reorder. Didn't blow my mind.
Great for daytime

Received this as a gift after using another brand. I really love this for the day under makeup and have been using it consistently for almost 2 months. I'm using a range of new products but this one definitely helps me feel plumped, firm and hydrated - especially when I was healing dry, flaky skin from new actives. I use it in the morning though still under a more gel-like HA concerntrated moisturiser during a change of seasons and location. It's less tacky than other HAs I've tried so will certainly consider buying one when the current bottle runs out! I do use another HA serum at night though - using up one that feels more effective but not great under makeup as it's too tacky. This one is perfect for under makeup!

Good but I won't buy again

So I didn't mind it but at that price I won't reorder. Didn't blow my mind.

Love love love!'

This serum is so hydrating and leaves my skin dewy and glowing. Amazing!

This Serum!

i really like this serum! Anti-ageing ingredients, including multi-weighted forms of Hyaluronic Acid! worth the money!

Glowing youthful skin

I've recently purchased this product not having used a serum before and I seriously love it! My skin is so much more hydrated and literally glowing after only a week. I've used Alpha H products for years and was already happy with my skin however this has taken it to another level. Will definitely be using from now on!

Hydration

This is super good for hydrating my skin I've definitely noticed a difference

Great serum for morning routine

I use this serum each morning before a vitamin C serum is it works really well. Love how light and non-gluggy it feels on the skin and for the high quality it's actually an affordable price!

Super hydrating

I've been using this for a few weeks now and have definitely seen a huge difference in the hydration of my skin, which has also helped my congestion. It's absorbed really quickly too

Absolutely love this serum!

My new favorite serum! I had been on the hunt for the perfect Hyaluronic Acid serum for some time and since using this I haven't turned back! I could instantly tell the difference since using this serum... My skin was plumper, softer and more hydrated. It wears great under make up too!

Great product , gives the appearance of a glowing skin. Easy use dropper to give exact amount

Love all Alpha H products. Was introduced to this product through my beautician and would not be without it
Love that it is natural and Australian made.

can be layered

I like using this as a layering serum, it is expensive but also effective

Good serum for layering

This serum is slightly thicker than other serums however it still goes on smoothly and absorbs straight away. I have been applying in the morning after using a Vitamin C serum and at night after using a Retinol serum and have had no problems with it reacting.

Love it

This is a fantastic serum. Absorbs quickly leaving you feel hydrated and not greasy. After a few weeks my skin feels smoother and more hydrated.

Still undecided on this product

I am a big fan of the Alpha H product line so when I saw this one come out I was eager to try and it had mostly positive reviews so no doubt was excited to see whether this would be a game changer for me.

I've now used this religiously day and night for 3 weeks and have not noticed any difference to my skin so far to be honest. I will say, however, that it definitely does feel hydrating when I apply it and gives my skin a nice instant glow. Though it initially feels tacky when you apply it, it does absorb rather quickly into the skin.

Surprisingly, I found that this made an awesome base for my make up, much better than my actual face primer that I normally use. I found my makeup just applied more beautifully and smoothly onto my skin right after using this so this is a big plus for me.

I will continue to use until empty and see if there are any changes then so I'm going to say I'm still undecided in the meantime.

good

this feels so nice on your skin

Not that great

This serum absorbs nicely but I have noticed no positive effect on skin hydration levels after a few weeks of using day and night through the middle of a Hobart winter. My skin is dry and this serum has not improved it. I've gone back to my ultraceuticals B squared and gone up to the Ultra MD level hoping it works better.

Good

This serum is very hydrating and absorbs really quickly

I really wanted to love this more than I do

I saw the reviews on this product and thought it would change my skin care game.
I don't really notice any difference when using this. Good for hydration but not the best. Alpha H have a number of better serums than this.
It's good, but not game changing.

Fab, fab, fab!

Have tried other hyaluronic acid products in the past but this is the only one that absorbs nicely! highly recommended!

Nothing changed

I've used this product for 3-4 weeks and nothing has changed at all. Skin looks the same, no improvements. Not worth it...

Absorbs so quick

This serum is so nice on your skin, it absorbs straight in, no residue. I have definitely noticed an improvement in my skin looking more plump and hydrated!

Super Hydrating

I use this regularly to give my skin some extra moisture. It makes it feel super healthy.

Alpha H Hyaluronic 8

Feels nice — no difference at all after 2 months will not by again

Disappointed

I thought I would try something different to my usual serum so ordered the Alpha H Hyaluronic. I was disappointed with the results, my skin remained dull and definitely didn't yield the same results as my usual serum. Won't be ordering again.

Amazing hydration that lasts.

Keeps skin so hydrated. It's my go to serum for hydrated skin.

Seeing great results

Such a great boost of hydration to my skin. I really like it! Seeing results yay!

Plump like a dumpling

Couldn't live without this serum! leaves me smooth, plump and bouncy. I feel like my fine lines on my forehead and smile lines have become less noticeable and my makeup goes on better and lasts longer. I also feel like this has made me less oily. I've used plenty of other hyaluronic serums in the past and this one is my favourite.

Excited to see long term results

I've only recently bought this product but its texture is great, and it absorbs into my skin well. Looking forward to seeing the results long term as it seems to be making a difference already

Great product

I loved this serum. It glides on beautifully and applies and dries really well on my skin. I have normal skin and i found this product to give me a slight overall glow. I think it's priced really well also and would purchase again

Great And affordable

It is great hydrating serum, it goes into
My skin almost immediately and it's great for night and day under make up. Love it and will definitely repurchase.

Hydrating

Very light serum to hydrate the skin without feeling thick like a moisturiser. Good for oily skin if you're afraid of looking too greasy

Beautiful

worth the money, my skin felt instantly hydrated!. Already noticing a difference with fine lines on the forehead so I'm excited to continue using this!!


LOVE!

I love this Hyaluronic Serum, my skins hydration has improved massively since using this and I feel it's more plump.

I use it once to twice a day for about the past two weeks.

Love!

Better than Estée Lauder

I have been a huge fan of Estée Lauder advanced night repair serum for years. I bought this more out of curiosity and after reading other reviews.
Have to say it has exceeded my expectations.
It soaked in immediately to my skin with no residue at all. All minor dry areas, particularly around my nose from my recent cold were immediately moisturised and soothed.
Although the bottle is small you only need the tiniest bit for whole face.
I'm definitely converted to this product

Best Hyaluronic Acid!

I was so excited to try this product after using a few other serums with Hyaluronic acid in them. Not only is this pretty affordable compared to others that are up of $100+ but it feels amazing on the skin! I've read about some cheaper brands leaving a sticky feeling and I wasn't keen for that at all - this product leaves the skin perfectly prepped for moisturiser and I must say after only 5 days, I've noticed a difference in my skin and how well make-up stays on throughout the day!

Highly recommend :)

so hydrating

worth the money, my skin felt instantly hydrated!. Already noticing a difference with fine lines on the forehead so I'm excited to continue using this!!

Must have

I noticed results within a couple of weeks and they have been fantastic. My skin is super hydrated and smooth and have had several comments from hubby saying how great my skin is looking.
It is easily absorbed into the skin and it feels fantastic. Definitely a must have in my skincare routine now.

Very good

A very light and super fast absorbing serum. It works to firm and plump the skin, very good value for the results.

Excites me when I wake up!

I like this serum, since I got this serum, I m really excited every morning to use it after I wash my face.

It definitely different from other brand's serum.

Worth every cent

Soooo much better than the one by the ordinary. This makes a perfect primer and my skin is improving.. have been using for two weeks and visible improvement.

Hydrating, smoothing and plumping

I usually use medik8's b5 serum, and bought this instead to try. I've definitely noticed more hydration, plumping and also smoothing and really like it - but i'm not sure if it's just my skin - sometimes after using I get little whitehead pimples that seem to happen when i have too much hydration. I've been using it once a week as a facial treatment similar to a mask on weekends. Great but depends on your skin I guess!

Great

Such a great serum! I've had breakouts after trying out some other serums but this one didnt have any negative effects. Made my skin so soft and hydrated, try this out if you're looking for a new serum!

Alpha-H Hyaluronic 8 Serum 25ml

Great product , was concerned about dullness and some fine lines but this definetely plumps up the skin and gives great hydration. Would recommend

A must have in your skincare routine

This serum is definitely a must have in everyone's skincare routine! Has been a game changer for my dehydrated skin! I know have a brighter and more hydrated complexion thanks to this

Instant results

I hate how I love this as it's way more expensive than my last HA serum. Glides on beautifully and my skin felt instantly hydrated. Already noticing a subtle difference with fine lines under the eyes so I'm excited to continue using this one to see what the long term results are like!

ABSOLUTELY AMAZING

This serum is totally the best you get instant results straight away.
You feel the firmness straight away and look good the next day

Amazing!!! Results from the very first use!

I purchased this the day it became available on Adore Beauty and wow! It is the most divine plumping serum out there. From the first use I noticed my makeup didn't settle into fine lines and over two weeks my skin was noticeably plumper and the fine lines around my eyes and my frown lines were visibly reduced. I will not be without this serum now. It's so lovely to apply and doesn't pill or ball up. It plays beautifully with Vit B and C serums too. I'm in love!

If there is ever a hydrating serum out there that is worth the money, its this!

Being a beauty and skincare junkie, I'm always on the prowl for the next best product. I came across this Alpha-H Hydrating Serum from my favourite beauty bloggers who also swear by it. It gets absorbed fast into the skin which allows less waiting time for you to apply your other products. It gives you plump, hydrated and glow skin right away! This has gone onto my list of favourites and re-buys.

Perfect for sensitive skin

This was recommend to me by a friend as I had been complaining about dry sensitive patches around my mouth area. This serum is amazing and absorbs so quickly I love it! Has made my morning routine so much easier as well as I feel it is all I need pre moisturiser. No complicated skin care routine this is all you need for youthful clear skin!

WOW

I found this very recently and wondered where it had been my whole life! This has been saving my skin coming into winter.

Hydration plus!

I've just started using this product and have noticed an improvement in my skin, specifically the dry patches. A small amount of the serum goes a long way and really nourishes the dryness in my skin. It works beautifully with my moisturiser and under makeup. This is a great addition to my new winter skin care routine.

My New Holy Grail!

I have one word to describe this serum...Amazing! I have been using this for the last few days and...wow - I have seen an instant improvement in the look and feel of my skin. It gives my skin a big drink, revealing instantly more hydrated and plumped up skin! My fine lines around my eyes have almost disappeared and my face feels and looks so soft and glowy! A great purchase!

My thirsty skin drinks this up

A new serum from Alpha-H has been a long time coming and I'm so glad she's here! To touch, this is a slightly viscous, milky-clear formulation with a slicone-y like firmness to it. It's a thicker consistency than the Medik8 Hydr8 B5 and comparable to the asap Super B in texture. Upon application, a dropper's worth absorbs really well into the skin, leaving a cooling effect and my skin a little moist to touch. It layers well over a multitude of Vitamin B (night) and C (day) serums I've been using, doesn't pill under sunscreen and moisturiser, and works a treat after dermal rolling. After two consecutive weeks of use it has left my skin feeling well balanced with no dryness/flakiness, but a noticeable smoothness and evening of texture and tone. I've tried so many serums (#perksofthejob) from lots of brands and this one offers me the same skin feel as my other MVP serum - PCA Hydration Boosting Serum. Given the price of the PCA one, this is such a good value for money, 'all-rounder' hydrating serum.