Youngblood Loose Mineral Foundation
Skin Type:
Dry
Normal to dry
Normal to oily
Oily
Questions & Answers
(No Questions Yet)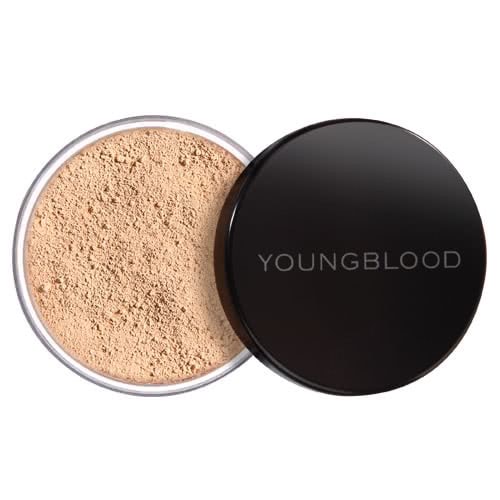 Youngblood Loose Mineral Foundation
Get an expert to answer your question about this product!
Ask a Question
91% recommend this product
Most Helpful Positive
Feels good
This feels really good on my skin, I get a light finish that lasts all day
Most Helpful Criticism
Not for me
I don't have problem skin in general but it accentuates my pores and smile lines. I don't mind the shade (ivory) as I find it hard to find products to match my neutral fair skin.
Feels good

This feels really good on my skin, I get a light finish that lasts all day

So much love!!!

I love love love this loose mineral foundation.
Been using it for well over twelve months and it's by far the nicest wearing powder I have ever worn.Light weight and looks so natural on your skin and it also stay's in place all day.
I use mine with the young blood cc perfecting primer!


great foundation

This is such beautiful foundation, I wear it every day pretty much, its light weight and buildable, the reason I bought this foundation was because I had developed perorial dermatitis, after lots of research I found an ingredient in YB mineral foundation is good for this dermatitis,

Love!

I have this shade in soft beige and its great! i wasnt expecting much from a powder foundation but it evens out my skintone nicely and looks greta on the skin. It wont be replacing my foundation but ill be using it for every day when i dont want a heavy makeup look!

LOVE

I've been using this mineral foundation for years, it gives a great buildable coverage and never clogs my pores. It's easy to apply and blend into the skin. It is defiantly worth the money over other mineral makeup.

Great

This is such beautiful foundation, I wear it every day pretty much, its light weight and buildable, the reason I bought this foundation was because I had developed perorial dermatitis, after lots of research I found an ingredient in YB mineral foundation is good for this dermatitis, it has all cleared up and I haven't had a problem since!! Thanks Youngblood!!

Love this product

Love the way it is so easy and quick to apply

I love this.

When i hear mineral powder I assume minimal colour and it never really appeals to me as I like more full coverage.
When i used a sample i instantly became obsessed as i love that it is build able so you can make it minimal coverage or as full as you want.
It lasted the whole day and has now converted me into a mineral lover.

Best Foundation on the Market

This product is amazing! I started using it around 4 years ago as it was recommended by my skin clinic. It is lightweight, provides full coverage and doesn't irritate my skin. Would highly recommend to those with sensitive skin.

Love it

Recommended by a friend .. I could only find it here

Great

This foundation is amazing! Stays on all day and looks good in pictures. If I don't want super heavy coverage I put a small amount over my liquid and my skin looks perfect :)

First mineral powder foundation Ive tried!

Its great! covers up a lot more than i thought it would, i got this in the beige colour and i have light/medium skin with a yellow undertone

Full coverage

I love to use this product as a light coverage foundation or I use it as my finishing powder if I'm wanting a fuller coverage. Absolutely love this product

Great powder

I love this mineral powder. It is so lightweight and not drying to the skin at all. I use it to set my foundation and I love the way it makes my makeup look.

Love the coverage

Love this mineral foundation, it is so light, doesn't feel like I have any make up on, even when applying more for night events etc, it's still lovely on the skin. And it stays on! I haven't found a mineral foundation that stays on like this one does.

Hands down best mineral foundation

I have used this loose mineral foundation for 6 years now, I have had acne, oily and dry skin and this has always been my go to. Full coverage mineral powder what more could you want. Doesn't break me out either and I have really sensitive skin

Great foundation for sensitive skin

I never used to have problematic skin, but after a stressful time studying and working full-time, I developed sensitive skin prone to eczema. I now have an aversion to heavy make-up and tend to break-out when I wear make-up too long. I asked my beautician to recommend a good foundation for sensitive skin that wasn't too heavy. I don't like wearing too much make-up (I don't contour or wear lipstick or eyeshadow) so I wanted something natural looking. She recommended this mineral makeup. It has good coverage with a matte look. You can build it up by continuing to apply more layers. I like wearing a light layer and find it stays most of the day (although sometimes I touch up with a compact after lunch). I hardly ever wear concealer anymore, which is great because I have dark circles, and the foundation does a good job of blending. Would recommend for like-minded people like me!

Love this foundation

Purchased after reading all the reviews and I'm so glad I did. A little goes a long way and it stays all day, which I've never been able to find a foundation to do. Do need to touch up around my nose and chin, but probably more due to how I touch my face throughout the day as opposed to the foundation. Very happy with it.

Rate this as the best mineral powder and best foundation!

My fav of all foundations! Best coverage, great colours, easy to wear light or can apply over n over for a extreme going out make up look, great for sensitive skin, and for oily!!

Perfect every time

I am addicted to this powder, a perfect match every time with coverage and a flawless finish. My favourite Youngblood product by far.

Great

This is such beautiful foundation, I wear it every day pretty much, its light weight and buildable, the reason I bought this foundation was because I had developed perorial dermatitis, after lots of research I found an ingredient in YB mineral foundation is good for this dermatitis, it has all cleared up and I haven't had a problem since!! Thanks Youngblood!!

Youngblood Loose Mineral Foundation

This is such beautiful foundation, I wear it every day pretty much, its light weight and buildable, the reason I bought this foundation was because I had developed perorial dermatitis, after lots of research I found an ingredient in YB mineral foundation is good for this dermatitis, it has all cleared up and I haven't had a problem since

Love it

Honestly love this! It is amazing and make my skin look flawless.

AMAZING

This is the most gorgeous powder foundation I have ever used! It's so buildable, leaves the most beautiful, glowing coverage and DOESNT BREAK ME OUT!! I suffer from back acne and since using this everyday, my acne has seriously gotten so much better!
I LOVE this, have and will continue to recommend to my friends, and will be buying again!

A so so product

This shade was I think slightly too light for me. So I'm sure I would have rated it higher had it been a better match. However I found it a little chalky. Also to obtain the coverage required it became quite heavy, not light like I've come to expect from mineral loose powder. My absolute favourite remains Minerology, of which I use two coats to buid up and it still seems like I am wearing no make up.

I have been using this for over 10 years!

I love this mineral powder foundation. I use it to set my liquid foundation or if I just want a quick cover up to go down to the shops.
I have been using Youngblood for over 10 years and I really love it. I do think it is a bit pricey. That is the only hold back for me.
I have recommended this product to many of my friends and family over the years and will continue to do so.
~I have acne scars, and oily to normal skin


I am not a fan

I purchased this and I really do not like it... I am a qualified makeup artist so I like trying new products that I can recommend to my clients. After having a few breakouts lately I was after something to give my skin a break. But I find this product does not sit on my skin at all. Its definitely does not hold up In the QLD summer. I'm a little disappointed in the price I paid for something I wont use again.

The best!!!

This powder is a must have! Does exactly what it says, I would 100% recommend!

Must Have Product

This by far the best loose mineral foundation created. The coverage for loose mineral is unbelievable. People are always asking what I use for coverage. I simple only use moisturiser and this product.

Loveee

My favourite mineral foundation to use. Great if you have sensitive acne prone skin! I find that this does not break me out and its texture is lovely! Would recommend this!

Once you use this you won't go back to liquid

Absolutely love this foundation. I (& everyone I know that uses it) will not go back to liquid foundation (or any other powders for that matter). It goes on so perfectly, covers imperfections and allows my sensitive skin to breathe. You can layer it depending on coverage wanted. It does look matte when it's first applied but it develops with your skin over the day, giving that no make up look. I use it with the rice setting powder to avoid any shine that might develop (when exercising or dancing at a wedding) & it lasts the entire day.

Lovely

This is such beautiful foundation, I wear it every day pretty much, its light weight and buildable, the reason I bought this foundation was because I had developed perorial dermatitis, after lots of research I found an ingredient in YB mineral foundation is good for this dermatitis, it has all cleared up and I haven't had a problem since!! Thanks Youngblood!!

Great coverage with a light soft feel

I love this foundation, the best coverage without the heavy feeling. The best thing about this loose mineral foundation is that its sohhhh easy to apply! I have it in fawn

Great

I like how there's so many shades so it's easy to find a near perfect colour match. Easy to apply and gives great natural coverage

Flawless base

This provides a smooth flawless base. It does wear off in my oily t-zone during the day, but I am yet to find a product that doesn't, and at least as it wears off it doesn't look as patchy as liquid foundations do.

Great

This is such a great loose powder foundation with decent coverage, highly recommend!

Holy Grail Product

Youngblood Loose Mineral Foundation is something that I have used for at least the last three years with flawless results. Finally a product that actually helps my acne instead of making it worse. I love this product because I can build the coverage depending on how my skin is appearance wise and the overall look I want to achieve. I have never had a problem with this product going cakey or wearing off my face throughout the day. Would highly recommend getting colour matted before purchasing this product.

Always my go to

I love this! I've been buying it for almost 5 years now it's my absolute favourite. It's so fine and has such a nice finish.

My go to Easy coverage

I have been using this mineral powder for over 6 years. it simple, great for my skin and gives me a flawless cover and glow. a little bit goes a long way. can be a little messy but worth it

My favourite mineral foundation

This is my staple foundation in summer. I don't tend to use powder foundations in winter as my skin is too dry - I have dry, sensitive skin.

It creates a very natural finish, and is easily buildable. It doesn't irritate my skin unlike many other foundation products. It isn't aging on the skin.

I use the colour cool beige.

My skin tone is cool/ pink based, and light. I use the colour ivory R230 in MUFE HD.

Great for mens skin

As a guy that likes full coverage foundation, but also a natural looking result, this mineral foundation is a must, it blends through stubble eaisly and evenly, the magic or youngblood i belive is the building abily to create what ever coverage im feeling for the day, it also has quite a matt masculine finish

Great product

Great colour selection and lovely texture. It is a little pricey for the amount you get, but it is great for my sensitive acne prone skin as it does not break me out! For that I would recommend this if you are prone to breakouts.

Best!

I can't even remember what I used before this! It's a really amazing product and I love it. Sometimes I put a liquid foundation underneath if I am going out on the weekends, but for every day wear it's great! If you have problematic skin it's a really great product and doesn't clog up your skin. Other Mineral foundations I have used tend to really dry out your skin but this really doesn't.

AWESOME COVERAGE

I have been using this product for years and I absolutely love it. I have sensitive/acne prone skin and the coverage is fantastic.I build it up on days when I prefer to wear more coverage and it doesn't feel 'heavy' as some other foundations are. I would recommend to anyone!.

The best

I have been using this powder for about 2 years now and I will never go to any other brand. The coverage is perfect, you can either put it on lightly or build it up. I use this with YB primer as well, stays on forever. I always tell my friends to give the powder a go! It doesn't get oily or come over especially in combination with the primer

Not for me

I don't have problem skin in general but it accentuates my pores and smile lines. I don't mind the shade (ivory) as I find it hard to find products to match my neutral fair skin.

Perfect Coverage

The ultimate in a Foundation, you can layer to get anything from a light coverage to a full coverage. It is mineral so perfect for the skin and a natural sun screen as well, have used for over 10 years now

Lightweight and Smooth

This product is great over bb cream or a light coverage liquid foundation and provides a smooth finish that isn't too heavy and which doesn't clog the skin. It's equally good when used alone if you're after something lightweight

Great coverage

I love this, I am now on my second container. A little does go a long way! Great coverage yet feels so light and breathable on your skin!

Love it

I have acne prone /sensitive/ a lot of redness skin and i was not sure about this product to begin with. After trying it, i loved it.
It has good coverage depending on how many layers you put on, or you can wear it as a light coverage. It is a very natural looking makeup when you wear it, which i love.

it feels very light on your skin and breathable which is exactly what i was needing for my acne. It does have a dewy kind of finish (Not matte) so if you are after something similar i would recommend.

Can't live without

I was introduced to this product by a friend and it is a game changer. I tap it into my face with a brush after I have applied foundation and concealer and it makes me look dewy and radiant! I have fair and freckly skin and it gives me a killer glow! Worth every penny.

Oily and annoying to wear

I bought this after reading several great reviews and recommendations that it was good for acne prone skin. I don't have bad acne, just occasional breakouts. I'm not sure what the fuss is about.
Half an hour after I put it on, my face feels oily and shiny and feels gross. I wear a very light layer, and it does look great for a little while, but when I touch my skin the product clumps off in little clods under my fingertips. It sweats off within a short time and I only work in an office but it comes off on my phone all over the place. I'm not a sweater and generally have dry-combo skin. I've tried wearing it over multiple combinations of moisturizers, sunscreens and serums, and over nothing at all.

I've never worn a mineral powder that felt anything like this and for the expense, I'm very disappointed.

Amazing coverage

I love this powder for a day to day light makeup look. The coverage is really great so I only need to put moisturiser underneath. As well, the jar lasts me a very long time!

Great coverage, but not great for sensitive skin!

I have extremely acne pronce skin and was recommended this product to help my skin along whilst getting treatment. I used this for about 2 weeks, and found the covergae really great for a powder foundation. Looked silky smooth and no shine at all throughout the day. However, my face was quite itchy when using this and it actually made my skin break out even more than usual - especially little white spots all around my mouth which I never get normally.

Since doing some research, I believe this may because of the ingredient Bismuth, which can be quite irritating for people with acne.

Great makeup overall, but if your skin is extremely sensitive, I would definitely not reccomend this!

LOOOVE this foundation

Best foundation I have ever used. I prefer lightweight makeup, however, with decent coverage. And this satisfies both for me. It just seems to mold onto my face and blends really well. I use this foundation by itself on a day to day basis, and over liquid foundation on a night out when I want to be more 'glam' :)

Best Mineral Foundation

This is the best foundation I have bought. The coverage is so versatile and covers a multitude of sins. Feels so lovely on the skin. Having fair skin and in my 40's it is so good to have a foundation that doesn't cake or sit in fine lines. I'm so happy with the texture and flattering colours that I recently purchased it again.

#1 Must Have

I've been using Youngblood honey for years and honestly nothing compares to the colour it gives! Being quite pale, this colour is the perfect balance between natural and a warm, healthy glow. 100% recommend this product, while it is quite pricey I go through roughly 3 a year, where I wear it almost everyday. Love!

Pricey but worth it!

I have been using this foundation for several months and have purchased from AD several times (yay for same shipping in Melbourne) I love this foundation! This is by far the best mineral powder I have used. Very buildable - I have combination skin with a lot of red marks :( I love the shade range, warm, cool and neutral. I'm quite fair but barely beige is a good match for me. It does oxidise on my oily skin, and can go a bit yellow, but easily fixed with the YB pressed powder. I apply with a kabuki and pat into my skin or use a damp beauty blender for fuller coverage. It is not long lasting, have to reapply during summer but it is possible to do this without going cakey from layers of foundation. Probly not the best of ingredients (contains bismuth, google it) and could be irritating to sensitive skin.

Holy Grail mineral foundation

I use this with a fluffy brush for a light coverage, with a denser brush for a medium coverage, or over a liquid foundation for a full coverage, flawless, airbrushed look (which I wore for my wedding and it was still on a midnight). Incredibly light on the skin and comfortable to wear.

Fantastic!

This is a mineral foundation that has great coverage, great staying power and is all round great for your skin!
My sensitive skin loved this foundation and it covered up all of my acne and scarring without any issues!
Best used with a primer if you have texture/large pores. The youngblood primer is a great match.
If you have sensitive skin, give this one a try! It worked wonders for me and I was always receiving compliments on how my skin looked.

The only foundation that doesn't give me breakouts

I've got fair, freckly skin that is extremely sensitive. I was recommended this make-up range by a doctor and it is the first that hasn't caused me to break out. I've tried so many types of powders and liquids but I keep coming back to this brand and style of foundation. It is so easy to buff on with the right brush and I can build the coverage up if I need to. It has made getting ready in the morning so much quicker!

Hooked

I have been hooked on this foundation since a beauty therapist recommended it back in 2009. At the time I didn't wear make up, but I soon changed my mind. This foundation is perfect for my combination skin. I prefer a light coverage during the day and heavy at night. This foundation meets my coverage needs. I also get a red nose as a medication side effect, and this foundation ensures I don't look like Rudolph all year round,