Cleansing is an essential first step in any daily skincare routine. A good cleanser draws out oil, debris, and impurities from clogged pores, leaving you with fresh skin and a healthy glow. Follow cleansing with an exfoliator to remove dead cells from the surface of the skin for a glowing, baby-smooth complexion.
How to use Skinstitut facial cleanser:
Squeeze a pea-sized amount of your desired Skinstitut cleanser or scrub onto wet hands.

Apply and lather over face for about 30 seconds, avoiding the eye area.

Rinse thoroughly with warm water.

Pat face dry with clean towel.

To remove makeup, apply on a damp cloth or cotton wool. Gently wipe over eyes, lips, and face.
Which Skinstitut cleanser is best suited to my skin type?
I'm looking for a Skinstitut cleanser for oily or acne prone skin...
Skinstitut Glycolic Cleanser 12% is a great treatment cleanser for problem skin. This product deep-cleans and exfoliates pores to clear congestion and prevent breakouts and blackheads.
I'm looking for a Skinstitut cleanser for anti-ageing...
Skinstitut Glycolic Scrub 14% is a great product for congested, acne-prone skin. This product works especially well as a treatment facial scrub for anti-ageing. Micro-exfoliating beads gently slough off dead skin cells and reveal a fresher, brighter complexion. Glycolic Cleanser 12% is also great in anti-ageing skincare routines, as it promotes new cell turnover.
I'm looking for a Skinstitut Cleanser for dry skin types...
Skinstitut Gentle Cleanser is a rich facial cleanser that works for all skin types but is especially gentle on sensitive, dry, or irritated skin. The cooling, gel-like texture hydrates, protects, softens, and soothes skin whilst cleansing it of impurities.
I'm looking for a Skinstitut cleanser for sensitive skin...
Skinstitut L-Lactic Cleanser is a facial cleanser designed for ageing skin, formulated to brighten without harshness. L-Lactic Acid is just as effective as as stronger chemical exfoliants, but the former also nourishes, hydrates, and protects skin.


Still not sure which cleanser is right for you? We have made choosing a facial cleanser easy with our simple guide. Discover which cleanser is right for your skin type.
Recent reviews on Cleansers products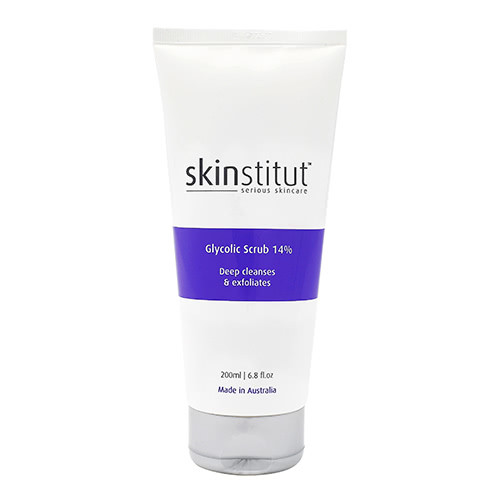 Skinstitut
Skinstitut Glycolic Scrub 14%
$49.00
$34.30
Definitely not for sensitive skins!
I'm not sure why this is marketed as a gentle exfoliant as it definitely isn't! Tried this and my skin was red for a few days afterwards and I am used to active skincare. The texture is just too granular and rough plus the smell is just not for me AT ALL. Ended up using this on the body to use it up and it did a good job there.
What people are looking for the most