In 2008, Australia-based Skinstitut came onto the skincare scene by making serious, high-end skincare cost-effective for everyone. Leading pharmacists and cosmetic chemists worked together to develop products that offer guaranteed excellent results, using top-quality, potent, cutting-edge active ingredients such as retinoids, antioxidants, and peptides.
What does Skinstitut stand for?
Skinstitut is a portmanteau of two words - "skin" and "institute" - SkinInstitute = Skinstitut! They don't rely on marketing gimmicks or jargon to promote their products. Instead, the company relies on the appeal of its affordably priced, stable skincare formulations.
Skinstitut offers a line of cleansers, exfoliators, moisturisers, and serums to help any complexion look healthy and radiant.
What are the best-selling Skinstitut products?
Glycolic Scrub 14%: This signature product from Skinstitut contains glycolic acid and exfoliating beads to gently lift and remove dead cells and cleanse pores, leaving skin smooth and radiant.

Moisture Defence Normal Skin: Normal-to-combination skin types will feel healthy and hydrated with this lightweight moisturiser. Key ingredient Purisoft is a natural peptide that protects skin against pollutants and free radical damage.

Gentle Cleanser: Those who have dry or hypersensitive skin will appreciate this non-irritating cleansing gel, which contains green tea, goji berry, aloe vera, and vitamin E.
Which Skinstitut products should I use for ageing skin?
Skinstitut can tackle a wide range of skin concerns, but sometimes it's difficult to know where to start! Skinstitut Retinol is a great entry-to-mid level retinol product, and is a fantastic product for promoting cell renewal, combatting aging skin. You should of course also be using a daily SPF like Skinstitut Age defence SPF50+ to prevent premature ageing and avoid hyperpigmentation, and consider whether a Skinstitut Vitamin C product could be a worth addition to your routine. Finally - don't forget moisturiser. Hydrate, hydrate, hydrate!
Where to buy Skinstitut products? Are you a Skinstitut stockists?
Adore Beauty is an online, authorised distributor of Skinstitut, so yes, we are a Skinstitut stockist! We offer free delivery, and free express delivery for all orders over $50. We also include samples in every order, and have a fantastic, personalised loyalty program!
Effective skincare is not about hype, expensive packaging, or luxury. Try Skinstitut and experience noticeable results from clinically proven ingredients and sound science.
Adore Beauty offers AfterPay for all Skinstitut products.
Showing 20 products of 27.
---
Skinstitut, articles & community
Recent reviews on Skinstitut products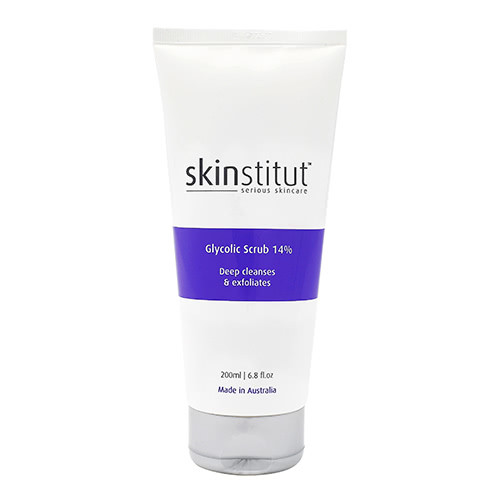 Skinstitut
Skinstitut Glycolic Scrub 14%
$49.00
$34.30
Definitely not for sensitive skins!
I'm not sure why this is marketed as a gentle exfoliant as it definitely isn't! Tried this and my skin was red for a few days afterwards and I am used to active skincare. The texture is just too granular and rough plus the smell is just not for me AT ALL. Ended up using this on the body to use it up and it did a good job there.
What people are looking for the most