Parlux Supercompact Ionic & Ceramic 3500 Hairdryer
4 instalments of $63.75
Or 4 instalments of $63.75 with
LEARN MORE
4 instalments of $63.75
Or 4 instalments of $63.75 with
LEARN MORE
Official Stockist
Is this for you?
The latest professional hair dryer to hit the market. Featuring an ultra powerful motor, it makes other hair dryers look old fashioned.
Frequently bought with
Please wait while we find a match
Questions & Answers
(1 Question)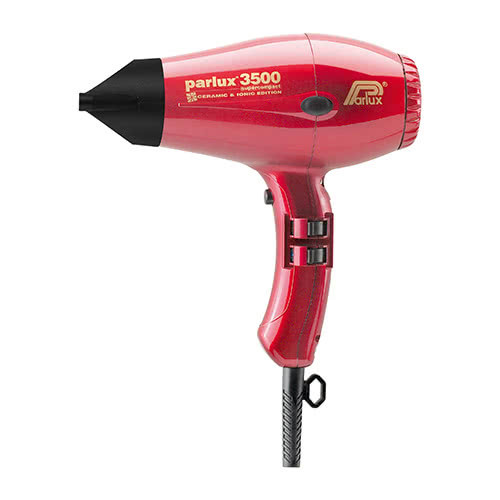 Parlux Supercompact Ionic & Ceramic 3500 Hairdryer
Get an expert to answer your question about this product!
Parlux Supercompact Ionic & Ceramic 3500 Hairdryer Reviews
100% recommend this product
Most Helpful Positive
Worth it
This hairdryer is in high quality. it didn't damage my hair. Definitely worth the price.
Worth it

This hairdryer is in high quality. it didn't damage my hair. Definitely worth the price.

Moving up in the hairdryer world

Glad I made the plunge from a $20 Kmart hairdryer (that cuts out every 5 mins) to this beauty. My hairdresser gave me a good telling off for having super dry hair and I put it down to not thoroughly drying my hair before straightening. This bad boy drys my hair in half the time of my old one with more efficient hot & cold settings. It is also not too loud. Hoping to see some results over the next ...

Read More

Must Have!

This is just fantastic. I was completely amazed by how smooth and shiny my hair was after I used this. Sure the price is expensive, but it's definitely an investment worth the cash.

efficient and manageable

great performance for an amateur with great results

Super efficient

This is definitely worth the purchase price. Not difficult to use for an amateur. Leaves hair smooth and manageable.

High quality great power

I have owned my Parlux for about 8years it's still going great. It's been definitely worth the investment. Dries hair so much quicker too.

I like the size as it's light to use not like the big bulky ones I find this size the best for drying to be honest. I have long hair so blow drying my hair needs to be as quick as possible.



Little Hairdryer with a big heart

I love this hairdryer as it is as compact as advertised, but works just as well as a regular sized hairdryer.
I have been using this hairdryer for my hair design class, loving it so far. Gets the blow dry done in record time, but doesn't burn the hair.
The different colours are an added bonus. I love my pink one :)

Excellent hair dryer

I've had my Parlux 3500 for a few years now. Its simply an excellent hair dryer. I don't use it often and prefer to air dry my hair, but my hair tends to dry out easily - so when I use a hair dryer, I need it to be gentle and effective. I have tonnes of hair and this dryer honestly dries my hair so fast, its incredible. I asked my hairdresser for some blow drying tips and in conjunction with my Pa...

Read More

Amazing

I got this hair dryer today and my first blow dry is amazing. I have frizzy hair and now it ,is smooth. Not all hair dryers are created equal.

Great value and easy to use

I love this hairdyer. I have used many different brands over the years but I have come back to Parlux because I feel they offer great quality for the price. The hair dryer itself is compact, easy to use, small enough to pack in a suitcase, and has a great nozzle attachment for a smooth blowdry. It doesn't leave my hair looking frizzy or damaged but it creates a smooth, shiny finish. It heats up re...

Read More

Powerful but very heavy

Purchased this product on the great reviews it has been given. Whilst the dryer is small in size it is too heavy. Find that my arm is sore after holding it for a while. The cord is long however it tangles and is impossible to untangle. The one good thing is that it is very powerful and dries hair quickly.

Best Hairdryer ever

I love the Parlux hairdryers, I bought this one for my sisters b'day but have one already myself. I have long fine but still alot of hair which takes forever to dry with other hairdryers this one I can do a perfect blow dry in 10 minutes easy. I have owned mine for 5 years and use it 3 times a week and it hasn't damaged my hair what so ever. I had to buy one for my sister got to share your holy gr...

Read More

LOVE IT! Ladies, invest in one, it's fantastic. I have naturally straight hair, but when I use this it gives my hair a beautiful shine and so much volume. Drying time also alot shorter than the cheaper hairdryers. Worth the investment, this will last for years and years. My hairdresser raves about this hairdryer too :)

I just love it. Feels like quality, produces quality results. I have curly hair that I am reluctant to blow dry, as my hair tends to end up frizzy. With the Parlux, I feel confident that my hair will be well styled with sell formed curls and shiney! Love it!

Parlux hairdryers are the best hairdryers bar none, it really is that simple. Yes, they are exxy but they are so good and so reliable that one will last you for years. The Parlux is perfect for creating shiny, healthy looking hair in a fraction of the time that my old hairdryers used to take, and that's saying a lot considering I have long, thick hair! I always have plenty of volume, pretty h...

Read More

I only use a dryer occasionally but still decided to buy a good one for when I do, and to use on my daughters long hair...OMG I am so glad I did, I have never used a dryer before that leaves your hair feeling soft and smooth like this one does and no smell of burning hair either. I would definitely recommend buying one!

Ohhhhhhhhh yeahhhhh. I would marry my Parlux, if I could. I have lots and lots of fine curly hair and it takes forever to dry. This snazzy hairdryer has more than halved my drying time, I reckon. And not only does it take less time to dry, but my hair is left looking smoother, softer and easier to style. Rather than having to spend 40 minutes battling with a hair straightener afterwards, it now ta...

Read More

I am not very clever when it comes to 'doing' my hair, but I am more than happy with the results I am acheiving with my Parlux. It is light weight, has a long cord and I guess it is the negative ions thingies that leave it soft, falling nicely all day and there is no static electricity.

I bought this after going through almost three (cheaper) hairdryers in as many years. The Parlux seems to treat my hair with more tlc and kindness - ie not too hot or harsh - yet really dries powerfully. Easy to use; love it.

Three words: Buy one now!!! I blow dry my hair daily and wouldn't be without this. It quickly tames my wavy/curly hair as I dry with a round brush and for daytime I can get away without using my ghd if I'm going for a straight look. Leaves my hair soft, silky and in control. Will never buy another hairdryer again.

I will admit to being sceptical - could a hairdryer be THAT good? Well, the answer is a resounding 'Yes!' My hair is softer, shinier and easier to style. And the only thing I have changed is the dryer I use. For anyone who is baulked by the price (my initial stumbling block) it really is worth the moeny - I am the Queen of Lazy Hair (all hail the messy ponytail), and I get salon results with th...

Read More

Ohhhh, my sweet sweet Parlux, may we never be apart! My hair is thick, slightly wavy, and tends to be coarse and frizzy - the Parlux keeps it all under control. All this time I thought I just had to put up with it, when all I needed was a good hairdryer!