Harness nature's gifts, with a more holistic approach to beauty. MAAEMO is organic, eco-friendly, cruelty free, vegan and Australian owned. Developed with both herbalist and naturopathic approaches to beauty, MAAEMO creates high performance products that work.
MAAEMO's aim is to create total skin health, inside and out. Selecting ingredients for both their efficacy and their high concentration of nutrients, MAAEMO products have the power to purify and restore. MAAEMO Skincare is completely free from harmful toxins, and are all vegan.
You can feel good about choosing MAAEMO. An Australian owned brand, MAAEMO also is created to Australian Certified Organic standards. MAAEMO only features the very best, most pure ingredients that are wholly safe - even so, they are completely cruelty free and against animal testing.
MAAEMO also offer Crystal Infusion Water Bottles, which help to make your daily water intake easier. With a unique, natural crystal in each bottle, you should choose the crystal that speaks to you.
Who are MAAEMO?
Certified organic, holistic skin care
Free from harmful chemicals
Developed by MAAEMO's own naturopath & herbalist
Proudly Australian owned
Australian Certified Organic standards
Vegan ingredients
Cruelty free & dedicated to fighting animal cruelty
Eco friendly & recyclable packaging
Why choose a MAAMEO Crystal Infusion Water Bottle?
Natural crystals with their own personality & quirks
Stylish glass bottle to make water more appealing
Holds between 500-550ml of water depending on the unique crystal
Easy to clean - simply remove the crystal and pop in the dishwasher
Comes with a black neoprene bottle cover
Showing 10 products of 10.
---
Recent reviews on MAAEMO products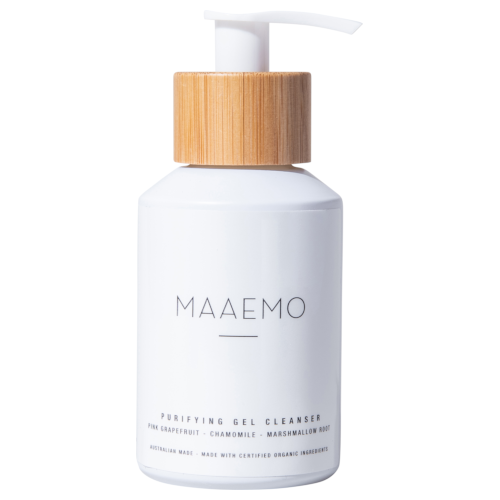 MAAEMO
Maaemo Purifying Gel Cleanser 100ml
$49.95
Amazing cleanser
If you are looking for a natural cleanser for acne prone skin this is definitely hands down one of the best cleansers out there. Doesn't strip my face and does a great job at removing makeup. Love this cleanser!