KEVIN.MURPHY Un Tangled Leave In Conditioner 150mL 150ml
4 instalments of $9.99
Or 4 instalments of $9.99 with
LEARN MORE
4 instalments of $9.99
Or 4 instalments of $9.99 with
LEARN MORE
Official Stockist
FLAMMABLE

This item is flammable therefore postage is restricted to Standard Post within Australia
Is this for you?
KEVIN.MURPHY UN.TANGLED Leave In Conditioner is a detangling, strengthening and restorative hair treatment, with additional heat protection.
Cruelty Free
Sulphate Free
Hair Concern:
Oily roots, dry ends

Breakage and split ends

Dull, lacking shine

Colour protection

Frizzy hair

Brassy tones (blonde/grey hair)
Hair Curl Type:
Curly

Straight

Very curly/African/Caribbean

Wavy
Frequently bought with
Please wait while we find a match
Questions & Answers
(3 Questions)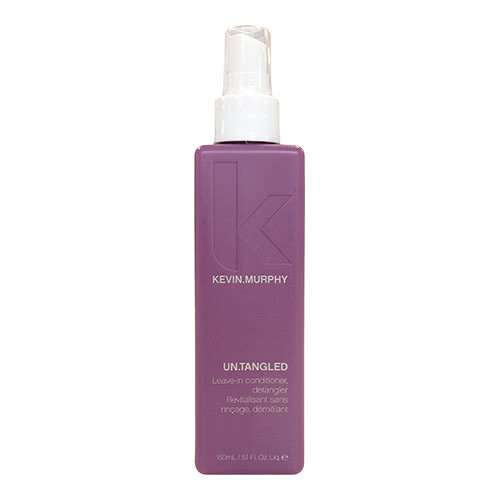 KEVIN.MURPHY Un Tangled Leave In Conditioner 150mL
Get an expert to answer your question about this product!
KEVIN.MURPHY Un Tangled Leave In Conditioner 150mL Reviews
94% recommend this product
Most Helpful Positive
Great scent
Smells great, just like musk sticks. Leaves hair soft, smooth and tangle-free. Will purchase again.
Most Helpful Criticism
Not really sure if made a difference
I bought this product because of the great reviews however I have not really seen much of a change in my hair. I think this product might work better if paired with other Kevin Murphy products but for me I don't think it by itself did much. Did not reduce my frizz and the bottle is actually quite difficult to pump to get the product out.
Great scent

Smells great, just like musk sticks. Leaves hair soft, smooth and tangle-free. Will purchase again.

Silky smooth perfection

This has become a staple in my haircare arsenal and always reliable for sleek, smooth and shiny locks. Not only does it smell amazing, it also nourishes my dry hair and really seems to do the trick when it comes to preventing breakage and split ends.

helps get rid of knots

this is great it helps get rid of knots and adds some extra hydration to my hair

Nice and smooth

Makes my hair manageable and smells great too. Perfect nourishment for dry hair.

Pretty good

This is a great smelling product and made my hair feel soft. I do think there are cheaper options that do the job just as well though!

damaged my fine hair

I bought the kevin murphy leave in conditioner because of all of the hype. At first, i was really excited to use it and it made my hair soft, but noticed it did not help much with my tangles. After a couple of days, my hair was extremely dry and fragile up to the point of breakage. I thought it was my shampoo doing the damage but realized it was the leave in. As soon as i stopped using it, my hair...

Read More

Smells great.

Fantastic. Makes my hair easy to comb and leaves it soft, strong and easy to style.

Not really sure if made a difference

I bought this product because of the great reviews however I have not really seen much of a change in my hair. I think this product might work better if paired with other Kevin Murphy products but for me I don't think it by itself did much. Did not reduce my frizz and the bottle is actually quite difficult to pump to get the product out.

Keeps my hair healthy and hydrated

I love this spray it was great to protect my hair before blow drying and has kept it feeling healthier between cuts. I'm sad it's run out !!!

The best!

I have been using this for a while now and love that I don't need to spray much onto my hair for it to feel soft and untangled. My favourite thing about this leave in conditioner is the gorgeous scent that soaks into your hair! I find the bottle lasts such a long time so it is great value for such a good quality hair product.

Favourite leave in

My favourite leave in conditioner. I usually go for serums and oils as I find they absorb better and don't leave a residue, however, this leave in absorbs really well and leaves my hair very soft and moisturised. It goes well on wet or dry hair and I don't need to use too much even in my long thick hair. Love the herbaceous, floral scent too!

Amazing

I love this product so much, always leaves my hair shiny, silky and smooth, defiantly worth a purchase!

Great product for frizzy, dehydrated hair

I used this product for the first time a few days ago. Immediately noticed the difference in my hair after only one use. It was definitely smoother, softer and less frizzy. Highly recommend this product to any one looking to tame their hair.

Never turning back

This is honestly amazing, not only is it perfect for untangling after a shower it leaves me hair silky and less frizz.

Lovely moisturiser refresh for the ends

Love to use this on a second day after using dry shampoo in my roots and this spray on my dry ends. Hair feels very soft and hydrated and smells great.

love that it detangles plus more

I love that it detangles my hair well but also has other benefits and leaves my hair soft

The ultimate detangler

This is a miracle product. It seriously does what it says it does... detangle! As soon as you put it in your hair and comb it through its automatic. Love.

Not the best

I wasn't impressed, it didn't do much to my hair.

Handy leave in conditioner

I got this when I purchased the hydrating shampoo and conditioner as a pack. I use it on damp hair as well as on dry hair to add some moisture to my next day hair. It works well.

Easy to use

This condition really helps me get the knots out without making hair oily or causing visible build up of product.

Hair soft for days

This is a great leave in moisturiser and detangler. I use it in my 19 months old hair and my hair. My daughter wakes up with a crows nest at tge back of her hair every mor morning and just one spray and her knots comb out so easily. It smells amazing. It feels thick when you first spray but it doesn't weight your hair down. We both have curly fine hair and it helps lift our curls also.

great for knots

this helps a lot when trying to brush my knotty dry hair, smells so lovely too

A great conditioner

a great conditioner making the hair heaps healthy!

Soft for days

Spray a little of this in wet hair and your hair will be soft for days! A favourite of mine to use and will definitely re purchase. Although expensive it's worth it. Smells amazing too

A must have!

This hydrates your hair without the heavy sticky residue. Leaves your hair looking so silky!

Lightweight hydration

I love this spray, doesn't weigh down my hair but provides great hydration. Very smoothing and smells great too!

Helps the brushing but no miracle

I was very excited about this spray. The packaging is very pretty and luxurious looking, but the spray itself is very ordinary. No nice smell and no great results. My hair is really damaged so it does not make much difference to it.

Lovely smelling leave in conditioner

Very good leave in conditioner and smells fab.

Fantastic

This is such a beautiful hydrating gentle conditioner with bonus heat protection and detangler. My hair feels so soft and luscious, looks hydrated and healthy.

Works

A beautiful smelling detangler. Works fantastic in my hair and my daughters. No tarts when brushing if I've sprayed this

Love it

This has to be one of the best leave in treatments. 1. Smells amazing 2. Makes my hair feel so smooth 3. Glides through my hair tangler

Love it

I really like this leave in conditioner. It makes my hair feel lovely and soft. I like that it has heat protectant in it too. Would recommend

Like it

Works quite well for my dry hair. I like to use it in-between washes to keep my hair feeling soft.

Good to leave in the ends of my hair

Good to leave in the ends of my hair, leaves them looking nice and healthy.

Manages tangled hair

I love everything about this products, smells heavenly, not too sticky, manages my tangled hair towards the ends.

does what said on the description!

I have coarse hair and tangled towards the end due to dehydrated ends, this help me saving my time in the morning with the brushing and styling. Plus, it smells refreshing.

Great for taming tangly hair

Great for taming tangly hair. I use this regularly when brushing my hair. It really helps.

Beautiful product! Such an amazing smell too

The smell!!! I loveeee this scent! I get so many compliments when I use this!
Feels like heaven and smells even better.
It definitely helps make my hair more manageable too.
I love Kevin Murphy products! Such a great discovery

Lovely scent and feel

Lovely scent and great packaging. I love that KM is cruelty free which makes me enjoy the products more. This made my hair smell nice and feel quite soft. Still need an oil for my ends but would recommend trying

Gold for your hair

I have bought this at least 5 times and I recommend it to everyone I know. It moisturizes your hair without making it heavy, great on dry ends. I swear by this product it doesn't just untangle it moisturizes and heat protects aswell. On a second and third day within washing I spray through the mids and ends of my hair and it's good to go again without the need to restyle. LOVE IT !

Gold for your hair

I have bought this at least 5 times and I recommend it to everyone I know. It moisturizes your hair without making it heavy, great on dry ends. I swear by this product it doesn't just untangle it moisturizes and heat protects aswell. On a second and third day within washing I spray through the mids and ends of my hair and it's good to go again without the need to restyle. LOVE IT !

Saviour

This literally saves me every time I wash my hair. Detangles knots easily and gently

Really good!

It took me some years of pure torture to come to the realisation that I needed extra help untangling my very thing long hair. I bought this a couple of weeks ago, and it has been my saviour. It does what it promises and has a delicious smell. I will definitively repurchase.

perfect for my fine hair

I have fine bleached hair and after towel drying this product detangles and conditions beautifully. My comb glides straight through my hair. I definitely recommend, especially for fine, bleached hair that tends to tangle easy.

Amazing stuff!

I love most of Kevin Murphy products but this is my absolute favourite! I spray it on my colour treated hair after a shower and it just makes brushing so easy! No more hair breakages! Will keep buying.

K Murph does it again!

Just the best product ever. Makes your hair feel amazing, untangles the worst knots after washing and smells good. I would recommend and have recommended to many friends. Very pricey but has lasted me a couple of months per bottle.

Great!

This works well at de tangling my curly hair! Leaves hair less frizzy too!

The.Best.

This has done wonders for my fine dry curly hair! it smells so dang good! leaves my hair feeling so nice and it makes my curls sit so well. and without fail i always, always get complemented on my hair when this is in it.

Refresh and soften the hair between washing

I apply this conditioner mist to the hair before brushing - reduces the tangles and loss of hair from tugging and pulling. It smells beautiful and it does not leave a sticky texture to the hair.

Very good hair detangler

Have tried a few different hair detanglers recently for my daughters and my own hair (we have a lot of fine wavy hair that tangles easily). This one does the job perfectly!! It didn't leave a residue feeling as some do. Smells lovely without being overpowering.

Great product and, as an added bonus, smells wonderful!

I have thin hair but a lot of it so my hair tangles very easily. I wanted a detangler that would make brushing my hair easy but not leave my hair looking greasy or feeling heavy. KM does just that. It sprays on super well (I only spray on the mid to ends of my hair) and smells so nice.
I will be buying this product again.

Fantastic

This is really nice! I leave this in my hair with oil and heat protectant and my hair looks great. Kevin Murphy is a really great brand too!

So moisturizing for damaged ends

I can't get enough of this product it's amazing on my damaged blonde ends and it doesn't leave hair greasy. I have bought countless bottles and will continue to use again and again

smells like musk candy

It is pricey but it's worth it, a great heat protector and smoothes my frizzy hair!! So easy to brush through my hair after wow


Too pricey and not amazing

Gave my hair zero hydration. I love all KM but this is a thumbs down. Get the Immortelle oil instead

Lightweight and effective

I really like this product. I have fine hair but this is very lightweight so it doesn't weigh my hair down or make it look greasy. It's more of a gel consistency so I find it works better on wet hair as it's easier to distribute more evenly. My only criticism is that it should be in a pump not a spray due to the thicker consistency - doesn't really make sense to me that it's in a spray bottle.

Worth the price

Works so well for my knotty hair only a small amount required to do the job but I'm heavy with it as I adore the musk scent, it's also dramatically improved the condition of my hair.

Depends on your hair...

I have straight and soft hair and this is amazing on mine, but when my house mate uses it on her curly and course hair it doesn't have that great of a result, she uses something a lot more heavy duty for better results.

Great for hair that knots easily

I have wavy to curly hair that knots very easily but after using this my hair is tangles noticeabley less and is more smooth. The spray smells amazing as well so that's a bonus

Smells great and works really well

I have fairly thin hair and often find that products leave my hair feeling heavy/oily but that isn't the case with this product. It smells like musk stick lollies (in a good way!) and a little goes a long way.

Good on the lengths and ends

Took me a while to realise that you really have to stick to just using this through the lengths of hair - my hair was getting stiff and greasy at the same time when I was being too liberal. Smells amazing. Summer and beach time must.

Can't live without it!

It is pricey but it's so so good, great heat protector, smoother and I particularly love spraying on my end after curling to smooth the ends and it makes the curl look great

Amazing!

Love this de-tangler, a few sprays and the knots are out. I have thick long hair so it's always tangled after showers but this de-tangler sorts it out in no time! Smells awesome too!

Works a treat

Really great product that actually works and doesn't leave my hair greasy!

Great product!

Fundamental product after shampoo and conditioner, leaves my crazy hair (very thin and long) much easier to brush. Love it!

Works but the smell of it is overpowering

This product leaves your hair super soft however it smells really strongly of an artificial fragrance. Would definitely buy again if they swapped the fragrance for a lighter, natural citrus.

Really Works

My hair gets so incredibly tangled after a shower (bleach blonde hair) using this with a detangling brush means I don't snap half my hair after a shower, I find it easy to use and smells great.

Little goes a long way!

I'm a massive fan of Kevin Murphy products.
This leave in conditioner is great! I have fine blonde curly hair, oily roots and dry ends. A little goes a long way with this spray!

Beautiful product

This stuff smells soo good, I also love the bottle! It really helps de-tangle mine and my daughters hair. Just a nice light weight spray to use on a daily basis.

Smells amazing and feels just as good

I have only been using this product for a week so far but its light weight, smells great and i can already feel the benefits.

I will buy again for sure!

Miracle worker for tangled hair

I get really knotty hair regardless of how often I'll brush my hair. I use this product each time after I shower and my hair absolutely loves it. It gets rid of knots easy and works as a heat protector which is an added bonus. Since buying this product, I cannot go without it anymore.

Love it

Must have product for knotty hair. I use this every time I wash my hair and makes brushing a breeze.

A nice product

This is a nice product to use, the spray can be a little wide to control sometime but I like the results, doesn't do much to change my hair curl.

So good!

I have long, blonde (bottle) hair and i use this product when I wash my hair (1 once per week) and it makes it so much easy to brush my wet hair, my hair gets so tangled and I am seeing less of my own hair on the brush!

The Name Says it All

This has helped detangle my hair on a day to day basis. It also protects from heat treating. So impressed!

Perfect for detangling

I have dry, curly hair. I bought this product to use as part of the LOC method for curly hair. This wasn't what I expected - the product is much thicker than I am use to - it's almost conditioner like in its texture. But the bottle ensure that it sprays evenly. My hair feels softer and is SOOO much easier to comb through with this in than without it.

Does what it says

The smell is just lovely! It's really good for unruly hair! I'm blonde, and my hair gets so easily matted after a shower, this product helps de-tangle and I lose less hair when brushing from using this product! Highly recommend.

Excellent

Very useful leave in conditioner. Great before blow drying & styling. Light & smoothing, smells beautiful. Untangles & keeps hair feeling moisturised.. recommended

Smells nice - doesn't do much else

I have dry ends but long hair. Oribe products work wonders on my hair and whilst they cost double they work better than this. This is nice I guess if you need a light leave in with a beautiful scent, but after swimming perhaps this wouldn't provide enough hydration.

Amazing !!!

Really great product for dry or wet hair I have blonde hair with extensions and this is great pre blow dry and after to smooth out ends. I love it!

Love it!

I'm a massive fan of Kevin Murphy products.
This leave in conditioner is great! I have fine blonde curly hair, oily roots and dry ends. A little goes a long way with this spray, you don't need much at all. A big plus for me is that it doesn't make my hair more oily.

GREAT FOR TANGLES

This is the first product I have purchased from the Kevin Murphy range. My hair has been suffering from over-processing and even after using salon products for shampooing and conditioning, I need a leave in conditioner. This product definitely did what it says - untangles. It's a good feeling when the comb goes straight through your hair instead of the usual struggle. A great asset to my hair rout...

Read More

Amazing

This product is fantastic for my extremely curly hair. Having long curly hair means knot galore. This product softens and smooth and make combing my wet curly hair a breeze. The smell is fantastic as well.

So good!

Love this leave in conditioner. Have tried a few that were to heavy & left hair feeling awful. This is so good! you dont need alot which is great being able to use less product. i have long,fine,thick,oily & coloured hair, so i struggle to find the right products.

Summer Staple

Best leave in conditioner I have ever used. Lightweight, nourishing and deeply moisturising. I have fried blonde hair and this makes my ends feel soft and de-tangles like nothing else. Kevin Murphy will always be my favourite hair brand and this product is no exception.

THE BEST

works a treat
smells amazing
lasts so long - a little goes a long way.

Buy it!!

I brought this product based off the reviews and I'm so thankful I did. My hair is always knotty after washing it and this is the only thing that softens my hair enough to get the knocks out hassle free. Just a bonus it smells incredible too!

For tangly hair

My hair gets tangled so easily and this is a must product for me. Makes hair easy to comb and hydrated. Smells nice too!

Really good!

Smells amazing and is light weight conditions well be careful tho it does make tiles slippery !

Perfect for curly unruly hair

I have naturally curly, long, bleached that is quite dry and difficult to brush when wet. This product is perfect to help condition and seperate making styling a lot easier. Not the best product to use when your hair is dry as a leave in conditioner but is great is you apply it to towel dried hair.

Great smell

Great detangler that I use on myself and my daughters very curly hair. Has such a yummy smell that my daughter loves.

Smells amazing

This is a great product. I have extremely dry and course hair. Without using this product, my hair feels like straw. I find it really nourishes my hair and makes it feel more hydrated, especially if I'm blowdrying. It's not the BEST leave in conditioner I've ever used, but it's still excellent. The smell is especially beautiful and something I look forward to using every day.

Fantastic light weight conditioner

Love this!! I have blonde (highlighted), very fine hair that tends to stick together when wet, and even my hairdressers have struggled to detangle it following a wash + condition at the salon. Since I've found this, my home hair washing routine has become far easier. After I step out of the shower and lightly towel-dry my hair, I spritz this on, about 3-4 pumps, and my wide-toothed comb slides thr...

Read More

best for healthy hair

I have really bleached, damaged hair and my hair is still really knotty and tangled, despite copious use of this product. I think it would work better on healthier hair. smells divine though.

PERFECT!

Perfect for those who suffer from tangles, especially when hair is wet. Product actually works! Smells amazing and a little bit goes a long way. My holy grail!

Life Saver

Holy grail product that I couldn't live without. Un.Tangled is the prefect product for those who suffer from tangles and knots. A few sprits and brushing is no longer a painful experience. The results from this product are instant and well with the purchase price. This product is definitely something that I will be repurchasing.

Best detangling product

This is my second bottle of this amazing product. It's very lightweight and does not make my hair heavy and sticky. I have a very long coloured frizzy hair, but this product really saved my hair. I spray a few pomps in my hand and massage in middle length of my hair. Then I put a towel on top and let the product soak in my hair. Then my hair is ready for style that easy. I don't even use a comb to...

Read More

No more tangles

This product is divine! Smells amazing and goes on light, not leaving the hair feeling heavy or greasy.

Really helps with keeping the hair knot free and protects your hair from the heat of blow-drying and straightening.

So lovely!

I love this! It smells AMAZING and feels so great in my hair. It is definitely worth the price and I will be buying again

Smells great

Leaves hair feeling manageable and soft. I found that if I'm not washing hair regularly, it can start to get tangled again. Overall my very dry hair has shown short term improvement with this product. Extra points for the lovely smell