Kérastase Specifique Balancing Shampoo 250ml
Hair Concern:
Fine or limp hair
Flaky scalp
Oily hair
Oily roots, dry ends
Product buildup
Frequently bought with
Please wait while we find a match
Questions & Answers
(3 Questions)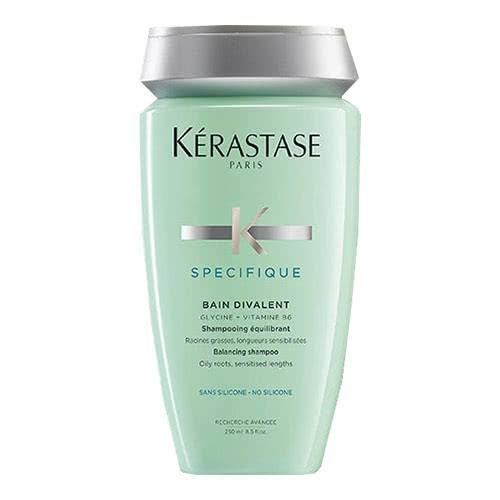 Kérastase Specifique Balancing Shampoo
Get an expert to answer your question about this product!
Ask a Product Question
85% recommend this product
Most Helpful Positive
Love
Love this shampoo - does exactly what ru says, nourishes my hair whilst dealing with my oily roots
Most Helpful Criticism
Soft hair feels
Nourishes the hair leaving it feeling soft and silky I love the smell of it! Like all their products smells so good!
Soft hair feels

Nourishes the hair leaving it feeling soft and silky I love the smell of it! Like all their products smells so good!

Love

Love this shampoo - does exactly what ru says, nourishes my hair whilst dealing with my oily roots

Good balanced shampoo for oily roots and dry ends

I have oily roots and dry ends, this shampoo is gentle on my hair, removes excess oil on scalp but doesn't dry out ends.

Game Changer

I love everything about this shampoo from the texture to the scent but most importantly, it does what it says!
Each fibre is strong and shiny, feels smooth and is not frizzy!
If your hair is fine and prone to oiliness, this is for you. My hair is lasting 5+ days between washes as opposed to 3! So happy

Finally a shampoo that works

I've tried so many shampoos that claim to remove excess oil from the scalp without drying the ends. I have long hair, which means my ends dry out but I also get a really oily scalp the day after washing. With this shampoo I can go 3+ days without washing or needing to use dry shampoo. The best part is that it doesn't strip the moisture from my ends either. So glad I found this product.

Great Shampoo

This is by far the best shampoo I've found for combination hair (oily roots, dry ends). It genuinely does what it promises...balances the scalp whilst conditioning the hair. It's fantastic. It is expensive though, and when you have a lot of hair like I do...you can go through it very quickly. But it's great so I will continue to use it, as others I've tried just don't measure up to this.

Does it's job

This shampoo removes oils without stripping the scalp. Keeps oils at bay for a couple days, which was really good for me considering how quickly oils build up with regular shampoos. The only issue I had with this was the hair knotting and tangling it would cause.

Spécifique Definitely Works

I have thick wavy hair and dry scalp, so these products have been perfect for me.

I use this first before the Kérastase Discipline Bain Fluidealiste 2 Shampoo, then use Kérastase Discipline Cleansing Conditioner Curl Idéal. I use Kérastase Discipline Maskeratine Masque once a week.


Doesn't live up to all the hype.

This shampoo was highly recommended for my type of hair - streaked, medium length and fine hair. It is a good shampoo but I didn't notice any difference when washing my hair compared to the cheaper brands. Disappointed.

Best shampoo for oily scalp

I have been using this shampoo for years, and it is still the best for oily scalps. Only need to use the smallest amount, and best not take through to ends especially if you bleach. It is a pricey outlay, but if it works, who cares!

It delivers!

This is the first balancing shampoo that actually delivers!!! Not only does it gently cleanse the scalp, but my roots are significantly less oily the second day after washing. I have fine colour treated hair, so when my roots are oily, it's really noticeable (hello dark and flat hair...). It's noticeable to the point where I would have to dry shampoo on the second day between washes, but now I'm comfortable not using dry shampoo if I need to run errands or go out, because my hair looks SO much better. I never thought I would like a shampoo quite as much as l like this one :)

Works brilliantly

Was recommended this by my hairdresser a while back as I suffer from very oily hair and have to wash it every day. I used this as per my hairdresser recommendation and last time it was brilliant. Purchased again and it is still good! I only use it once a week and only use a very small amount as it lathers up quite a bit. It leaves my hair feeling amazingly clean and fresh and has reduced the amount of oil my hair/scalp produces. It is on the more pricey side so you would be best to combine it with your normal hair care routine as opposed to using it as a daily shampoo.

Improves but doesn't cure oily scalp and dandruff

My scalp got a bit oily and flaky during my pregnancy. I tried a few targeted shampoos and found this the most effective although the issue didn't go away altogether. I'd recommend trying this shampoo if you have the same problem, and it feels nice on my hair - it doesn't strip hair like some other anti-dandruff shampoos. I don't believe this product is cruelty free though which is usually important to me but I had a momentary lapse when purchasing this!

Did not work

I bought this shampoo for my teenage daughter because she gets an oliy scalp and roots that requires daily shampooing. It did not make any difference to her hair compared to her usual shampoo.

It works!

Perfect for oily hair. Have struggled to find a good shampoo! i swap between this and kevin murphy angel wash.

Worth the money

I love this shampoo, I have oily roots and this is the first product that has helped.

Ok

Expensive for the price but it cleanses my hair well but nothing special.

Not good for fine oily hair

So I've persisted with this products for two weeks and it's done nothing but make my scalp more oily than ever and it's irritated it. Do yourself a favour and just say no.

I'm going back to Kerastase Bain Satin I as my go to for soft and non oily hair.

Mixed thoughts

At first I LOVED this product, the grease stopped building up in my roots and the ends were soft. Unfortunately I've noticed that I now have quite bad dandruff, so maybe its degreasing the scalp a little too well!

Expensive but good

I find this product to be quite light which is exactly what I needed. I do think it is a little expensive for the size. But I was willing to try it because of the good reviews I had seen. I have noticed that my roots aren't as oily.

Gorgeous product

This shampoo works wonders for slightly oily hair. Is quite gentle and leaves my hair fresh and clean and has a lovely scent

Good basic shampoo

This shampoo is a good product like other Kerastase products, but to be honest I haven't noticed any changes in my oily scalp. I have very oily roots and dry coloured ends. This shampoo makes my hair feels soft and conditioned. Smells good and only need a little amount. But it didn't help my oily roots at all. I still need to wash my hair 3 times a week, so I don't see any points to repurchase this shampoo. I can easily switch this to other Kerastase shampoos for the same result.

Love it

I struggle with oily hair, my hair looks horrid after just one day. After using this shampoo for weeks my hair is noticeably healthier. I wouldn't say it has yet achieved it's full potential as it takes a while for results but it's worth it! I also only need the smallest amount!

Saved My Scalp!

I have a very itchy, sensitive scalp that goes oily within a day or two of washing with ends that are extremely oily. Usually after washing my hair it's itchy almost straight away, but this has been great. My scalp isn't itchy at all
And feels very soothed. Only downfall is the price

smells good, excellent for sensitive scalp with oily roots and dry ends

recommended by Adore Beauty as I suffered with itchy scalp after constantly using various cheap supermarket products

For oily roots and dry ends

My oily scalp had been suffocated by a bad habit of overusing dry shampoo. It was so bad that I was starting to lose hair. My hairdresser was concerned and initially told me to wash my hair everyday using the Shu Uemura Cleansing Oil Shampoo but it only made my scalp itchy and irritated because the harsh detergents stripped away every last drop of oil on my head. Then she recommended Bain Divalent to me and now my scalp has returned to normal and my hair feels super clean despite only washing it 3 times a week. I'm onto my third bottle!

Deep cleanse

This product help remove all excess oil without drying out my hair. I have oily roots and dry ends and this helped balance my scalp. Really happy with the results so far!

GAME. CHANGER.

This shampoo has completely transformed my hair! Gone are the days of having to wash my hair daily due to the build up of oil (ew). This shampoo leaves my hair feeling squeaky clean without drying it out, which I've struggled to find that balance.

Highly recommend!

must go for this always

yes, it does the job for what it claims, after trying so many shampoo from this website, I finally found the one that I am after.

Amazing product!

I bought this product recently. I have to say, I love how smooth, and healthy my hair looks, and feels.

Best Ever for my Oily Roots!

I'm a girl that relies heavily on dry shampoo! I wash my hair every second morning so I don't look like an Oily-Root mess. With this Shampoo I can get up to three days before a wash (albeit I need the dry shampoo on the third day, but this is amazing for me). This is the only product that allows me to do this! I definitely think Kerastase is worth the extra $$$.. I've used the Densifique also to combat flat hair, not as good for my oily scalp, but I feel so bouncy afterward. The health of my hair has definitely changed by switching between the two!

Dissapointed

My hairdresser recommended this product to me, i was open to suggestions and willing to pay the price for a product that worked very well. To be honest i love keratase and majority of their range but i found this product to not work very well and it doesnt smell very nice like other products in their range. i dont notice any difference in oilyness and it still dries out the ends.. not worth the price tag

Can't live without!

So gentle yet really effective at removing build up, but still not drying! I had a reaction to a different shampoo that made my scalp really sensitive and dandruff-y, and my ends really dry and straw-like. But this totaly turned that around! Calmed but still effectively cleaned my scalp, no more dandruff, and softer ends! Can't recommend this enough, especially for oilier scalps.

Best brand for hair

I never knew different shampoo's really made such a big difference. I used to buy whatever shampoo or conditioner that was on sale and my grocery store but since I've tried this product there's no going back! 100% recommend! My hair has never felt so healthy and smooth.

Do you have oily-ish roots and dry-ish ends?

If so, this is definitely the shampoo for you! This has actually even made the ends feel softer. I also find that I only need to wash twice per week instead of three times, which is a huge bonus!