evo Fabuloso Platinum Blonde Intensifying Conditioner 220ml Tube 220ml
Is this for you?
Maintain and extend the life of your colour treated hair with evo fabuloso intensifying conditioner.
Hair Concern:
Brassy tones (blonde/grey hair)

Breakage and split ends

Colour protection

Dull, lacking shine
Hair Curl Type:
Curly

Straight

Very curly/African/Caribbean

Wavy
Frequently bought with
Please wait while we find a match
Questions & Answers
(3 Questions)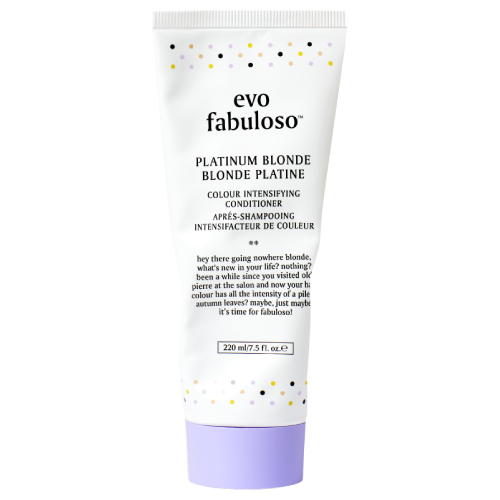 evo Fabuloso Platinum Blonde Intensifying Conditioner 220ml Tube
Get an expert to answer your question about this product!
91% recommend this product
Most Helpful Positive
Smells Amazing!!
Loved this product helped my hair a lot and the smell is divine!
Most Helpful Criticism
Not very good
this wasn't very good, it wasn't that conditioning and did not change the tone of my hair.
did nothing

I did not notice any difference in my hair from this and it is quite expensive too.

Smells Amazing!!

Loved this product helped my hair a lot and the smell is divine!

Extend trips between the hairdresser!

This is fabulous at home treatment to extend the life of your blonde or diminish brassiness in between visits! I apply to the lengths of my hair, leave for 10, comb through and wash off after 5 more mins. It just rinses out, no need to do another wash following treatment. It leaves my hair feeling nourished and adds shine that blonde hair can often lack after being lightened. I also use the caram...

Read More

Hydrating !!

This product is pretty good at making my hair more toned and definitely more hydrated! I really like this product but if you want a really strong toning product this isn't for you x but if you want to use it most washes then I would suggest this!

Great for blondes

Tones well but is not as conditioning as you would think for EVO products. I have to use detangler for my long hair because it's not silky smooth after using this

Great Ashy Blonde

Really happy with this conditioner, gives a really blonde ashy and cool color. Also leaves my hair super soft.

Intense treatment

This treatment always leaves my hair super nice and soft. If you have course or Porous hair this is great for toning but it is still quite strong.


really toning

this really toned my hair. Got rid of a lot of the brassy colours.

The best!

Wow, this product is amazing. It really does tone down the orange colours that blonde hair suffers from. It makes me hair so much softer and more manageable.

smells great and conditions

this smells great and conditioned my hair but I did not notice any toning from this product.

perfect for blondes

this conditioner is great for blonde hair it gets rid of all the brassy tones and doesnt dry it out.

Not very good

this wasn't very good, it wasn't that conditioning and did not change the tone of my hair.

nice product

When I open it I'm not dare to use it. It's dark purple color. But after checking introduction again I decide to try it. Nice product for hydrating and protect the color.

Love it ! Amazing!

This product is amazing! It leaves my hair feeling very soft and nice. My sisters also love it!

Softens, tones and protects

I love this product, it is the only purple conditioner i've found that works as well as a shampoo to tone your hair. It has a strong chemical smell which might be a bit disconcerting, but it works a treat and my hair always feels soft and luscious afterward.

Simply amazing

This product is absolutely amazing , I won't go back to what I was previously using . After using my hair is so refreshed and so healthy the conditioning part of this product works wonders. I've never had a toner that would give me platinum blonde and hydrate my hair at the same time . Plus it helps with split ends . Highly recommend this product. Love love love

Best blonde condition

This conditioner is amazing at removing the brass tone out of my blonde highlights. It's the only blonde conditioner I've found, which also makes my hair ridiculously soft at the same time (unlike other products which normally dry my hair out!)

Resin with one use!

I have very blonde natural hair and often products don't work for me or make my hair purple
This really too the yellow out of my hair!

Extends time between hair appointments

This is a quality toner which extends the time between my appointments to my hair stylist. The only piece of advice is to watch how quickly it permeates your hair when you have it in. Will be buying some more soon, and making sure it remains a staple in my hair care routine.

Heard good things about it!

I don't have blond hair but my friend loves this product and says that it works well with her blond hair!

the best

i think this is the most hydrating toner i have ever used it is literally like conditioner. absolutely love and doesn't over tone and make hair purple, so that's a bonus! would recommend for anyone needing a nice hydrating toner that works

Great for condition. Good for pigmentation.

This treatment is so amazing for improving the condition of dry bleached hair. It doesn't seem to do that much for the toning of my hair unless I put it on dry hair for around 20 minutes. Even then it's not a lasting result. I would still definitely recommend this product.

Best blonde care

This product is not only just a blonde care that corrects orange tones, it also moisturises and repairs damaged blonde hair. Couldn't be happier, this product is the best thing ever

Cannot get enough of this

Throw out your purple shampoo now and purchase this conditioner!!

This purple conditioner is a surprise as its colour is a light lavender purple colour which I instantly thought would not tone the brassiness out of my blonde, I used this and left it on for 15 minutes and it cleaned out the brass and left my hair so soft unlike the purple shampoo i use (the base) which I find drying t...

Read More

Best blonde conditioner

This is hands down the best blonde conditioner out there. I have fine blonde hair and after leaving this on for 5-8 min, all the brassiness is gone and my hair feels conditioned and healthy.

Blonde bombshell

One word , LOVE! This product is amazing! It leaves my hair the perfect shade of blonde and not brassy anymore. A little goes a long way! I'm a very happy customer and will continue to purchase this toner

Amazing Fast Toner

My hair is bleached blonde and it goes yellow very easy! I'm using this product 2 x week and it takes all the yellow of and my hair looks soft and good after! Best thing is you do not need to keep it long on your hair and there is contidioner within!! I

Perfectly toned and so soft

I got this as a sample and I am so happy I did, because I had been dying to try it. I never seem to have much luck with toners working well in my hair so I was worried I would be wasting my money. Most toners that aren't done in salon don't seem to take to my hair but this did the job of brightening my blonde up perfectly. I haven't had my hair done for months and I got asked the next day if I had...

Read More

Conditions well

Leaves my hair feeling nice and toned, I do agree with another review though the Christophe Robin baby blonde mask is still my preference!

5 STARS!

This product is literally a blondes friend for life. I have used many conditioners and blonding shampoos that have stripped the life out of my hair. Not this one. This product is a game changer.

Essential

This is my favourite toning-conditioner, and I've tried a few. I have platnium, bleached hair that is also fine and tends to be dry. I need something moisturing that will also eliminate brassy tones, this does the job perfectly. I use it 1-2 times per week.

Good blonde toner

I use this every couple weeks to keep my blonde nice and creamy. It definitely leaves the colour looking a lot cleaner and less brassy. This product doesn't over tone your hair like other blonde conditioners, and it leaves my hair feeling really soft.

Blonde Hair Staple

I love this stuff! It is a fantastic toner for my blonde hair and I always need to have it on my shelf! It definitely lives up to the cult status, just a few minutes in my hair and I feel like I've come back from the hair salon! I definitely recommend this to anyone looking to tone their blonde hair. I actually use this with the Eleven Keep My Colour shampoo about once a fortnight and it really re...

Read More

Disappointing - doesn't live up to the hype

I read so many incredible reviews of this product, but compared to the Christophe Robin Baby Blonde mask, I found this product to be a real let down. The toning effect was not as great as expected, and it did not really condition my hair at all. I would recommend spending a little more, and forking out for a better product.

All time favourite!

I have long, fine, blonde hair and so many toning products leave my hair brittle and dry with a purple hue. I tried Fabuloso after it was recommended by my hairdresser and it really hydrates while fixing the brassy tones and giving my hair a beautiful, clean blonde colour. I'm a repeat buyer and will definitely be sticking with this one!

Love!

I was suggested this by my hairdresser as a go to product to maintain my colour blonde hair and she was right. This product works a treat! I was finding my old blonde treatment was building up and causing my hair to go oily, this doesn't do that at all. I have been using this product for over a year and I will never go back! Always leaves my hair refreshed and takes away any brassy tones. It doesn...

Read More

Cannot Live Without It

This is the only toner I will use from now on. It actually hydrates hair as well as tones! You can also easily decide on the strength of the toner - I'm so over toners which turn my hair to straw and that are too strong. BUT this guy also WORKS. You leave the conditioner on for longer for a stronger tone, or 2-5 minutes for a light refresh. SO SO good!

Excellent for toning

I have fine, coloured hair, and I bought this as most blonde shampoos I have tried tend to dry my hair out at the ends. I find it takes the brassiness away from my hair as well as being hydrating. It is quite a good toning conditioner, which doesn't weigh my fine hair down.

Amazing toner for blondes

I use this every wash and love it! Smell is sooooo nice. Can leave in longer for a lasting treatment. Highly recommend

Brass Be Gone

Having platinum blonde hair can be a struggle. Some toners give off that purple/grey vibe others just add to that golden brass. Fabuloso is a miracle toner. My hair continues to stay the same colour it was leaving the salon after a scalp bleach weeks on. Zero brassiness. Zero greyness. Zero purple...ness.
Just that white blonde, angelic shine.

Staple for Cool Blondes!

No other toner comes close to this one in my books! Its a staple in my shower. Gold, brassy tones disappear and hair is left feeling moisturised! Usually when using other toners, my hair is left feeling coarse and damaged. For fine and colour treated hair that's horrible and only means more damage... I love this toner and won't be using anything else on my hair!

My safe repeat purchase

This is a staple in every blonde's bathroom. You may have your others that work better sometimes and are cheaper but honestly I would feel anxious if I didn't have this in my shower. They've changed the packaging recently which I don't like, as I prefer the pump canister over the screw top. Leaves by thick wavy (frizy prone) hair feeling soft, healthy and toned.

Icy tones kept icy

Use this once a week on my bleach blonde and love that it helps me keep my hair toned between salon visits.

Good!

I had heard wonderful things about this and decided to give it a go, it's definitely made a difference but I've found other that I like more. Decent product but not my number one!

Good, but I've had better

I have short, thick, bleached hair so I've tried a few different blonde shampoo's and conditioner's. I received a sample of this and I was excited to try it. It was good. It was very hydrating and it did a good job of toning my hair, but what I use at the moment is a bit better and cheaper. Definitely would give it a try if you haven't

Amazing!

I have used a lot of purple conditioners/masks before but none have worked so well as this product. Smells AMAZING and makes hair feels soft and hydrated while getting rid of yellow tones.

Great, just expensive.

I have very light bleached hair and my hairdresser recommended this conditioner to me.
I have used the products in both styles of packaging - the pump and now this tube and I can say that I would really prefer something where I didn't have to unscrew the top on the shower. A flip top would be much easier.
As my hair is quite light, I need to be really careful not to leave this on for...

Read More

smells good and helps getting rid of brassyness

I thought this wouldnt work on orange golden tones, but i did help me getting rid of those tough golden looking on my prelightened hair

Shiny Moisturised Happy Hair!

I couldn't live without evo Fabuloso Platinum Blonde Conditioner. I use this once a week in between salon visits. The longer I leave it in the better the result. My hair is left toned, hydrated and is shiny.

Great toning conditioner

Got a sample, and really liked it. Worked well with my blonde shampoo as ridding my brassiness. Worth it and doesn't seem expensive, so will get a full size

No difference

My hair didn't feel super clean or smooth

Moisturising and nice tone

Great for a toner super hydrating I use it once a week or fortnight, the longer you leave it in the more silver it goes

Would purchase again

A friend recommended this product to me and I love it.

A lot of other toners leave my hair dry and straw like but this removes the brassy tones and leaves my hair feeling soft.

My hair is a creamy blonde (from foils) and is naturally thin & mostly straight. I wouldn't describe my hair as overly oily or dry.

great stuff!

i find this is the best toner for blonde bleached hair as it does not dry it out in anyway! keeps it blonde and fresh and keeps away yellow tones! absolutely can not live without this in my hair routine!

Good but not fabulous

Awesome conditioner, my over processed, double bleached ends loved but nothing in terms of helping the colour.
Still would re-purchase just because it's a really good conditioner.

Leaves my hair so soft!

I have never tried a better conditioner! Usually I would have to use a whole heap of conditioner in my hair for it to all go around and make my hair soft, not with this one. Now I literally only need to use a 20c piece size and it makes my hair softer than ever! Definitely recommend!

Great!

This is the perfect shampoo for in-between colours. Takes the brassiness out of hair colour, really like the results!

Nice

Great conditioner. Really like it for my dyed hair as it helps it retain the moisture and the colour it needs for my hair to look great.

Brassiness be gone

Searched and searched for something to really tone out the brassiness of my blonde. This product is a miracle worker and is worth every cent!! Have already repurchased another one!

Best toning shampoo/conditioner on the market

I have tried the usual blonde shampoos like redken, fanola, matrix etc and while they all tone the hair well, they tend to really dry your hair out and for that reason I hated using them. I also didn't like the strong ones that made your hair totally ashy/purple and dull as I like my blonde to be nice and bright and creamy. This smells great and the fact that it's a conditioner means it's hydratin...

Read More

For brass free hair

This purple conditioner gets rid of all the brassy tones in my bleached blonde hair and leaves my hair feeling a lot less damaged than other purple toners that I've used in the past. It's well worth the money

The best!

My fave blonde toner ever (and I've tried and tested many!) you have to leave on longer then a traditional shampoo toner however unlike shampoo toners, it doesn't dry out your hair (in fact it does the opposite!). Cant fault it!

Good but..

I really loved that this was a conditioning toner... my hair goes really brassy very quickly after a hairdresser visit and I found it didn't quite work as well as I had hoped for with getting rid of the brassy tones.

Perfect

Fantastic product! Can't go past it for a smooth, silky sheen and intensified blonde. Keeps my hair healthy and free of brassy tones.

BEST TONER ON THE MARKET.

This is without a doubt The Beyonce of Toners. If you have chemically dyed blonde hair I would highly recommend this product. Unlike other toners on the market this does not stain your hair to the point of no return. It achieves exactly what it states on the bottle and removes all brassy tones effectively. Also, unlike most toners that tend to dry out your hair this is very nourishing whenever I u...

Read More

love this

I absolutely love this product, but am SUPER DISAPPOINTED that they have left the price the same but changed there bottle to a tube that is 30MLs LESS! that's ridiculous.

Great for keeping brassiness at bay

Love using this as my usual conditioner. It's great for keeping blonde fresh and I find it keeps my hair smooth and healthy as well. So sad it's now in different, slightly smaller packaging :(

Great for greying hair

Leaves my greying hair shiny and soft. Love this product.

Good pigment and actually conditions well.

Doesn't dry out hair. Good amount of pigment. Have repurchased this a few times.
This is on par with more expensive premium treatments i use.

great tonal value

smells great, gives great tonal value to lack lustre blonde locks

Holy grail product for blondes

This tones away brassyness in your blonde hair and leaves it super soft. It doesn't damage or dry out your hair like purple shampoo's do. If you are blonde or even very light brown you need this product!

Another great Evo Product

I love this product and the fact it is a conditioning toner. Perfect for my hair and keeps all my brassy tones at bay. Is a staple in my bathroom when washing my hair. Great work Evo!

Toning conditioner

Left my hair much more nourished than most purple toning treatments and worked to keep the brassiness at bay.

Amazing!!

This product is AMAZING! I have naturally dark brown hair which can often become brassy and orange from my blonde highlights. This conditioner keeps my blonde highlights looking fresh, natural and blonde.

I have been using this product for two years and always receive compliments about my hair colour and how natural it looks. I use this once or twice a week and leave it in for 5-10 m...

Read More

Best in the biz

I have not come across a better product! So hydrating and smells sooooo good! cleans the brass right away!

Surprised

I hear of all these toning products that are amazing at toning blonde hair but I am always let down due to their inability to tone, making my hair dry and brittle or turning my hair purple. Then I found Evo Fabuloso Platinum Blonde Conditioner and I am blown away. My hair colour was instantly creamier (not ashy), felt stronger and so soft. My hair felt a little hard after it was washed but once I ...

Read More

Smells amazing! Very concentrated for a conditioner

The Evo conditioner smells amazing and is quite strong. I like to mix it with a treatment or other conditioner. If you are looking for a strong toning conditioner I would advise you to find a shampoo instead. This conditioner tones to a nice blonde but it does not have the same effect as purple shampoos does.

Fabulous conditioner for blondes

I love this conditioner! My hair is long and fine with blonde highlights, it's prone to oily roots and dry ends. I find this conditioner super conditioning and use it about every third or fourth wash, or more often if my blonde goes a bit brassy. It's so effective that it removes any brassy tones quickly and leaves my hair beautifully conditioned and soft. I find a bottle lasts for ages, making it...

Read More

You need this if you are blonde

Conditions hair as well as toning them. Love this product so much. Doesn't overtone either.

Blondw hair best friend

Love this conditioner so much. Takes my hair from brassy to fresh. Depending on hair I use anywhere from every wash to weekly. Last a long timw too

All around amazing

This is a must have for all blondes, it tones your hair great and leaves it feeling soft and amazing!! It also smells soooooo gooooooood.
A couldn't live without product!!!

A blondes best friend

I have been using this product for years and wouldn't use any other toners! It's so gentle in the hair and makes my hair look fresh every time I use it. I only use it every 3rd/4th wash as the colour holds well

Fab for fresh looking blonde hair!

Love Fabuloso for my blonde hair. The product smells delicious and works wonders to keep the brassy tones to a minimum.

A squeeze bottle is definitely a plus— the airless pump container was temperamental at times. I would often need to twist the pump several times to make it pump product out for some reason? I've dropped a couple of the airless pump Fabuloso bottles in the shower and...

Read More

Great Toner

I absolutely love this brand! I use this toner once a week and it makes my hair such a beautiful blonde colour, and leaves it soft and smooth. I would not recommend using a huge amount if you have fine hair as it has a tendency to weigh it down a bit

Great to tone brassy blonde

I've been using this product for 2 years and I've tried many toning hair products before settling on this one. This conditioner tones out the brassiness and leaves my hair soft. So happy to have found a great product!

My go to

This is great for in between salon visits. I use once or twice a week and leave on for 5 mins then rinse. Gets rid of all brassy tones and smells lovely. Also great that is doubles as a conditioner, once less step!

It works!

I have fine, balayage hair and find that this product eliminates the yellow/brassy tones in my hair really well. The trick is to massage the conditioner in thoroughly (I find rubbing strands between my palms is the best) and leave for about 3 minutes before rinsing. It is so moisurising and does not make my hair brittle or dry.

Best toner ever!

This us the only purple toner to use on highlighted hair! It keeps my hair healthy and doesn't dry it out like most purple toners. Great product! Will not use another purple product...

Love love love

This is the first blonde toning conditioner that 1. Works! and 2. Doesn't make my hair brittle and more damaged. My hair is not platinum blonde but I still use it to remove brassy tones. The longer you leave it on, the more white it will get. BUT my only con about this product is that I find it doesn't stay in my hair for very long. I have to use it more than I'd like to but that might just be my ...

Read More

Intense colour for a conditioner

I am so glad this lived up to the hype. All the reviews said how intense the colour is, and I was skeptical before buying due to it being a conditioner. I am so pleased with how it turns out and doesn't over-tone the hair either. I shampoo then towel dry my hair, smother the conditioner through from roots to tips and leave in for about 10 minutes. It doesn't make my roots feel oily either. Love th...

Read More

perfect blonde

I don't know about the change in tube, the product is the same apparently. I will say for a simple tone this is great, doesn't make my hair ashy which i prefer and seems to get rid of those yellow tones.

A must-have for blondes

I've tried many toning products but they usually send my bleached hair silver, grey or purple. When I first used this, I thought it would do the same thing as the colour is dark purple but I was wrong! It leaves my hair soft and returns my hair to a nice, clean blonde. Will definitely purchase again.

Platinum hair saviour

My favourite product to use on my blonde hair, keeps it looking fresh and icy.

I have told every blonde I know to buy

This is the best toning product I have used. Unlike most shampoos this conditioner does not strip the moisture from your hair. I find it works best when I towel dry my hair first and then apply. Three minutes is ample and it's easy to wash out. I haven't experienced any product buildup and I'm almost through my first bottle.

Love!

I love this product and have been using it for years. The smell is amazing and it leaves my hair feeling so nice. I try not to leave it on for more than 5 minutes as I don't like my hair to go too ashy. I have thin, dry-ish hair and tend to find that products make my hair quite heavy, but this doesn't at all. I try to use it once a week.

Miracle for blonde hair

This is a miracle worker for dry brittle bleached blonde hair! Extremely nourishing

Good but not great

I liked the results and my hair felt super soft but the consistency made it difficult to spread evenly, therefore I ended up using a lot of product. I do have thick hair though!

Good for lightest blonde

This works well if your hair is platinum lightest blonde. I find it works well for those areas of my hair, but because I get foils it clings to some areas and doesn't show on others. So I have other toning products I prefer.

Need a lot to notice a difference

I find that when I use this I need to use a lot and leave it on for quite a long time to notice much difference in the brassiness of my hair. It does work and it makes my hair feel really nice afterwards, but for the price I would probably go for something different next time.

Couldn't live without

This is by far the best blonde toner/conditioning treatment i have ever used. I use this maybe once per week and its prefect to get a nice shy blonde and your hair never goes purple. Will keep using this!