Adore Beauty is an Official Stockist of Evo.

fresh from the primordial gene pool, the best cutters, designers and lab rats in the business have created evo: the most luxurious, innovative and yet sensible hair care range that has ever existed. born from a desire to produce a high quality salon range (and not sell it as the answer to life, love and other woes), evo steps outside the normal realm of truth-stretching invention, to help people think a little and look good, all at the same time. evo ... sweet revenge against an industry of over-inflated truths.
evo is committed to products that not only work wonders on your locks, but are also kind to the environment. That's why there are no parabens, sulphates, dea, tea or propylene glycol in their formulations. It's also why all ingredients are active - meaning you'll only ever get claims that actually work and are trusted by hairdressers the world over.
Showing 20 products of 72.
---
Recent reviews on evo products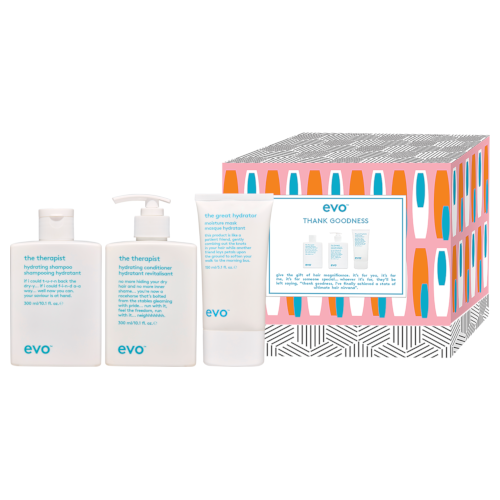 evo
evo Thank Goodness Hydrate Trio
$68.00
Love it
This shampoo helps hydrate and strengthen my hair. I have such frizzy hair and this is the only shampoo that keeps it in control. Protects my hair colour and hydrate it too. Highly recommend it.
What people are looking for the most