Designer Brands Rise and Prime Luminescent Primer
4 instalments of $5.00
Or 4 instalments of $5.00 with
LEARN MORE
4 instalments of $5.00
Or 4 instalments of $5.00 with
LEARN MORE
Official Stockist
Is this for you?
Achieve naturally radiant skin in one simple step with the DB Rise & Prime Luminescent Primer.
Skin Concern:
Dull, dry or dehydrated skin
Frequently bought with
Please wait while we find a match
Questions & Answers
(1 Question)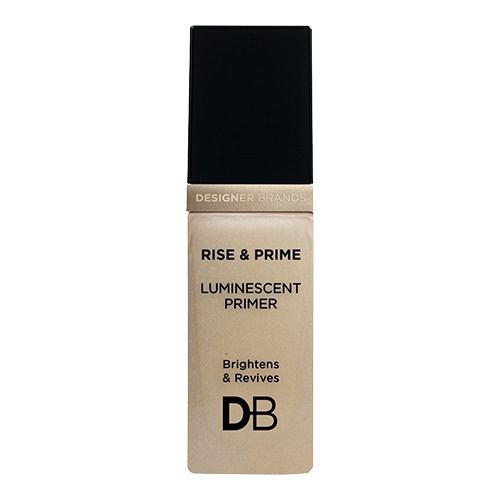 Designer Brands Rise and Prime Luminescent Primer
Get an expert to answer your question about this product!
Designer Brands Rise and Prime Luminescent Primer Reviews
93% recommend this product
Most Helpful Positive
good
Very affordable primer. It feels nice under the foundations.
Most Helpful Criticism
Not sure
Nice texture and blends well but doesn't illuminate my skin.
good

Very affordable primer. It feels nice under the foundations.

great primer

this is really good and affordable, it is a nice primer that does the job!

amazing

I brought this because I needed a quick primer and also I had a budget at the time. This is such a great primer. it quite illuminating like is claims. I like the whole rise and prime

Very nice

I really like this primer for my dry skin, it gives me a nice glow to help my foundation look more dewy.

Great primer (that I actually finished!)

I bought a bougie primer that had the claim of illuminating the skin and to be honest I don't see any difference between this and the more expensive primer (more expensive by $50!) will definitely repurchase this product :).

Glowing

This primer is great value and is reminds me of Mac strobe cream which is my all time favourite primer. It's great value for the price however it does have a bit of a strange smell which can be a little off putting.

Not sure

Nice texture and blends well but doesn't illuminate my skin.

Shine like a star

This product is just amazing! It makes your skin glow from within. It just looks like you've drank a gallon of water. I have noticed that it blended well with other products and does not become grainy when rubbed into the skin.

wow

wow the glow it gives is stunning. such a great primer could be used on its own on days esp on days when you do not want to overdo makeup

Great blurring for 40s imperfect skin

I have combo skin with an oily tzone and while this works well particularly with a long wear foundation. What makes it exceptional is that it lifts tired looking skin and seems to blur imperfections like sun damaged areas. For this reason it's particularly good for mature age skin but I think any age would enjoy the subtle luminousity

Beautiful!

This primer isn't for my oily/shiny skin, goes on lovely and helps every foundation makeup. It's for someone with drier skin.


Lovely primer

This is a beautiful primer, super silky and looks great under makeup. I have found my makeup lasts much longer now that I use this product first. The price is great too and this products lasts a very long time.

Designer Brands Rise and Prime Luminescent Primer

My go to foundation! Lasts and coverage is perfect as it can be worn as a light cover or a full coverage if you build it! Definitely matte finish is perfect on my oily skin!

Amazing

This is the best $2o I have ever spent on a beauty product, It is the best primer I have ever used. Good for day and night use, really wakens your skin up when you have early morning starts and feels amazing

Great!

Looks stunning under makeup and makes makeup last all day. Very affordable and gives a beautiful dewy glow! This is such a beautiful primer.


Amazing

Such an amazing primer that gives a beautiful glow. Highly recommend

Luminescent Primer

Fantastic primer. It is affordable and is a prime example that you don't have to pay a lot of money for a quality product. This will be the primer I use from now on because it is cruelty free, and has vitamins etc. to keep my skin looking good. It is a great base for the DB Luminous Foundation. I just love the way my skin looks natural and has a healthy glow.

Illuminate your life

If you're looking for an illumination hit, and you wear light coverage foundation, this is your girl.

If you wear high coverage foundation it doesn't really show through.

If you're looking for a 10/10 primer, go elsewhere.

As an illuminating primer, I love it.
As a primer it's very "meh" and I've had better.

Lovely glow

I love this primer. It gives off a lovely glow, and even looks great on its own. For events I usually pair this with a longwearing primer for extra stay power.

Excellent product

This product goes onto the skin very well, has a good coverage and helps foundation stay on for longer.

Great

I use this all the time! It's really good and I think it really helps keep my makeup on!

The best primer ever!

Onto my third bottle of this genius product. Will never swap it for anything else. Have searched high and low for a product like this and nothing has ever come close , not even the much more expensive brands. Amazing feel, amazing base for foundation and not oily. Definitely recommend!

Made me very shiny and oily

I was excited to try this luminescent primer but it is not right for my skin, It made my skin very shiny and oily by midday and my makeup was not lasting as long, Pro's are though that it feels amazing putting on your skin as it is very soft and creamy.

Just beautiful!

This primer is so beautiful! However it's not for my oily/shiny skin type, goes in lovely and helps every foundation stick

Works great on its own

I wanted a new primer, I bought this one to try from the great reviews & the low price thinking it wouldn't matter if it doesn't work. Boy, was I pleasantly surprised, people actually have made comments, it keeps my foundation on all day minus the shine. I have worn it on it's own during the day & it looks like I am wearing foundation. It really gives my skin a glow & life...Will definitely be ...

Read More

Packs a punch for an inexpensive primer!

Wasn't expecting much from this but I was pleasantly surprised! Does a pretty good job at holding my makeup in place for the day and keeps my face from getting too shiny

Beautiful

This is such a beautiful primer and I love the glow it gives to my skin. Looks stunning under makeup and makes makeup last all day. Very affordable and I would highly recommend for everyone who loves a good dew

Must have!

I am addicted to this primer, I have been using it for a while now after swapping from a much more expensive brand! This does everything it says it does and is so refreshing, the perfect base for make up or even enough to wear on its own.

Great

I use this every time I put my make up! love the smell and the way it makes my skin feel! It makes my foundation look amazing and dewy

One of the best drugstore foundations

I can't quite believe how good this is for the price. It goes on like a dream - it's fairly runny, so easy to apply but has a good medium buildable coverage. The luminously isn't greasy, just glowy. It blurs my pores and doesn't look dry anywhere.

It's almost as good as the Revolution Pro foundation drops.

I've got dry 43 year old skin with enlarged pores in my t zone. ...

Read More

Fantastic primer!

I love this primer. I often wear it alone as I find it gives my skin an amazing glow. It smells fabulous too. Since Laura mercier left our shores I had to find an alternative and this was definitely it. It's almost a dupe for the Laura primer

Affordable and effective

Great inexpensive product, it is hydrating, evens texture and reflects light nicely. A good every day primer

Not bad but not amazing!

I like this as a laminator and just to wack on with no makeup but as a primer it just doesn't compare to competitors. The bottle is large for the price but its just not the most useful primer

Does the trick!

Does such a great correcting job and really evens my skin tone so it's perfect for applying foundation. Subtly illuminates without being too over the top.

Leaves a fresh dewy finish that adds a natural glow

Love this product! Amazing value. A little pump does my whole face, leaving it dewy and glowing, but subtle (not strobe like). Sits well under bb or foundation (I leave for a few mins) but also great to just put over sunscreen/moisturiser for a fresh natural glow. Even found it helpful in balancing the extra winter dryness. Definitely worth a look.

Just wasn't for me

I love that its a bit glowy and different but for myself personally it just didn't sit well under my foundation.

Feels great

I really like the way this feels when I apply it, it makes my skin really soft and radiant. I don't think it does exactly what a primer is meant to do, there is no tackiness to help my makeup stick. Other than this, it's a nice way to start my makeup routine, and it makes me glow!

Perfect amount of glow

I love this luminous primer as it doesn't make me look like a tin man as some have that I've tried in the past! It is similar to their regular primer but with added glow, which is great to put under any matte foundation to bring back some dimension to the face.

Best primer

I've tried many primers on my combo skin and this is hands down my favourite. Leaves your skin feeling fresh and looking luminous without the greasy feeling at the end of the day. Added bonus it seems to plump the skin a little too ;)

Gives a nice glow with or without foundation

I am 44 with dry, ageing skin. I like my makeup to be hydrating as well as practical and I like this primer on its own or with the Luminous Hydrating Foundation of the same brand. It smells nice, has a light tint to it, helping to hide any imperfections prior to foundation or on its onw, and my skin did feel hydrated with it. Whether it made the foundation stay on longer I am not sure but I am nev...

Read More

great glow factor for mature skin, good staying power, amazing price

I normally use this under DB hydrating luminous foundation, but either can be worn by themselves. This product gives a great natural healthy look and blends out sallowness associated with mature skin. A little goes a long way. I have used many much more expensive products and the results really have been little if any different.Does not slide off when worn alone and when worn with the foundation c...

Read More

A Primer thats worth it

I have always thought Primers were a waste of money.

This is a beautiful product, and is affordable.

Can be worn on its own or under foundation. This will be an everyday product for me.

LOVE IT

I bought this as I seen someone raving about it on Instagram and I'm SO GLAD I did. It's so light weight but still offers a coverage so I can wear it to the gym, beach, or on "make up" free days and then under my foundation! Love it!

My go-to foundation

My everyday foundation. It gives a medium coverage that can be built up.I have really dry skin and it clings to a few dry patches. Its more of a satin/natural finish rather than a dewy finish. It gives a glowy look without going greasy.

I kinda wish the lightest shade was a little bit lighter though and the it doesn't last as long as other db foundations.