Is this for you?
BLONDPRO C is an at-home hair treatment designed to reduce and repair damage caused by chemical processing, dyeing, styling and environmental factors. BLONDPRO C helps to reform the bonds inside the hair shaft, resulting in healthier, stronger hair and improved colour longevity.
Hair Concern:
Brassy tones (blonde/grey hair)

Breakage and split ends

Colour protection
Hair Curl Type:
Curly

Straight

Very curly/African/Caribbean

Wavy
Frequently bought with
Please wait while we find a match
Questions & Answers
(2 Questions)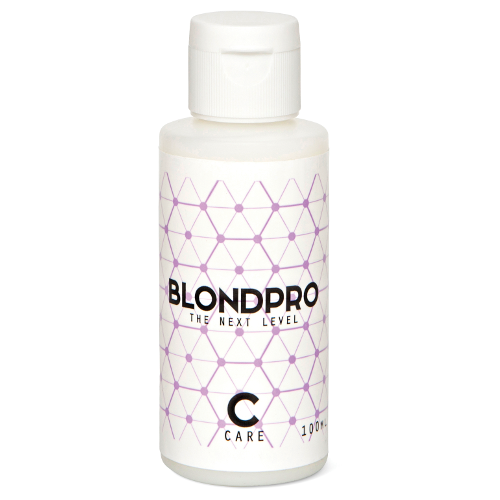 BLONDPRO C
Get an expert to answer your question about this product!
83% recommend this product
Most Helpful Positive
Nourishing
This product helps to nourish and hydrate my hair. Definitely repurchase.
Most Helpful Criticism
Mediocre
It may have made my hair a bit stronger, but I didn't notice a huge difference. I found it really difficult to get the product out of the bottle, enough to turn me off from repurchasing.
Nourishing

This product helps to nourish and hydrate my hair. Definitely repurchase.

Awesome

Great product that has kept my hair soft and smooth while lightening it. I shampoo then put this in for ten mins. Condition after and my hair just feels amazing. J have also used olaplex and I find i get the same results from either. Will continue to use this one as it's a great price

great for damaged hair

Repaired my hair very well, by nourishing it, my friends could noticeable see the difference, will buy again

Mediocre

It may have made my hair a bit stronger, but I didn't notice a huge difference. I found it really difficult to get the product out of the bottle, enough to turn me off from repurchasing.

Good

This product helps hair that is breaking and damaged from bleaching. I do prefer the olaplex treatment, as i find after a few uses it made my hair feel and look stronger but this is also a great product. The small bottle is my only issue, i only get a few uses out of this as i have long hair!

Big Fan

Great mask that leaves my hair shiny and healthy everytime. It's become a staple in my hair care routine!

Love

I bought this because my hair was dry and breaking away at the front from using a super harsh shampoo. I used it as a mask a few times and now I just put a little bit on problem areas and wash it out at the end of my shower.

My hair is smooth and scalp moisturised, no more breaking, no more flaking. It smells clean and has a conditioner like texture. Washes out easily and makes my ha...

Read More

Good Stuff

It is good! Not as great as Olaplex but does the job

This is great

Makes my hair feel so silky and smooth. I'm really loving it and reach for it all the time. It's great.

Good but not amazing

This treatment is good but not amazing - still tend to move towards paying the little extra to get Olaplex!

Love

I really like this. I have used the other competing brand and like this even better. Makes my hair soft

It wasn't bad for the price

I found the price of this product quite good compared to its rivals. It was pretty nice on my hair but it doesn't live up to my favourite olaplex. But if you're looking for something a little bit cheaper id give this a go.

Smells lovely

Great treatment that smells beautiful at a good price. I use it once a week and sleep in it for extra shine.


Smells lovely soft hair

Ive got bleached blonde hair gets very dry from bleaching i use this before normal conditioner makes me hair smell & feel lovely. I also use it as a mask treatment.
Would recommend as its makes hair feel good.

Love it

I dont have anything bad to say about this treatment because its quite cheap and did improve my hair texture after using the full bottle. I dont think I could compare to the Olaplex treatment though, I dont think it works just as good.


Its a start

This isn't a miracle fixer for damaged hair but definitely a step in the right direction. I probably got 4 full head treatments out of the one bottle and used over a few weeks. I did notice a little difference in my hair health but nothing dramatic. I personally use the Bondi Boost hair growth range now and it has been the thing that has improved my hair health dramatically.

Decent

I liked this product its cheaper than others and did seem to help my hair a little but the reason I'm giving it 3 stars is because there are better products I have tried since using this one. If you have damaged hair I recommend using the 'Bondi Boost' range because it helped reverse my damaged hair and helped it grow nice and smooth and soft.

I'm not convinced - doesn't make my hair feel stronger

I really really wanted to love this product. Gave it two tries. It's nice if you're after a conditioning treatment but I don't believe it has had an impact on my bleached blonde locks. I'll be going back to Olaplex as my hair feels so much stronger when I'm using that product.

If you just want soft hair I would say this is fine to use. If you want to strengthen your hair, defs use Ol...

Read More

It's okay not sure I would recommend...

It's a pretty cheap product which is always great, I'm just not sure the product itself is that good. I'll give it another go, hoping to see some results soon.

It's just okay

This product is just okay. I wouldn't say my hairs health has improved by using it, it just feels a little softer.
I much prefer Olaplex No 3 as I can really see the results from using it.


Pretty Good

Pretty good treatment. I didn't notice huge differences in hair health but my hair was softer. Put it this way my hair was in better condition than before the treatment. The product is extremely thick and a little hard to get out of the bottle, especially towards the end of it. Would consider purchasing again because it smells wonderful.

Great product- not so much the bottle

I really love this product after having blonde hair for a very long time and losing a lot of it i decided to give this a try.

Ive used it twice so haven't noticed much of a change yet beside my hair being very soft which is a huge bonus.
The bottle though i am not a fan of this product is so hard to get out and its a big struggle!

Not as great as I had hoped

This product is just okay. Not sure I would recommend it. My hair felt a bit softer from it but not stronger.

Good not great

I dont have anything bad to say about this treatment because its quite cheap and did improve my hair texture after using the full bottle. I dont think I could compare to the Olaplex treatment though, I dont think it works just as good.

Great product for damaged hair

I have foiled hair so I like to alternate treatments each week between this one and the Olaplex. This one is a little cheaper but still works great. I have to say though I find that Olaplex works a tiny bit better for my hair personally but I still purchase this one to alternate it with.

Softening effect treatment

I have used it twice on coloured mature hair. It has definitely softened my hair and given it a lot more body.

I wanted it to be Olaplex but it just isn't

I bought this hoping it would be a cheaper alternative to Olaplex and sadly it just isn't the same thing. It's not a bad conditioning treatment but I don't think it's actually repairing my hair like Olaplex does.

Nice treatment

Nice treatment for damaged hair. It says to leave in for 5 minutes but I left mine in overnight or at least an hour to get best results. It has helped improve my hair health. Its a very thick product and so I only got 3 full head treatments out of the bottle - I have medium-long length hair. Even though this product is cheaper I do still really love using Olaplex I find it a little easier to work ...

Read More

Lovely hair pick up

My hair texture, softness & overall condition of my hair felt & looked amazing after treatment. I left on overnight.

It's nothing like Olaplex

I was happy to try out a new product that makes claims that it's the new Olaplex. It's more like a treatment that just makes your hair soft but it doesn't actually help repair the hair from inside out like Olaplex does. I did some research and Olaplex's ingredients are actually patented which confirms that this product does not do the same thing Olaplex does as the formulas cannot be replicated by...

Read More

Good product and good value

Being a bottle blonde I used this once a week in place of olaplex and my hairdresser commented that my hair health was looking good, a bit cheaper than olapex too so v happy with that. in my opinion works just as well!

Helps repair damage

I have medium length hair (not thick but not thin) and I got 4 full treatments out of this bottle and used it twice a week for two weeks (leaving it in for 1 hour each time). My hair started off all damaged and split ends from being foiled and at the end of the two weeks my hair was in such good condition. Felt healthier. I do love this treatment and also love the OLAPLEX one I think they're very ...

Read More

Happy

Happy with this treatment. Really revived my hair after going from brown to blonde. It took probably two bottles of this to 'cure' my dry brittle hair but now it is soft and healthy again!

Very effective and great value for money!

I have long naturally curly hair with blonde foils, which I straighten once a week. My hair is naturally dry and requires a lot of moisture to keep it healthy. I previously used Olaplex 3 but I have found Blondpro C to be just as effective at keeping my hair healthy and reducing breakage when straightening. It's a bonus that it is cheaper than Olaplex 3 too!

Good product

Used this when I had blonde / silver hair as my hairdresser recommended it, helped maintain the condition of my hair in between toning sessions, I like it.

Will be re-purchasing

I have medium length straight hair and I got probably 4 full treatments out of this bottle. Which I was happy with. Each time I left the product in my hair for about 15-30 minutes before conditioning afterwards and my hair health improved so much.

Works

My hair has been really dry and damaged lately after getting a full head of foils so ive been using this treatment and its worked wonders. I did have to use the entire bottle to see results but my hair feels and looks healthier. I have medium length hair and probably got 3 full treatments out of the one bottle. Smells amazing too!

Amazing

Find Blondpro an excellent product , I've used Olaplex in the past and find Blondpro just as good and great value

As good as Olaplex No. 3

I've bought both Olaplex take home treatment no. 3 and BlondePro C (twice) and, hand on heart, you'll get the same results for $20 less; basically you can buy two bottles of this for one of the Olaplex! This product is like a deep conditioning hair treatment on steroids.

I have highlighted hair that is naturally pretty dry and thick and this helps calm the crazy texture of my hair, ma...

Read More

Pretty happy with this treatment

I have pretty damaged hair and this certainly helped restore the health. It was a small bottle so I probably only got three full treatments from it which was okay. Product smelt really nice. I left it in a little longer than it said and my hair was really soft afterwards. Definitely improved the health of my hair by the end of the bottle. Will purchase again.

Happy

Was a little skeptical at first but this actually has made a difference to my hair. I have foiled blonde hair and treating my hair once a week with this and leaving it in an hour or two has really improved my hair health.

Saved my hair!!

This treatment really saved my hair. I used to use Olaplex all the time on my blonde hair but I have found this one works just as well and is a little cheaper. It took about three washes to see noticeable results but it was completely worth it!

I got 3 treatments out of bottle

I got three full treatments out of this bottle (I have medium-long hair) - it is very thick but applies easy to semi-wet hair. Smells great. You dont need to use ridiculous amounts of product either to cover hair. It says to leave on for 5 minutes but I leave it on for 30 minutes to get best results. After three treatments my hair went from frail damaged hair back to normal health. I now buy this ...

Read More

Takes time but works!

If you have dry damaged hair I personally dont think you can really expect a product to fully repair instantly in the first use. It takes time to restore health. I gave this treatment a go and after the second or third application I started to notice a real difference in my hair (the whole bottle). It was no longer dry and split ends were reduced. Visibly hair looked healthier and felt softer.

Not a Fan

I was bought this product as a gift, I have foiled hair for many yrs so thought wow this could be my next got to have product! Unfortunately it is a big no from me, it does not live up to the hype and for the price I've found products much cheaper and having a better result. Sorry but I suppose some things work for one but not for all.

Excellent, softening treatment

I've gone through a few bottles of this so far as I am a repeat buyer. It has helped restore softness and strength to my curly, over processed hair.

Meh

Very small bottle. Product is difficult to get out. Conditioner was ok but not fantastic. Better products on the market offering better value.

Perfect for blonde hair

This product has saved my hair. A few weeks ago I got a full head of foils and my hair was left straw like and dry (it was pretty bad) to the point I could barely brush it. This was a bit of a shock for my hair because usually its silky, straight and healthy. I ordered this product in hope of fixing my hair as soon as possible. It was a life saver. I used it three times over the period of a week -...

Read More

Happy

My hair was so damaged recently from having it bleached and after one use of this my hair was feeling so much more manageable. Going to take a lot more treatments and products but a great start!

Great for damaged hair

I recently went blonde from light brown hair and it left my usually healthy hair completely tangled and straw like (Even after treatments) and this product really helped. First use I left this in for 15 minutes and my hair went from feeling like straw to normal so really happy with the results. I know it will take a couple washes to really get proper results but its a start!

Happy with results

My hair felt really conditioned after using this. Only thing I was confused about was it said to only leave in for 5 minutes and I wouldn't think a product could do that much in 5 minutes so I left it in for about 30 minutes before conditioning and my hair felt great. I would say this product is very similar to the results I got from the OLAPLEX treatment and its cheaper.

Love it

I actually prefer this to Olaplex. I bleach to the scalp to be able to dye my hair various bright colours, and I straighten my hair too. Breakage is a thing! Definitely notice the difference when I don't use this, and find it is more effective than Olaplex. LOVE the smell, love the price, hate the bottle!

ok

I use it on my dyed hair and it makes my hair soft afterwards.

Great product!

I usually go for Olaplex for a treatment for my blonde hair, however I thought I would give this a go. It works just as well as Olaplex, makes your hair so smooth and silky. Will likely repurchase when I run out.

best blonde treatment

I have being using all kinds of blonde products for years and this one i have used for the longest. You need to use much, it actually strengthens and keeps blonde hair in great condition and it smells clean and not like a treatment. I put in my hair when dry after going to the beach, or using too many hair products and leave like a mask (only on the ends of my hair)

Great product

Just as good as olaplex. Will definately buy again.

Great restorative treatment

I've bleached my hair for years and have tried every type of treatment to restore moisture to it. I found this was very nourishing and improved the appearance of my hair after a couple of uses. My hair looks smoother and feels softer than ever.

So nourishing

Leaves my hair healthy and gleaming with every use. Not too heavy and definitely works wonders for my brassy and parched hair!

Works wonders

This treatment was perfect addition after changing the colour of my hair. After one use I noticed instant results to the levels of hydration in my hair and its over all appearance. With frequent use I have noticed a reduction in damage and the health of my hair improve significantly.

great as a deep treatment for dry/damaged hair

I have bleached and as a result very dry, damaged hair. My hairdressers have used both olaplex and blondpro systems when colouring/treating my hair, and I have used both take home versions myself.

Personally, I don't think the blondpro C is the same as olaplex 3, but it's really nice as deep treatment and makes my hair feel extra soft and smooth compared to just shampoo & conditioner ...

Read More

Amazing!!!

My hair has been bleached twice and is naturally on the frizzy side. When I combine this into my usual hair routine, my hair is so much more softer and there is a lot less frizz.

So moisturizing

Great mask that leaves my hair shiny and healthy everytime. It's become a staple in my hair care routine!

Just like any other hair mask

It's difficult to get out of the bottle as it's so thick, and it doesn't do anything special for my fine, brittle and bleached hair. It also has a smell that lingers.

Healthy blonde hair

I use this product once a week after as part of my regular hair routine i can confidentially say this treatment has left my hair feeling AMAZING after every dying session. Life saviour.

Great stuff

Works just as good as olaplex and cheaper. Will be purchasing again.

Very pleased

This product is worth buying

Great product

I have used other versions of this product and couldn't resist the price on Blond Pro. I normally let it set in my hair for a few hours before washing out. Makes my long, thick blonde hair manageable. Only down side is the bottle. It's a bit of a pain to get the product out.

Would recommend

Does exactly what it claims! Left hair feeling so smooth for days after my wash. Reduced frizziness aswell!

Would definitely repurchase, this has made a difference to my dry hair

Gave this product a try as a cheaper option to Olaplex (which I have not used). Really happy with the results, I have noticed a difference in my dry hair. Easy to use in the shower, a little hard to get out of the bottle. Hair is left feeling smooth and smells amazing. Would definitely buy again.

A New Favourite!

I haven't tried Olaplex myself but have been keen to give it a go, given the price difference and the positive reviews I thought I would give Blondepro a go and I have not been disappointed. I wish the bottle came in a larger more user friendly bottle though.

Love!

I've always used Olaplex and felt comfortable to try something different for a saving of $20 per 100ml! I think BlondPro works best the longer it is left on to work it's magic.

I would suggest for very damaged blondes and those bleaching regularly to stick with Olaplex. However those like me who have healthy hair, not using heating tools everyday and only highlight occasionally BlondP...

Read More

Effective given enough time, but not special

I have been bleaching my hair silver for four years now, and so I have a rather involved care routine when I wash it. With a lot of effort, and a bit of luck, I have managed to keep it feeling silky and looking shiny, and I am always up to add a new product to my arsenal.
I tried subbing this into my mid-wash treatment, in place of my normal mask product (which is plain ol' Schwartzkopf Ext...

Read More

Love it!

Using this with about 3 weeks, using it once a week. Instantly felt the difference, my hair feels super nourished and have received loads of compliments! I have wanted an intensive hair treatment with ages and this ticks the box. I reckon I will get about 7 or 8 treatments out of one bottle, so wpuld love to get the product in a larger size! Other than that will defo be buying this as a regular!!

Fabulous

This product has gone above and beyond my expectations. I wash my hair everyday so treatments usually only make my hair feel fabulous for a day but BLONDPRO C makes that fabulous feeling last all week. Love it and would definitely purchase again.

Very impressed

I've been using olpalex for around 4 years and I thought I'd try this product out and so far so good. Works same as olpalex but half the price.

Great product

I was surprised with the result from using this product just once - I have been looking for something that left my hair smooth and soft like it is after a hairdresser appointment and blonde pro C didn't disappoint. I am looking forward to see how my hair looks after several treatments

great treatment!

I have bleached, damaged hair, which Needs a lot of TLC. I normally use olaplex alongside regular shampoo and conditioner. This one was just as effective leaving my hair soft and smooth, easier to style and definitely less frizzy, and I really enjoyed the fragrance!

It works

I usually use the competitor brand product, and tried this to see how it differed. The good news is that it doesn't. It's effective and easy to use, leaving my hair super soft and shiny, Better news is that it's more cost effective!

Great alternative

If you've been wanting to try Olaplex but you're concerned about the price tag, definitely give BlondPro a go. It's quite similar technology so you achieve similar results; smoother, softer, stronger hair. It smells really nice compared to Olaplex, and the texture is less runny. For $20 cheaper, it's worth a go!

My hair's new BFF

I'm converted. It's official.
Originally I was a sceptic and didn't really think it could make that much of a difference on my dry, damaged hair, but boy was I wrong.

After just one use, my hair felt softer and less frizzy. I usually can't brush my hair in between washes as I fear breakage and frizz, but this treatment has definitely helped that after a few uses.

I...

Read More

Hardcore conditioning treatment

I've been using Blondpro for a few weeks now and noticed a change in the condition of my hair. My hair is chemically damaged, and I try not to use heat on it often - however, avoiding heat and using an average conditioner isn't enough to repair my hair.

After shampooing I apply the C Care to my roots and then brush it (with my fingers) through to the ends, then I leave it for about 5-...

Read More

Nourishing & hydrating

I will start by saying I am a die-hard Olaplex convert and couldn't bear to part with it entirely while testing BlondPro, so I alternated between the two. BlondPro is definitely easier to use; you apply it after shampooing in the shower, leave it on for 5 minutes then rinse and condition (as compared to Olaplex where you have to wet your hair, then towel-dry it, apply the product and leave on for...

Read More

I'm a convert!

I am always looking for treatments for damaged/weak hair to use since I had major breakage 2 years ago.


I have tried many products to help recover my brittle hair and work for blonde processed hair.


I am a Olaplex user however after trying BlondePro - I am converted!

Mainly because it is alot faster to use minimum 5 minutes after shampooing (can...

Read More