Aspect Fruit Enzyme Mask 50g
4 instalments of $14.75
Or 4 instalments of $14.75 with
LEARN MORE
4 instalments of $14.75
Or 4 instalments of $14.75 with
LEARN MORE
Official Stockist
Is this for you?
Aspect Fruit Enzyme Mask is a gentle exfoliating enzyme mask that helps lift dead skin from the surface. Ideal for all skin type including sensitive, reactive and problem skins.
Cruelty Free
Artificial Fragrance Free
Skin Concern:
Dull, dry or dehydrated skin

First signs of ageing

Pigmentation, uneven skin tone
Skin Type:
Dry

Normal to dry

Normal to oily

Oily
Frequently bought with
Please wait while we find a match
Questions & Answers
(1 Question)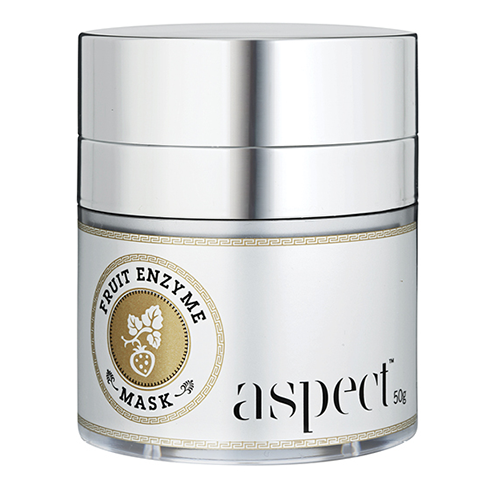 Aspect Fruit Enzyme Mask
Get an expert to answer your question about this product!
Aspect Fruit Enzyme Mask Reviews
95% recommend this product
Most Helpful Positive
Best mask
This mask makes my
Skin glow after using it. I use it at least twice a week.
Most Helpful Criticism
not sure if it was for me
My skin isn't usually sensitive but I'm not sure if this is the right mask for me. It does give your skin a bright glow but my skin also felt a bit stripped afterwards
Best mask

This mask makes my
Skin glow after using it. I use it at least twice a week.

Worth EVERY Cent!

As a new customer of Adore Beauty I was looking for a face mask that I would be happy with using on a regular and long term basis. Having read the reviews, I felt confident to try it and everything others had said was true. As a result, I have never had to try anither brand of face mask and I always repurchase this item from this site (because I love the freebies!). Being a Frugal Filly, I was in...

Read More

Great Product

This product is very gentle on the skin! It feels like nothing on, and I usually get the tingling feeling from face masks, which I was expecting from this, but I feel absolutely nothing.

Very smart dispenser! and this has helped to smooth my skin out from lumps and bumps I was getting and fade away my marks from where I've extracted pimpled.

It recommends to use up to 4 t...

Read More

Very satisfying dead skin remover

A very gentle product provides powerful and satisfying exfoliating application. I use this product once a week following with Aspect Probiotic mask to drench and nourish my skin.

Amazing mask

I have been using this mask for almost 2 years. It works well with my oily skin, gentle enough for easily irritated skin.

Great Exfoliator

This is an effective exfoliator which I have been using for a few years now. My skin type is eczema prone, so I have to be mindful of the products I use on my skin. This product has not caused flare-ups for me.

Great

This is great at exfoliating and is perfect for once a week skin treatment. It leaves my skin fresh looking, smooth and radiant

Wonderful!

Firstly.. it smells like you could eat it :)

I will never be without this product!! I use tretinoin twice a week, and this mask is a godsend for the few days later when I get the occasional skin peel. My skin feels so smooth, and I'm always noticing how much it glows afterwards!

Best active acting mask

I love this fruit enzyme mask is incredible. Gets rid of all the dead skin and leaves my skin looking fresh and clear. Can't get enough!

Great mask!

I use once a fortnight and it leaves my skin looking and feeling amazing!

Glory skin

Great exfoliating that is really gentle on the skin. Quick and easy to use and leaves feeling soft and glory after every use.

great exfoliator which isn't harsh

This is a really nice exfoliator which doesn't sting or dry me out! My skin glows after and it's really quick to get good results.

smooth skin

I have mildly sensitive skin so can't use harsh exfoliants. This fruit enzyme mask works great for me and gives me really smooth skin

great enzyme mask

I really like this, it's not too harsh but my face does feel refreshed

Favourite Product!!!

Using this face mask is the highlight of my week (beauty wise!)

My skin feels so smooth and clean plus a little goes a long way which is always a bonus.

Excellent!

Really effective in exfoliating the skin, gently. After massaging a few minutes you get small bits coming off your skin, but you don't really feel anything ( it doesn't strip the skin or sting at all). Doesn't smell like anything which is also great. Skin absorbs serums much better and it glows the next day!

bright skin

this isn't too harsh and definately leaves your skin looking bright and refreshed

not sure if it was for me

My skin isn't usually sensitive but I'm not sure if this is the right mask for me. It does give your skin a bright glow but my skin also felt a bit stripped afterwards

Omg! Divine!

This product had become a part of my new weekly favourite routine together with the probiotic night mask! It's such a decadent and beautiful little treatment and it smells so delicious it takes everything in me not to taste it! Definitely recommend!

So satisfying to physically see the dead skin come off

My sister used this product and recommended it to me and for so long I wanted to try it but couldn't because it wasn't recommended while breastfeeding.

I finally managed to get my hands on it after I stopped and can see what all the hype was about! Its like a thickish gel consistency that gets dispensed out of the tub and you gently rub it in a circular motion on your face and just w...

Read More

brightening

this mask leaves my skin looking healthy and bright

Great after one use

I could tell I had a build up of dead skin on my face but had been told not to use any acid or physical exfoliant for a period of time. I use this last night and my skin was softer straight away. I suppose it will take more than one use to get the full effect but I am really happy with this product. I followed it with Skinstitut repair balm and woke up with much smoother looking skin :)

Amazing

I love this product. I had been purchasing a similar enzyme mask at my local grocery store for $10 per mask loving the clean fresh feeling and then you couldn't imagine my excitement finding ASPECTS enzyme mask. A little goes along way so the cost works out so much cheaper than the single use product I was using. There's a mild chemical scent but nothing off putting. it's a thick gel at first but...

Read More

Visible short term results for long term gain

I absolutely love this product. It's definitely a quick win- the dead skin cells literally pile up on your face as you gently rub it in. I normally use it as the first step in my once-a-week deep hydrating routine, as it rids my skin of excess dead cells leaving it primed for hydration. It's also ideal to use the night of a big event as it leaves your skin perfectly smooth for makeup application.<...

Read More

Soft and subtle

Super nourishing and soft on my delicate skin. Leaves my face feeling refreshed, brightened and moisturised. Love it

Really nice but too strong for my skin

Love the effect this mask gives and love being able to see all the dead skin being buffed away. However this is just a little bit too strong for my sensitive skin and sometimes can leave me feeling a bit irritated so I stopped using
If you don't have sensitive skin though I would for sure recommend this

Good experience

It was give a good job and I liked it myself

Professional!

I used to sell this product when I was working for a Plastic Surgery studio. The clients were so happy about the range, so I decided to try it myself.
Why did I wait that long?? Aspect brings amazing professional results! My favorite product is the Fruit Enzyme Mask: divine! My sensitive dry skin is very appreciative and happy!

good

This peel is amazing!
It loosens dead skin off and you can see it happening. Leaves your skins fresh and silky.
I love this mask!


Good scrub, to an extent

It's interesting to see the ball from all the dead skin cells. It's a different experience for a scrub, I do however has to say it doesn't give you the clean feeling like and scrub feeling like what the other scrub is like.

HOLY GRAIL

OH MY GOD! This product is absolutely incredible! Here's a little hack for you- spread a 5cent piece amount all over your face u til it liquifies a bit then stop. Leave it for 5 minutes then with your finger tips gently rub in circular motions. Eventually true mask will start to ball up under your fingers and slough away all the dead skin cells which the enzymes in the mask have helped to shed. It...

Read More

Love love love!

This is such a fun and satisfying exfoliating mask! I recommend it to everyone and even make my boyfriend use it. Because it only removes dead skin, you can't over-exfoliate so I don't feel conflicted using this on my skin too much - bonus!

Not right for sensitive skin

My skin really didn't respond well to this mask. I think it was just too intense for my sensitive skin.

Doesn't do anything

I bought this because I had previously used another enzyme mask which I had liked until I started to develop a reaction to it. I have used it several times now and don't feel it has any noticeable effect on my skin. Particularly disappointing given the price.

Amazing

Super gentle yet effective face mask, you can feel the dead skin pill off as you rub it in and the skin you are left with is baby soft.


Amazing

This product deeply exfoliates my skin and really eats away the dead skin.

Perfect for dry skin

I have dry skin and need to exfoliate every couple of days to keep it hydrated. This is the perfect mask and exfoliant in one. Gentle yet effective and my skin doesn't feel dried out afterwards. Must have with your skin care regime!

Effective exfoliator for sensitive skin

I have found this to be a gentle and effective exfoliator for sensitive skin.

Lovely exfoliator!

I have super sensitive skin and this has been a lovely gentle exfoliator! Easy to use and pleasant smell! Has left my skin feeling soooo soft I'm super happy!

Gentle but Effective

This mask/exfoliator was recommended to me by my dermal therapist after she used it on me for a light exfoliation. I have sensitive skin and after using it once a week for the last 2 months I have not had any reactions. I can start to see my scars fading and the dead skin that is removed leaves a bright and glowing complexion the next morning after I wash off the mask. It's so paramount that you d...

Read More

Effective exfoliator

This product works extremely well to gently removing skin cells and reveal a soft, smooth and luminous complexion. A little goes a long way, follow the label, pea sized amount is enough. Love aspect!

Yes and yes

I couldn't wait for this lil bundle of delight to arrive. It did not disappoint. Quick, easy and effective. My skin was exfoliated and not irritated or breaking out the next day. Not to mention It is so satisfying to have the lil bits of debri pill as you move the mask around. And even more satisfying to find a mask that does what you want so well. If only all skincare was this straightforward and...

Read More

Luxurious

This made my skin feel really hydrated, its really gentle and smells amazing but I just didn't see any real benefit so I unfortunately won't repurchase.

Good quality product, awful packaging

This product has very high quality. I won't purchase it anymore because it's way too pricey for the quantity and I think that the packaging is horrible: deceiving because it's much bigger than is content and it's impossible to use all the product, since when it's not too much left, the pump can't reach. I tried to open the jar but I still couldn't use the whole thing.

good

I use this mask along with my Dr aspect vitamin a, b and cut. It's a great addition when your skin needs some brightening, it's also good for a light exfoliation.

Great gentle yet effective exfoliating mask

This mask is for you if you need a gentile yet deep exfoliant. I love how the mask smooths onto your skin, instantly removing excess built up dead skin. You can actually see and feel your dead skin balling up and being removed whilst you massage the mask in! It is amazing. Skin feels soft, clear, bright, plump and clean afterwards. Smells like a professional peel mask which I love. Great quality. ...

Read More

SMOOTH SKIN

This is a great exfoliater as it leaves your skin silky smooth , just love it.

Feel the difference immediatly

Super gentle yet effective face mask, you can feel the dead skin pill off as you rub it in and the skin you are left with is baby soft.

Gentle Exfoliation

I have used this mask on and off. It's very easy to use and the way it dispenses is great. I love exfoliating my skin - I think overall I prefer a more physical exfoliator. For those though with sensitive skin or looking for a gentle way to exfoliate this may be worth a try. The smell is great and the tub lasts for ages.

Absolutely love it!

As someone who is new to actually looking after my skin, I absolutely love love love this product. It's so simple to use and I absolutely love the way my skin looks the next day.
If your new to anything more than a basic cleanser and moisturizer you definately need to give this product a try.

Worthy of all the good reviews!

If you want clear, refreshed, revitalised skin with the cumulative benefits of less congestion, fine lines and pigmentation, this mask is for you! Wow. I love how it completely clears and exfoliates my complexion gently and effectively. I am in my early 30s and have fine lines and pigmentation and I cannot recommend this highly enough!

Super smooth skin

I love this mask. As you work it into your skin, you can feel the dead skin and dirt coming away. No other exfoliator or mask has left my skin feeling as smooth or clean. A great addition to any beauty regime.

It's actually fun to use!

There's something so satisfying about feeling your skin ball up under your fingertips. Non-irritating, not scratchy or burny, just a really effective exfoliator. A little goes a long way so it works out to quite good value.

Makes skin feel so soft

I really like this I use it once a week when my skin is felling abit dry and patchy and it makes my skin feel soft. I've been using it for a few months now and I would defiantly buy again. Smells nice too.

Hydrating exfoliator

I love this, other exfoliators are generally too harsh or stripping. This is actually hydrating but does the job! The little balls that form are actually not dead skin, but the product balling up with your skin

worth

Been using this for about a month and I cannot rave about it more. I use it as both a mask and a primer. When I mask, it gives me instant hydration and my skin feels amazing. And when I use it as a primer, it's the perfect base that makes my skin look like butter. Money well spent!

Great

This product works better than the abrasive masks I've used. Fantastic product for peel and fractional after care (as its non-abrasive nature is perfect for sensitive skin).
It is easy to use and doesn't leave your skin with a tingly sensation that abrasive scrubs can leave.
I also use it as recommended once a week in between visits to my dermal therapist.

Gentle but effective

This mask is really unique. You put it all over your face, and let it sit for 10 minutes. Then gently massage your face, and it peels away all the dead skin cells, it leaves your skin feeling plump and hydrated. Perfect for sensitive skin.

The perfect at-home peel

I discovered this mask through my local skin clinic, who use it after microdermabrasion treatments. I bought it to help maintain my skin between treatments and I absolutely love it.

It's a quick, no fuss treatment that gives amazing results, and the packaging dispenses the perfect amount of product every time so you know you're not wasting any or using too much, which is important gi...

Read More

Great mask

I absolutely love this mask. It produces the best results I've seen on my skin from a mask. I just pop it on to clean skin, massage it for a minute and rinse. I don't even have to leave it on and I see a massive difference in brightness and texture.

After use, Makeup application is a dream!!

I have been using this product for over a year now and this is a must-have product for all skin types. My skin differs from season to season going from combination to dry to oily but one thing that never leaves my skin-care routine is this mask! As you're using this product you can FEEL dead skin cells gently lifting and you're left with smooth, bright skin. I use this 1-2 times per week because i...

Read More

Amazing

This is my favourite product I have purchased. I noticed results after the first use and it made my skin so soft.

Pretty good

Very gentle, I quite like it for my sensitive skin!

Beautiful and works a treat

Fantastic product that works. Leave skin feeling incredibly soft. Satisfying to see dead skin cells slough away as you gently rub your face. The packaging is both good and bad. Portion controlled which is fantastic but as it gets to the end- difficult to get to the last bits of the product and trust me you want to use every bit of the product.

Can see a difference after use

I honestly think this is reasonably priced for how well it works. It's such a lovely product and my skin is always looking fresh and bright after I use it, which I obviously loveeeee. If you can, I'd definitely say give it a go!

Amazing!

After reading the positive reviews I decided to give this product a go- I am so glad I did!! I love it!! It deeply exfoliates my skin without irritating and when combined with the probiotic mask, the results are amazing! My skin looks brighter (which as a mum of two under two is not easy) and feels so muich smoother. I love the packaging as well.

Gentle and soft

Love this product. Leaves skin so soft and skin feels so clean.

Amazing

Not a budget-friendly product but I continue to buy it again and again as it has been very effective at reducing the pigmentation on my skin. I'm really impressed by it.

It's gell like and you apply it to your skin before using your hands to exfoliate your face. It's nice to use before an event as well as once to twice a week.

Gentle exfoliation

This mask gives me a really nice gentle exfoliation. I find it great to use before I hydrating mask, or when I just want a little more exfoliation

Beautiful product

A great product for exfoliation of sensitive skin, whenever I use it my skin feels renewed and is bright. I'm happy I tried it but not 100% would purchase again, just as the price is quite high for the amount of product you get and there are cheaper products that I feel achieve the same results.

fab at getting rid of dead skin

nice product to use to get shed that layer of dead skin. i find the effectiveness of the mask depends a bit on the weather, specifically the humidity, if its too humid the mask isn't so great at forming those little balls properly

Good cleansing balm

This is a good cleanser, in that in manages to remove most of my sunscreen and makeup, however, it's quite thick and doesn't rinse well. I have to use a face towel to gently remove it from my face. It smells amazing as is effective as a pre-cleanse. Like a lot of other people, I wasn't please with the packaging. Although great at first, once the product was a bit used up, I had to open the lid and...

Read More

Fruity exfoliating mask

This mask works to exfoliate the skin of dead skin cells, free radicals and pollutants. After applying a thin layer, you gently rub off the mask into little balls that you can then rinse off. I recommend washing your face and making sure it is completely dry before putting the mask on. The times when I've not waited for my skin to dry completely, the mask rubbed together with the left over moistur...

Read More

Nice and gentle

I use this product as both a mask and quick exfoliant. It effectively removes dead skin build up and leaves me with soft skin which doesn't feel stripped and dry.

Omg so good! Gentle for sensitive skin

I love how gentle this mask is! You put it on and rub it for a while and your dead skin cells come off. It really works. I even used it on my heels to remove some of the dead skin. My skin looks and feels so subtle after I use it. I would recommend buying this instead of paying for professional fruit peel facials.


Positives and negatives

So I like this product as it helps with dead skin however, it's so hard to remove. It takes me what feels like a million washes to get this off. I've even tried applying a thinner layer and that doesn't work. It does make your skin look a bit brighter though which is good.

Definitely worth a try

I purchased this for my pigmentation, I have been using twice a week for a few months, I have noticed the pigmentation has faded. I am happy with the way my skin looks and feels after using this mask. I have recommended this to my friends who have all had positive things to say. I will definitely repurchase when I run out.

A waste on me

This product has been sitting on my bathroom shelf for ages and I keep trying to make it work for me and can't. I have oil, dehydrated skin which sounds like I'd be the perfect candidate for this product. I suspect it causes me to break out though... I've tried to use it in different ways, but just think it's not for me.

Dead skin be gone!

I really love this enzyme mask aka chemical exfoliant extraordinaire! It physically takes away the top layer of crap (pollution, oil and dead skin) off my face. I think it is wonderful when it is used regularly to just reset my face. The only thing I wish I had known from the start was how often to use it, so far I have found because it is bloody good at it's job, just using it once or twice a wee...

Read More

weekly skin renew

I have dry skin but I also suffer acne and this product is perfect for both. I use this weekly followed by a hydrating mask and it keeps my skin feeling fresh. It gently removes dead skin dealing with my congestion as well as my dryness. I was a little confused about the application when it first arrived as I wasn't too sure that it was doing anything but immediately after you rinse it off my skin...

Read More

New skin

This mask leaves skin feeling silky soft and makeup application is a dream after using this mask. I marked one less star as the consistency on your face is a little oily and unpleasant, but the results after are definitely worth it!

Excellent product

This has fast become one of my favourite products. The gel like consistency makes it easy to apply and within a minute or so it liquifies and as you rub it in small circular motions, the dead skin balls up and falls away. It's a great exfoliator without harsh scrubbing and my pigmentation patches are definitely breaking up and fading. Highly recommend!

Highly recommend

This mask is beautiful. The skin cells that come straight off leaving you with glowing skin is amazing! Normally masks will tingle or burn and leave me with red patches however this mask does not. Great for sensitive skin!

Amazing

This is the closest product I have found to my in clinic enzyme treatment with a skin specialist. I have problem skin with acne and congested pours, this gets me through treatments and makes my skin feel so fresh and smooth. It irritated my skin the very first time I used it although was fine after that. I have bought this for many family and friends birthday presents, as it's just a really good p...

Read More

Gentle but effective

A really gentle but very affective exfoliant. The smell is pleasant and a small amount goes a very long way. My skin feels amazing afterwards and looks smooth and youthful. I usually follow with a mask and the results are truly wonderful.

Great product

This lovely gentle fruity exfoliant leaves you skin baby smooth. A small amount goes a long way to reveal youthful skin. I also love the pump packaging!

Yesss!

This stuff is amazing! I was worried it would irritate my sensitive skin but it doesn't at all. The perfect amount comes out, it's easy to use and when I wash it off my face feels cleaner than it has ever felt before. I will never go back to anything else after this.

Amazing mask and exfoliate!

I absolutely love this product!! It has a lovely smell and texture (not gritty!). Skin feels so great after. My Nurse Practitioner recommends it for my skin - oily and acne prone. Love the results.

A definite fave

This is such an effective product. I forget about how smooth it makes my skin feel until I use it again. This is one of my favourite at home resurfacing products. Easy to use and non irritating. Absolutely love this and continue to repurchase

Definitely love it

In the beginning, I did not know how to use it. Thus, I was surprised to see the result of the mask. It feels so nice and smooth after washing it off. The cleaning process is kinda fun to me too. I enjoy using this mask.

Great

Works fantastic, use it daily

Instant brightening

This is the best exfoliant. No rough gritty texture, gentle yet effective. Followed by a hydrating mask it is as good as a facial.

A MUST HAVE

I use this product one to two times a week depending how dry my skin is. It pulls away the dry skin and leaves my face feeling so soft and radiant. I have used this product for years and will continue to. LOVE IT

Great for sensitive skin

My beauty therapies recommend me this fruit enzyme after I got my chemical peels in clinic. She recommend to use this fruit enzyme on day 5 after my chemical peels to help with the peeling (I got combined of lactic peels and retinol pearls).
This fruit enzyme soft enough for my sensitive skin, but it still do the works to removed the dead skin.
And the way the packaging of the jar, y...

Read More

One of my faves

Really smooths out and clears complexion without breaking out. I have sensitive acne prone skin but this peel smooths out and reduces appearance of pores and blackheads. Gentle enough exfoliation. Last a long time. Would definitely recommend

Best Mask I have ever used

this mask is incredible! worth every cent - my skin has never looked so good and felt so good after using this!

Fantastically unique, very effective

this mask is unlike any mask i have used before, the instant smooth and brightening effect had made me addicted, the packaging deserves its own 5 stars! I use this twice a week!

Frutiliciouss

I LOVE the smell and jelly like consistency of this and it legitimately feels like fruit jelly on your face. Would recommend one hundred percent ! Makes your face soft and lovely. The only downside is you take it off right away its not a set in mask which I assumed when purchasing.

Game Changer

I use this product 1-2 times a week depending how dry my skin is. It rips away the dry skin and leaves my face feeling so soft and radiant.

Actually wowed by this mask!

I'd heard so many positive things about this mask. I have been very sceptical about any type of exfoliating mask being really good for my reactive skin, since I don't do well with AHAs or BHAs, or physical scrubs. This mask is AMAZING. After the first day, my skin was already noticeably better - smoother, less red, and best of all, I didn't have any dry, leathery patches which is what usually happ...

Read More