The Ordinary Vitamin C Suspension 30% in Silicone 30ml
4 instalments of $3.20
Or 4 instalments of $3.20 with
LEARN MORE
4 instalments of $3.20
Or 4 instalments of $3.20 with
LEARN MORE
Official Stockist
Is this for you?
A Water-Free, Stable Suspension of 30% Pure L-Ascorbic Acid in Light Silicones to help reverse multiple signs of skin ageing while brightening the skin.
Cruelty Free
Artificial Fragrance Free
Skin Concern:
Wrinkles and loss of firmness
Skin Type:
Dry

Normal to dry

Normal to oily

Oily
Frequently bought with
Please wait while we find a match
Questions & Answers
(11 Questions)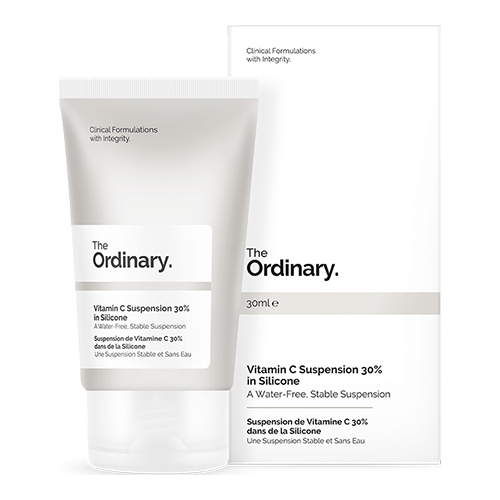 The Ordinary Vitamin C Suspension 30% in Silicone
Get an expert to answer your question about this product!
The Ordinary Vitamin C Suspension 30% in Silicone Reviews
77% recommend this product
Most Helpful Positive
glowing skin
This has helped my skin a lot. It is a great one
Most Helpful Criticism
Not the biggest fan
I bought the product for pigmentation, it's quite a harsh product with a very odd texture. If you try spreading over your skin it doesn't sit very nice and goes grainy and gross but it wasn't too bad of you lightly patted it onto skin. I used it for about too months and didn't notice much difference just made me skin quite sensitive.
Velvet Soft

Really soft velvety texture to apply, I've not experienced the "grainy" effect as other reviewers have. Gives a slight tingle to skin when applied, which for me always makes me feel like it's working! Great price point for a Vit C product, however I have tried others I enjoy more.

glowing skin

This has helped my skin a lot. It is a great one

LOVE LOVE LOVE

I started off using a lower dosage of vitamin C, which was the ascorbyl glucoside 12% solution; and then went straight onto this which is of the highest percentage of vitamin C but had no problems with it! I blend it in with my moisturiser to use at night and it does not sting at all :) Love how my skin glows after using this product!!! LOVE LOVE LOVE <3

Not the best Vitamin C

This was the first vitamin C product that I used. It felt like it was going to burn my face off. Much better Vitamin Cs on the market and I think in my honest opinion it is worth spending a bit more on a Vitamin C

vitamin c

this felt greasy and heavy on my skin. My advice would be to only apply a little and mix with moisturiser, as using it all over my face on its own caused stinging. The results are good though - my skin will be glowing and refreshed overnight.

Fail

I found this product very hard to apply as it was dry and grainy. It didn't spread well on my skin. It would also clump and rub off if I touched my face. I tried applying it mixed in with my moisturiser but it still did it. I won't be continuing with it.

Very irritating

On the positive side, it did deliver an immediate brightening effect that I really enjoyed. I believe this was largely due to the light reflective properties of the silicone. I would buy this if it was just silicone. I used it for 2 weeks and stopped because of skin irritation. On my face it caused a strong burning sensation, red patches and peeling skin. When I tried applying it to my neck and ...

Read More

Good price

A good affordable vitamin C I think it's just as strong as more expensive ones. Easy to use from tube I really like it.

I just keep coming back to this. 5 stars all the way.

I used to spend a lot on Vitamin C serums, and there are some great ones out there. I just really cannot fault this product and haven't purchased any vit C serums since I began using it. Sure, I will use other products with a C content but as far as this product goes, it just really delivers. It can be a little intense for those not accustomed to a higher strength, it even was for me to begin with...

Read More

Great Value

Great value product that works well as a primer too due to it's smooth finish.

Not for me

I stopped using this as it has a gritty texture I'm not a fan of. Also was a bit harsh for my skin. Might work for others tho!

Love it

I love this product. A little goes a long way! My face looks a lot brighter since I started using the product.

Not the biggest fan

I bought the product for pigmentation, it's quite a harsh product with a very odd texture. If you try spreading over your skin it doesn't sit very nice and goes grainy and gross but it wasn't too bad of you lightly patted it onto skin. I used it for about too months and didn't notice much difference just made me skin quite sensitive.

Not my favourite vitamin C

The good - it's super cheap and a great introduction to a vitamin C product. It feels like it's working. Vitamin C is definitely an ingredient that makes a difference to the brightness and texture of my skin, and leave me with a glow.

The meh - it feels a bit grainy when it goes on.

The bad - whhhhhyy does it have to be a PM product? I like using retinol at night, and r...

Read More

Alright

Its okay! I dont know if i noticed too much difference but will have to use it longer to see

Excellent for hyperpigmentation and scars

This is my 3rd time ordering this product. It has definitely become a regular skincare staple product of mine. I haven't noticed such a drastic and speedy improvement using any other skincare products. Highly recommend for people with scars or hyperpigmentation, or those just wanting to improve skin texture, tone and brightness. It made my skin tingle a lot when I first started using it (not painf...

Read More

Peeling

This product peels on my skin when applying it. I have read a few reviews and have now tried patting it down on the skin rather than rubbing in this does help with the peeling issue I also like to mix it in with my moisturiser this also fixes the problem. A very thick product and it does sting slightly I wouldn't recommend if you have sensitive skin

Vitmain C suspension

At first I found the product was ball on my skin as it is very thick and it wasn't great. However I was then recommended to start mixing it in with my moisteriser which fixed the problem. Ever since it has been great for my skin I have noticed a more even texture and brighter complexion. The product does tingle a little on my skin but only sometimes, If you have more sensitive skin then maybe I wo...

Read More

good

my skin feels great after two weeks use and look brighter with a nice glow!

Very good, I like it.

I bought this after using the Skinceuticals vitamin c which I had great success with but found it didn't store very well. I find this to be nearly as good and at this price I will replace with a new tube each month to make sure it is still effective.
I have slight tingling with it but no redness and it wears well under sunscreen and makeup.

Not a fan

My skin hated this Vitamin C product. I've been using Vit C in my morning routine for years but decided to try something stronger and have this a go. The silicone suspension was just too thick for me and left my skin looking dry and Meh.
30% Vit C is also very strong, and it left my skin tingling more than I like. My combo oily skin responses much better to less intense formulations around ...

Read More

Not for me

I found the product really harsh for my skin even when following the ordinary's advice of slowly implementing it into your regime. The gritty rough texture also ended up pilling on my skin falling off and would feel like a burning sensation rather than a tingle others reported when using it.

I do not have sensitive skin so be careful if you are adding this product into your regime.

Very gritty...

Love the price but not the experience! I found that it felt really gritty on my face, and pilled under my moisturiser and oil layers. A great bargain Vit C product for sure but not worth it for me as I hate using it.

Beauty is pain

I don't have very sensitive skin, but I could only use very small amounts of this product to keep the burning manageable. It is also very gritty but not always? Overall, it worked noticeably and is very affordable. I would try a much lower vitamin C content product if I were to try again.

Great product

I love this product, I've found it really useful. I read a lot of reviews about the consistency and pilling, but found that if I pat it on rather than rub it in, it goes on smooth and even.

Not a huge fan of the smell

I find this does brighten my skin but the smell is pretty strong. The thick texture is something that I felt was a bit too much to layer with other products so I think I will stick to a Vitamin C serum. Decent product for the price point though.

A++++ love love love

Second tube, lasts ages, brightens skin, love it.

Fresh & adds glow

I actually really like this product. It leaves a tingely sensation the first couple times you use it, which I like.
It leaves a light glow (not oily) to your skin (dry and sensitive) which gives a refreshed look.

I have to be careful not to use it around my lips though, which often flare up due to food intolerances, but otherwise, it doesn't react to my skin


Excellent

I love this makes my skin glow it's great value better than many others I've tried

Thick texture

It's a strange texture, thick, a bit greasy, definitely tingly, and exfoliates with some little pieces that brings in it.

I have notice my skin better overall, but Im also using other new products so I couldn't tell. I would recommend as a good dosis og vitamin c, not because of the texture

Strange texture but love the vitamin C

The cream was a tad gritty at first but the brightening effects are so worth it

Silky Smooth

Only started using this recently but such a good cheap alternative to my usual vitamin c serum! Feels great!

Amazing!

Only started using this recently but such a good cheap alternative to my usual vitamin c serum! Feels great!

Amazing!

Only started using this recently but such a good cheap alternative to my usual vitamin c serum! Feels great!

Great for sensitive skin

I have very sensitive skin and have been irritated by many other products, I'm so glad I tried this. For the price too it is so worth it!

Feels Beautiful on the Skin

I have never tried a product like this before, but I am so thrilled to have found this. Everything I buy from The Ordinary is impressive, but from the second I put this on my skin, it feels divine!
I definitely experience the tingle they tell you about, but it's nothing to be concerned about. The velvety feel of my skin after applying makes it worth it!
I'm already noticing improveme...

Read More

worth the sting

The texture is super thick and sometimes pills on the skin, even if i dont apply anything on my skin before it. It stings quite a bit so I only apply it to problematic areas and use it sparingly. There has been some improvements in my skin and if i used it more often, the results would be better. For the price, this product is great but would not recommend for sensitive skin.

Um LOVE!

I love this Vit C product! I used to use the ASAP brand Vit C serum and this texture is very similar. I have only used this a couple of times but literally have already seen changes overnight. My skin is already brighter and clearer. I don't mind the texture at all, it does sting a little but nowhere near as ASAP did. For the price point, I'm totally blow away. Highly recommend!

Great antioxidant

This is an amazing product if you know how to use it correctly. It has faded my hyper-pigmentation dramatically with my continuous everyday use along with my SPF. It does have a gritty texture however feels completely fine on my skin throughout the day. I notice my skin glowing from this product and would definitely recommend it to those who do their research. Great price as well & always in stock...

Read More

Brightening

After being unable to tolerate the stinging of their other Vitamin C in HA product I decided to give Vitamin C another go with this product. Although this product still stings quite a bit when I use too much of it in one application, it isn't gritty in texture like the other Vitamin C suspension. For me, the brightening affects are noticeable after 3-4 days after application (day and night) but I ...

Read More

Smooth skin

This product makes my skin feel so smooth. It's a little thick to use but it's still very nice and only a small amount is needed. Overall I'm pretty happy with this product and will buy it again.

Great product

the ordinary products are all such good value and this is no different. Makes my skin feel great without paying a fortune.

amazing

I've trialled a few different vitamin c products and this is by far the best. It brightens while being inexpensive. I had a slight tingle the first time I applied it but nothing after that. The texture is bizarre but I actually love it and would choose this product over other vitamin c products for the texture alone because its suspended in silicon not an oil. I find it feels like it disappears on...

Read More

Irritated my skin

This product irritated my skin immediately upon use - my face was stinging and red, and I washed it off immediately. I tried it again a few days later and it did not sting that time, however I woke up the next day with skin that felt like it had been sunburnt. I have never had sensitive skin issues in the past so would highly suggest doing a patch test before using on your entire face.

Takes some time to get used to it but works

This has worked for me in reducing the appearance of stubborn acne scars (redness etc.). It does take some time to get used to it and figure out how much and how often works best with your skin. It stings and it can get quite intense if you use too much when your skin hasn't built up tolerance to it at first. I can now apply a very thin layer to target areas every night without any tingling sensat...

Read More

Effective and inexpensive

Effective and inexpensive - great starter for someone who hasn't tried vit c before

smells strange

This vitamin C has a strange almost metallic smell. The texture is quite thick and grainy and it doesn't absorb into your skin so you're left with an oily layer. I feel like for the price it does a decent job at brightening your skin.

Much smoother and gentle

I prefer this silicone one better than the ordinary vitamin C suspension 23%+HA spheres. It is much more smoother and found gentle on the skin and doesn't sting as much. It is best to mix with your daily moisturiser when applying on the skin.

Bye bye pigmentation!

I ordered this version of Vitamin C because I thought the silicone would be smooth and simple to apply. I was totally right! I find that when my skin is drier, I get some stinging around my lip line and nostrils, but it doesn't last long and is very manageable. I have to wait some time before SPF because it can cause some pilling. Has greatly helped with pigmenation!

Great!

I have started using this recently and can see the difference after one use only. Felt a little tingling for few minutes

Like don't love

While i think this is an effective product, i don't love the consistency of this one and its hard to layer it with other products due to this. I am an avid follower of the ordinary but this one lacks for me and there are similar products on the market in the same price range that have better consistency and feel.

Amazing !!

Just trying the ordinary products and very happy with all of them!!!
Just remember to test it first as it may cause skin irritations. I blend in the vitamin C with the buffer and the result is amazing

Feels good

Haven't seen any result yet, probably because i've been using it for 2 weeks only. But it feels good on skin. Tbh it stings, i don't think I can handle the stronger one. But after applying, it feels so smooth on skin. Will keep using to see any better

Tingles

I have been using this product twice a week and have found although it does tingle it is not unpleasant and stops soon enough. The product leaves your skin very smooth after using. I found my skin has improved which may be due to this being used alongside other ordinary products.

Love It!

Really like this product, it is like a matte finish which is great if putting makeup over the top and not looking oily. It is a little tingly once applied but that does wear off. I mix it with the TO Natural Moisturiser and can barely feel the tingle! Love the way it looks on my skin once applied.

Loving it so far!

My sister bought me this product as I had noticed a dramatic improvement in her skin since using the Vitamin C, so I thought I would give it a try!!! I have very sensitive skin and try to avoid using products containing silicone but I'm loving this product so far! Just be careful with what other products you are using, as it isn't recommended to use it with a lot of other products (including but ...

Read More

Miracle skincare product!!!!

This product has become an absolute miracle staple product for me!!! This is my second time ordering it. I've been using it for around a month now and have noticed a MASSIVE change in my skin. I had extremely visible hyperpigmentation/scarring on my left cheek and chin which has almost completely disappeared now with using this 6 days a week. Plus my skin is a lot brighter and the texture and tone...

Read More

Results but super thick

I've been using this product for about a month now and can see results. My partner also says my skin looks better (brighter, less pigmentation, and less textured). It is not gritty at all, although it is definitely thicker than I expected though and when I apply it, it's almost like it dries up quite quickly. I'm left with a bit of a film on my fingers and if I try to rub the film in, it ends up p...

Read More

Feels great

I really like the feel of the silicone. I dont know if I'll repurchase as I would prefer one without silicone but I like how it feels. For those who have had issues with pulling or too much tingling I'd reccomend mixing it with a little bit of moisturiser to help it along.

Does what it needs to!

As always, the ordinary always serves looks! The minimal bottle looks awesome on the counter top of the bathroom. I bought this one for my mum (50) and she loves the smoothing feeling and brightening look it gives her skin! The only draw backs is that it itches a little bit on first uses and does have a strange smell (for skin care). But overall, is a good vitamin c skin product!

Smooth texture, definitely helped with looking brighter and pigmentation spots

I have sensitive skin, so I was a little hesitant to try this product. But it lives up to all my expectations! It goes on smoothly due to it being suspended in silicone (like a silicone primer), and I loved mixing it with the Ordinary HA moisturizer of a morning (I use retinol at night and don't have the patience to wait 30 mins so they don't counteract each other). My skin is definitely brighter...

Read More

Love it!

Never used a vitamin c before on my face, and wow! What a difference it has made in a week! My skin feels so silky and smooth now. Definitely buying this little gem again!

Absolutely loving it!!!

I put off using this for ages because of the restrictions of what you can use with it, but I recently wrote a proper skincare regime where I use this product every morning so it doesn't interact negatively with other products I use at night. I've been using it most mornings for the least few weeks and have already noticed awesome changes in my skin!!! My skin is looking so much brighter and my hyp...

Read More

Love love love

I think this product is amazing it goes on smooth and glides over the skin, very little tingling and makes my skin bright and glowing, I only use it at night and also put the ordinary HA moisturiser over the top, it is great for the back of your hands as well. I recommend this product

1 Litre bottle please!

I LOVE this product. It seems mildly exfoliating, I like the mildly sandy feeling, very nourishing, best to put on at night because in the morning the sandy feeling seems to have penetrated the skin and your skin will feel wonderfully plumped and fed. This is one of my top 5 products. Just don't apply near eye area and don't use together with Niacinamide, use Niacinamide in the morning after clea...

Read More

This has been the worst thing I've ever used on my face. Unfortunately the stinging was nonstop and the left my skin rough and drier than ever.

I was skeptical to start with, however, I purchased this product based on the reviews I've read online. Unfortunately it did not deliver for me and some how caused further damage to my skin.

Makes everything pill

You can only wear this at night if your skin is completely clean and has nothing else on it, and you don't use anything over the top. Make up looks terrible when applied over it and it causes any moisturiser or serum to pill. Have tried to keep using it, only at night, and not noticed any difference so have stopped using it.

good introductory product to add vitamin c to your routine

I wanted to introduce vitamin c to my routine as I had read all the benefits and the price point of this product and good reviews are what sold me. This, like many of the other "the ordinary" products I've bought is excellent, not too harsh and affordable. Used it for a week now and can see an improvement in overall brightness of my skin and reduction in pigment. Would highly recommend.

Already seeing results

I have been using this product for over a week and already I am seeing an improvement in my skin. My skin is noticeably smoother. The cream has a weird texture but it's fine to wear overnight.

Not for me

I was lucky not to find it stingy, however I also didnt see much of a difference using it. I used it evening only because it didnt absorb well into my skin and left a white ghostly layer. I also found it quite gritty. And using it right before bed was risky because DAMN does it sting if you rub your eyes or bury your face in your pillow and drag the product into them

Creative

I tend to use this product at night and sometimes I will use it all over my face but on other occasions I will use it on areas where i Have pigmentation. I was really surprised the other day when I noticed the pigmentation which was above my eyebrow had faded. I had decided I wasn't going to buy this product again but use something else but I think it is worth having a tube for just pigmentation i...

Read More

Not sure

Rough, gritty texture, feel as though it rubs off. Not a fan of the smell. I'm not entirely sure what it's purpose is but it helps burn off acne during breakouts

Brightens my complexion

I was wary of this product at first because 30% Vitamin C seems quite high for my skin. Despite some tingling every time I apply this, I always wake up with glowing skin the next day. Overall, quite happy with it and will be re-purchasing until I'm ready to try another Vitamin C product.

So brightening

I love The Ordinary products - such good value and they actually work.
This product does sting a little bit at first but once you are used to it, it is lovely and brightening. I use most nights and can definitely notice the improvement in my skin the next morning. You only need a tiny bit - it's quite runny also.

Brightens complexion

I previously purchased the ordinary's vitamin C 23% with HA spheres and even though it was super effective in brightening my skin, the stinging was just unbearable. When i found out about this product I decided to give it a go. I still felt a stinging (pins and needles) sensation on my skin but it was sooo much more bearable than the other vitamin C product. This particular one also works well in ...

Read More

works

it works but i can only use at night because it sits badly under makeup

I'm in the minority here

But I hated this product. It oxidised so fast on my hands and face if they weren't at 100% hydration, turning both slightly orange. And the smell is terrible. Not a fan.

No difference

Didn't see any difference. No brightening effect or fading of existing pigmentation. Also has a funky plastic smell (probably the silicon?)

Brightens Skin

It definitely brightens my skin. The texture is perfect very smooth, I used in the morning after moisturizer and before SPF. Don't tingle too much nothing that you can't handle. You only need to use a very tiny pea size in you entire face.

Very Stingy and No Results

I was hoping this would help with some post inflammatory scars and generally brighten my skin. It was very stingy and itchy to start with but I pushed through by mixing with squalane which was fine. Unfortunately I didn't see any results. I'm going to try another Vitamin C from the range to see how that goes instead.

Loving it!

Wanted to try a vitamin C for a while. Started using a few weeks ago and can notice my fine lines softer and more plumped. Really happy. Bit tingly when using but stops after a couple of seconds.

Amazing

This makes my skin look lifted and reduces texture significantly

weird texture but effective outcome

This product has the weirdest texture ive ever used, it starts out as an oily siliconey cream and once it warms up in your hands/face it almost turns chalk-like. It's quite hard to rub into the skin evenly and can look quite flakey so I only used it at night once figuring this out. I also started mixing it with a more watery serum at night and that would make the texture much easier to rub into an...

Read More

very bitty!!

I am not impressed with this product. It doesn't seem to like my skin. I used it before work and as I was putting my make up on it turned into bits, I tried using it alone and mixing with products but I got the same results. I love The Ordinary but this isn't for me.

Love how my face feels and looks after using this product

This product feels so velvety when applied to the skin, making the skin instantly feel smooth. I use this product before bed and I love the way my face looks so fresh and clear the next day. It would have to be my favourite Ordinary product as I find I break out with their other products but this one has a really positive effect on my skin. The only downside is that the bottle is quite small, but ...

Read More

It's okay...

I am indifferent about this serum, it's okay but it's not one I would buy again. I couldn't get past the smell of it, I found it very unpleasant. Texture was quite good though and it did seem to brighten my skin very slightly. Okay for the price but there's definitely better vitamin C serums available.

Best vitamin c product I've tried

I've used all of the vitamin c products the ordinary offers and this one is my new favourite. It's perfect for use during the day under my make up as the silicon base acts as a primer. It isn't gritty and leave my skin instantly smooth. I use it everyday, my only complaint is that it doesn't come in a bigger size! Just about to order another 2 tubes love this stuff.

I'm not sure if it suits me

I just used one. I think it's a little thick for oily skin, but it really has a little brightening effect.

Unsure about The texture

Not sure if the texture is right for me. It feels very gritty and also it stings my skin. I stopped using it after a week.

Bit tingly!

Did not expect it to tingle as much, had read reviews but can definitely cause some irritation if applying other products on top! Thought the suspension would help apply but it appears to apply with some difficulty due to suspension.
Good effects though, seen reduction in lines and brightening.

Love that it acts like a primer

I prefer this version compared to the other Vitamin C product that the ordinary carries. There is no grittiness like the other one and this just glides on the skin. I love how it gives a perfect base to make up, thus acting as a great primer. It does sting but my skin got used to it after a month of using.

Quite potent but doesn't quite get the highest rating

The Ordinary's Vitamin C Suspension 30% in Silicone is a potent vitamin C treatment for skin, but it doesn't quite make the grade to get our highest rating.

This fragrance-free cream comes in an opaque squeeze tube that protects the vitamin c from light and air exposure (vitamin C is particularly vulnerable to both elements and can quickly lose its beneficial properties in their prese...

Read More

Lovely

I was really worried about trying this product in case it was gritty and sticky but it just glided on and was absorbed quickly. The tingle was a bit different but was fine. Would purchase again.

Very smooth

I really like this product, goes on well and feels so smooth. I don't use a primer when I'm using this, as the silicone texture is like a primer. Great price too!

Love the tingle

I love the tingle, am a fan of Vit C products, skin is very fresh and plump after using this product.

Glow and Refresh Overnight

The tingling sensation took a little while to get used to but the results are more than worth it. I use this product usually in the PM as instructed on the packaging. I wake up with refreshed and glowing skin. AMAZING

Smooth

I prefer this formulation to the lower strength one. This product reallynworks and skin is so clear since using on a regular basis. It also blends smoothly, does not pill.

Great for the price

Great as a starter Vitamin C and terrific for the price.Definitely need to follow the instructions about how to apply. Makes the skin brighter.

incredible

I always take this with me when I'm travelling! I love using this during winter as it stops my skin from appearing flaky!


Affordable and good quality

I like this product. It does what it says but it has a weird gritty feeling in the liquid that doesn't feel great when putting it on the skin.