asap super c serum 30ml 30ml
4 instalments of $19.31
Or 4 instalments of $19.31 with
LEARN MORE
4 instalments of $19.31
Or 4 instalments of $19.31 with
LEARN MORE
Official Stockist
Is this for you?
Eliminate and repair the visible signs of ageing caused by the sun and harsh environmental factors with the asap super C serum. This facial serum utilises a unique combination of three of the most powerful antioxidants, Vitamin C (as L-ascorbic acid), Pycnogenol and Idebenone to help brighten skin and fight signs of ageing.
Cosmeceuticals
Cruelty Free
Vegan
Australian Made
Artificial Fragrance Free
Sulphate Free
Eye Concern:
Age Prevention

Deep Lines
Skin Concern:
Dull, dry or dehydrated skin

First signs of ageing

Pigmentation, uneven skin tone

Wrinkles and loss of firmness
Skin Type:
Dry

Normal to dry

Normal to oily

Oily
Frequently bought with
Please wait while we find a match
Questions & Answers
(5 Questions)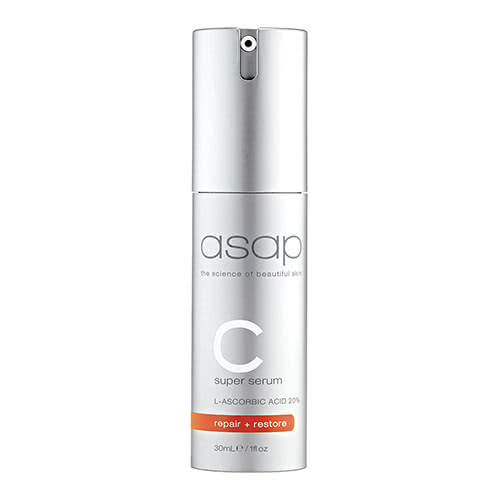 asap super c serum 30ml
Get an expert to answer your question about this product!
asap super c serum 30ml Reviews
77% recommend this product
Most Helpful Positive
Light weight, comfy, drys in very minimal time
I love this product, my skin feels so smooth
Most Helpful Criticism
Nah, not for me
I have tried persevering with this because I'm desperate to get a vitamin c in morning routine. Its a nice texture and smell to put on but almost immediately after it dries you can rub your face and it comes off. I touch my face a lot so its not for me.
Not for me

I don't normally have issues with skincare products, but every time I have used this my skin has resulted in a break out. Not for me.

Not good

It pills on my skin so I wouldn't recommend for dry skin.

Feel like it's working

This is my second vitamin c serum (the first one, The Ordinary's I wasn't keen on). I liked it more once I purchased ASAP's b serum as it makes it more liquidity so easier to apply. Probably love the b serum more!

Light weight, comfy, drys in very minimal time

I love this product, my skin feels so smooth

Lovely C serum

I'm enjoying using this but I'm not sure it's the best I've tried. Before this I used the Drunk Elephant and Summer Friday C's and I think the Summer Fridays was the best of those two, particularly beacuse it was easy to use on it's own. Whereas this and DE I feel are better mixed with a B or other serum to help them on the skin. This one is a kind of slightly grainy cream texture, very easy to ap...

Read More

A fav product

I was looking for a new vitamin c and when the percentage off offer was on with ASAP, I jumped at the chance to give this on a go. It glides on my skin nicely and the results it has given have been beautiful glowy skin. I use this combined with the vitamin B in the AM.

Had a sample ready to buy the full size!

Love this C! I have the B complex so I had high hopes and it didn't disappoint - I will be buying the full size on my next haul!

Good buy

After a couple of weeks I'm liking this serum! It feels different and you need to apply seperate to other ASAP serums but I'm noticing a brightness in my skin since using this

Do your research!

This product was really great to begin with... until... my skin started becoming really red and irritated below my nose and around my chin. I would get a little sting in these areas when applying the product, which I assumed was the product just 'doing its thing'. The irritation became worse so I stopped using. I then looked up the ingredients on a beauty decoder website and found that this contai...

Read More

Yes, yes, yes

This vitamin C is by far the best one I have tried - it has evened out my skin tone and and I feel like overall my skin seems more radiant! It tingles a little when applying but goes away after I have applied moisturiser!

Glowing skin!

I use this daily under my make up and instantly makes my skin glow. Such a winner.

Vitamin c

Nice serum, has a strange texture but works well and does what a vitamin c should.

Difficult to work with

Pilling, pilling, pilling- that's all I can say! No matter how well I cleanse, hydrate and layer my serums, this product pills as soon as it touches my face. Even if I pat it in (no rubbing!) it will pill as soon as I apply an SPF or foundation. Very disappointed with this product!

The best I've used

By far the best one I've used.
It goes on nicely, feels silky smooth on your face and it doesn't sting. Which alot of others have done for me and I don't have sensitive skin. A little goes along way with this. And the ASAP brand in general

Nah, not for me

I have tried persevering with this because I'm desperate to get a vitamin c in morning routine. Its a nice texture and smell to put on but almost immediately after it dries you can rub your face and it comes off. I touch my face a lot so its not for me.

It's A No From Me

This serum was nottttt good for me, at all. It was super thick which made it real hard to apply on my face. It pilled in my hand before even getting to applying on my face. Throughout the day it would dry and settle on my face and come off in clumps. Not cute.
Mixed with the B serum wasn't much better. I started exfoliating before I put it on to see if my skin would absorb it better but tha...

Read More

Smells great

Its a really nice creamy texture and instantly adds hydration to my skin, I love using it with my super b

Good but tricky to use

Have added this vitamin C in to my regimen in combination with the asap B serum and have definitely noticed results! The texture of the C serum on it's own is a bit tricky to manage and pills on the skin unless you pat it in rather than rubbing, however, mixed with the B serum it absorbs nicely and leaves a great base for the day! Overall my skin is brighter and tighter and I don't even feel like ...

Read More

disappointing

I use asap B serum and was a fan, hence was excited to try and use asap C serum. I received a small sample size of asap C and the texture is more a cream than gel consistency with a slight grainy texture upon application. I was then very disappointed when the C serum started to pill and then pill further when i applied my makeup. I also experienced immediate breakouts after use of this product and...

Read More

really great

this is really great, it helps fight ageing and i am only young but I wanted to implement this early. It makes my skin feel fantastic.

Good general vit C

I have combo skin and have been using this for the past 3 months or so. I have noticed a big difference in pigmentation and texture of my skin. The texture is kind of like how a mattifying primer feels. I find that I need to let the asap super b serum really soak in before using the super c. Then, use a small amount. If I don't concentrate and use 2 pumps, I find it can "build up" in spots and cre...

Read More

Incredible product!

I use this every morning mixed with the asap B serum and it has done wonders for my skin! The texture can be a bit thick and gritty, but mixed with the B serum and it is perfect.

LIFE CHANGER

This product is amazing for times i have breakouts. Some tips: when i first used this product, i used it with ASAP B serum and i found it was breaking me out. So now i use the ASAP B serum all over my face and then i used ASAP c on top of breakouts/pimples like a spot treatment and it is amazing.

Mix it in with something!

I almost gave up on this product after finding it had a really gritty texture when applied after other products. I mixed it in with the ASAP Super B complex and it made a world of difference! The product was definitely good for brightening once I got over that little hurdle, would recommend.

Hard to not like

I like the packaging because it makes me feel better about the stability of the vitamin C. The texture on the skin is mattifying which is interesting. It does not layer well with my HA but if i mix the HA with my moisturiser it is ok. Vitamin C does sting a little on dry patches but once applied it does not irritate.

I love this serum but......

I was previously using 15% Vit C serums, so I bought this to increase the amount of Vit C being absorbed into my skin. When I use this serum in the AM, I can feel it working, and I have noticed a difference towards my acne scarring within a few weeks of purchasing. HOWEVER, as this product has a lot of dimethicone in it, it tends to flake off my skin if you rub the serum too much or even when I it...

Read More

I love it!

This serum keeps my skin bright, glowing and smooth. I use it daily to combat pigmentation and redness. Amazing product!

LOVE!

I am in love, I have been using this for a few weeks and not too sure what I ever did without it! I use with with the ASAP VITAMIN B and it's a great combo!

Good starter C serum

This was my first C serum and I did like it and noticed a difference to my skin when used with ASAP cleanser, exfoliant, and other serums. However, I stopped using the C serum as I don't like the texture and it balls on the face, no matter what - basically peels off when you apply anything over it, and that includes when ,mixed with the B serum. It stung if I had any sensitive areas or had exfolia...

Read More

Average

I wouldn't recommend this to my friend. I got a small size of this with purchase of the Vitamin B serum. Wasn't impressed with this vitamin C serum (it's not bad just not impressive). Just because there are so many products out there, unless a product impresses me I am always on the hunt for a better product. Also had some issues with the bottle when pumping it after a while. I wonder if it was re...

Read More

A light but pleasant Vit C

I have struggled to find Vitamin Cs that work for me (can make me breakout) - the ASAP one is one of the few that works well with my skin. Its super easy to apply and mixes really well with the Vitamin B in my hand. Smell great too! Only wish I could see bit more of a result from it - still on the hunt for that perfect Vit C (need more power). Good for those who are only just starting to use Vitam...

Read More

Nice C Serum

I receive a 5ml sample with purchase, I tried it for three days. Every morning, I mixed it with b-serum. It has the effect of brightening the skin. It's well absorbed. I will buy it.

Pills like crazy

It does what it is formulated to do, but it pills like crazy. Mixing with the B serum helps but it doesn't sit under moisturiser or makeup. Any time I'd touch my face after applying, it would instantly ball up on my face and fingers. I'd definitely go with other Vit C serums over this.

I really wanted to love this

I really wanted to love this product because its one of the most reasonably priced vitamin C serums available however I will be sticking to aspect extreme C. The texture of this was just off-putting and I dislike that i have to mix it with my vitamin B serum to be able to use it (thanks for the tip anyway Joanna). Overall it does what it states and is a good serum but I find the experience with as...

Read More

Great for pigmentation

This product has really reduced my pigmentation after only a few weeks. I use it every morning.

Creme based vitamin C

My skin went through a bout of cystic acne breakout six months ago (out of no where..!) so I had to really cut down on all my skincare products - including vitamin c as what I was previously using was great - but oil based.

So it's exciting to be using the ASAP Super C serum as it's creme based (well - creme consistency?!) so my skin can definitely tolerate it. It tingled abit for t...

Read More

A different serum when mixed with Super B

I was intially a bit put off by the texture of this c serum - it can feel a bit grainy and didn't mix well with moisturiser or SPF over the top. Game changer when mixed with super b serum before applying - it turns into a smooth silky serum that sits nicely underneath everything else.
Brightens skin, fades pigmentation. A lovely serum!

Packaging can be improved

I really like the product so far. It tingles for a few seconds when you first apply and hasn't impacted my dry sensitive skin adversely.

The packaging however needs improvement. The pump is great to keep it hygienic but the product always comes out watery? As if it has split? You need to give it a quick shake for the consistency to be correct.


Not sure

On first use this felt so soft and buttery on the skin but did pill under my makeup. Mixing with B serum does help but I'm not sure it is having a huge impact on my skin. I wanted to be a big fan of it, adding to my ASAP B, R and cleanser routine but I'm not quite sold on this one.

Super!

I was previously using a powder vitamin C and since changing to asap I am just loving everything about it. It goes on smoothly with a great finish definitely Super C serum!

Packaging :-/ doesnt dispense

I bought like a sampler pack of asap products and when it came to this product i was thinking i only squirted it once. What the...
The product is very thick and in the pump pack it just didnt dispense.. Tried shaking.. Put it in sunlight . No product. Was it empty ?? Nope. Just all stuck around side of container but had to smash it open to find out...

ASAP change the packaging ...

Read More

Decent vitamin C serum

I'm generally a fan of ASAP products and I know that vitamin c arona are particularly difficult to formulate and the reason I've this 3.5 is that it pills. When mixed with Vitamin B serum it played well otherwise it doesn't layer well and is evident on the skin even after applying sunscreen. I did find that it made my skin brighter but the layering issue is what will prevent me from repurchase.

My Favourite Vitamin C Product!

I love love love ASAP's vitamin C, I have tried so many other brands and this one is by far my favourite. It brightens my skin and helps me get rid of my acne scarring. Have purchased quite a few times, and am always happy when I do! Great product, highly recommend.

A Go-to

I'm onto my second bottle of this now, and love how bright it makes my skin look. The formula as a slight citrus smell, and seems to have changed from a thicker paste to more liquid but still works the same. I have oily skin and this doesn't make me break out.

Stings my skin

I don't have sensitive skin, but this serum made my skin sting. I have used several vitamin c serums and haven't had this problem. It feels quite dry as soon as you rub it in, which some people might like, but i didn't. I really wanted to love this, but unfortunately its not for me.

Hydrating

I use this mixed with a vitamin b/hylauronic acid as the first thing after cleansing/shower. I find this is best so it has the right texture and doesn't ball. Then I follow up with moisturiser, sunscreen and make up - keeps my skin hydrated all day. I have even noticed a difference on my hand where I mix the two - it's silky smooth! I use it everyday, but if it is new for you, work up to it as it ...

Read More

Half & Half

I trialled this product in the gift set and wasnt dissapointed. it did give me a nice glow and keep my skin hydrated but i'm note sure wehther that was contributed to the other products in the kit. I didnt like the smell of it and i found the texture to be a little off. I found i needed to mix it with the B serum to get a good consitency otherwise it seperated and clumped up on application...

Read More

Really strong

This serum is quite potent. 20% ascorbic acid. I find it stings when I apply, and breaks me out. I'll be sticking to SkinCeuticals CE Ferulic. I do like the consistency and bottle though!

Pleasantly surprised

Received as a gift and wasn't sure what to expect. The consistency feels so luxurious and soft! Also applies really well for me on top of a hyaluronic serum. A bit of a tingly sensation after you first apply too.
I usually use drunk elephant vitamin c but this has become my fave :)

It's okay..

I bought this serum as I have been using the Vitamin A and B serums from ASAP and have really loved those but I just don't think this one measures up to them. It feels lovely on (though you definitely need to mix it with the B serum or it pills) and does give a beautiful instant glow but over the last 4 weeks of daily use I don't think it has made a significant difference to my skin, unfortunately...

Read More

Love this!

I received a sample of this with one of my orders. It was a really beautiful texture and left my skin looking vibrant and glowy. It is also super affordable compared to some other vitamin C serums on the market.

Good

I like this vitamin c and it gives my skin a nice glow over time

Love this!

I received a sample of this with one of my orders. It was a really beautiful texture and left my skin looking vibrant and glowy. It is also super affordable compared to some other vitamin C serums on the market.

Good C for oily skin

This is the first vitamin C serum that I have been able to wear on daily basis as it does not make my skin super oily (which vitamin C's tend to do for me). I have been using this every morning for about 2 months, and whilst I am seeing good results they are not as drastic as the results that I had from other oil based vitamin C products... still looking for the perfect vitamin C!

Super Bright

Love this for brightening. Smells really lovely and consistency is really great.

Love this C serum

Vitamin c serum is long touted as a heavyweight for reducing pigmentation. I've been using a cheaper brand for some time and getting minimal results... one week with ASAP Super C and my pigmentation is drastically faded. Can't wait to see what it's like in 3 weeks!

No

I really disliked this product. The texture is really strange and unpleasant and my non-sensitive skin got really stiny using this. Not a fan at all.

Strange consistency

I used this via the ASAP platinum collection. It was the only serum I really didn't like. The consistency is strange, it doesn't spread on the face well. It also doesn't mix with the B serum particularly well, it takes a while to combine the two. It tends to pill on the face as well. Won't repurchase this one.

Pretty good

I've been using this for months now to give it some time.

The texture is better than the ordinary vitamin c for sure - quite a smooth cream, absorbs quickly.

The results are ok but nothing really noticeable. I'm looking for brightness and to fade some pigmentation, dark spots, under eye circles and acne scars. Maybe my skin is a bit brighter but nothing else has changed.<...

Read More

Texturally weird

I am a fan and multiple product user of ASAP but this product is not going to be a repeat purchase. The best way to describe, like others, is that it feels almost powdery. I've found I cannot apply without mixing with my Vitamin B serum. It pils so if I apply other products too soon afterwards it flakes off. It feels quite intense if applied without the mixer and I found it a bit sting-y

Mixed Review

I like this best when mixed with the B serum...on its own my skin finds it too strong and I experience a tingling/burning sensation. I have also noticed that it tends to stain my pillowcase. However, I do think I notice some visible difference the next day in my skin.

Not my favourite

This serum does the job, however it wouldn't be my first recommendation. I saw better results in other C serums.

Tricky to apply

I got the super c serum as part of an asap bundle, and it is the only product that I don't love. It doesn't absorb well which makes using it a bit tricky. I mix it with the asap b serum before applying and sometimes it works and sometimes it doesn't, which leads to it pilling on my skin throughout the morning.

Velvet feel

This product leaves the skin feeling velvety and soft. The smell is fresh, light and nice. Easy to add into my routine in the morning. Too soon to see the benefits but at this point I would buy again.

Didn't love this at first

Didn't love this product at first as it felt really tacky. I heard Joanna mention on the podcast that this works really well when mixed into another serum (asap b) now I'm in love and would definitely recommend. Serum glides onto my face and feels super smooth afterwards!

great step up from basic brands

i got a generous sample of this as a gift with purchase. It goes on buttery soft which, having oily skin i don't like the feeling of but once mixed with asap super b complex it feels so much better and lighter. Not sticky and sinks in well. No issues under sunscreen. Haven't tried with makeup yet but I'm sure it would be fine. Ive been using for 4 weeks and have now run out. My skin is slightly br...

Read More

perfect

great price point for a better quality skincare range. Smells like a burst of fresh oranges every morning. Layered it over hyaluronic acid we without pilling, having tried over anything else. Texture is silky smooth and absorbs without any sticky residue I've been used to with previous bit c items I've tried. No harsh stinging or reactions from my sensitive oily skin. i have used for approx 3 week...

Read More

It Feels Weird

I'm not a fan of the powdery consistency with this one. It's one of those C serum products that doesn't work well with other products. I only layered my sun screen on top and it did that thing where it went bally. Good thing is though, because of the consistency, it kind of helps mattify my oily skin.

Give it time!

I was sceptical at first as it made my skin slightly dry (applied after cleansing, toning and B serum) however, I stuck with it and now I can't live without it! I actually find it very moisturising and has really given my skin a glow!

Decent vitamin C serum

It's a decent vitamin C serum, but I feel like there's better ones on the market. It's not bad though.

Loving it!

I think this is a great vitamin C product. It does not go on sticky or tackey, easy to wear under make up, and smells great. I've ordered this product 2x now and will keep it in my routine!

Fruit tingles!

For me- this products smells nice, tingles- I'm fine with that But doesn't feel like it spreads very far and the reason for the low star rating. THE PUMP! It Is terrible. After the first month or so of use I noticed really having to shake and tap the bottle to get even one full pump out. I hope they review the packaging soon. Real let down to a good brand. I won't repurchase again because of this

Smells like oranges

One of my favourite vitamin c. Smells exactly like oranges. Has definitely made my skin heaps more brighter and clearer looking. I feel like I have a natural glow now/ I don't even have to wear foundation anymore

Brightening serum

I mix this product with a asap super b serum in the mornings and love it. My skin feels soft and looks glows. When I first used this product it did briefly have a burning feeling however this disappeared after a couple of uses. Will definitely buy this product again

Vita c

So far so good
What I loved it was because it doesn't make my skin sticky.
Love the texture aftwards

Love it!

I love this serum, I use it daily with asap super b and my skin looks so good! It's helped so much with sun damage I couldn't live without it. I recommend it to all my friends!

Awful

I bought this as a cheaper alternative to Aspect's Vitamin C serum....... I will never repurchase this product again. I mixed with the ASAP Vitamin B and on both occasions it has left a pink/orange tinge on my skin which is highly visible. I liked the consistency but the pink/orange cast is not acceptable.

More like vitamin see the results for yourself

I love this vit c serum. It is so silky smooth. Love mixing it with super b. This is great for rejuvenating and brightening

Very smooth and reasonably good

I only have Miranda Kerr's Kora brand Vit C to compare this to (which was quite good in itself). I mixed this with a Vitamin B product I have from another brand (on the advice of other reviews) after I performed derma rolling at home, and it didn't flare up my skin which was good. My skin also looked quite nice after...however, I feel like there might be better brands out there.

Beautiful serum

I am very impressed with this serum. It has a lovely silky texture and melts into the skin beautifully. I have noticed lightening to my pigmentation and really notice a difference if I go a few months without repurchasing. This serum has become a staple in my skin care regime.

Very good but stings a little

This has definitely improved the fine lines on my forehead however it does sting a little on my skin. Settles very quickly and is very manageable. Im still using it because the results are great!!!

Average Vitamin C serum

I really wanted to like this serum as I am a big fan of ASAP products, but overall, I would say this is a pretty average Vit C serum. I didn't notice any real difference in my skin and found that it would pill if layered with sunscreen or cc cream - which I haven't found with other vitamin c serums I have used. I'm sure it could work for some skin types, just didn't work for mine.

LOVE THIS

I don't usually use vitamin C serums but I LOVE THIS! It tingles on my skin at first but it glides on like buttered a little goes a long way, I really feel like its helped with dark pigmentation and I love how soft my skin looks =for the whole day when I apply it in the morning un der my SPF.

Beautiful texture & super soft

I always use this serum with the Super B Complex serum. They mix so well together & apply beautifully.

I've used this on it's own and it's a lovely texture. I find it to be very gentle upon application which is nice, I've tried other brands Vit C serum and they can be very concentrated and harsh.

Nourishment for my aged skin

Beautiful product for outdoor activities and age prevention . Application is faultless, easily absorbed.

Good Vitamin C

I bought this when it was on sale and I think it's one of the better vitamin c serums I've used,. I've noticed an improvement in my skin, although sometimes it feels a bit gritty, overall it applies smoothly with a bit of tingle which I don't mind.

Okay

I tried this serum as part of the platinum collection and it was my least favourite from the set. I didn't like the dry feel of it and felt it didn't absorb very well. This one was not for me.

Brightening and soft

This is very brightening for the skin. I sometimes find that it tingles a little but its not bad. It smooths out on your skin very well. I love mixing it with the vitamin B serum

Love this

I love this stuff it smells and taste like oranges lol! It has helped my dull skin look beautiful and glowy again

Great

Over time,, this product has made my pigmentation less visible. It is a bit expensive though

Great texture

I love to combine this vitamin c with my vitamin b in the mornings. Both serums mixed together go on my skin really well. When used by itself I try not to rub this in to much as it feels a bit oily, however it always sits well under my sunscreen and makeup and doesn't cause any piling.

Good

I like using this after my face has been exposed to the sun to replenish and brighten

Not sure

This helps smoothen my skin but I have not seen any difference in my pigmentation. I am not sure if it's worth the price tag.

Average

I love this brand but Im still undecided about this serum. Its not bad but you have to be careful you dont use too much or mix with too many other products or it will just ball off your face. I do notice a small difference in my skin, but nothing more then other vit C serums Ive tried.

Not good

This serum stings my skin every time I put it on. Texture is awful and has very strong silicone feeling. A lot of residue left on my fingers after application. Do not recommend.

Good

I love this product, beautifully matched with asap B serum.

Great for pigmentations.

I used this last year for about four months and each week I saw a big difference to my face, especially with my pigmentations. The price is decent & I would without a doubt recommend this to anyone.

Brightening

I can definitely notice a difference in brighter skin. I have some very faint acne scars, and over the couple of months I've been using this I can say it has really made a difference to that redness (slowly but surely). The texture is quite strange but my moisturiser goes on nicely over the top of this serum.

Lovely Serum

Have been using this for a few weeks, and can't believe how quickly my skin has gone from dull and congested to bright and glowing!
I use it in the morning mixed with the asap Super B serum - I haven't had any issues with it pilling or feeling overly tacky like some other vit C products I've tried.
Will definitely continue to repurchase :)

Good

Smells lovely, good texture and non greasy. Skin is hydrated.