MAKE UP FOR EVER Ultra HD Foundation 30ml
4 instalments of $16.75
Or 4 instalments of $16.75 with
LEARN MORE
4 instalments of $16.75
Or 4 instalments of $16.75 with
LEARN MORE
Official Stockist
Is this for you?
The MAKE UP FOR EVER cult-favourite Ultra HD Foundation creates a flawless natural coverage, invisible to the naked eye. The Ultra HD foundation feels like a second skin, yet this unique formula can achieve medium to full coverage. This light-diffusing liquid foundation is perfect for everyday wear, as it blends seamlessly onto the skin, concealing imperfections, leaving skin fresh and immaculate.
Skin Type:
Normal to dry

Normal to oily

Oily
Frequently bought with
Please wait while we find a match
Questions & Answers
(1 Question)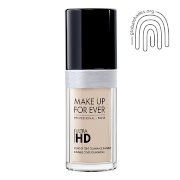 MAKE UP FOR EVER Ultra HD Foundation
Get an expert to answer your question about this product!
MAKE UP FOR EVER Ultra HD Foundation Reviews
83% recommend this product
Most Helpful Positive
Love it
Very smooth and wet , I have very dry skin so it works well for me
Most Helpful Criticism
Not worth the price.
Sorry I can't give this a good review as I have much cheaper foundations that perform better. I like a liquid finish but this left my skin feeling greasy.
Love it

Very smooth and wet , I have very dry skin so it works well for me

Excellent Product!!

best foundation which i ever used. love it !

My go to foundation

Like this foundation for everyday I always get compliments when wearing this.

do NOT buy if you have oily skin

Heard a lot of good things about this foundation and was excited to try. However, I was very disappointed when it turned out to be one of the greasiest foundations I've ever tried.
Now, I admit, I do prefer more of a matte finish over dewy but this foundation just stayed oily and felt like it didn't set on my face at all. Even after applying a good amount of translucent powder to try and bl...

Read More

Lived up to the hype!

This foundation is so great, I don't know why it took me so long to purchase it. It has a beautiful medium coverage finish but it can be built up. I like applying it with a beauty blender. I was nervous purchasing online as i have done this in the past with expensive foundations and matched the shade incorrectly but i managed to match the shade after googling lots of swatch images.

Lovely foundation, good coverage, not heavy

Really lovely foundation. I feel like you can still see my skin but it does a nice job of evening out skin tone and covering imperfections. Not drying at all. Natural finish.

One issue was I used the colour match and it was way off - 2 shades too dark when I went to get colour-matched in store. I am keeping the darker one for summer/when I have fake tanned so not a total disaster but ...

Read More

light and easy wear, doesn't go oily

When I initially opened this, it was so sheer that I needed to use quite a bit to get proper coverage. After some time it was gotten better though, maybe after some exposure to air after being opened? I quite like it now, it feels so light and doesn't go oily. I got Y235 Ivory Beige which has a more yellow-ish undertone.


Glowing Goddess

I originally purchased this from another retailer and was absolutely blown away! I have re-purchased this many many times and to now find it is stocked on Adore is freaking fabulous.

This product is hands down the best and has a silky soft finish that can be layered if you are going out or sheer with a damp beauty blender for a natural look. Wow! The formula is long lasting and just ...

Read More

Not good

I like the water blend foundation from this brand but this is not good. It looks patchy and doesn't even blend in, it dries too quickly for that.

Wonderful for Light Coverage as you get older

Im in my thirties now and this foundation is wonderful. There's no cake factor happening, there's no sinking into my larges pores or laugh lines after an hour or so. It's wonderful and light coverage that works. It layers fantastically. It works well with cream or powder products on top. I go in search of other foundations and always come back to this because it is so reliable for day time or nigh...

Read More

Amazing product!!

I'm absolutely in love with this foundation!!!!

Natural look

Medium coverage but beautiful look. Not heavy

Amazing

Best foundation! Makes the skin look flawless without being too heavy. highly recommend!

Worth the hype!

This is an absolutely gorgeous foundation that is absolutely beautiful foundation. Easy to apply, great shade range, blends well and has a beautiful finish! It also lasts very long and photographs beautifully! I don't think I'm going to be buying any other foundation again.

Beautiful, flawless finish!

Love this foundation! I sometimes mix this with my Giorgio Armani luminous silk and use a beauty blender to apply, I always get compliments on my skin when I do this. I find it to have more coverage compared to Luminous Silk foundation which I like. I find this foundation to be long lasting, and it seems to look nicer on my skin as the hours go on

Skin-like foundation

Have purchased this foundation three times over the years. Highly recommend for a natural, skin-like looking foundation that doesn't crease however I find it oxidizes & cakes if I apply a second layer.

Light coverage - drying on my skin

I tried this foundation for 3 months. It is definitely a light coverage. My skin felt dry underneath and it had a pinkish undertone. I had to stop using it as my skin felt so uncomfortable.

Beautiful skin like foundation

This foundation is a beautiful no frills product. Being fragrance free I found it perfect for my sensitive acne prone skin. It's beautiful when set with Laura mercier translucent powder, it lasts all day and doesn't break down. Highly recommend

100% coverup for Acne

Ive used this foundation and adore it for full coverage. When i have really bad breakouts and blotchy spots, i reach for this foundation. Colour matching is easy and its also super easy to huildup coverage depending on problem spots. Not too oily or cakey feeling, theres a reason makeup artists love using this stuff! Glad us common people have access to it :)

Great range- only light coverage.

This product has a great range of colors to suit all skin tones, however I would not agree that it is a medium coverage it is definite a light coverage foundation and it does take quite a bit of product to build it up close to a medium coverage. It has no flash back in photos and looks great on the skin when you can get the right coverage needed. I have re purchased this foundation many times as i...

Read More

Fantastic

Wore this on my wedding day. It is such a beautiful classic foundation. Can get full coverage when layered. I put on so many layers of this foundation because I was worried about my hyper pigmentation showing through and no matter how many layers I put on it NEVER looked cakey. Really look at swatched online or go in person to test as finding a match can be a little tricky.

Poor coverage

Unfortunately I find this foundation still shows all my imperfections, the coverage is so bad (cheaper foundations work better). It's super funny too and I find it just slips off my nose and chin

Good Coverage

Always so highly recommended - And now I see why. Give it a go for yourself!

Not worth the price.

Sorry I can't give this a good review as I have much cheaper foundations that perform better. I like a liquid finish but this left my skin feeling greasy.

Dark shades

I picked the wrong colour- they seem to be darker in this brand.

OK

3.4 stars as I find that this foundation for me only works well when mixed with another foundation. The texture isn't my fave, lasting power is OK

Favourite to use

I have combination-more oily skin and this product leaves me looking dewy and natural finish without looking oily. Build able coverage which is perfect for a day and night foundation, no flashback aswell. One of my two favourite foundations to use

Favourite to use

I have combination-more oily skin and this product leaves me looking dewy and natural finish without looking oily. Build able coverage which is perfect for a day and night foundation, no flashback aswell. One of my two favourite foundations to use

It's ok

I have normal - slightly oily in some areas - skin. Although I think the coulor is amazing, it slips off my face throughout the day. I'd only use for an event. Overall I like to purchase a foundation that is medium coverage and that can last me all day with few touch ups, don't think I'd purcahse this one again to be honest. Great for an event.

My top pick for foundation

I started using this foundation a couple of years ago after a makeup artist recommended it to me and I've used it ever since. I have combination skin and regularly get break outs and have found this foundation (coupled with the brand's concealer) works really well in evening out my skin tone. It also looks great in photos. Highly recommend.

Great foundation

This is an excellent foundation. I really have enjoyed using it over the years. It can be a bit heavy but i love it for nights when i need the extra coverage

Great foundation

This is an excellent foundation. I really have enjoyed using it over the years. It can be a bit heavy but i love it for nights when i need the extra coverage

good for dry skin

nice color range, you can choose you best foundation. it is good for normal to dry skin, and it gives you a natural glow, love it

Nice finish

This has a medium coverage that's buildable and doesn't feel heavy on the skin. I have oily skin and this controls the oil and gives a very nice finish. Stays on all day too.

Bottles of the stuff

Due to buying off the internet, I have three different shades of MUFE Ultra HD so I will be using this - for a long time. To be honest, I wasn't wowed by this foundation like I had been with others: Giorgio Armani, Huda Beauty, Fenty Beauty and Estee Lauder.

But as I have so much of the stuff and everyone swears by it - I want to do the best by it so will invest in the MUFE blending ...

Read More

Light weight and blends perfectly.

It is amazing! It sinks in perfectly into my skin and just enhances my tone and glow. Most people don't even notice that I have a base on when I wear this. I cannot feel it on my face when I wear this, it sinks in so perfectly. I absolutely love this one.

A classic

This foundation is a classic for a reason. It is very buildable, a satin finish and looks beautiful in photos. However, it does have a tendency to highlight dryness and fine lines.

Super Natural Finish

Its the best ever foundation! Gives you that medium to full buildable coverage! Seems like skin! It gives you the natural and fresh radiance and is looks real smooth! If youre looking for some high end foundation which will give you the results, this one is to go for!

Great!

I find that as the day goes on, this foundation only looks better. love it!
This foundation is super lightweight, goes on really nicely and is very buildable.

Great foundation

This is probably in my top 10 foundation. This has a medium to full coverage. Gives a flawless finish

Good

A good foundation for my combination skin. Has to be set with powder in the T-zone but overall pretty good.

One of my favourite foundations

This foundation is great for my combination skin. It gives a natural satin finish and feels really light on the skin. The shade R220 is a good match for my fair skin with pink undertones. The coverage is medium.

Not the best

This foundation for the way it's priced is not the best. I have dry skin and it settles into those fine lines eventually even though I have primer underneath and set this with powder and apply makeup setting spray. There are better foundations for the same price or even less price.

Med to full coverage

Medium to full coverage, not as matte as the estee lauder double wear, but more hydrating.

My go to

Love this foundation medium to full coverage fantastic for combination skin gives a flawless looks.

Love this!

Buildable high coverage foundation which is great for combination skin. The texture is light and it doesn't appear cakey. Good for special occasions because it's long lasting.

great foundation

it gives me a medium coverage perfect fir natural makeup up but it is also buildable. it has a pretty good colour range

overall performance is above average

actually the best color i want is R210, unfortunately, it's always out of stock. The second brightest color i bought is doing a not-bad work. Coverage effect is just so-so, but it appears quite natural. It's saying that this foundation is good for any skin type, so that if you are a green hand and have no idea about which foundation to choose, you could give it a go

Fabulous liquid foundation!

I've always struggled with foundation with combo skin - foundation slides off my oily t-zone and clings to the dry patchy parts of my cheeks.

Make Up Forever Ultra HD is the best I've found that manages both well. I blot it on with a damp beauty blender after my usual routine and finish off with MUFE matte powder compact and I'm good to go for the day.

It doesn't feel c...

Read More

Good Staple Foundation

This is a good foundation. It used to be my go-to, but I have since found others that I prefer, however this is still a great, classic foundation. It has a gorgeous natural finish that can be sheered out or built up, so it's very versatile. Amazing shade range too!

Great for peeps in their 30's

Very light on the skin & natural.
Looks really good in photos but not full coverage.

LOVE

This foundation is super lightweight, goes on really nicely and is very buildable. I find that as the day goes on, this foundation only looks better. love it!

LOVE

This foundation is super lightweight, goes on really nicely and is very buildable. I find that as the day goes on, this foundation only looks better. love it!

The best colour range and coverage

The best colour range and coverage. It's one of the best foundations on the market. Only downside is that it's quite expensive.

So nice and light on the skin

Feels great and leaves my skin with a lovely finish.

Makes you look airbrushed!

This foundation is amazing for evening out skin tone and lasts all day! It doesn't stick to my dry patches and feels super hydrating. Beyond happy with this purchase!

Not the best, not the worst

I've been using this foundation for a couple years now and whilst it's not the best foundation, it also isn't the worst. It took me some time to work out how to use it with my skin, to get the right coverage and to make it not look cakey. The coverage is definitely not the greatest, I suffer with acne and acne scarring and this has a hard time covering it. I find it clings to hair and dry patches ...

Read More

Wonderful

She doesn't mark or crackle. It makes the skin look younger because it does not mark wrinkles or expression marks. The coverage is great, it covers stains!

Fav Foundation - and I have tried them all

Love this foundation, I have been using it for years. It gives such a nice flawless finish.

I have normal to dry skin, I'm 34 and this foundation suits my skin perfectly. I have not felt the need to try any other foundations since discovering this one **love heart eyes emoji**

Perfect!

A friend reccomended this foundation to me as I had started a new job as a flight attendant, and needed a good all day product, and let me tell you... it is fantastic!
The colour match feature on their website helps immensely if you're not 100% sure on the colour you'll need, and they'd definitely have a colour for you as the range is quite large.
I am usually a matte foundation girl, ...

Read More

Looks so good but breaks me out

My skin has never liked liquid foundations so I cannot fault this product. I had my makeup done once and they used this, it looked so SO good. I looked airbrushed in all the photos as well as in real life. It did not go thick and cakey and held up pretty well on my super oily skin. Unfortunately the very next day I woke up with clogged pores and cystic acne all over and knew immediately what had c...

Read More

ONE OF MY FAVS

I heard about allot on this foundation so thought id give it a go

I really love how it gives you a full glowy coverage without looking caked on

Its probably one of my favorite foundations and i have used so many different brands

Amazing for photos

Makes your face look flawless in photos, good for dry or combo skin. I mix it with another higher coverage foundation mostly.

Beautiful foundation

This is one of my favourite foundations. I use the shade R220 and have pale, combination skin with cool undertones. This is a medium coverage foundation but it's buildable to full coverage and it really does feel like a 'second skin'. It feels like I have nothing on my face. It's natural-looking but covers redness, blemishes, everything and when set properly (the translucent MUFE Ultra HD pressed ...

Read More

really good for dry skin or normal skin

really good for dry skin or normal skin

Good use for dry skin

feel good for dry skin, bought two times

Love this foundation

I have mature dry pigmentations and this foundation covered everything so well but left my skin looking natural. I have sensitive skin and prone to breakouts with products even though I'm 50! This product did not do this and it photographed so well. Light weight bottle which is great for travel. Highly recommend this foundation and I think this brand is underrated.

Great

One of the best foundations i have used. It gives medium coverage (buildable). The texture is not too thick, also not too lightweight, it feels like my 2nd skin.

Great colour range- not so great coverage

This product is great in regards to their range of color selection, it's also fantastic for photography as there's no flashback
however I don't love the coverage as it's only light to medium and I seem to go through the bottle very quickly as it takes a lot to build up coverage


Love it

Really great foundation that you can actually build to fill coverage. Feels lovely and looks great. Not great when my skin is having a really dry day as it tends to crease, but it works well on a normal day

STUNNING on the face

This foundation is perfect for a full glam look, but can be used for a more natural one, as it's very much a medium-full coverage foundation. It covers all my imperfections without feeling heavy on my skin. Definitely recommend

Love this foundation!

I have very oily skin and this still has such a nice natural finish that doesn't leave me looking oily! i Set with the laura mercier translucent powder and it lasts the whole day!

Great coverage

This is a great foundation. Provides great coverage but doesn't look cakey.

Too cakey/heavy

I used this on its own and it was so heavy and thick it drowned my skin so I used this mixed with my hydrator for a more subtle look but wouldn't buy again as I don't love super thick makeup!

Leaves skin flat

Good foundation for photography and heavy coverage, but it makes skin look kinda heavy and not so smooth. Makes your skin look flat instead of glowy.

Great!

Great foundation that is a nice amount of coverage but doesn't look cakey and leaves the skin looking flawless and healthy

Fave

One of my favourite foundations! Somehow doesn't make my skin look mask-like or cracked even on dry skin. Doesn't look excessively oily at the end of the day either

Most amazing skin like foundation!!!!!

This foundation is simply beautiful!! It photographs amazingly, it's the most buildable foundation, from light coverage and build it to a full coverage! Couldn't talk higher about it.

Good for everyday wear

I really like this product but I don't love it. What I do like about it is the fact that it is really light weight and doesn't feel heavy on your skin. The colour range is amazing! You will no doubt find a colour match with this foundation. I find that the coverage is medium. For me it doesn't reach full coverage which is why I don't love it. I use this foundation for every day wear and also use i...

Read More

Great product

This is a very good product and I feel that the shade is just right. I do find the consistency a bit runny, and as others have mentioned I wouldn't say that this is full coverage. I have dry skin with some pigmentation and find that it covers that fairly well once built up, but still need concealer for spots etc.

Good product

Pros: not oily and long time with makeup.
Cons: my skin has some spots and this foundation cannot cover spots, mostly. So I recommend double wear more, that can cover most spots on my face. But, at least, this product can stay long time.

Natural

I try a lot of foundation products. So far this is the most natural look I have tried. Seems to have a good colour range. You can build coverage, but personally I would not call this a full coverage product. You would definitely need a good concealer for scars or blemishes.

One of the best!

I use this foundation in my makeup kit. The coverage is full but not cakey, shade range is amazing and the foundations, sits nicely on the skin and photographs great! Also great for oily skin, will not budge! One of my all time favourite foundations, definitely lives up to the hype

excellent

love this so much absolutly reccomened its so good and so blendable

Great for nights out but too heavy for the day

I really love this foundation for a night out on the town. I like the coverage and it lasts very well throughout the evening/night. Not such a fan for day to day wear, found it a bit heavy for my liking. Bonus points because they have a super pale shade which is great for me for the middle of winter when I get super pale.

Not such a fan...

I found this foundation made me a little grey cast and it made me look a little lifeless. Perhaps the shade wasn't quite right. I found it clung to dry spots also and the pump broke in the first month of use. Might work with the right primer and some more love but didn't work for me!

Love it

Great natural medium coverage foundation. I use it daily.

Too heavy for my liking

I found this foundation really thick and heavy. It has high coverage but I just didn't like the way it felt on my skin. Didn't feel natrual at all

Didnt work for me

Im thinking because of oily skin - might be better on a dryer/normal type. Just separated everywhere. Really disappointing!

Combo

This is great for combo skin. I don't get too oily, but it still calms by dry patches. Great wear time, full coverage and amazing shade range.

good foundation for nights out

love that this foundation does not give flashback in photos. has a very nice finish but i wish it had a little more coverage. overall good for someone with good skin

Winner!

Really really gorgeous. I really love this foundation and find myself reaching for it day to day. Beautiful shade range aswell.

good colour tones

i love the way their colour range blends very effortlessly with my skin tone, i find it can get a bit of product build up when applied with beauty blender in the corner of my noce and mouth but when buffed out with a brush it looks seamless on, defs stays all day and looks awesome on and i have combination skin

Great everyday foundation

I love that this is so light and wearable during the day but I can totally wear it at night too! Lovely foundation and the colour range is insanely good!!

An okay foundation

I don't love this foundation as i feel like sometimes it can get cakey and too thick. But, it does look beautiful in photography and last pretty well.

However, there are many foundations that are better than this now, so don't think i will repurchase

Not for oily skin. r230

I have textured skin, an oily tzone with mild dryness on my cheeks and jaw. The foundation, while matching my skin tone well and performing flatteringly within 30 minutes of application, starts mildly separating at 4 hours of wear time, with oil breaking through on the 2 hour mark. It doesn't progress beyond a mild separation on my skin, but does become very, very shiny and will transfer off easil...

Read More

Perfect shade and finish

This foundation give you the perfect finish for an everyday or evening look, easily layered for a full coverage look or lightly applied for day

Flawless finish

As a makeup artist this foundation is everything, even full coverage without Looking cakey or heavy

It is THE ONE

After trying many different brands, this is the one to go. every day or going out, it is an amazing flawless build able foundation that stays on all day long. LOVE

Beautiful Foundation

Love this foundation, leaves a beautiful dewy finish. Lasts all day with minimal touch up. Great selection of shades to