M.A.C Cosmetics Pro Longwear Concealer 9ml
Skin Type:
Dry
Normal to dry
Normal to oily
Oily
Frequently bought with
Please wait while we find a match
Questions & Answers
(1 Question)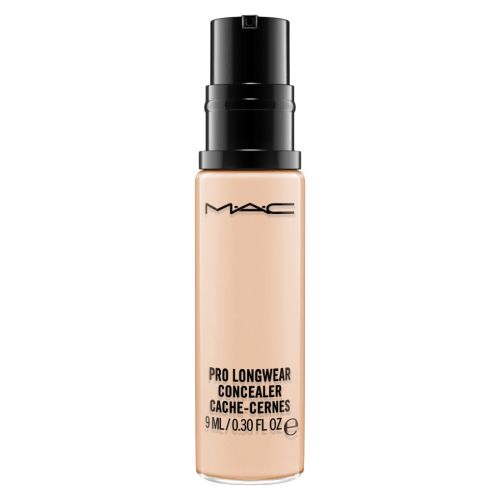 M.A.C Cosmetics Pro Longwear Concealer
Get an expert to answer your question about this product!
Ask a Product Question
90% recommend this product
Most Helpful Positive
Really good coverage
I'm in love with this concealer stays on all day!
Most Helpful Criticism
not bad
perefect concealer that covers my acne, i noticed it can oxidise a little overtime however
Good coverage

Good coverage for a concealer, which is the most important! But I find the concealer with the sponge applicator is much better and great for on the go to cover up a pimple. This pump makes it much more difficult for this use

Great product but expensive

Great product but expensive for 9mls.

not bad

perefect concealer that covers my acne, i noticed it can oxidise a little overtime however

Really good coverage

I'm in love with this concealer stays on all day!

Fab

Love this concealer so much it covers all my acne and black circles it's great to wear everyday weather it's for a natural look or full glam

great formula

this concealer does all it claims, it does not crease and provides coverage all day long. however for the price i feel that there are cheaper alternatives that are just as good out there if you're tight on money

Awesome

works really well, a little pricey but has a lot of product in it

Lovely

finally found the perfect concealer it covers all my blemishes perfectly

too thick

and creased like crazy under my eyes. feel like im wearing an eye mask. gave it to one of my friends and she loved it.
i have oily skin so i thought it would be good for me but my skin just didnt like it

great concealer

This concealer covers everything and lasts all day! Downside is that it can be a little drying, especially in winter so I always make sure I use a good moisturiser with this.

Stays put

This doesn't crease and stays put! Better for normal to oily skin as it does lock down in place. Great coverage!

Not the best, but not bad

I found that this concealer was very heavy and that a little bit went a long way. It did not look natural though unless I wore it with a heavier coverage foundation but maybe that was just me. Great if you have big bags under your eyes - I found it did very well in covering under eyes more so than other brands.

Does wonders

In between I have tried other products but none cover up my dark circles under my eyes, and leave no crease marks like this one does. Perfectly blended in with a beauty blended to give me flawless looking skin to cover up any blemishes! Such a great concealer.

A little goes a long way

This concealer is full coverage and lasts all day on my oily skin without looking cakey or dry.. A little bit goes a long way so this lasts me so long!

Love this concealer

This concealer is my absolute favourite. Full coverage and lasts all day long. One pump is plenty and covers all your imperfections to make skin look flawless. Have purchased this product several times.

Best concealer

This is my favourite concealer I've ever used and I've been a makeup artist for 16 years. It lasts forever and has amazing coverage.

Super high cover but cakey

I found the coverage almost too much and it caked my skin throughout the day, not good for under eye at all. Not sure about this one.

Best concealer

I hardly find a concealer that would work for my skin. Then I tried to buy this one. Really good doesn't crease around the eyes. If you apply just enough it's great but don't forget to moisturise your skin.

Great concealer

This concealer brightens, corrects and covers all that does not wish to be seen! A little goes a long way ad I have found that it doesn't crease and blends well. My only qualm is that the bottle it comes in. I often find the pump provides more than I need in one application so I feel I am wasting some product.

Good product, poor packaging

I love this concealer, it sits nicely over makeup and doesn't crease if I blend it out with a damp sponge. Huge range of shade for every skin tone. This is a setting concealer so you have to make sure its blended before it dries or you're stuck with it. Only problem is the pump dispenses way too much product, a little goes a long way.

Last super long on my skin

I went to Japan in summer and just use it on my skin. It was so humid and hot all day long. I thought it will disappear from my skin but it is still there! I just dont like how it is dispense.

Great long wearing concealer

Blends really nicely, long wearing, I only really use it under eye and now that I've reached my 30s it does settle a little into fine lines but no where near as much as many others I've used.

a staple

It provides the perfect coverage and it blends in with any foundation I use. Love it!

Full coverage!

I love this concealer. I like the packaging (contrarily to many other reviews, I do not have any trouble dispensing a tiny amount) and I love how hygienic it is. The product is quite liquidy and applies and blends out so nicely. I find that it makes a very good eyelid primer as well. It does not move or crease all day and if the under eye area is well moisturised, it will not look crepe-y or dry out during the day. It provides such high coverage as well. Love this comcealer!

Amazing coverage

Honestly hard to fake. For how full coverage it is, it's super natural and very easy to work with! Colour range is good too!

My go to product!

This conclear would have to be my favourite make up products! can use it by itself on problem areas with a light powder over the top or under foundation to give a full coverage effect. Absolutely love it!

Creamy & Full Coverage.

Great for dark circles under the eyes, as an eyeshadow base on the eyelids, and to cover blemishes. Its thick but covers really well. I like to set mine with the MAC Pro Powder to make sure it doesn't budge all day.

Terrible concealer!

Thick, drying formula not suitable for mature skin.
Makes under eye area dry and emphasises lines and wrinkles even after primer application. Will never repurchase this product and not recommend to anyone over the age of 35.

Great coverage but quite heavy

A great high coverage concealer but with baking/powder it becomes a bit much and I find that it settles in my fine lines

Angie

Recommend this product! very pigmented so a little goes a long way and doesn't crease on me. great for a quick concealing. the only downside I see on this product would be the pump coz its hard to control how much product comes out and 1 pump for me is definitely too much so I think its a waste if you end up pumping too much out. also the bottle is glass so not very travel-friendly and once you drop it it's gone and have to be replaced. Other than that, i really like this product.

High coverage and super long lasting

I wore this concealer in summer for 14 hours. It was still on my face even though all of my makeup already gone. but it can get a bit heavy and don't like the pumping system

Perfect for dark circles

Light weight, full coverage for my dark circles, love this product

Under eye bags - boy bye!

This concealer is perfect for covering up those stubborn dark rings under my eyes! This concealer glides on and stays in place all day long! You also only need the tiniest bit, so a little goes a long way!


Great Full Coverage Concealer

This is probably one of the best full coverage concealers on the market.

Amazing for those with skin concerns such as rosecea, dark under eyes, scarring etc

I specifically used it for my under eyes and it did an amazing job in covering the darkness however i would recommend being light handed with the product and ensuring to set with a decent translucent powder to avoid cakeing.

This concealer has a tendency to settle into fine lines so be sure to blend out well before setting with powder to avoid this.

good for under eye bags/circles

this Mac concealer is really good for under the eyes, helps with bags and prominent lines. I have been using this for a few years now! really good coverage!

Great for covering up spots

This is a great concealer for covering up red spots. I use it regularly. It's expensive but worth it. It just works so well!

Great full coverage concealer

This concealer is the most amazing concealer, I have very uneven skin tone. it's a full coverage and you only need to use a tiny bit at a time. The only thing I'm not a fan of this the glass bottle that it comes in as I accidentally knocked it off my vanity and it broke into pieces.

Stays all day without creasing (Shade: NC15)

This concealer is really good for all-day wear compared to others I've tried. I have dark circles and my eyes naturally crease with every 'creaseless' concealer. This actually lasts all day without creasing and I'll definitely repurchase when I run out.

Great concealer overall

This is a great concealer for covering your under eye bags. It is full coverage so a small amount goes a long way. It has a very thick consistency and you only have to use half a pump or less. Would recommend for any one looking for full coverage concealer that will cover up almost anything. It also has a wide variety of shades which is great.

Provides excellent coverage, but I find it a bit too heavy

I find this concealer provides excellent coverage, but I find it a bit too heavy. It's a little overpriced too, I definitely think there are better concealers on the market for that price.

Most perfect concealer!

This is the one concealer I always go back to. It is the most perfect shade, NC25, which is brightening and cancels out my dark circles. I always use this on top of a Bobbi brown concealer and its perfect

Excellent Concealer

I use this concealer when I really need to conceal. Excellent coverage, I use a beauty blender to apply. You only need a small amount, unfortunately I find the pump tends to pump too much and the bottle is glass, so be careful not to break it!

Matte Finish

My go to for a more Matte finish.

FAVOURITE!!!!

I love this concealer! It's definitely my all time favourite concealer! It has good coverage and lasts really long!

Best concealer

Best concealer ever! You can make it look like skin but I only use a little bit

Best concealer I have ever used!

This is the best concealer I have ever used. Amazing coverage and matches my skin colour perfectly. Would definitely recommend.

Great when you need extra coverage

This concealer applies and blends out sooo nice, its great for when you're going out or need a but of extra coverage then normal. It doesn't get oily and is quite good at being creaseless even without setting it.

I love this concealer and haven't bought another one since purchasing it.

BEST coverage

I haven't found another concealer which compares to the coverage and longevity of prolongwear concealer. My go to for a long day at work or night out.

worth it

This is a thick concealer but it really does the job and is great for times you need that extra coverage or longevity

Perfect for under eyes!

This concealer is perfect for covering up those stubborn dark rings under my eyes! This concealer glides on and stays in place all day long! You also only need the tiniest bit, so a little goes a long way!

Not my favourite

I tried this concealor after hearing good reviews and I did use it fully, however, it would not be my favourite choice for concealor. I believe that one pump is a little more than necessary and the formula is slightly drying which is not ideal when you have fine lines etc. Would definitely prefer a lighter, more hydrating formula but this one does provide full coverage if that is what you are after!

NC20 fan club!

I am obsessed! It's the only concealer that glides under the eye and cancels out the purple bags (not cute) I love this product! Works really well against the red and purple in my skin, perhaps due to the slightly pink undertone.

Great concealer, use it as a foundation

I love this concealer so much, I actually use it as a foundation! It's one of the best I've tried. I have fair skin and green eyes and use the NC20. Glides on like a dream.

high coverage for dark circles

this product is excellent for very dark eye circles as it is the most full coverage concealer i have ever tried. It does feel a bit heavy under the eyes but it is worth it. definitely needs to be set with powder

Shades!!

Really great medium coverage concealer, just not enough shades.

It lasts

Great, thick formula that blends and lasts all day

Great

amazing coverage yet looks natural, great shades aswell

Long Wearing

Gives really good coverage and stays all day. Always a re purchase of mine. I love to add a pump to my light weight foundations for just a little more coverage without being too heavy and it blends so well.

Good coverage concealer

This is a really good coverage!

lightweight

This is a lightweight concealer which provides a high coverage under my eyes. It doesn't crease when set with a powder and the coverage lasts all day.

Use this everyday

This is my number one concealer ever! Its such full coverage and blends in really well.

Good concealer

Ive been using this concealer for about 2 years and absolutely love it. I have dark circles which are normally difficult to conceal.
This conceals them very well and I love the consistency of the formula. Stays on all day without creasing. Blends well.

Best

Best concealer I have ever purchased. I would recommend to everyone

Great

full-coverage concealer to cover all blemishes. love this but only thing i would want changed is the applicator

Easily covers my imperfections!

This concealer does a great job of covering my under eye circles and really makes my under eye area look more refreshed. It is a creamy formula and easy spreadable. Overall, it is a great quality concealer!

Nice

This is a nice concealer. Not the best but it is a good one.

good product

really spreadable and easy to work with, looks beautiful once set with a good powder!

Good coverage

This has good coverage, but I really dislike the packaging for this product!! The pump dispenses too much product, and for a small tube, a pump is not necessary at all - leaves alot of residue around the tube and is a waste of product

Bad packaging and iffy coverage

Let me just first say what everyone else keeps saying in the hopes that one day MAC will realise their packaging sucks and they need to reinvent it!!! The glass of the bottle is really thin and very prone to smashing. Also, the pump delivers way too much for if you just want to cover a couple of blemishes. It's very very hard to "half-press" it to get less product.

Also, I found the colour and coverage were not great on me. I have pale skin, and all the shades are just too yellow for me, and they oxidise. They also fail to cover darker blemishes properly, so if you're looking for something to cover a very red pimple or very dark circles, dark pigmentation etc, this will not work.

high coverage and long wearing!

I've used this concealer for years and love it! I always go back to it as it's really effective in covering dark circles and blemishes.

It's more of a matte finish and does not crease too much around the eye. Also works as an eyeshadow primer!

The only issue is the pump can be really difficult to use as it's quite small and dispenses a lot of product in one pump which I find wastes product. So I try to only use half a pump!

Best Concealer!

I love this concealer. Its a great colour match with my skin. Not too thick and lasts for a decent amount of time. Definitely recommend!

Great concealer

A good one for spots & discolouration - doesnt cake too much which I love and great colour range

High coverage

LOVE! High coverage that smooths on nicely with fantstic blendability!! Will purchase again

Thumbs up!

Great long lasting concealer, i have used this product for years!

Its good but not the best

It does the job however it doesn't wear well it shows your wrinkles and dries up throughout the day . It basically doesn't set the best

Fantastic

This is my HG concealer, I love its coverage and lightness. that is a hard balance to find! It does fall into creases like other have stated but a good primer can sort that.

Great coverage but does go into creases.

I use this just about every day and the coverage is great you can just blend some of this onto your dark spots and off you go! The pros - its full coverage, non greasy, not too thick or dry and hasn't given me any reactions. The cons - being in my late 20's i have a few wrinkles forming under my eyes and this does seem to stick into the lines a bit and I have to really buff it out with my powder after to get rid of this.
The bottle is also pretty small and impossible to open if you wanted to scrape every last bit out. But on the plus side the pump mechanism is great and easy to use!

Lovely

An all round great concealer! Long lasting and not drying. Great range of colours for all skin tones!

Amazing

Fantastic coverage and great formula concealer.

Blemish blaster

A little goes a really long way with this one, full coverage and doesn't budge when it sets, I usually put this concealer on first and then go over with a little face and body by mac which is very light weight to sheer out the coverage of the concealer when i need too or if I'm wearing during the day. If there's ever a blemish i need extra help concealing, this is what i reach for.

Pretty good

A really nice concealer that works really well for everyday wear. Easy to blend and has really good coverage!

Really good concealer

Great concealer for my chronic under eye dark circles, does not settle and crease, works well with loose setting powder. Full coverage and long lasting. I sometimes blend this out as foundation as well when I feel a bit lazy. Great match to the MAC Pro Longwear foundation as well.

Full Coverage Under Eyes

Very thin and liquidy, it gives amazing coverage under the eyes and does not move. It does however dry matte, so if youre looking for something hydrating and creamy this probably isnt it. It also doubles as an amazing eyeshadow base.

Good for under eyes

Love this concealer for under the eyes! Its great because it:
- does not settle into fine lines
- does not cake
- long lasting
- excellent coverage
Some concealers can be too trying to thick but the consistency of the Pro Longwear Concealer is amazing. Never had any troubles with it and def recommend

Strong Coverage Concealer

I cannot get enough of this product! I pair it with the MAC pro long wear foundation, or on its own when having a lighter makeup day!
Stays in place all day and brightens undereyes/red spots.
Slightly heavy consistency, but expected for a long wear concealer.

VERY full coverage

I love this concealer because it is so full coverage and literally hides my racoon eye bags so well. But the only issue is that sometimes it can be patchy and a bit drying and application is very on consistent. Besides that i think a hydrating moisturiser/eye cream will help to make application smoother. Very happy with the shade range too!

okay

I mainly use this product under eye for dark circles. It gives good coverage and is long wearing. Downside is definitely the dispenser – I feel like I am often wasting product as is distributes too much in one pump. I do like that the bottle is glass so you can see exactly how much is left.

Not for me

I have slightly sensitive skin, but RARELY is it set off by makeup - it has only really reacted to certain skincare or tanning products. I don't know what it is about this concealer, but my skin HATES it. While applying it with a beauty blender (which work perfectly with my other concealers), it goes patchy, starts coming off, and my face starts heating up and a rash begins to form. I tried it many times with different primer/foundation combos and experienced the same result.

Great coverage concealer

This is a full coverage concealer that works wonders on under eye dark circles. However, I have to apply this with a light hand as it can get very dry looking and cakey under mature eyes.

STAPLE

Honestly, which one of MAC's products isn't a staple for me?! I love this concealer - it is everything a great concealer should be; creamy, blend-able, build-able and there is a great colour selection to match their foundations. I have tried many concealors and always come back to this one. I use a light colour under my eyes to brighten every day and bake it with translucent powder.

all time fave!

This concealer is in my honest opinion is amazing. It can be worn on a blank face when you don't want to wear make-up, or can be worn on top of foundation. It doesn't crease and it is what the name states, LONGWEAR. Love with product, and definitely recommend to anyone.

Great concealer

Can wear this lightly or build it up. Really versatile. Can also use as eyeshadow base

Great if you like full coverage

This concealer is easy to build to a full coverage and it doesn't feel too heavy. Such a wide range of colours being a MAC product!