Lancôme Advanced Génifique Yeux - Youth Activating Eye Cream 15ml
4 instalments of $28.00
Or 4 instalments of $28.00 with
LEARN MORE
4 instalments of $28.00
Or 4 instalments of $28.00 with
LEARN MORE
Official Stockist
Is this for you?
Lancôme combines Génifique Technology with Buckwheat Extract in this unique formula. The refreshing gel texture helps reduce the appearance of fine lines and under-eye bags. The eye area looks brighter, more refined and radiant, as if infused with life.
Frequently bought with
Please wait while we find a match
Questions & Answers
(1 Question)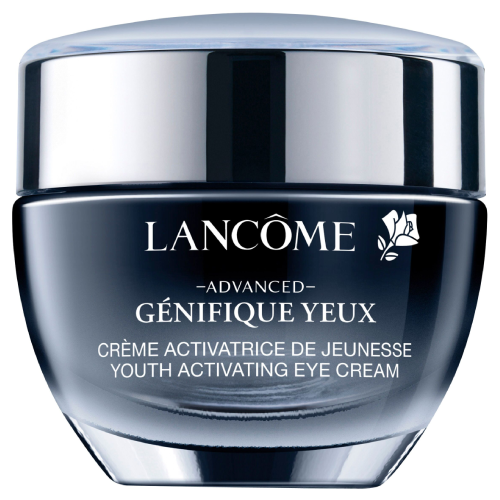 Lancôme Advanced Génifique Yeux - Youth Activating Eye Cream
Get an expert to answer your question about this product!
Lancôme Advanced Génifique Yeux - Youth Activating Eye Cream Reviews
83% recommend this product
Most Helpful Positive
Good
Love this eye cream, texture is light. twice a day .very useful
Most Helpful Criticism
Too lightweight for me
I used a deluxe sample from a gift set I bought. I have a bit dry under eye areas and I feel this is not moisturising enough.
Good

Love this eye cream, texture is light. twice a day .very useful

Good product

Suitable for summer use,like.it.

Youth eye cream

suitable for age 18-25, it helps with dark cycles but not fine lines, also not moisturise enough for dry skin.

Good

moist and doesn't strip the skin.

Light and not greasy

I got this as a sample it's light but quite hydrating.

Good

It makes a great base for concealer, sinks in easily and is non greasy but it is also not very hydrating for my dry under eyes. I have to go over with another eye cream on top of it.

Too lightweight for me

I used a deluxe sample from a gift set I bought. I have a bit dry under eye areas and I feel this is not moisturising enough.

good

the texture looks creamy but is easily to be absorbed. It helped with dark cycles but not very effective in terms of reducing the deep lines.

Feels powerful

This rich eye cream is a quality product and seems to be working. I have only tried it though so can't comment on its effectiveness over time. I think it would best work in synergy with the entire Lancôme routine.

Very hydrating eye cream

I am loving this eye cream, light texture but once applied, give you a very comfortable and hydrating feelings. I am really enjoying using it and have recommended to few of my friends too!

helpful for dark circles

I dont have many eye issues at the moment except for dark circles (always work overnight) and I found it can help with the dark circles... not get rid of them entirely but helped~ and its not very sticky and feels light and refreshing

Feels intense

I love this product, I feel as though it gives strong intense moisture to my eye area. Would highly recommend

great morning eye serum

It has a light lotion consistency and very moisture on the eye. I like to use it in the morning and brighten up my under eye area.

light texture but no improvement

It is very light texture and easy to absorb in. It seems no any improvements for my dark circles and fine lines. I won't purchase again.

Hydrating

received a sample size of this. It is absolutely amazing! Glides over your eyes nicely and soaks in well. Very hydrating

Improves dark circles

I received this as a sample with my recent purchase and have been using it daily (day and night) for a week. Early days but I can already see some slight improvements in my dark circles which was unexpected. The eye cream is light and easily absorbs into my skin, as well as having a lovely smell that isn't overpowering. The sample was a small bottle however a little goes a long way!

perfect eye cream

I received it as a gift with purchase, I tried this cream for two weeks. It's light and not greasy. It's especially suitable for oily skin. It can relieve dark circles and brighten eye skin.

Love it

I actually love this product. After receiving a deluxe sample, I've used it everyday until it finished. I actually noticed my under eyes become tighter and less puffy. I would love to purchase the full size however the price is a little high for the quantity.

So beautiful!

I received a sample of this product and was amazed at how beautiful it felt on my skin around my eyes. The skin looks and feels more hydrated, and although I was very impressed by the product I don't think I can justify the price.

Bit pricey

This is a nice eye cream that absorbs well into the delicate eye area without being greasy. However I did find it a little thicker to apply then I usually prefer for my eye creams and the price is a little too high especially as I didn't notice any visible appearance from using it.

Beautiful on the skin

I received this in a sample. A really lovely cream that absorbs quickly without being greasy. The price point however - Ill look around

Old Lady Luxury (love it)

This is a stunning product, though expensive I can understand why, it's firming, soothing and enriching to the skin. I love having this product because I keep it for special moments I want to feel luxurious and loveeelyyy

Amazing!

This is a beautiful and luxurious eye cream, I feel amazing when I put it on and it absorbs wonderfully into the skin with ease. Highly recommend!

Hydrating and fresh

This eye cream has hugely helped my fine lines and dehydrated under eye area. My eye area looks brighter and more rested and it is a dream underneath concealer. Love it!

Too pricey

I got this as a deluxe sample and didn't have any issues with it. I don't tend to use specific eye creams and so couldn't justify the price for the small amount you receive, although a little goes a long way.

Light and effective

I will definitely be buying this after trialling a sample of this product. It makes the skin around my eyes feel firm and well hydrated without feeling greasy. It has a very light pleasant scent.

my first high-end eye cream

This is my first luxury eye cream purchase, I still love to use it now, still amazing result every time I used it

Worth it!

Being a big fan of the youth concentrate serum from the same line I decided to try this eye cream and I am so glad I did! It s a lovely creamy texture with a light pleasant scent that soaks in quickly leaving the eye area plump and brightened. I have problems with fine dehydration lines under my eyes and this really helped to smooth them out in just a few weeks!

Fab eye cream!

I receive samples of this eye cream frequently with an advanced genifique purchase and I love it! It keeps my eye area soft and more hydrated with less fine lines from dehydration while also applies so smoothly and a little goes a very long way! Expensive but worth it!

Luxurious

I received a sample of this eye product and found it smoother onto my skin so nicely and really increased the flow around my eyes, and reduced the appearance of wrinkles. Perhaps a bit too expensive but I will consider purchasing a full size tub.

Great for hydrating skin under and around eyes

Great for hydrating skin under and around eyes, I think this one is well worth the investment.

Best eye cream

This product is so worth the money. It has reduced my fine lines and my eye area looks brighter and is more hydrated.

perfect texture

i like a light weight eye cream, this is the perfect one.

Pleasant but not my top choice

I received this as a gift. Having used the whole bottle, I don't think it's the most effective eye cream I've used, for this price point you could find better and more effective ones. The smell and texture are pleasant and gentle, makes a nice night time routine. But if you were looking for significant results I probably wouldn't recommend this one.

Gentle but no results

All I find this good for this moisturise the under eye area. I haven't noticed any improvement on my crows feet.

Good results

This product gets results without being too heavy or greasy. Good for use am or pm. Lovely light texture with a smooth finish once applied and no residue.

Plumper Eye Contour

I'm a big fan of Estée Lauder Advanced Night Repair Eye but when I received a sample of this I was keen to try it out!
This eye cream definitely helped reduce fine lines under my eyes and when paired with the pearl eye serum from Lancôme it also visibly brightened my eye area. A lovely, effective eye cream!

Very creamy

Very creamy and hydrating on the eye area but unfortunately I haven't noticed any visible improvements as of yetZ large tub

Haven't noticed any changes

Very creamy and hydrating. Comes in quite a large jar. Have been using for about 4months now and haven't noticed any changes unfortunately

No results

Very large jar for an eye cream so will last forever! It's very creamy and doesn't ever seem to aborb into the skin, rather sits on top, And I worry it's just wiping off onto my pillow at night.. I haven't noticed any dramatic changes under my eyes. However I'm hoping it will prevent aging in that area

worth the $$

This is a quite expensive eye cream but for me totally worth it. I have great results in terms of reduced dehydration lines around my eyes and less dark circles. I would highly recommend this product.

lovely skin feel

feels great on the skin - works well. will purchase again

Wonderful lightweight eye cream

Have found it so far to be a good lightweight eye cream. Has helped with general puffiness under the eyes. Honestly cannot review on long term effects as only received a sample size.

I love genifique eye

This product is the best thing that lancome sells. If there are people out there that say it don't work, i would question weather they are putting it in the wrong place. So many people put in right under the eye and not on the eye bone. I love all of the GENIFIQUE line.

Lightweight

Even though this is a very hydrating cream, it is still really lightweight, making it very comfortable and nice. I think it layers really well with the genifique eye serum. After using both together, I really do think my undereyes look brighter and fresher.

Lovely Eye Cream

This Lancome Youth Activating Eye Cream is lovely and feels gorgeous on the skin. It is a bit pricey but it is long lasting. I would recommend this eye cream for anyone looking for an eye cream with visible results.

Nice eye cream

This is a nice lightweight eye cream that absorbs quickly. I've noticed after a few months of use that my eyes look less tired and my dark circles slightly reduced.

Lovely

This is a really great gel-crème eye cream that helps reduce dark shadows and lines without causing puffiness. I've received a couple of samples of this and love it. That said, I simply can't bring myself to spend this kind of money on an eye cream, so will have to use it only when I get the occasional freebie or GWP.

Results!

This has got to be one of the few times I've bougt a beuaty product and thought - "yes, this is working". I definitely can see results and feel that underey puffiness (my key issue) has been reduced. I would try the rest of the range but it is a little pricey, but I would definitely buy this product again.

Pleasantly surprised by quick result

I don't buy into the hype of skin care products, but am seeing some real results with Lancome lately. I have had good results with Genifique Youth Activator and Visionnaire so thought I would give the Genifique Youth Activating eye concentrate a go. I have seen a significant reduction to my crows feet already, in only a couple of weeks. Looking forward to further progress.