Shop Anthelios - Sunscreen
---
Protect your skin from the sun's damaging UVA/UVB rays with products from the La Roche-Posay sunscreen collection.

The Anthelios suncare line comes in SPF 15, 30, 45, 50 and 60 formulas so you can choose the perfect product for your skin type. The La Roche-Posay Anthelios 60 Ultra Light Sunscreen Fluid is a fast-absorbing, ultra-light cream that provides your skin with water-resistant protection for up to 80 minutes.

Give your skin a light, sun-kissed glow with products from the La Roche-Posay Tinted Sunscreen collection. This line includes the Anthelios 50 Mineral Tinted Sunscreen for the face and the Anthelios 50 Body Mineral Tinted Fluid. Both formulas are lightly tinted and protect your sensitive skin with powerful antioxidant complex to protect skin against harmful UV rays.

For extremely sensitive skin La Roche-Posay Mineral Sunscreen collection is a great choice. In this collection, try the Anthelios 50 Mineral Fluid. This sunscreen contains different sized sun filter particles for optimal sun protection. It is non-whitening and water-resistant for up to 40 minutes.
Recent reviews on Anthelios - Sunscreen products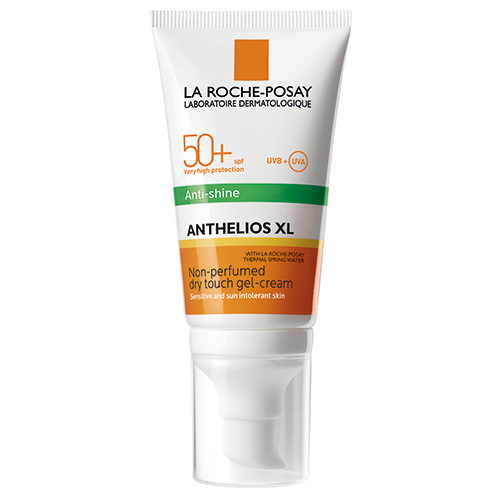 La Roche-Posay
La Roche-Posay Anthelios XL Anti-Shine Dry Touch Facial Sunscreen SPF50+
$31.95
$27.47
Perfect for oily skin.
Finally a sunscreen that doesn't leave your skin with white patches and that feeling of greasiness.
I have extremely oily skin in my T-zone, but very dry around the lip area.
It is very hard for me to find products that hydrate my skin without leaving it to oily or too dry.
This sunscreen does it all. It has the highest SPF protection, plus hydration, plus mattifying effect = pe...
What people are looking for the most