KEVIN.MURPHY Maxi.Wash 250ml
Is this for you?
A deep clarifying shampoo to strip unwanted product residue and excess oil that can build up in your hair.
Cruelty Free
Vegan
Australian Made
Sulphate Free
Hair Concern:
Dull, lacking shine

Fine or limp hair

Flaky scalp

Oily hair

Oily roots, dry ends

Product buildup

Thinning hair
Frequently bought with
Please wait while we find a match
Questions & Answers
(2 Questions)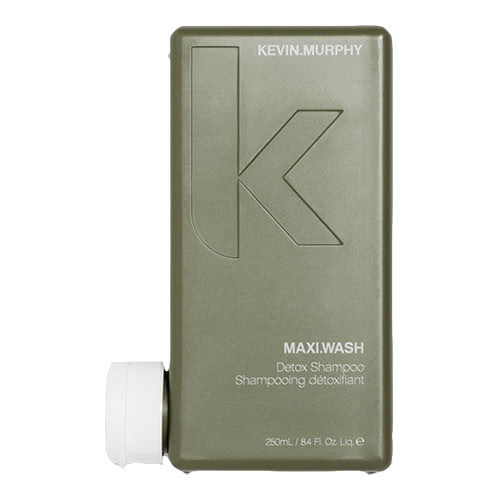 KEVIN.MURPHY Maxi.Wash
Get an expert to answer your question about this product!
64% recommend this product
Most Helpful Positive
Nice and thorough!
Love this for eliminating oily roots and keeping colour fresh. My new favourite


Most Helpful Criticism
Good deep wash
This wash doesn't foam up or make your hair feel nice after washing and is very tangling but it's a deep wash as described and only for use once a week
Nice and thorough!

Love this for eliminating oily roots and keeping colour fresh. My new favourite



Squeaky clean

I have found that I need to shampoo my hair and then use this product - or double maxi wash my hair as my hair can get pretty oily. I love that this product deeps cleans your hair without it being fluffy when dry like others. I noticed a difference in my hair style, longevity and cleans away build up really well.

Leaves hair clean

I purchased this as the other Kevin Murphy shampoos don't seem to get all of the oil and product out of my hair. This wash gets everything out and definitely leaves my scalp feeling clean. The tea tree oil has a nice cooling feel on my scalp which I love.

Great for blondes

This is great for blondes if you over tone your hair it removes excess toner and evens it the surface. I lovvvvve the smell too. Always feels so clean after

Love it

This is the best maxi wash, makes my hair feel completely new, gets all those left over hair products and oil out.
Would highly recommend.

Good deep wash

This wash doesn't foam up or make your hair feel nice after washing and is very tangling but it's a deep wash as described and only for use once a week

Average

I love their angel wash shampoo but I found there was not enough lather with this maxi shampoo. Although i expected a really intense clean, I used more product to feel as though my hair was clean.

Decent clarifying shampoo

I like this shampoo for clarifying my hair once or twice a week after using silicone styling products and to help with itchiness and dryness on the scalp, but I've definitely found better products that do the same job more effectively. It leaves the hair feeling slightly dry and almost squeaky clean. Smells divine. Would recommend if you don't really use many styling products in your hair and just want a deep scalp and hair clean once a week or so.

wow

This shampoo is amazing for oily haired people like me who also have a bit of dandruff! Ive noticed this wash helps so much more than normal dandruff or oily hair shampoos!

Another good Kevin Murphy product

I decided to branch out from my usual Kevin Murphy shampoo and try this one. It has a lovely fragrance and works well on my naturally wavy, colour treated hair.

Great clarifying shampoo but leaves my hair a bit dry

My hairdresser recommended this to me and I bought from Adore, It's a lovely, natural shampoo but I worry it makes my hair dry and I probably won't repurchase.

Strange consistency

I bought this product wanting something that cleanses my hair of all the build up, the packaging is absolutely perfect for use in the shower, but I was shocked when I put it in my hair, be warned this product doesn't "lather" up at all, it goes into your roots and feels very stiff and drying. It definitely removes all the build up, but my bleached blonde hair felt stripped even after following it up with a heavy conditioner. Just be warned, your hair will feel brittle and dry when using this.

Detoxed and tangled

I found this definitely removes build up. I use a lot of dry shampoo and hairspray on my fine, extremely oily hair and this shampoo really gets it squeaky clean, but I need to wash and rinse twice. The only problem I had is that it left my hair very tangled and knotty, which I never experience with such oily hair! Have had to use way more conditioner than I normally would!

Removes Toner Build-up

This is the first clarifying shampoo I've found that doesn't make my hair feel like straw. I have very light blonde hair, and sometimes over-tone or get build up making my hair look dull. This is the perfect way to remove the excess toner and leaves my hair looking much brighter. It also smells amazing (in true Kevin fashion).

Maxi super good

I've used the samples received with my order and really like this product. It gives a clean feel and softness in the hair.

The conditioner of this brand is also super good.

It worked for me.


Great for cleansing hair

This product was recommended to me by my hairdresser for cleansing my hair before having it professionally coloured. Once rinsed out my hair feels kind of like straw, but this feeling soon disappears after a conditioner is applied, and my hair does feel lovely and clean afterwards. Great for ridding hair of built up product.

Not a fan

I use alot of Kevin Murphy products, but just not sure what this one was meant to do. It just felt like a normal shampoo. I also found that I had to use heaps of product because it didnt foam up. And it smells average. So it's a no from me.

Removed product!

This Shampoo removed the months of styling product build up I had! Such a life saver! My hair looks much shiner and my roots had a lot more bounce! Yippee!

Good deep cleanse

Great if your hair needs a good wash! Great deep cleanse for the first shampoo

Not sure

I bought this to use a clarifying wash once a week to get rid of all the build up but found this to cause my hair to feel really corse and dry. I love KM products but this one isn't for me. My partner on the other hand loved it for his hair!

Deep Clean

If you hair/scalp needs a good clean this wash will do it. It made my hair feel squeaky clean without feeling dry or stripped which can be hard to find. It lathered really well and I found it to be quite gentle on my scalp. I also liked the smell.

Not great

I'm a big fan of KM products, but this one was a waste of money. It smells horrid and does nothing special. It's runny and you can easily use too much because it doesn't lather like the usual wash products. My hair feel stripped, dry and brittle after using this.

Greasy hair

I have used this as a clarifying shampoo once a week.
I have dry ends and oily roots.
This is a very runny liquid, it will run straight out of your hand if you're not careful.
I massage it into my hair and wash it off and my hair immediately feels stripped, rough and dry.
I have to always use a hair mask with this product.
Afterwards my hair feels clean and nice.
But by the end of the day my roots feel greasy. I usually can last two days with a wash, but with this my hair feels oily the same day.
I think it's too stripping and makes my hair overcompensate with the oils.
And the label is very annoying, it's those ones that show one image the if you tilt it you can see another image. It's a cool concept but it makes it really hard to read, you have to make sure to angle it just right.
It has a nice botanical scent though.


Divine Wash

This wash has allowed me to only wash my hair once a week - my hair and scalp feel so clean but not dry after use. I do use a hydrating conditioner on my ends after every wash. I haven't used any brand other than Kevin Murphy for over 5 years now.


Not a fan

Love KM products but loathe this one! I have an oily scalp and bleached hair so it's difficult to find a shampoo that cleans the scalp without drying the ends. This one sounded good and as suggested, I paired it with a hydrating conditioner. I find that the non foaming consistency makes it feel like I can't really scrub my scalp. It makes my hair feel instantly heavy and dry and it's hard to work. When its washed out my hair doesnt feel as awful as I think it will but still not great.. My hair lately has been really fluffy after blow drying and also gets quite knotted and heavy. I believe it is this product and have discontinued use. My hair feels like it's in worse condition after regular use. I was using the KM balancing prior and my hair felt and looked amazing. I dont recommend this without trying first.

don't love it

This is the only KM shampoo I haven't loved, it doesn't do much for volume for me and leaves my hair feeling a bit gritty and dirty, also makes my hair knotty far quicker than usual. Not a fan.

I'm liking it, but...

I've used detox style shampoos before and they are great for a 2 step cleanse. I find this Kevin Murphy one good, but you can easily be heavy handed with it. It doesn't soap up like other shampoos which you'd expect but just be careful for reaching for more. I find using too much of it it doesn't wash out properly and you're left with an oily scalp! But use it as directed and it's a nice addition to your haircare routine, not sure yet if it's essential or not.

Ok

Received a sample of this but I feel like I needed a lot more product than the sample I received because it doesn't really lather like other shampoos. Whilst it doesn't good job of cleansing the hair, especially since I have super oily roots, I did find it a bit stripping.

Made my hair very dry

I received a free sample of this and was excited to try it, but was disappointed. I had to use more product than I would with my normal shampoo, and it left my hair feeling extremely dry. It does smell nice, but I wouldn't use it again.

Good detox shampoo

I got this as a sample it is good to clarify your hair once a week to get rid of product build up this does a good job but it's very runny almost like water but does work

A Shampoo that doesnt foam or make my hair feel clean

I received a sample sachet to try. I followed the instructions, but found the shampoo hardly lathered up and didnt feel that my scalp was completely washed despite giving a longer time to massage through my scalp. After conditioning and drying my hair, my scalp still felt a bit greasy despite the extra time I spent. I have normal, long blonde hair and do not generally have issues with shampooing my hair. Unfortunately, I feel this is an over-priced product that didnt meet my expectations, so I would not recommend I am afraid.

Good detox shampoo

I received a 100ml bottle of maxi.wash and was excited to try it. I loved the lemony scent, but first time using it found it difficult to lather and it didn't do much for my hair. The second time I used it, I used twice as much and got a nice lather and felt that it really cleaned my hair. I used it after swimming and my hair felt squeaky clean and fresh. The texture is quite runny so it's hard to put the amount you need without wasting some, and you need twice the usual amount to get a good lather. It did the job in the end but not sure if I would purchase a full sized bottle.

Removes build up for fresh feeling hair!

I really put this scalp shampoo to the test. I'm embarrassingly talking about over a weeks worth of dry shampoo kind of test! I popped this shampoo on after reading up about it, so I wasn't surprised by its non lather and let it sit on my scalp for a while after msssaging it in. I rinsed and followed with my usual hydrating shampoo and conditioner and voila! A hair makeover. My scalp had not been so clean in a long time! My hair is dry and I didn't find this product to be drying when followed with other hydrating hair care.

Fantastic cleanse

Received this shampoo as a mini gift and love it. I suffer from oily hair and feel this shampoo really cleans my hair well. I will definitely buy the full size version.

A must have!

I use this every week or so to cleanse my hair and scalp of product build up and since using this in addition to other products from Kevin Murphy, my scalp has become a lot less irritated and itchy, no matter how many products I have used. This is a definite must have and will be purchasing again for sure!

I love this wash.

This wash has allowed me to only wash my hair once a week - my hair and scalp feel so clean but not dry after use. I do use a hydrating conditioner on my ends after every wash. I haven't used any brand other than Kevin Murphy for over 5 years now.

Squeaky clean

My hair is fine and I use a lot of different products - if I don't clarify once in a while, my hair gets dull and flat. This is a brilliant product to use for a clarifying shampoo once every week or two; I use it in conjunction with Christophe Robin Cleansing Purifying Scrub for a squeaky clean finish and a clean slate. While I always follow with a treatment conditioner, this product doesn't overly strip or dry out the hair. Does what it promises. Highly recommended.

so so

i like it because it made my color treated hair smooth after the wash but could not see other benefits of it very clearly. maybe because i just tried one of its sample. but it does gives a nice body to the hair and cleanse it from all the product build up in the hair.

Works when you're careful

I have long hair, almost hip length. The ends are somewhat fine and prone to dryness but my roots get very oily. I work out every day but can't wash my hair more than 2-3 times a week so I live off Oribe's dry texturising spray which is very hard to get out.

I used the KM detox on my roots and WOW. I let it sit and it didn't lather when I washed it out, then I used my hair growth moisturising shampoo by another brand and it lathered up like you wouldn't believe. So the KM DETOX really does clean your scalp and get rid of all the build up. I'm very careful not to use it on my ends though, as I can see how it's super drying. So not good for everyone, but excellent if you have to use a lot of product daily. My hair was so silky and clean for longer than normal after using this and I found I didn't need as much dry shampoo on the days after washing.

Love love love!

I absolutely love this clarifying/cleansing shampoo for my oily and dark hair to ensure it remains clean and shiny and there isn't excessive product build up. , However if your hair is coloured dark, I wouldn't recommend using it in the first couple of washes after a colour.

Gentle yet effective cleanse

This shampoo almost ran through my fingers but it did the job of deep cleansing without stripping the hair so that right through to the ends of my hair it looked both clean and condiitoned

Cleansing but a little harsh

Received two samples of this (with two orders) and I felt it was a little harsh on my hair. Could maybe even say it felt like it stripped it a little of moisture. It didn't foam up like most shampoos and I had to use both samples to cover my hair because of that. On a positive note it was really cleansing and I can say after I washed it out and conditioned my scalp felt really cleansed and no oil which was pretty good.

Perfect for someone with oily hair

I received this as a sample with an order - It would be perfect for someone with oily hair. It cleansed really well and removed any bit of oil on my scalp. Definitely makes your scalp feel really cleansed. I didn't like how much product I had to use though - The sample was quite big and it barely covered my hair and I dont have thick hair. Didn't get soapy/foamy like most shampoos either. It was so cleansing that it left my hair feeling really dry (but cleansed) - I suggest putting a deep conditioner or mask on afterwards to help this. Not the right product for me personally but 100% would be great for someone with oily hair.

Great deep cleansing but gentle shampoo

I got this on recommendation from my hairdresser a while ago and really found it to be great. It helps to gently but very effectively cleanse off any build up from your scalp and hair. A must have, I think, for those of us who use a lot of leave on styling products - dry shampoo, oils, mousse etc.

A little goes a long way too so this will last you quite a while. I do have medium fine-thick hair though so I find I don't need a lot of product to work with.

Get your hair into rehab with MAXI.WASH

We all put lots of products into our hair to make it feel/look nice, and over time that will build up to congest your scalp and make you hair a bit dull and lifeless. Consider Maxi.Wash to be the beginning of a new hair story, when you need a rehab from all that product! I love to give my hair a Maxi.Wash and then treatment masque, it really helps to clarify my scalp and hair and get it ready to get all the benefits of the masque. But I've only given it 4 stars as it's a bit tricky to use, you have to check out the how-to videos (don't rub it in or try to get a lather, it's not like a shampoo!) or you just end up using it all and wondering what all the fuss is about.

best so far

Ive been looking for a cleansing shampoo for hair that has a lot of oily buildup ,after trying numerous products this is the best ive come across so far ,a little expensive and u do need a bit to get a lather but Kevin Murphy products do what they say .

Would not repurchase

Nice shampoo overall, I still needed quite a lot of product to wash my hair thoroughly. Love the brand but I wouldn't buy this again, I have oily hair.

Too harsh for curls

I wanted this to remove buildup on the scalp and for after a swim. It does do very well in removing build up and cleaning the hair, but it is very, very clean, my hair feels stripped almost. I have a very good moisturising conditioner and it almost restored my hair. A few more washes and a hair masque later, my hair was back to normal (I have fine curly hair). But for me, the clean wasn't worth the risk of having terrible hair for about a week.

Ok though exy

Smells quite nice and citrusy, thought not overpowering. Scalp feels clean but doesn't dry my hair. However, very expensive for what it is. Won't be repurchasing.

Cleanser for your hair!

I love this product! I use it about once a week followed by a treatment and it leaves your hair free from any product/pollution build up and squeaky clean without being too drying or causing frizz!!

Such a good clean!

I bought this to give my scalp a break from my regular anti-dandruff shampoo (Redken, so good) and have been really happy with the results. It cleans my scalp really thoroughly without stripping moisture from my hair. It's made my hair super bouncy, and my roots don't get oily for 3 days. Love it, will buy again.

Love it!

I use this along with the Hydrate Me rinse, and another colour shampoo & conditioner occasionally as my hair is lightened. It smells BEAUTIFUL, and does what it says. Doesn't leave my hair feeling oily at the roots (which are darker). It leaves a bit of a dry feeling after just washing it when still wet, but once the rinse goes over, its the perfect combo for silky smooth hair. Would re-purchase.

Squeaky Clean Hair

I struggle with hella oily roots and dry ends - this shampoo was a lifesaver. I use it as a prewash once a week, and leave it in for a few minutes before I wash and condition my hair as normal.
I have frizzy, curly hair so am always careful not to use products that will take moisture away. This doesn't dry out my ends like a lot of other super strong cleansing/clarifying shampoos do, and leaves my roots really shiny and gunk-free.

Rehab For Your Hair

I initially tried the Maxi Wash at my local salon, and loved the idea of a shampoo that gives your hair the kind of rehab it really needs. The kind you wish you could use to curve your eating addiction.

It wasn't until I purchased, and used it several times as a shampoo, that I ventured onto the Kevin Murphy website to get the most out of my products. What I learned, is that this is a pre-wash wash! My god, I've been using it incorrectly this whole time and wondering why it was leaving my sclap a little less hydrated.

Here's the skinny, completely wet your hair with warm water, and then grab a 20 cent piece size amount of product and rub it in your hands. Then, use the flat of your palms to run it over the top of your hair that runs along the scalp. Massage it softly with your fingers, ensuring you go under the top of the hair onto the scalp.
Grab a hot towel (I create mine by running a hand towel under hot water and ringing it out. Make sure you don't burn yourself!) and then place the hot towel over your head, pressing down softly so the steam can help the product seep through the top of the hair onto the scalp. I usually leave this for a minute or so. You want it to be used as an exfoliant for the scalp to rid it of product build up. Then, a slight massage again, and a rinse. Make sure you rinse it out completely. Follow with your shampoo and conditioner. Game changer.

deep cleaning shampoo

This really cleans my hair and is perfect when used with the kevin murphy restore conditioner. My hair is left clean and soft

Finally got my hands on this beauty!

I've been eyeing this off for months, my poor hair gets covered with product all week. On a Sunday when I use this, my hair loves me. I use a LUSH conditioner bar on the ends of my hair after I'm finished, but that's just because the wash takes away all the nasties, it does leave your hair feeling a bit coarse.
It smells like tea tree oil, and your head feels so clean! Like that feeling after a hairdresser gets to it.

Great for removing product, but not a regular shampoo

I have fine hair and so this is good for removing product build-up at the roots. However, it can't be used as a regular shampoo which I thought you could as it would be too harsh (well, for my fine hair). I would recommend once a week, then use your normal shampoo the rest of the time.

Wow

I have used this ONCE and I have already noticed a huge difference. I have an irritated and congested scalp, which gets flakes and sore. After washing my hair with this, a couple of stubborn patches of irritation have come away. My hair feels lighter and less ' gritty' too.
I used this on long fine highlighted hair with tape extensions which are dry and coarser than my natural hair. I also recommend that you use a moisturising conditioner with this unless you have quite oily hair. I used hydrate.me rinse, followed by young. Again treatment oil and it worked beautifully. Win ☺️

Best For Short Hair

It does take away all the build up of product in your hair but if you don't have an extremely moisturising conditioner to use afterwards you will be in trouble. Your hair feels so dry after using and a lot of product only goes a little way. Probably best suited to short hair or mens hair.

My husband has just discovered this and with his oily scalp it keeps his hair clean and non greasy all day. He now loves this more that his favourite daily shampoo by American Crew.

Great for removing product build up. Leaves hair lovely and clean but not stripped. Smells great too.