Edible Beauty Native Collagen Powder 85g 85g
4 instalments of $9.25
Or 4 instalments of $9.25 with
LEARN MORE
4 instalments of $9.25
Or 4 instalments of $9.25 with
LEARN MORE
Official Stockist
Is this for you?
Take your anti-aging routine to the next level with the Edible Beauty Native Collagen Powder. Formulated with 100% Plant-based Australian Natives and antioxidant-rich fruits, this ingestible powder is designed to support a healthy gut, encourage healthy collagen production and protect skin against premature ageing by fighting free radical damage.
Skin Type:
Dry

Normal to dry

Normal to oily

Oily
Frequently bought with
Please wait while we find a match
Questions & Answers
(1 Question)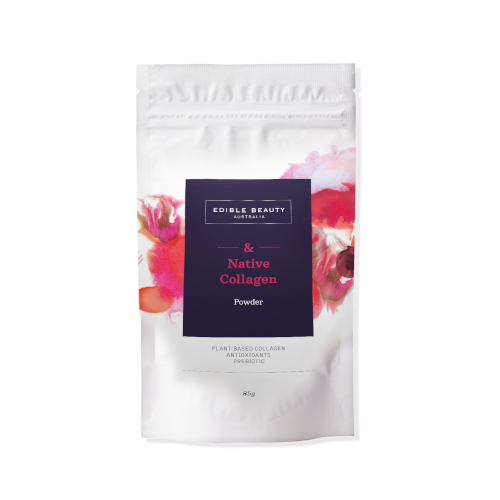 Edible Beauty Native Collagen Powder 85g
Get an expert to answer your question about this product!
Edible Beauty Native Collagen Powder 85g Reviews
83% recommend this product
Most Helpful Positive
Energy kick
Most palatable mixed with coconut water. Definitely increased energy and no side effects.
Most Helpful Criticism
Not subtle
I love that this is vegan but I'm finding myself avoiding taking it. It's not subtle enough to mix into smoothies unless you want that tart-y taste, and I find it quite hard to drink as it's quite grainy and sour.
so good

this is my favourite collagen, I love that it is vegan and the pink packaging is really pretty

feels healthy

I won't to leave another review after using for 10 weeks
I initially bought to thicken my hair.
Doesn't seem to have done much to hair but skin looks amazing and I feel so healthy.
Definitely full of antioxidants
I've never been through a winter and not gotten sick till now.
I think all due to this product.
Definitely good for health
Will contin...

Read More

Energy kick

Most palatable mixed with coconut water. Definitely increased energy and no side effects.

Great ingredients

What a bundle of joy this package is.
Amazing ingredients.
Only started to use but I'm sure will be super beneficial as the ingredient list is A 1.
I bought for my thinning hair but I'm certain will have major benefits to immune system and energy.
Skin looks improved already.

Good value

I got about 30 uses out of this packet. Great value. Also love the ingredients in it.

Good taste

Received this in the mail and I put it into some cordial and it has barely ANY taste which I absolutely love. I also tried it in some plain water and it just had a weird slightly berry taste. Has lots of great things in the ingredient list!

lots of benefits

this supposably has a lot of benefits, I don't think I have been taking it long enough to fully notice the results but I love the taste

Barely any taste - Great product

Really love this collagen powder. It has barely any taste unlike others I've tried. Has a slight berry taste but added to juice is great.

so many benefits

this taste nice and has so many different benfits

GREAT!

This collagen powder really impressed me. It has little to NO taste which I love. I hate when they have a taste or after taste. I add this one to juice or cordial and its great. I have been using a few weeks and feel great.

Edible Beauty Native Collagen Powder 85g

Yummy powder to add on to my breakfast smoothie every morning! Taste goes well with any smoothie flavour, and even taste great on its own. Subtle berry-like taste.

Not subtle

I love that this is vegan but I'm finding myself avoiding taking it. It's not subtle enough to mix into smoothies unless you want that tart-y taste, and I find it quite hard to drink as it's quite grainy and sour.

lovely taste

this taste really nice, and I would repurchase for the taste. I think it does help with my gut too

Exceeded my expectations

Have noticed significant improvements in both my hair and nail growth and my digestive health.

Refreshing and healthy

I really enjoy the taste of this powder as it has a slightly berry and floral flavour, which I really enjoy. It's also made my skin very soft and 'bouncy' quality after using it almost every day for 2 months.

Love it!

I really love this powder and will definitely keep buying it. I love that it contains ingredients that aren't very easy to get from supermarkets and saves me having to go all over town looking to get them and the fact I only need to add one powder instead of six to reap all their benefits is amazing. I love the taste, it's a berry sort of taste that's tart and I find it easy to drink. I'm yet to s...

Read More

Wished I loved it.

I was excited to try this product after hearing great reviews. Unfortunately it wasn't for me. I found it really difficult to drink as it was quite chunky even after stirring it.

Quite Nice

I haven't noticed much improvement in terms of anti-ageing, but the powder has been a nice addition to my smoothies. Will keep drinking and hopefully will see some result soon!


Chunky! Hard to drink

I was really excited to add collagen to my daily routine but this one unfortunately was not it. When added to water the drink is somehow chunky with lots of bits floating around that are really unpleasant to drink. It doesn't taste like much either, kind of a really weak hibiscus tea.

I love this a lot

Perfect for a good skin day!!! Oh my god this has changed my skin so much and I'm looking better than ever. Very impressive!

Great

I use the product mostly in my morning smoothies. But I've also made fruit and nut bliss balls with it.
The powder blends beautifully and tastes fantastic. All those wonderful nutrients, makes me feel great.

Great powder

I really enjoyed this powder. Didn't find the tastes overpowering like some other powders.. feels like it's working for me. I found this very similar to the beauty chef one

Interesting taste

I'll keep drinking for the benefits but it's very sour. Easy to drink down but was expecting it to be sweeter. I prefer the beauty chef one.

Nice supplement

I haven't noticed much improvement in terms of anti-ageing, but the powder has been a nice addition to my smoothies. Will keep drinking and hopefully will see some result soon!

Gives me all the good stuff!

I like powders. I don't believe they should be in place of what serve as the fundamentals of a healthy lifestyle - eating fresh, nutritious, mostly plant-based foods, drinking lots of water, keeping active and getting enough sleep - but they are a great way to 'enhance' already mindful habits of a holistic routine. If you've tried The Beauty Chef's Glow, then the obvious difference between the two...

Read More