Dr Hauschka Rose Day Cream 30ml 30ml
4 instalments of $16.25
Or 4 instalments of $16.25 with
LEARN MORE
4 instalments of $16.25
Or 4 instalments of $16.25 with
LEARN MORE
Official Stockist
Is this for you?
Dr.Hauschka Rose Day Cream is a daily protective moisturiser for dry, sensitive, mature or reddened skin.
Skin Concern:
Dull, dry or dehydrated skin

First signs of ageing

Sensitivity and redness
Frequently bought with
Please wait while we find a match
Questions & Answers
(1 Question)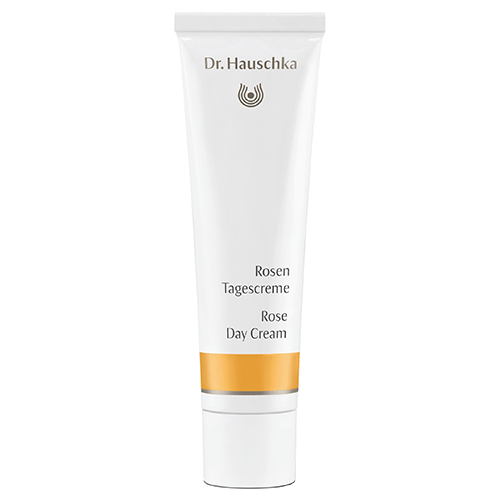 Dr Hauschka Rose Day Cream 30ml
Get an expert to answer your question about this product!
Dr Hauschka Rose Day Cream 30ml Reviews
82% recommend this product
Most Helpful Positive
Super creamy!
This is super creamy and hydrating. Smells great too.
Most Helpful Criticism
Smells absolutely amazing
Rose lovers won't be disappointed, this is the most beautiful smell. It's a soft smell that reminds me of traditional Turkish delight - not powdery or overwhelming. But the texture is a no from me- very thick and stays greasy on me, much like old school sunscreen. More suited to night I think.
Smells absolutely amazing

Rose lovers won't be disappointed, this is the most beautiful smell. It's a soft smell that reminds me of traditional Turkish delight - not powdery or overwhelming. But the texture is a no from me- very thick and stays greasy on me, much like old school sunscreen. More suited to night I think.

Instant glow, but a little thick!

Love the feel and the smell of this cream. Received as a sample so I would love to use it again and consistently to see how my skin benefits long term. It feels really nice on for a cold winter morning outside, but I probably would switch to something lighter in summer. I think my skin would benefit from this as I am constantly in Aircon which dries out my skin

Too thick for me

i got this as a sample and it was too thick for my skin. even after 2 hours of applying my skin felt greasy like i was wearing suncream.

Super creamy!

This is super creamy and hydrating. Smells great too.

Super creamy, hydrating and glowy

This is why I love Adore Beauty and the samples they provide, otherwise I would've never heard of or tried this brand. I found this cream really nourishing, glowy and hydrating - perfect for these winter mornings where I need that extra hydration and am not wearing any make up. I personally wouldn't wear make up over it as I feel like it would make my skin shiny later in the day (I have combinatio...

Read More

Big fan

It is thick (there is a light version I see) and a little goes a long way. Not for younger skin for sure, but people with dry, dull, ageing skin or those who like that dewy, thicker moisturiser will love it. I do, as it gives an amazing glow to the skin and works amazing under a foundation. Better than any primer I have used actually. My skin is great since using it (been using it with the Ord...

Read More

Great rich moisturiser

Coming into winter I will defiantly consider getting this one again. I have normal- oily skin and It's too rich for me to wear every day, so I wear it as an 'intensive' night cream. Love the smell of this product too! Devine!

So soft

I received this cream as a free sample and I love it. I love how thick it is, how it soaks straight in and leaves the skin soft n silky. I used a small amount on my hands as well n I have to say my hands were left just as soft. Highly recommend for dry skin. Definitely my next purchase

Dr Hauschka Rose Day Cream 30ml

Cream smells really nice, easy to apply, very light weight so absorbs quickly, but still feels like skin is hydrated. My skin is blemish prone, but had no issues with this. Also works great as a primer!

Very good

It's great. But, it's a bit greasy but it leaves a nice glow. Very expensive though.

Love it

I received a sample size and love it, will definitely purchase this in full size. I struggle with my skin looking dull and lifeless. I put my foundation on over this and my skin looks dewy, plump and has that shimmer to it. The smell is a bit intense but I am not a huge rose smell fan and can tell if this went to close to my eyes they would water (they get sensitive to some things), but I would...

Read More

Not for me

I have really dry skin, and honestly bought this after reading an article about how good Jlo's skin is. This works ok on my cheeks, but makes my forehead itch like crazy. My skin might be too sensitive for it. It also makes my skin look super greasy, so I can only use it at night. I used it on eczema and it worked like magic, so at least I can use it for that?

Dr Hauschka Rose Day Cream

This moisturiser makes my skin feel so plump and silky smooth!

Great!

This is such a beautiful product. It smells incredand feels so luxurious on the skin. Will definitely be switching my routine to Dr Hauschka from now on.

Love it

Really helped to even out my skin texture.

Pink!

The pink colour and the smell of roses is so beautiful! I have been using this product for about 6 months and the firmness and the brightness in my skin has really improved!

Love it!!

An important factor is the amazing smell, I look so forward to using it everyday! Extremely hydrating, definitely recommend!

Rich and nourishing!

I've used this cream for years now. It's fantastic for dry skin, is absorbed very easily and smells amazing. Completely natural and super nourishing and hydrating for the skin.

Ride of Die

This product has become my ride or die in my skincare routine because of how much of a difference i have noticed in my skin since using it. I suffer from seriously dry skin during winter and this product has saved me from being attacked by the flakiness of skin. I find this product to be very moisturising and hydrating for my skin. The scent is lovely however not overpowering and i find my skin lo...

Read More

Works very well

This is a fantastic moisturiser for the face and in particular very safe to use for people with sensitive and dry skin. The cream smells amazing and floral without having irritating effects of artificial fragrances. The texture of the cream is thick but sinks into the skin easily after being warmed up in the palms. The cream also applies very well and doesn't feel thick or leave residue and is ver...

Read More

Rich and intense

Surprisingly this rich and dense cream absorbed fantastically into my normal skin that has been recently dehydrated by overdoing it a little with actives. At first I hesitated due to its texture and applied only half the sample. I quickly found myself applying the whole thing once I realised just how well it absorbed into my skin. I don't mind spending a good amount of much on skincare however th...

Read More

Not for me

Recieved this as a sample but I found it a bit thick and the pink colour was a bit off putting. Cream sat on my skin was a bit contesting. Not for me but might be good for older skin

Moisturising

This cream is highly moisturising, and I have noticed a real difference in my skins appearance and hydration. It is slightly on the heavy side for wearing throughout the day, as I find I am slick by the end of the day. Certainly would recommend for anyone with sensitive and dry skin!

nice but oily

This moisturizer has a really creamy texture that feels like it has a little bit of oil in it. Personally, this is too heavy for me for use during the day so I use this at night time or during winter.
Im not overly fond of the scent but i dont love rose but thats a personal preference.

Beautiful and Nourishing

I got this in the Dr Hauschka trial kit and it is one of the most nourishing and hydrating creams I've tried! I have dry skin which usually causes foundation to apply flaky but using this underneath worked really well.
The consistency is thicker than usual but that creates a rich and deeply nourishing produc that lastst. Definitely worth a try if you have drier skin!

lovely

This moisturiser is perfect after serums and before primer. I didn't even need to use a lot, and my skin stayed refreshed and hydrated all day.
I find it is too thin for night time so youd need to buy two creams or a serum.
A big plus is I adore the smell of rose and personally found it to not be too harsh or over powering.

Smells really good

I didn't mind this moisturiser as I have quite dry skin and this is quite thick and moisturising. In saying that though, if you have really oily/ acne prone skin this might not be the best for you. The scent is super nice but not everyone likes fragrance either- so keep in mind when thinking about purchasing!

Beautifully scented natural moisturiser

Beautifully scented and natural moisturiser. A little thick but very hydrating and I only use a hazelnut-sized amount, warmed up in my hand which I press in gently into my skin. My mum also loves this and it works for both our skin types (older fragile skin and combination). I also love the light version of this which may suit oilier skin types.

Hands down favourite product!

Ok, so I'm a little addicted to this stuff! I have sensitive skin, and find that this is prefect for daily use. You only need a tiny amount, so a tube goes a long way. It's heavy enough to protect your skin well in winter, but not so heavy that it leaves your skin feeling clogged.

I tend to go with the Hauschka recommendation of using this during the day, and leaving my skin produ...

Read More

Best winter cream

I have sensitive, dry skin and this cream is my winter saviour! It is a bit thick, so I like to mix it with a serum. But it's lovely and I've used it for years and never had any issues

Don't get all the hype

I was really looking forward to trying this product but I don't really get what all the fuss is about. It's a nice heavy cream for winter but doesn't do anything special to warrant the price tag. Would not repurchase

Lovely!

I've been using the Dr. Hauschka range of products for a while now as they are wonderful for my mature and sensitive skin. I would recommend them to my friends who are my age. I do agree with the review that it is quite thick and because of this it does take a while for it to settle and not just sit on the surface and I can understand that this can be a concern and a problem, especially if you nee...

Read More

Too thick and greasy for me

I received this day cream as a sample and I was excited to try it as I'd seen a lot about this brand and thought it could be a winner for me. I used it as per directions after cleansing in the morning. I liked the smell of it, a soft rose scent, but it was so thick that I found it really difficult to apply. It didn't seem to absorb too well and I was actually left with a greasy looking face all da...

Read More

Fantastic

Been using Dr Hauschka for years and it's one of the few brands that works for my sensitive skin. The rose day cream is very rich and I like to mix it with another more liquid moisturize. Very nourishing and leaves my skin soft and comfortable

Feels Amazing, Looks great under foundation

Dr Hauschka Rose day cream feels and looks amazing on my skin also doubles as a primer looks great under foundation i feel it definitely helped makeup stay on longer.

Like but too thick

I have super sensitive skin and was recommended this day cream. It works great however the cream is very very thick.

Hydrating and nice to apply

I received this as a sample, it feels really nice to apply and left my skin feeling really soft! My skin is usually dry, so i loved the extra hydration. The rose scent is nice as well!

Too thick

Received this as a free sample. I found this cream very thick and difficult to spread and rub in, but when I finally did, my face felt moisturised, soft, rose-scented. Too time consuming for a moisturiser I'd buy again and use on a regular basis. May be good for people with very dry skin and who have a lot of time to spend on their morning routine.

Favourite Face Cream

I absolutely love this face cream. I have sensitive/dry skin that can be quite reactive to certain things, even if they are meant for sensitive skin. I've been using this cream for years and have never had any problems with it. Makes my skin soft, hydrated and nourished for the day

Absolutely nourishing

What I love about this cream is that the rose scent is not overwhelming at all like some other rose based products. Apart from that it is deeply nourishing and very suitable for sensitive skin which I have. It has a thick consistency but absorbs into the skin very quickly.

Such a lovely smell!

This is the thickest moisturiser I've ever used and due to my more normal/oily skin type I can only use it in Winter. However it is really lovely and despite its thickness a little goes a long way. Not sure I would repurchase as I can only use in Winter and it's quiet a small tube. Could be really good for travel in the drier seasons. A really lovely smell that stays with you for most of the day.

Rich cream

This is a lovely cream for everyday use.
I tend to invest in serums but use a more basic moisturiser, and this is great one.
Although it says day cream to me it's quite rich, I usually use more lotions during the day. But in the colder months my skin does appreciate the richer cream for day.
My skin feels extra hydrated and soothed.
It layers well under makeup with no pilli...

Read More

Excellent Thick Cream

I have combination skin that is also quite sensitive. This cream is super thick so you only need a little amount. I actually find it quite difficult to spread out and would recommend mixing it with a serum or face gel to help it emulsify better. Aside from its thickness, this is a really great cream that keeps my skin hydrated and protected from the elements. I especially like using this in th...

Read More

Love this product

I was recommended to use this, after having hit and miss experiences for my acne rosacia. Although its thick, you don't need too much (about the size of a pea) to use on your face.
Wow
Love this product!
My skin has cleared up and I dont need to use a night cream, eye cream or decollete cream as it can be used for those areas.
Highly recommend

Heavy but delicious

This moisturiser is a little bit heavy for me to use every day but I am absolutely in love with the smell! It's like pure roses; so sweet and feminine. I would use it more as a hand cream or a treatment-type moisturiser for when your skin is super dry and in need of a pick-me-up.

Skin-changing!

I switched to Dr Hauschka a few years ago and people have commented on the tone of my skin ever since. I'm 40 and have quite fair, and sensitive, skin, which was prone to redness and dry patches. It now glows. I bought a travel/trial kit and tried all the different moisturisers and this was the best for me. The bonus is that it smells delicious. However, the tube is quite small, so if you use it d...

Read More

Smells gorgeous, but a bit heavy for me

Absolutely love the rich texture and scent of this cream, but it feels a bit too heavy for my face, even though I have slightly dehydrated skin. I've been using it on my neck or on particularly dry patches on my face in winter. I'll enjoy having it while it lasts, but unfortunately wouldn't repurchase.

lovley product

Beautiful moisturising face cream. Make my skin look hydrated and fresh - love the rose smell too :)


Dr. Hauschka Classic

My skin in super sensitive, and this product is the only thing that works. Its amazing stuff.

Perfect for dry skin

Fantastic product applied at night to face.

I love this cream! It works wonders on my sensitive, breakout prone, and flaky skin. I find it plumps my skin, takes out redness, and makes it baby soft. It is also helping reduce the appearance of my pores and has not broken me out even though it's really rich. Expensive, but worth it.

This is beautiful. It feels like a date with the dermo!