Dr. Bronner's castile soaps are some of the bestselling natural soaps on the market, and it's not difficult to see why! The Dr. Bronner's brand combines value, top-notch ingredients, and a number of scent choices to create a line that's safe, natural, and suitable for all skin types.
Dr. Bronner's castile soaps come with a laundry list of incredible points. Every soap is formulated with certified Fair Trade and organic oils. Each soap is completely vegan, biodegradable, and entirely vegetable-based, putting to rest any concerns about harsh chemicals or potentially harmful irritants present in other common soaps on the market.
Formulated with a beautifully nourishing combination of extra-virgin coconut, olive, jojoba, and hemp oils, these soaps provide nourishment and replenishment to the fatty-acid barrier of the skin. Due to their incredibly gentle ingredient base, these soaps are safe for anyone to use, as they gently cleanse without stripping the skin's natural oils.
These aren't just basic soaps, however. Dr. Bronner's soaps come in numerous scents and ingredient combinations to suit anyone's scent preferences. There's even a specific formula for babies. When you shop Dr. Bronner's products, you're sure to find a soap perfect for you, your family, and your lifestyle.
Showing 20 products of 44.
---
Recent reviews on Castile Soap products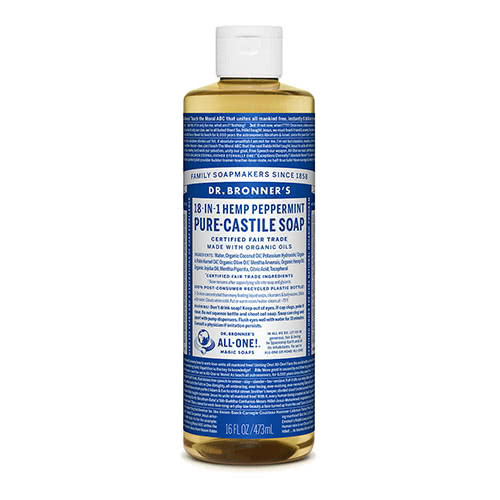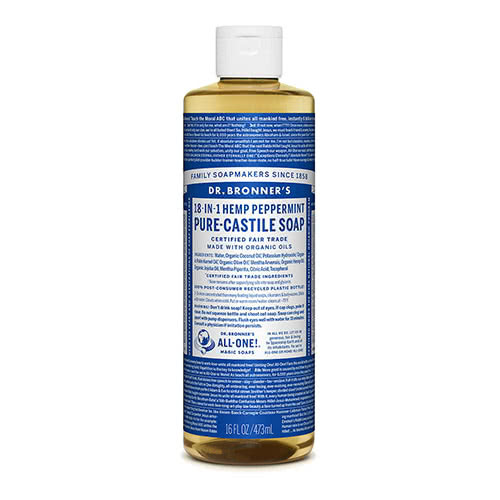 Dr. Bronner's
Dr. Bronner Castile Liquid Soap - Peppermint 473ml
$19.95
AMAZING!
This product is amazing and so so versatile! I bought it to use a body wash but it's just so much more than that and there are even recommendations on how else to use the product on the bottle itself. The smell is to die for and the way it tingles on the body, is indescribable.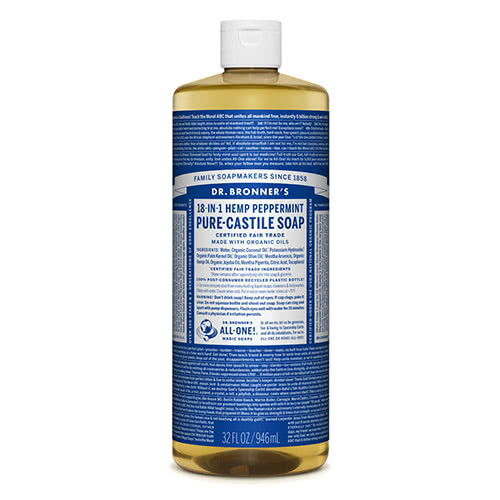 Dr. Bronner's
Dr. Bronner Castile Liquid Soap - Peppermint 946ml
$34.95
Love it, fresh and non-drying
I was looking for a non-drying body wash as I have extremely dry skin and would tend to not use soap (!!) as it makes it crack. After I switched to a natural deodorant this was no longer an option!! I love that this is oil-based - it doesn't dry my skin and the peppermint scent is so refreshing. I could be imagining things, but it seems to help small cuts and scrapes heal as well. My husband loves it and uses it as a shampoo and degreaser. I also have a small container in my kitchen and it's morphed into my dish-washing detergent and vege/fruit wash.
Love.
What people are looking for the most