Clarins guarantees a treatment-type formula in every one of its makeup products. The brand outdoes itself in this regard when it comes to lips! Whilst tons of luscious lipsticks and glosses are available in infinite shades, it's the lip-treatment ingredients that shine, running through every product in the line.
Day, night, and everything in between requires hydrated, flake-free lips. Clarins provides just that with its lip treatments and balms. For minimum colour and maximum hydration, pick up Instant Lip Comfort Oil. This amazing option drenches lips in hydration that isn't sticky or glossy. You get lightweight colour that nourishes your lips.
If you want a slightly less oily option for day wear, Instant Light Lip Balm Perfector is a bit less slippery. This dreamy product comes in a wide range of shades, offering a subtle sheer tint plus hydration. For the same level of hydration with a bit of shimmer, Instant Light Lip Perfector gives a gel sheen to the lips.
Clarins adds anti-ageing ingredients to its Rouge Eclat Satin Finish Age-Defying Lipstick to provide beautiful colour and tons of plumping and firming. Classics like lip liner and high-shine lipsticks are also available. All of your lip options are fully covered with Clarins.
Recent reviews on Lips products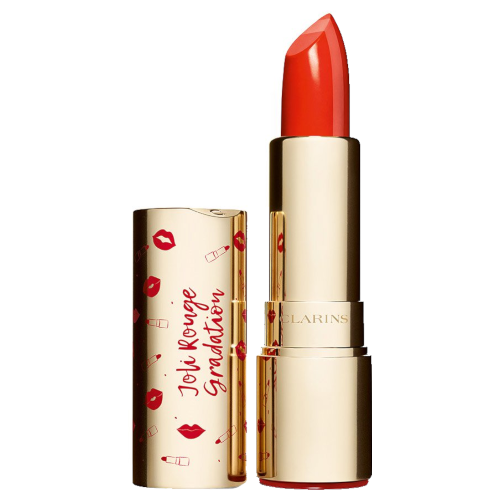 Clarins
Clarins Limited Edition Joli Rouge Gradation
$40.00
$34.00
Beautiful colour and texture
I really just bought this for the limited edition design, but I love that the lipstick itself has two strips of colour, which you would think would look funny, but actually works really well after your apply and press your lips together. The plum colour is, obviously, a nice berry colour, which looks really beautiful on. The colour lasts for ages, and seems to stain the lips (in a good way), rathe...
What people are looking for the most