Burt's Bees Baby Bee Bubble Bath 354ml
Questions & Answers
(No Questions Yet)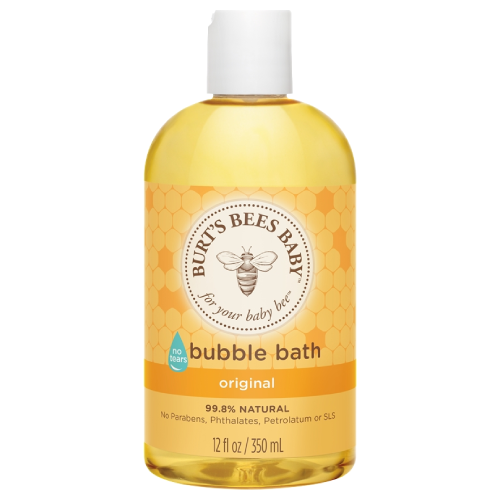 Burt's Bees Baby Bee Bubble Bath
Get an expert to answer your question about this product!
Ask a Question
100% recommend this product
Most Helpful Positive
lovely :)
beautiful bubble bath with a soft smell
lovely :)

beautiful bubble bath with a soft smell

Yum

I love bubble baths (i'm thirty something) and I have to admit I got this for myself. It's super lovely smelling and does give good bubbles. But, I can't always use it. I sometimes get really bad rashes that are eczema/auto immune related, particularly on my upper arms, and if these are playing up this aggravates them, badly. So I wouldn't recommend it for little ones with similar problems if they are in the middle of a flare up. All other times it's great though!

great

my uncle loved this! makes him feel at home

BURT'S BEES BABY BEE BUBBLE BATH

I love this bubble bath, it throughly cleans and leaves my babies sensitive skin smelling fresh and hydrated.

Lovely

Smells beautiful but not too strong. Doesn't flare up my toddlers eczema like all others I have tried. Nice and nourishing

Devine

Best baby bubble wash!! Smells absolutely gorgeous!!

awesome product

My daughter has super sensitive skin that reacted to everything. Until I found this. Heaps of bubbles so she can have fun. And leaves her skin looking and feeling heaps better afterwards. Really can't recommend this enough

Nice and gentle!

Love all things Burts Bees. A great smelling, gentle bath product. Perfect for the whole family!

Lovely

Love this bubble bath!! I brought it just to use for myself and it's gorgeous. I love the scent and it makes my skin feel so soft and smooth. Definitely think it would be great for a bub.

Soft and gentle, lots of bubbles

Pleasantly surprised that this gave lots of bubbles considering that this bubble bath has gentle cleansers. Smells lovely, but not too strong. My kids love it - especially as they have eczema flares come up, and this bubble bath has not triggered them. It means my kids can enjoy having a bubble bath.

Bubble bliss

My babies loved bath time with this product. I had been looking for an organic product that would be gentle on their skin and this bubble bath was exactly that.

Great

This is great for little ones. Very safe and very gentle.

Great for babies

Very gentle bath wash that's great for babies sensitive skin. Doesn't leave skin feeling to dry

Great for Baby's Skin

I use this bubble bath to bathe my baby daily. She suffers from eczema but this bubble bath does not aggrevate her skin. It has a great smell and there is enough in the bottle to give me a few months worth of baby baths.

Winner in our household

My son suffers from dermatitis and I can't use alot of bubble baths because they dry his skin out too much. I found this to be great and he has had no reaction. It is low on fragarance, so perfect for delicate bubba skin. Would recommend!

On to our second bottle

We love this at our house. I've bought it again as I like that it's not full of nasties. Excellent bubbles!

A favourite of mine

I love this. This is my second bottle. I'll definitely continue to reorder. It hasn't really got a fragrance, so my husband used it on his very dry skin. The pump pack is heaps better that the tube. My mother now uses this now also.

Gentle and smells lovely

I bought this because supermarket bubble bath seemed to be drying out my son's skin and giving him an itchy rash. The Burt's Bees Bubble Bath seems to have cause him no such problems. I only use two capfuls and that produces lots of bubbles and a lovely light honey scent. I think you could probably just use one capful and it would still be sufficient for most kiddies to play with. I would definitely recommend it to people who think that regular bubble bath is to harsh for their skin.

Mmmmmm

So gentle on my baby's skin and makes him smell scrummy!

You will beeeeee impressed!

Great for babies with sensitive skin who also want the fun of bubbles! We've tried all the natural/organic brands and this one was the only one that cleaned well, didn't break our baby out in a rash, smelt great, and made decent bubbles! Will keep repurchasing, well worth it for the joy it brings at bath times.

I like to use gentle products for my son's skin as he has had sensitive skin in the past. Normally I would purchase Little Twig but they were out of stock so I thought i would try this. Smells great and you only need 2 squirts to get lots of bubbles. Purchased this for a friend and her little girl has had skin problems but no worries using this.