Aesop Parsley Seed Anti-Oxidant Serum 100ml 100ml
4 instalments of $20.75
Or 4 instalments of $20.75 with
LEARN MORE
4 instalments of $20.75
Or 4 instalments of $20.75 with
LEARN MORE
Official Stockist
Is this for you?
Anti-oxidant rich, daily-use serum moisturiser for dry, combination and sensitive skin types. Enhanced with efficacious Grape and Parsley Seed extracts.
Frequently bought with
Please wait while we find a match
Questions & Answers
(1 Question)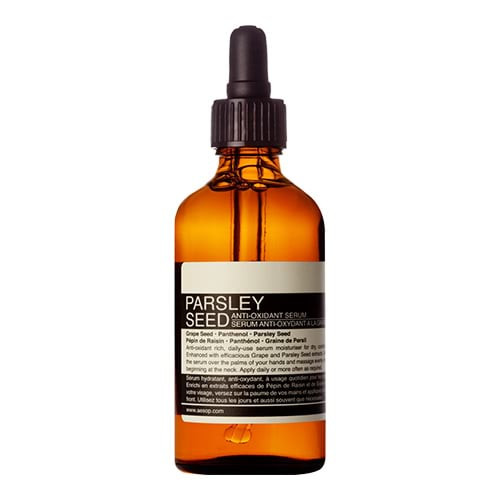 Aesop Parsley Seed Anti-Oxidant Serum 100ml
Get an expert to answer your question about this product!
Aesop Parsley Seed Anti-Oxidant Serum 100ml Reviews
83% recommend this product
Most Helpful Positive
so hydrating
This product is so hydrating I love using it before bed
Most Helpful Criticism
Not as good as advertised
Even though it's a cheap product, I would rather be paying more for a better substitute for such a simple serum. It's overly scented, and I didn't see any effect after finishing a bottle. The texture is a bit sticky which I don't particularly like. I would not recommend
so hydrating

This product is so hydrating I love using it before bed

Super hydrating

This serum is super hydrating and it goes on great! However I do find it slightly on the thicker side

so hydrating

My skin always feels so soft and hydrated after using this product!!

One of my favourite from aesop

Love how this product feels on my skin. A bit more on the stickier side but the aloe is very soothing especially during summer. It works well on my sensitive and acne prone skin too, helps calm down the redness and inflammation. Huge size too which means this is probably the most affordable entry product from aesop! love it, i'm on my third bottle!.

Worth the price

I have been using this serum almost daily for three months now at bed time. I use it without a cream which was what I was advised to do when I bought it. I have sensitive skin, combination -normal, a little dehydrated. I like this serum and I think my skin has been looking less red... but I have also had less sun exposure and alcohol during these months which may be part of it! I think this is a n...

Read More

super hydrating

i got this as a sample and all i can see if wow. after one use of this i found my skin was instantly hydrated.

Not as good as advertised

Even though it's a cheap product, I would rather be paying more for a better substitute for such a simple serum. It's overly scented, and I didn't see any effect after finishing a bottle. The texture is a bit sticky which I don't particularly like. I would not recommend

A fairly good serum

This is a very gentle and natural product, more suitable for younger skin who is looking for a good moisturizer booster. It's also nice for sensitive skin type. Fast absorbed, non crease feeling on skin. Very dry skin type may find it's not rich enough during winter time.

big fan of Aesop

I used Aesop more than 6 yrs now, big fan of Aesop. I will keep using them. They saved my skin when it was sensitive to sunlight.

The taste is very good, with a sweet plant aroma, very charming. After applying it on the face, you can see that the skin tone is obviously brightened by a shade, and the white is very natural. The product is cost-effective and the packaging is fresh, whi

great

I feel my skin is smooth and bright after use.

Love it

I really like the scent of this product, it's very refreshing, I usually use it in the morning. It will make your pore looks smaller but the anti-oxidant result I hardly can see.

Nice to use

I love this serum for its price, it is very cheap compare to others. And it comes with 100 mls which will love you for months, You can use it every morning and afternoon. Fast absorb and keep your skin hydrates and soft.

Really AntiOxidant

This serum can also be used as a liquid cream which I never knew this until other people told me. This biggest difference after waking-up is my skin show more brilliance

Good product

It's my second time to buy this product! At first I thought it is serum but after I did some researchs online I found that it should be use as cream.
I like Aesop. And 100ml can use for a long time. After used that for a while i am feeling my skin became softer than before.

A gift for mother

My mother, who is in her fifties, likes it very much. She says it works very well. I think it's a very good gift for mother.

Tried a sample and fell in love

Aesop makes great serums and concentrates. Always feels nice and refreshing on my skin

love this serum

This serum is super easy to use and moisturizes your face without feeling greasy. At the same time, you can also use it as a facial massage primer to relax your skin and help absorb subsequent skincare products better.

First Aesop

This serum is really worth this price and it can be the Aesop first product for people who haven't try this brand. I recommend this serum for young people that can moisturize and brighten the skin.

Ummm..

Saw no dramatic change with this product, felt nice on the skin- scent was so overpowering and off putting.. had to wash off as it was giving me a headache and was worried what the scent would be doing to my skin!

I Need to layer with another mosturiser as not hydrating enough for me!

I received a sample of this & although silky in texture my skin still felt tight.
Could be good in summer with the humidity.

Yes, Thank you!

I got this beauty in a free gift sample with my first purchase from Adore.
I was so impressed that I bought myself a bottle that I now use morning and night apart of my skincare. The smell is strong but both hubby and I enjoy it. It's a dry oil so it absorbs into your face quite fast but leaves your face glowy and tight.

Smells amazing

I received a sample of this and loved it, great for my combo skin and I used at night as felt like I needed it the most after being in the cold and the heat during the day.

Slow absorbing, lovely result

I used this sample in the morning on its own, to see if it was really a serum moisturiser as indicated on the satchet. The serum is very runny and also super sticky for about half an hour after applying, but once it starts soaking I it leaves your skin soft and juicy. I still think you'd need to add a moisturiser over this product, but it's a great luxury serum and I'd love to purchase the full si...

Read More

Heavily scented

I received a sample of this product, so I haven't been able to use long-term to give a full review. I gave it three stars as it was silky and felt quite high-end. I probably won't be purchasing a full size of it because the fragrance was too much. If you love lavender, you might like this.

super hydrating

this serum i would probably only use at night just because i do already have oily skin. like all aesop products though it smelt and felt amazing i only got this as a sample but that was enough for me wanting to try more!

Lightweight

Lightweight but rich in nutrients - great to use layered over an oil or on its own

Hydrating and light

I originally received this product as a sample and ended up purchasing a bottle because I loved how it made my skin feel. I use this at night under my night moisturiser to provide some super hydration overnight. I use a small amount during the day under my moisturiser and it's light enough to not make my skin feel oily, absorbs really well.

amazing

obsessed with this brand atm, going to end up buying everything they release! This one is great too, and such a nice scent compared with the alternatives.

Worth a shot

I received a sample of this product and used it as a last step in my night time routine. The scent was a bit strange, it dried quickly on my skin, and my skin was left feeling a bit tight and not moisturised so I had to add a different serum on top. However my skin did feel and look smoother in the morning. It is a bit on the pricier side but could be worth it with regular use.

Lightweight serum

Lightweight serum for the day, can't say its super hydrating if your skin is dehydrated (although i am comparing against the Medik8 Hydr8 which is probably the best in the market). Smells divine!

Lovely

This is a lovely oil that I imagine would be well-suited to oily, dry or 'normal' skin. As I have very sensitive skin, I found this to be very warm on my face - not horrible, but not super comfortable. It did give me quite a glow, but to no fault of its own - it just wasn't the best suited. Would definitely recommend to others though!

Excellent on dry skin

I've used this on and off for many years. Always combined with the Fabulous cleanser and the B and Tea toner. Amazing as a trio and perfectly hydrating for my dry combo 44 year old skin.

This serum absorbs quickly and is only greasy for a short period. I hate greasy serums but am totally fine with this because I know it will sink in and it works so well. It keeps my skin clear of spo...

Read More

Very good

It is a very helpful skin care goods and i love this brand

One of the best serums ever.

Use this one of and off, recently I'm on Accutane, my skin has been dry, so I went back to this one. It is good at keeping the skin hydrated, although it does need some more patting on the skin. Still love it! All I need is the result.

Absorbed well

I found that this sunk in well to my skin and provided some short term hydration during the day but I didn't really experience any long term effects from it.

Oily

I prefer lightweight serums that I can layer moisturiser over. This is an oil serum. The first few times I applied too much expecting it to absorb but it didn't.
I have to apply it at night and it takes all night to absorb.
On the plus side one drop goes a long way.
The scent is very strong and I didn't really like it.
It hydrated my skin well but didn't do much else. I pre...

Read More

Silky smooth

This product is amazing! My skin feels like silk and a little goes a long way

Overrated

Other than the smell, luxury and cool sensation on skin, not sure why youd use it

Nice serum

I received it as a sample. I used to buy the oil free serum. This is my first time to use this parsley seed serum. I like its smell very much, it is also moisturizing.

Lovely smelling serum

This smells so good - it has a lovely lavender aroma. It felt a bit sticky when I first applied it to my face, but after 10 minutes it seemed to absorb quite well. To be fair, I haven't used it long term so I can't adequately comment on its effectiveness on the skin, but it felt more "tightening" than hydrating when I used it.

first anti-aging serum

very good anti-aging serum for the first sign of aging skin. very cheap compare with other anti-aging serum. May not be enough hydration for dry skin in winter.

good smell

Like the smell. The skin feels refreshed after using. But the dropper can't really hold serum inside, even without pushing, the serum will keep dropping from it.

Light, absorbs instantly, great for summer.

I love this serum. It smells great, clean and a little goes a long way. I must say my skin has never looked better. I have dry and sensitive skin, and I have few acne sometimes. This serum is very gentle and easily absorb. I usually use it morning and evening. Because of the generous volume, I use double amount when I stay up last night. Best use tapping, or pressing motion instead of rubbing. I'v...

Read More

Its alright

I found that this serum was quite tacky on my skin and did not absorb as well as I would have liked,my skin does feel better after using but I am not quite sure this serum is for me.

ok serum

This serum is good in addition to a moisturiser. I was told it would be enough by itself. I like the parsley seed line as its good for combo skin.

parsley seed

nice serum, very light but doesn't do anything for skin in long term for me

wow

I never knew of the benefits of parsley seed but upon trying this, I am amazed. I will definitely be buying another bottle

Lovely serum

This serum smells lovely just like the rest of Aesop products. It's actually quite hydrating and I love the packaging.

Nice Serum

I really like the smell of this serum and it is ice ad light weight. It isn't super hydrating but I have found that common with anti-oxidant serums.

Overall it is a lovely product and is nice to use at night and under make up

Nice but nothing amazing

While the texture and smell of this serum is nice, it doesn't nourish my skin as well as other natural serums on the market. Packaging is always amazing though!

Good serum

It smells so good! I bought it because of its scent. It's like a smell of plants and makes me fell pleasant. Also, it's very light not heavy and it's really cheap because it has 100ml.

Super light serum

Super light serum perfect for summer. Again like all aesop products, smell is so addictive

beautiful serum

Love it! The amount of this serum worth the price. Although this serum feels quite sticky when you apply on your face, it does moisture and repair your skin. After using it for a month, the redness and the red dot that I have on my skin seem to become more lighter.

Nice serum

This is my first high end serum purchase back couple years ago, now I still re-purchasing it, it's gentle on the skin, good everyday essential

Nice serum

This is my first high end serum purchase back couple years ago, now I still re-purchasing it, it's gentle on the skin, good everyday essential

Good

This is a good serum and it leaves my skin hydrated

Love it!

In summer I use this on its own as it's hydrating enough to act as my moisturiser. In winter I apply my moisturiser on top for the extra boost. It took a while getting used to the texture as it absorbs so quickly! I loveeee this serum so much.


Burst of hydration

This is like a burst of hydration on my skin. Very light weight but very hydrating. It also helps with fine lines with regular use.

Beautiful

Beautiful luxurious product

Light

Lovely light serum and absorbs well. Light 'herby' scent which isn't overpowering. My skin felt more hydrated after use.

serum

Was recommended this as i have oily skin, found that it didn't really do much for me though

Gentle serum

Very gentle serum, my skin loves it ! For the price tag, I'm pretty happy with the result.

good serum

Got a sample of this. But I already have the full size product. It's a little bit sticky but easy to absorb.

I like it

This serum is lighter than I thought it would be! It spreads over the skin easily and a little goes a long way. It also absorbs pretty fast and makes your skin feel hydrated. I layer underneath a moisturiser as it's not hydrating enough for my skin to use as the final step in my skincare routine.

Light serum

this serum is very light weight! bottle lasts a while as its a serum and spreads out easily.

Hydration during Winter

I have a couple samples from Adore Beauty and decided to use it during Winter. I love how the serum keeps the face and neck hydrated during the night and wake up with fresh glowing skin! It is slightly sticky at first but then settles after 5-10 minutes.

Perfect

I've had a lot of trouble with moisturisers making my skin too oily. This is the perfect replacement for a standard moisturiser. Leaves my skin feeling fresh. My everyday go-to.

great smells and quick absorption

It is very lightweight in texture, I need a moisturizer after applying this serum, even in summer. I have a sensitive dry skin. Hydration of this serum is not enough for my skin, but the smell is nice, very natural and clean.

2nd bottle!

Almost finished my second bottle so I will be purchasing my third very shortly. In summer I use this on its own as it's hydrating enough to act as my moisturiser. In winter I apply my moisturiser on top for the extra boost. It took a while getting used to the texture as it absorbs so quickly! I loveeee this serum so much, I use it AM and PM daily. It has improved my complexion as well as giving me...

Read More

Light but not super hydrating

Nice serum but very light and doesn't really change the texture of skin after application

The perfect serum

I have dry/combination skin and this serum is enough to keep my skin hydrated but not too oily throughout the day. Love it !

very genlte

Very nice especially in the cooler months when your skin is feeling drier and less hydrated. This serum is hydrating and can be used on its own at night time.

too light

I found the texture of this to be too light. While it absorbed fast, my skin was still left looking and feeling dry

Good serum

I have normal/oily skin and this serum instantly absorbs as soon as I put it on.
This doesn't make me oily but hydrates my skin well. Make my skin soft and hydrated

Rapidly absorbs

I have normal/combination skin and this serum instantly absorbs the moment I put it on.
Serums usually make my T-zone produce too much oil but this one hasn't at all. It has a very subtle scent and I imagine it would go well under an oil-free foundation.

Lightweight gel-like serum

I purchased this serum because i was eager to see how the aloe vera would work to soothe and soften my skin. My skin is sensitive but also oily in the t zone and dry on the cheeks and I found this serum to be lightweight, however, it did not moisturise my skin as much as I would have liked. I had to use moisturiser on top of it and found that it clinged to my dry patches a lot. I loved the smell a...

Read More

Light on the skin

Love this serum - feels very light and refreshing to put on. The 100ml size lasts ages which I love (so many others are only 30ml or so)

smells good

worth the money, my dry skin felt instantly hydrated and so smooth, love using this before bed it smells amazing

Not good not bad

Huge! Goes such a long way

This is such a nice and reliable serum, classic Aesop high quality product. Such a huge bottle, will last me ages!

Such a great smell

I really like putting this on my skin, it smells incredible. I don't actually think it does much, but I still enjoy using it! Probably won't repurchase but it would be good for skin not as dry as mine, I suspect.

Quickly absorbs but then what?

I have been using this serum since the summer and have to say - I'm not sure I see any benefits.
Although it has a nice consistency and absorbs well without leaving any tackiness on my skin - I can't say I have noticed any changes I can attribute to this product.
However I haven't had any reactions but also in a serum and for this price - I would like to feel that there are some active...

Read More

good serum

Doesn't leave skin feeling oily! Nice and light. makes skin feel soft and moisturised after using

Great product

Doesn't leave skin feeling oily! Nice and light!

Light and smells good

It's light and smells great. Just make sure this isn't the only thing you put on, even if you're oily skinned like me. More like liquid than cream so defs need to layer up with other moisturisers after using this first.

was ok

I was told this can be used alone, however while it's meant for dry skin, I didn't find it hydrating enough The serum is incredibly light

light texture and nice smell

Very light when using my skin, and easy to absorb. Fresh herb smell, nice and calm my skin and my mood. i use it as my regular routine. i have sensitive skin but it never irritates my skin.

not impressed

It's a bit much for my combination skin to be used alone, but also a bit too rich to be used under a cream. I find the consistency too thick as well

Beautiful, earthy serum

I love this serum and it's a regular in my routine. It has a beautiful consistency and absorbs quickly without any residue. The earthy smell is divine if you love natural skincare.

Good!

Helped my skin a lot. Smells really good but I found sometimes that I didn't reach for it as much as my ASAP products. Definitely good still!

very good product

This serum is super fast absorbing and lightweight! I have typically oily skin and I find that it never makes me look oily during the day. Definitely recommend!

love it

Not as oily and doesn't break out my skin

beautiful

love this it absorbs into the skin very quickly and doesn't leave your skin oily

Really Nice

It works well for my skin and leaves that glow despite the sticky feeling. In the end, what matter is the result and I see an overall improvement in my skins texture and hydration.


LOVE

Beautiful serum absorbs into the skin very quickly and I adore the smell of the parsley seed range, do find it really hydrating too. My skin always looks really moist when I use this.

light but efficient!

i love aesop's all parsley seed anti-oxidant products for they are very efficient to my no balance skin. it's better to use this face cleaner, toner and serum at the same time to make your skin in a balance condition and decrease your dark spot on skin. smell so good that like herbal to make you feel calming down. and easy spread

Not worth it

This is definately a miss . Smells like lawn

Good serum

Good serum, absorbs quickly. I prefer moisturisers but this serum is good for a light weight option, especially in summer.

Too light

I have combination/sensitive/acne prone skin but found this was too light and not moisturising enough to use on my face. I actually ended up with slightly flaky skin due to lack of moisture. It worked well as an accompaniment to my moisturiser but for the price seems an unnecessary additional step.

On the positive, it was beautifully soothing on my sensitive skin but I would not repur...

Read More