The Ordinary Glycolic Acid 7% Toning Solution 240ml
4 instalments of $3.63
Or 4 instalments of $3.63 with
LEARN MORE
4 instalments of $3.63
Or 4 instalments of $3.63 with
LEARN MORE
Official Stockist
Is this for you?
Designed to target textural irregularities and lackluster tone, The Ordinary Glycolic Acid 7% Toning Solution contains 7% Glycolic Acid, Amino Acids, Aloe Vera, Ginseng and Tasmanian Pepperberry.
Frequently bought with
Please wait while we find a match
Questions & Answers
(33 Questions)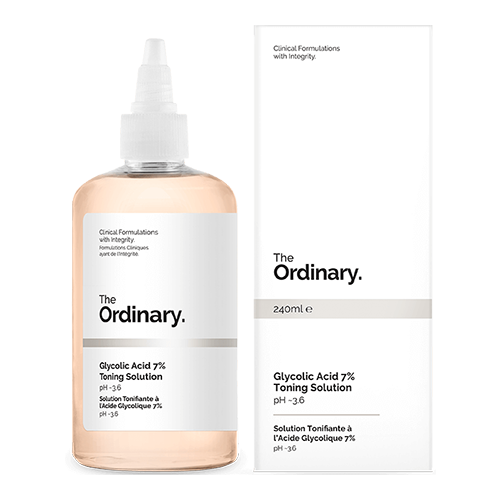 The Ordinary Glycolic Acid 7% Toning Solution
Get an expert to answer your question about this product!
The Ordinary Glycolic Acid 7% Toning Solution Reviews
92% recommend this product
Most Helpful Positive
Great!
Amazing value for money. Love using as a toner prior to makeup application
Most Helpful Criticism
Unsure
I have very dull dry skin and i wanted to try this product after all the great reviews. It is a bit drying and leaves my skin feeling sensitive after application. The sensation feel like the lightest of burning. I only use this once a week after cleansing at night.
Great!

Amazing value for money. Love using as a toner prior to makeup application

In love

First I was sceptic and scared to use the product, but I am In love with the product. The toner by it self give amazing results. 100% recommended

Highly Recommend

This my first time adding Glycolic Acid into my skin care routine, I heard it was meant to good if you have oilier skin and my friend recommended this one. So far I really love it, I put it on evenings after my shower and before my other products. I've been using it for about 3 months now, I've definitely noticed a difference in my skin tone, it's far more even and it also has removed any texture ...

Read More

Best

Best toner I have ever used. Makes my skin feel so clean and cleansed. However, all of the other The Ordinary products come in glass packaging and this comes in plastic (also without a dropper).

love

so good for acne prone skin, helps so much with blemishes and acne scarring

Goodbye pores

This extremely affordable Glycolic Acid Toning Solution is perfect for those with acne prone skin, oily skin and those who would like to treat or look after their visible pores (because we all know we can't actually minimise our pores- maybe the appearance of). Love this product even compared to the various other more expensive Glycolic Acids!

Works well, but is strong

I find I can only use this max two times per week as it is very drying on my combination skin. It helps if I apply it minimal pressure to more sensitive areas to avoid irritation. I like the bottle it comes in as not too much product is dispensed. As with all The Ordinary products you don't buy them for the fragrance, it has a slight alcohol smell.

Loving it so far

I tried this because I felt like the lactic acid 5% was not very effective for me. So far I am loving the Glycolic Acid. The first time I tried it, there was a mild tingling feeling.

glycolic acid

This is a really convenient bottle to use as a toner for chemical exfoliant - the dispenser is perfectly shaped. Great value too

Cost-effective & does the trick

I finished up a bottle of more expensive (& much loved) glycolic & decided to give this a try to minimise the impact to the budget that month.
I'm not almost at the end of my first bottle & I really do enjoy it. I'm able to use this each evening after cleansing & then I will apply either my retinol or vitamin C serum.
I feel like using this nightly has helped with overall clarity of m...

Read More

Fantastic stuff!!

This is honestly worth the hype, super affordable and I have had great results. This has definitely helped with clearing up my skin.

Clears the skin

This makes the skin feel so fresh and clean. I also saw fewer pimples after using it. It can sting a little in certain areas, but it is only a little and goes away instantly.

Not for me unfortunately

I have been using this 2 times a week as an exfoliating toner. It's a good product, and for my oily areas it works great, but my drier, sensitive skin does not like it. It's a good formula and it applies well to the skin. The smell is slightly strange but it's not off-putting. If you have dry, sensitive skin you might want to use something gentler.

great affordable toner

this toner does sting a little bit at first but once you get used to it, it works like a charm. it has gotten rid of the bumps on my forehead. i didn't really like the nozzle packaging of the product but still, it works great. i would not recommend using this daily.

Unsure

I have very dull dry skin and i wanted to try this product after all the great reviews. It is a bit drying and leaves my skin feeling sensitive after application. The sensation feel like the lightest of burning. I only use this once a week after cleansing at night.

Drying

It is drying for my combination to dry skin.

Great value!!

Did magic ro my skin. Love it

my new go to

so cheap and such a great product, as someone with extremely sensitive and acne prone skin i was skeptical on whether this would work as good as the more expensive ones. works amazing and if not better, super affordable and doesnt dry you out. would recommend using once every 2-3 days and at night as it does make your skin a bit red.

Scar fading & bacne

I saw a post on Facebook recommending to pour this toner into a spray bottle so that it can be easily sprayed over your body and back. It has dramatically decreased my bacne and also lightened any previous scarring! I am about to purchase my second bottle :)

Bacne - yes.

I didn't see an improvement on my face. It was a bit drying for my combination skin. However, I did use it for my back as I have bacne and I can see a reduction in acne in the area and the scarring has lightened a bit.

good skin

This leaves my skin looking brighter and smoother

Gentle toner

I really like this product. I have acne prone skin with a lot of scaring, and it works well to remove dead skin. I find this product very gentle and use it once a day at night time. I really like the consistency of the toner, and you get a good amount of product for the price.

Great alternative to pricier GA tonic

Decided to try this as an alternative to my normal GA toner (Alpha H). It felt great and had no bad reactions so seems like a great budget-friendly switch up. Love the clean feeling it leaves.

amazing

use this every night saw an improvement in textured skin and blemishes

not suitable for dry skin:(

My skin is combination to dry,but after using this toner it just became more drier,not good for my skin:(

Wouldn't recommend

I am someone who doesn't really have sensitive skin and have used other The Ordinary's products in the past which I have absolutely loved, however, this toner once put on burned on my skin. I did a patch test before and had no reaction. I used it a few times thinking my skin was not used to it but the product continued to give a burning sensation to my skin for hours after use. Would not recommend...

Read More

does not work

it is cheaper compared to other brands but it did not work for me. I used it for my back acnes and they were getting worse so I stopped using it. Maybe will try to use for the face later!

Perfect for combo skin

I have combo normal/oily skin and this product works really well. It is not too harsh so I can use it every second day without irritating my skin. You also get a lot of product for the price point.

Gentle enough

I use this routinely and find that it works well and is reasonably gentle, though I find sometimes it does create some redness in certain areas of my face. I think my skin generally responds best to AHAs, but I still find the occasional use for this. The packaging is really convenient and I usually just pour some out onto a clean makeup remover pad rather than directly onto my skin.

A solid exfoliating toner


A solid (and very inexpensive) exfoliator which gets rid of dead skin cells and has helped to keep my normal skin (pretty much) texture free. It hasn't done anything to my pigmentation though.


Made my skin so smooth

I've tried a lot of exfoliating toners (even high-end ones) and this is the best I've ever used. I noticed my skin was soo smooth after using this. It got rid of a lot of bumps and small pimples I get on my chin. Really great value for money - love this brand!

Love it

Really great value, with lots of product. I use it every night after cleansing and my face feels firm after. It does sting a bit until your skin gets use to the product.

glycolic acid

This works wonders on my texture from my acne scars. The bottle is amazing value for money too.

Great toner

I really like this product I use it every second night after cleansing. It does sometimes slightly tingle on my skin and I wouldn't say I have sensitive skin therefore I wouldn't recommend for those who do have sensitive skin.

Amazing product with an amazing price

Can't go wrong with the ordinary! For the price it really is amazing. Relatively un scented, gets all the last little bits of makeup and gives that clean right feeling.

Smooth and glowy

Okay, we didn't get off to a good start as I'm easily dehydrated. But when my skin's hydration is at optimal levels, this helped to polish and left me with smooth and glowy skin the next morning! If you're considering this and have never tried glycolic before, tip: start slow.

Good toner

This toner is not exceptional but it still does a decent job.
Some issues I have with it is the burning sensation when used - I've used other chemical peels before but thus one tends to burn a lot more in comparison (I have sensitive skin). The smell is also something I find a bit irritating but it isn't awful.

I use this every second night and would not recommend using it mor...

Read More

One of my skincare staples!!

This is my second time buying the Glycolic Acid from The Ordinary. Absolutely one of my top 3 skincare products ever!!!! I have dermatillomania so sometimes I go a bit ham on picking and squeezing and then have to suffer with redness, swelling and scars for ages, however I find using this, the skin cell turnover increases and my scars, redness and swelling go down a lot faster. I will also use it ...

Read More

Great exfoliant

I really like this product I use it every night after cleansing. I find my skin looking more youthful and refreshed after use. However it does sometimes slightly tingle on my skin and I wouldn't say I have sensitive skin therefore I wouldn't recommend for those who do have sensitive skin.

For the body

I have been using this almost daily on my body for several weeks now. My skin feels more hydrated and it helps body lotion to sink in (especially foot cream, which used to just sit on top of my skin, now actually absorbs into the skin). My dark knees have only started lightening, so it took a while to notice a difference. I had hoped it would help with ingrown hairs but I haven't noticed any impro...

Read More

love this product

I used this twice a month because I have sensitive skin. This leaves my skin feeling hydrated.

Gentle

This product is a very gentle exfoliant, but I haven't noticed much of a difference in my skin and I don't find myself using it as the bottle began leaking

great product

I really like this product. its very gentle on the skin and the end result is great! leave my skin glowing even tone

Have always steered clear of toners but this one doesn't strip my skin bare!

Have always steered clear of toners but this one doesn't strip my skin bare! Have been using after The Orindary Squalane Cleanser of an evening of wearing makeup all day. Skin feels refreshed but not stripped bare like other toners. Feeling brighter and surface smoother!

You will get used to it!

I have combination to oily skin. This product stings but once you learn how to use it properly and get used to it I'd say I'm quite happy with the product. After using the product for a while the slight tingling sensation is quite nice and it feels like doing something good to my skin. Definitely read the directions and avoid the eye area! My overall complexion has definitely improved!

GREAT

I love using this at night time in my skincare routine. For my skin I have found it to be very light and gentle for an exfoliant, no burning sensations as such. Leaves my skin feeling clean and fresh.

How did I get by without this product?!

For years I have been using a physical exfoliator because I loved that squeaky clean feeling that a scrub gives you. Obviously I've learnt the error of my ways (irritation, redness) and started using this chemical exfoliator earlier this year. What a difference! My skin feels so soft and I still get that clean, polished feeling without scrubbing away at my skin (and probably causing micro damage w...

Read More

promising

can see some improvement in complexion and helps healing of breakouts. using this daily for 3 months and still got more than 3/4 of the bottle left.

Affordable and versatile

I use this once or twice a week. It might sting at first but I gradually get used to the feeling (My skin is very thin and sensitive). It can make my skin feel smoother. The price is such a bargain for its size. I also use this product for other purposes such as exfoliating my body and scalp. For the scalp, I put some of the product in a sprayer and use it after washing my hair. My hair feels so c...

Read More

Not for sensitive skin

The glycolic acid was very strong and left a stinging sensation on my face for 20 mins after applying even though I've patch tested and used very small amounts to start off with. I've now found a new use to exfoliate problematic ingrown hair areas on my legs and it's working well.

Good product but strong fragrance

It's a great price for the amount of product offered. I used this product 2-3 times a week for the past three months and have not gotten any irritation. However, there is a fragrance which is very noticeable when you first put the product on, so if you have sensitive skin then perhaps proceed with caution.

So good!

I use this every second night (alternating with retinol) and its great. Stings a little bit at first but really makes my skin feel smoother and more balanced the next day.

Okay

First time I used this it felt really strong on my face, extreme stinging feeling I had to wash it off. I tried it again and the same thing happened but I left it on my face, the stinging eventually went away. After a few more use it does seem to have made my skin a lot better brighter.

Not for sensitive skin

It made my skin flush and sting a little so I ceased use after two days. Would recommend easing into use to ensure no negative effects.

you need this

love this toner! i use it twice a week and my skin looks so nice the next morning. make sure you are using sunscreen after using it though :)

Great acid

I like that this acid is very versatile. I personally use it under my arms as well and it does a great job.

Not for me

I'm not sensitive skin prone, so if you are I would steer clear, I used this product as directed and found within the next couple hours that I had a reaction to this product.

I also wasn't a fan of the smell or the texture of this product.

When using it on my skin it left my skin feeling tight and dry

Awesome value

This is a very affordable glycolic acid that works on the skin. I apply it at night and wake up with a glowing skin in the morning.

Loveeeeeee

This product is bomb.
Super affordable and is the only product that exfoliates my skin enough, without ripping it to shreds (previous victim of St. Ives Apricot Scrub lmaoo)
I just put a few drops on a cotton pad/round, and swipe around my face (avoiding eye area at all cost).
Burning effect a lil on contact, but I've never had a bad reaction to it. Though, if any of you have dr...

Read More

It works!

My first ever chemical exfoliator and definitely helps with skin texture. Great value for money.

Gentle exfoliating

This is a gentle chemical exfoliating product can be used on a daily base. It has a strong scent and it gives your skin a tickling sensation.

Clean and clear

Excellent product and at a great price point!

Good value

It's really a great value toner which leaves my skin soft and radiant in the morning. I use it under the serums for my night skincare.

Love this product already!

Read some of the other reviews and thought I would give the Glycolic Acid toner a whirl. I am already amazed. I haven't been using it long, however my skin is already looking better. It feels smooth and small blemishes/imperfections are fading. I know many people have experienced different benefits from this and/or reactions, but my skin is pretty good with the 7% (I have been a user of the Lactic...

Read More

great product. great price

up till now I have tended to used cliniques clarifying lotion - I tried other toners and did not like them as much, until I tried the ordinary's glycolic acid. I am converted.

As with all their products, a little goes a long way.
I use this with other ordinary products in my morning skincare routine, and I'm a convert. My complexion has significantly improved, and it does not ...

Read More

perfect for acne

I use this once a week for a little pick me up. Leaves my skin looking healthier

An okay product

It's quite gentle as a chemical exfoliate product, good for young skin or someone just start using acid skin product. I use it on my body a lot such as elbows and knees.

Great basic AHA

I've used this a couple of times a week for over two years and am still only halfway through this bottle! I initially used it daily and overexfoliated my skin, which led to really red, sensitive skin - but once I brought it down it has been great at dealing with texture and dark spots. I also use it on my legs for ingrowns and it works great!

texture

incredible for my textured acne scars. smooths them out overnight. can sting a little, so would recommend using little to start with

love it

This is a game changer for my skin!
I had these little bumps on my forehead for so long that i just couldn't get rid of. Since using this they have disappeared completely.
Will definitely repurchase

Good for Back Acne

I have suffered from severe back acne all my life. While this product didn't rid me of the acne it definitely helped. It leaves your skin feeling clean and reduces breakouts which is rare to come across these days in skin care products. I would definitely recommend this product as an affordable treatment for oily acne prone skin.

Does what it should

A toner isn't really a showman of the beauty routine, so all I can say is - it works. It clears away any residue from cleansing, you can feel the Lactic acid tightening your skin and a very slight sting to some areas (not all over your whole face) where there might be an irritated pore.
The first TO product I used was Lactic Acid, and I like that I get those benefits in a toner with this pr...

Read More

fresh

Makes my skin feel very fresh and clean, but nothing exeptional

Hero Product!

I purchased this product after hearing Hannah talk about it on the Beauty IQ podcast. I've followed her advice and have replaced the top with a spray nozzle which has made it super easy to use particularly in trickier areas - like your back.

This has worked an absolute treat, and has gotten rid of a flare up in b-acne. Thank you Hannah!!

Great product.

Bought this for my daughter. She likes it.

Smooths strawberry legs

Helped to smooth out my legs

AHA

I like AHA as my skin is combination. I am a little bit sensitive to this product.

Strong stuff

This is a strong exfoliating serum. I have had mixed results. I do have combination skin so I get some flaky skin from this. I use it at night once a week. I would recommend washing it off if you have drier skin or you could get flakes. Also any broken skin it does sting.

Good Impression

I've been using for a few weeks, but haven't seen much results. It does tingle/sting at first but my skin has adjusted to the product. The only thing is that it dries out parts of my skin really badly, so moisturise often when using this! I will keep using for some time and see if anything happens ...

So versatile!

I actually didn't purchase this for my face! After reading recommendations, I purchased to use on my armpits and feet. My feet have never been softer. No more cracked heels.

Amazing!

This product changed my skin in the best ways. It also helped prevent emerging pimples and it improved my skin texture. I don't have any bad words for this but if you have sensitve skin you should gradually build up your tolerance to this product. I am definetly purchasing this again because of how effective it was.

i would give this 10 Stars

I can't rave on about this product enough. I have been getting these very stubborn breakouts and my skin will be oily at times and dry at times. I double cleanse .... this still manages to pick up some form of dirt. I find that from day 1 of use my acne seemed to go down in size the next day. Yet my skin glowed. I've been using this for weeks now and find my skin to be firm. One of the main reason...

Read More

I use it for my back!

So as I already have a glycolic cleanser that use quite often I'm not really using the same active ingredients on my face twice as with acid it can lead to sensitivity.. I'm using it on my back instead!
I pour a little amount on my palms and I rub it onto my shoulders and upper back to help prevent breakouts in that area (that sadly I tend to have) and I've definitely seen an improvement !

Miracle product

This has become a true holy grail product for me. I use it once or twice a week, usually the day before I fake tan my face, and the change is almost instant. It goes on a bit tingly but then quickly gets rid of any dullness or dead skin cells on my face.

Fantastic

Great price/performance!!
Gentle glycolic acid. Stings a little, but no red face.
Gentle to use everyday.
Cleaned my pores beautifully!
Love this toner and looove the price.

An oily skin girls bestie

I've only been using this for a few weeks and it has significantly improved my texture on my cheeks and chin. I use it every second night and the bottle hardly has a dent in it, it will last for months!

Got rid of strawberry legs

Love the exfoliation without needing to scrub and irritate the skin

Basic and works well!

Great value for a neutral, lightweight toner. I had been breaking out more than I wanted so added a toner into my skincare routine and have had great results!

Value for money

It's ok for the price, but nothing's really improved after using it.

Great AHA

Good for face and body. It helped get rid of my strawberry legs

Amazing value

This toner lasts for so long and works great in exfoliating my skin. Wish there was a spray top though

Great for complexion

My skin looks so refreshed and glowy after using this consistently. Lasts a long time too!

Great Toner for acne and value for money

I can't wrong The Ordinary. Use this at night. You'll be surprised at the dirt it takes out even after cleansing.
I've noticed that it minimizes big fat pimples from the first use.

Good but nothing amazing

This is a nice toner however it has nothing on the Alpha H liquid gold, it is actually great for cleansing larger areas - it helped me detox off aluminium deodorant well.

Amazing value

Great intro to AHA's. Works great for my face and body

Great!

I tried this after using a more expensive brand for Aha exfoliation. I was a bit scared to use as first, as it's a higher aha than I'd used previously, but was very impressed when I finally did! I found it to be gentle and does a really good job, leaving the skin smooth with no irritation.
I still only use once a week, but I rate it highly.

not POC friendly

This product is not good if you have coloured or dark skin - you can face a lot of setbacks such as post inflammatory hyperpigmentation, unfortunately this did happen to me. I still think that its a good chemical exfoliant, just not for POC.

Not sure!

I am no sure about this one! Don't really feel like it is doing anything when I apply! I have extremely oily skin and love anything that stings, tingles and exfoliates but I think this may be too light for me. Great for anyone who is new to glycolic, skin care or has sensitive skin! Overall not bad for price point

Please add a spray top

This is sooooo good! I spray it on my arms as I have KP and my chest as I sometimes get pimples there. This is so good. I haven't used it on my face yet but the way it makes my skin feel soft overnight is amazing

Great Glyolic

I really love this product, however it is not one I would use on my face daily. I use it about 3 times a week on my face, and also use it on my body as a chemical exfoliator before fake tanning, it makes the tan go on so much smoother than when using an exfoliating glove.