ghd Glide Professional Hot Brush
Is this for you?
Lie in for longer with ghd's newest hair styling innovation, the Glide Professional Hot Brush. The perfect second day styling partner, this heated brush tames and smooths hair quickly and easily so you can spend more time doing what you love.
Hair Concern:
Dull, lacking shine

Fine or limp hair

Frizzy hair
Hair Curl Type:
Curly

Straight

Very curly/African/Caribbean

Wavy
Frequently bought with
Please wait while we find a match
Questions & Answers
(2 Questions)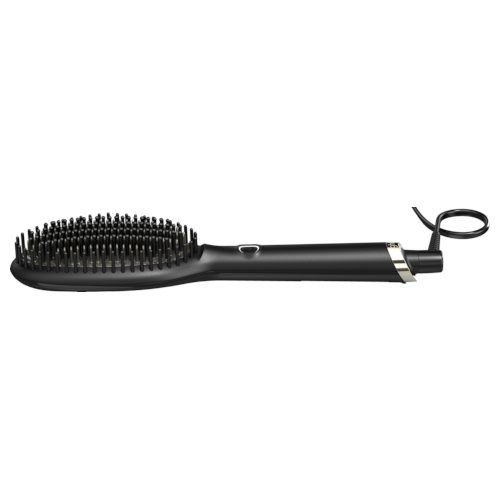 ghd Glide Professional Hot Brush
Get an expert to answer your question about this product!
90% recommend this product
Most Helpful Positive
Love it!
Easy to use and leaves your hair looking smooth and healthy
Most Helpful Criticism
50/50
Very 50/50 about this one. It does the job but not to 100%. Not good to straighten curly hair at the roots but it does do the job quickly.
50/50

Very 50/50 about this one. It does the job but not to 100%. Not good to straighten curly hair at the roots but it does do the job quickly.

Love it!

Easy to use and leaves your hair looking smooth and healthy

A good product, but not for styling fine hair

I swear by my GHD straightener for my wavy, fine hair. Whilst this job does do the job of straightening your hair, it does not have any tension like you can create with the standard tongs of a a regular straightener, so it leaves my ends kinky and my fringe impossible to style with this brush. I also feel that it is better suited to thicker hair types.

With all the great reviews of t...

Read More

Easy to use

This product is easy to use and the heat temperature is great for thick hair. I use this mostly for touch ups as I find it difficult to use on my curly hair after blow drying.

Not for me

I normally like ghd products but unfortunately this one didn't work for me.

Impressed

I was so scared after buying this that it would be a waste of money and I'd feel left feeling disappointed but I am so happy that I am not! It's realky amazing, it's quick and easy and my hair looks great

Amazing

This product is very easy to use and the time is faster than a hair straightener. Amazing.

Excellent, worth it

This brush has been great. With really thick hair, I can have it straightened and looking very smooth in under 5 mins (would normally take me 25mins). Absolutely worth it.

Game changer

I have super thick and long Filipino hair. This GHD glide brush is a game changer for me. Instead of taking the time to straighten my hair with a straighter which takes so long that I often just stick my hair up in a mum bun. I haven't done that since I've had this GHD glide brush. It's so quick and easy to use in the morning. The result is not as slick as the straightener for me, it's more a fres...

Read More

Great!

So this was a really expensive Christmas present to myself... but it's great! Makes mornings quick and painless. Removes links and ponytail lines when you're in a hurry. Heats up quickly and a great substitute for straightening irons when you're on a time crunch!

Quick and fast

I love this hot brush! It was actually an impulse buy as my GHD straightener was starting to die (had it for 10+ years) and I decided to give this a go. I have thick, oily and frizzy hair and boy oh boy does this hot brush help that frizz! It smooths and adds serious shine, all in a few minutes. It's not great if you're after an extremely slick and straight look but I personally prefer the fuller ...

Read More

So easy to use

So easy to use. Smooths hair out pretty much instanly. I prefer it to the straightner.

So easy to use

So easy to use. Smooths hair out pretty much instanly. I prefer it to the straightner.

Love it!

I have thick, frizzy shoulder length hair and the only time it ever looked nice was after a professional blow dry. Even my GHD straighteners won't do the job. But this brush is amazing! I can my wash my hair in the evening, let it dry naturally overnight, wake with with a mass of curls and frizz, put the brush through it and ten minutes later I have smooth straight hair with no frizz. Love it!

Perfect!

I bought this for my gym bag as I am always rushing from gym to work and seem to be forever trying to straighten my hair quickly or "fix" it when I don't have time to wash it. I keep my cloud 9 at home and have a super old Ghd in the bag and feel like the straightener is so harsh on my hair. After reading and watching great reviews I bought this and I am not disappointed! Perfect for fixing it aft...

Read More

Smooth

This works great taking the frizz out of my thick wavy hair
If you want dead straight you have to spend a little more time
Or use regular straightener

CYA STRAIGHTENER

I won't ever need my hair straightener again! This gives such a great frizz free blow dried look and I use it daily! Love love love

Quick and Easy

Love this when I can't be bothered to completely straighten my hair! Works really well, straightens nicely and effortlessly. Doesn't get those small curly spots around the face if you are wanting a straighter look, but otherwise is really handy!

Goodbye hair straightener, hello hot brush!!

I bought this brush after reading so many rave reviews and I'm so glad I managed to get one!! It's absolutely worth every cent- I have long thin, coarse and curly hair and this brush is so effective at smoothing the frizz- it's so easy to use, heats up quickly and takes a fraction of the time straightening irons do. My tip is to put your head upside down and brush from root to tip to give your hai...

Read More

Worth every cent

This brush arrived yesterday and I have used it twice and I am blown away. I even lay in bed a bit longer today like the ads say because I knew I would be able to get my hair sorted quickly for the day. I like no fuss hair styling for every day and this brush does a brilliant job of taming my hair and making it look put together in minutes. if you are considering this brush - just do it. you won't...

Read More

Love it for everyday use

I love this hair-straightener brush for easy everyday use ! My hair is already relatively straight with slight kinks, but this is easy to use, and I often use it when im on my way out of the door. Brushing through my hair with the brush takes no longer then 5 minutes, super quick although I would not say it is the best for making your entire hair dead straight. It can be difficult to get the ends ...

Read More

Perfect tool

I have shoulder length thick hair that is mostly straight but has some kinks. I usually don't bother with any styling tool.
But this is the perfect tool for me as I can quickly run it through my hair in the morning and it will neaten my hair.
This is also perfect for someone like me who is not talented with hair tools. It's so simple and easy to use.
I love how quickly this heats...

Read More

Absolute game changer

I was anxious about spending so much on a heated brush, but this has been worth every cent. I have very fine hair, and can now just give it a gentle blowdry for 90 seconds after washing, and finish with the heated brush - perfectly smooth, straight locks in seconds. Grips the hair really well, even my fringe. Not hot to the scalp or to touch, very easy to handle. Much quicker and easier than f...

Read More

You won't regret buying this

This brush is fantastic. It is easy to use, heats up quickly. The brush isn't as harsh as a straightener on your hair, leaves it soft and shiny. Perfect for second day touch up or even to smooth things out once you have roughly blow dried your hair. Highly recommend this product !

Good but hope the next model improves

This works really well to do away with frizz and fly always on my fine, coloured, shoulder-length hair. It takes about five minutes to look put together and you don't get the straw looking straightness you get from a straightener. I was a bit hesitant about the single temperature and was worried it might be too hot but it seems to be fine as you keep moving it. I wear a heat glove though because y...

Read More

Love it!

Easy and quick to use.
Heats up quickly but doesn't have the chime that the GHD straightener has, so you never really know if it's at max temperature.
It's not hot on your scalp. Handle gets a little hot near the actual brush
Perfect for top up/refresh straightening and if you are in a hurry.

Easy to use and a great result

This is a great alternative if you don't feel confident using a straightening iron. It takes away my curls but I find that the smooth finish doesn't last and my hair begins frizzing within a couple of hours of using this tool. My GHD straightening iron is still my go-to for all straightening needs but this is still handy for a quick touch up when I'm running out to the shops. Girls with less cur...

Read More

Save time with GHD Glide

I was a little wary about this product but it has exceeded my expectations.
It is fantastic for the day after a blow wave and really leaves my hair soft, straight and shiny.
I will take the GHD Glide away with me when I travel now instead of my straightener.
Love this product and so pleased I made the investment.

Love, Love, LOVE!

ghd has always been my go to Hair Styling tools branch but this time they have outdone themselves. I have a lot of fine oily hair that loses body quickly. Not only did the ghd Glide Hot Brush straighten my hair but it also gave it AMAZING body and shine!

Time saver

It does take a few attempts to get use to so don't give up on your first time. Once you master it really does save time. I have curly, thick hair and I have even found that when I have left my hair to dry naturally I can quickly use this first and then go over it with the straightener. It has reduced the amount of time I'd have a heat styling tool on my hair

Love it

Absolute love this brush. Makes such a difference. Takes only 10min to get my fizzy hair straight in the morning. So easy to use.

Truly Love the GHD Slide

I have medium length hair and was able to do a quick straighten by applying tension/holding the end of my hair while brushing the slide through, no sectioning required. My hair is fine and the slide smoothed/straightened my hair without removing the body/volume which is amazing!!

It will not replace my straightener BUT I can see myself using the glide daily, and the straightener for o...

Read More

Game changer

I am in love with this product.

I hate straightening my hair - as I find it takes alot of time to get an overall consistent smooth look and it burns my hand.

This tool makes it so easy.... I feel I will get far less blowdrys now I have this in my life.

Recommended to my mum and she bought one straight away!

Holy moly

This brush is amazing! Great for when you are in a hurry and don't have time to do a full straighten. Or if you want a blow dry effect, but aren't really that good at it (like me). It styled my shoulder length hair in under five mins. The effect was similar to how I look coming out of the hairdresser after a blow dry.

Do not buy

My hair around my face is layered so the shorter hair can't get enough tension through the brush to work. Don't buy, now stuck with an expensive hairbrush

Great for fine hair

This has been so good for my fine hair! Easy to use and it does glide through your hair. I was worried that it wouldn't heat up enough for my hair like other straighteners but it was perfect. Would recommend!

Brilliant

Amazing! So easy yo use and leaves your hair feeling silky smooth, highly recommend

Amazing

I was sceptical as other companies have not had much luck in the past but as it was ghd doing this one I though I'll have to try it as they wouldn't release a sub par product and there had been lots of hype after the launch party. And omg its doesn't disappoint. Was able to de link my hair after having it in a bun all day so quickly, no really I would have to wet the top layer and hair dry and the...

Read More

Excellent

I don't know about other hair types but this works extremely well on my hair which is thick, wavy and frizzy. Truly a game changer for me, smooth and straight in under 10 mins! I find it works better with thick sections as some tension in the hair gives a better result. I forgot to say, the hair feels quite hot so I wear a protective glove