Alpha-H Clear Skin Face and Body Wash 200ml
Is this for you?
An invigorating gel cleanser which deep cleans, cools and purifies the skin.
Frequently bought with
Please wait while we find a match
Questions & Answers
(2 Questions)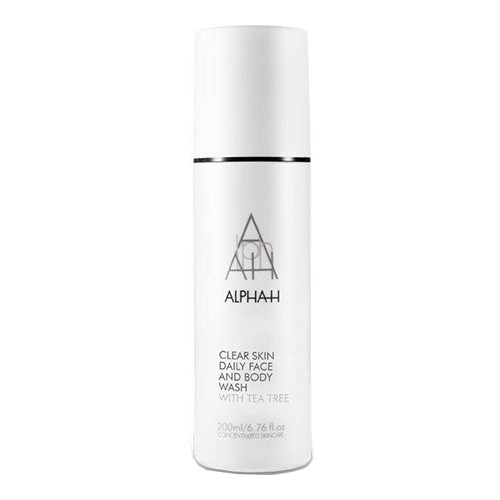 Alpha-H Clear Skin Face and Body Wash
Get an expert to answer your question about this product!
94% recommend this product
Most Helpful Positive
Clear
This product helps to clear and reduce my acne. Really effective.
Most Helpful Criticism
Did not help to clear up my skin
I used this face wash twice daily for 8 months. It did not irritate my skin but it also didn't improve the clarity of my skin so it was disappointing overall considering the price.
Clear

This product helps to clear and reduce my acne. Really effective.

Works well

I deal with bacne from time to time and this definitely helps calm it down without drying out my skin. Small amount for the price, but I use it infrequently to keep body breakouts at bay

Look no further

I used to suffer from extremely oily and congested skin. I have been using this product for almost 2 years now and my skin is completely clear. I am so happy that I can go to work, with or without makeup on, and come home at the end of the day without feeling like my forehead is slick with oil. No other cleanser has been able to help with my oiliness like this.

Everyday cleanser

I was looking for a new daily cleanser that would work on my acne prone skin. I use this daily along with the Alpha H tonic and blemish gel and my skin is so clear and fresh. I love my new skin routine.

Gentle, cleansing and clearing

I have found this face wash to live up to its great reviews. It is a gentle but deep clean, my skin feels great afterwards. Does not leave my skin feeling too dry or oily. Love. It does not foam, but I don't find it needs to. I still get that complete clean feeling. It smells great, reminds me of an aussie summer (tea tree, and eucalypts)

Morning Fresh

I cleanse my face every morning with this face wash. It makes my face feel so smooth and clean in the morning.

Great if your skin is feeling oily

Great to use when my skin is playing up, my hormones means lots of pimples on my chin. This cleanser helps heal them and also calm the skin down too

Favourite cleanser

Ive had problematic skin for years but this cleanser has helped my skin clear up so much! Doesnt strip my skin even when i double cleanse. Ive repurchased and will continue to. Foams up slightly and has a beautiful smell. I had very oily skin before and its definitely helped balance my skin.

Great

This is very gentle and my skin is left feeling clean but not stripped!

A shower staple

A shower staple, I love the scent and texture of this wash. It's also such a bonus to be able to use the same product for your face and body.

Reduces breakouts

Nice product, definitely helped to reduce breakouts, but I find other cheaper alternatives are more effective.

My go to

This is the second time I have purchased this product as I absolutely love it and swear by it. It reduces redness, acne and scarring on my face and the bottle has lasted me 2 months now and I still have plenty left. It's very delicate on my skin and I love the eucalyptus fragrance too.

Good

I have found this has helped my skins texture. Makes my body feel very soft and smooth after I use it

love

I found an improvement in my skin's texture after regular use. This is definitely slightly more expensive, but worth it for the great quality!

Amazing product for bad breakouts

I've been using the ordinary zinc and salycilic acids on their own and another FACIAL cleanser and nothing worked. I received this in a sample size and decided to try it. My face had large inflamed cyst like pimples that were sore. 2 days of cleansing with this morning and night and my face has totally cleared up. I'm still using the ordinary in conjunction with this cleanser but thank god I remem...

Read More

amazing

I love to use this before bed. This is definitely slightly more expensive, but worth it for the great quality!

amazing

cleans my pores right out and feels amazing, makes my complexion looks youthful and hydrated

Keeps my skin clear

This has kept my skin so clear and does a really great job of preventing oiliness without feeling like my skin has been stripped. I barely breakout anymore and I think this cleanser has played a big role in that. It smells of tea tree oil which some people may not enjoy, but I quite like it.

Great product

Such a great and versatile product! Works to deep clean leaving skin feeling fresh bright and hydrated! Definitely recommend

Gets the job done

Love this cleanser my skin feels clean fresh removes make up and doesnt dry your skin out. Amazing, leaves skin clean and fresh.


Good for oily skin

Great for when the breakouts hit, I like using this, it's quick and easy to use and foams up nicely, giving a great clean too!

Lasts forever

I recently tried the acne prone skin starter kit that contained a small version of this product. Since loving that, I purchased this one next and it has been doing wonders on my skin. Great value for the amount you get and you only need one small pump each wash.

Fantastic

I have very acne prone skin, mainly caused by hormones and stress. As I was changing to a different contraceptive I was really scared about my skin flaring up. I decided to try this product as it has salicylic acid on it which my doctor recommended. A month later my skin has improved significantly!

Great

Love this cleanser my skin feels clean fresh removes make up and doesnt dry your skin out. Amazing, leaves skin clean and fresh.

excellent

This is such a good face wash!!! it makes my skin feel so clean and soft, it definitely gets all the dirt out and even helps clear my acne I love this so much

excellent face wash

This product removes absolutely all of my makeup after using it with cleansing gel. It is so gentle on the skin as well and you only need a small amount it lasts forever.It is also perfect for washing my whole body i feel so clean after it

Great cleanser for oily/combo skin

I have combo/oily skin that is prone to breakouts and this is my new favorite cleanser! I use this after the Alpha-H Cleansing Balm. It isn't irritating to the skin, my skin feels fresh and clean, and my skin looks noticeably better after I've used it.
The tea tree smell is strong however personally I really like it. If you're sensitive to smell it may be a bit strong..

Cleanser that actually works!

I love this product! I was a bit unsure about the tea tree scent but decide to purchase anyway and I love it!
Need less than one pump for the entire face. I've been using this for a month and still have heaps left. My face feels so soft and clean after use.

Works well

I don't find this to be the most affordable but it does do a great job of removing my make up. I have pretty oily skin that can be sensitive at times. Would definitely recommend to anyone with a similar skin type!

Will be Repurchaing

This works so well on my sensitive, oily skin. I do not suffer from acne per say, just getting cluster pimples on my chin at a certain time of the month, but I do have extremely oily skin littered with blackheads. I have been using this wash day and night for a month and it's so good! Doesn't irritate my sensitive skin and has not dried it out once and helps control my oil and pimples. I have noti...

Read More

Great for Acne Prone Skin

Purchased this for my husband who's got sensitive skin that's acne prone. It's working a treat for him! His acne scars have now reduced in inflammation and is slowly subsiding & it's only been 2 weeks. Highly recommended!

Clean and fresh

What an amazing product. Leaves my skin feeling so clean and so so smooth! I almost don't want to apply moisturizer afterwards so I don't ruin that beautiful soft feel on my skin. Will definitely buy again, the only cleanser I found that keeps breakouts to a minimum.

Gentle face wash

This cleanser didn't irritate my acne at all and it felt soothing on my skin. It didn't dry out my skin at all and didn't leave it feeling tight which was great. Overall a nice gentle face wash.

Great

Applies well, foams up and face doesnt feel tight afterwards. So far so good, I have senstive skin and Iv had no reactions.

Great for acne prone skin.

My skin has responded really well to this though can be a little drying.

I really rate this

i really like this cleanser, it makes my face feel clean and smooth


Does the job

Works well as a daily face wash. Smells great too

Clear skin finally!

Best daily face wash ever!!!!!! I since high school have been battling horrible acne - This with the spot acne gel is 10/10 and has cleared my skin more then I ever could have imagined. Alpha-H is incredible!

Good

This is definitely the best facial cleanser I have used so far. The gel consistency is ideal for my oily skin and it has, in conjunction with some other products, helped reduce the occurrence and severity of breakouts. Having said that, it hasn't cleared up my skin completely, but it does leave my face feeling clean and fresh.
It has a pleasant but not overwhelming scent, courtesy of the...

Read More

Good

It feels so intoxicatingly good on the skin, and not too strong that burns or feels uncomfortable but strong that you can feel it working and stripping away the dirt and dead skin. This cleanser has been a dream in preventing my acne from resurfacing whole soothing the acne that remains. I know it has done lots to keep my skin supple and moist and I know how amazing it makes my skin feel after a s...

Read More

Alpha-H Clear Skin Daily Face Wash

Applies well, foams up and face doesnt feel tight afterwards. So far so good, I have sensitive skin and I've had no reactions.

great!

i really like this cleanser, it makes my face feel clean and smooth

Did not help to clear up my skin

I used this face wash twice daily for 8 months. It did not irritate my skin but it also didn't improve the clarity of my skin so it was disappointing overall considering the price.

good

got rid of my breakouts and blackheads

I like it

I was having some breakout and decided to give this ago and after a couple of days of using they cleared up and my skin felt really good, although I feel like it's only a cleanser to treat the breakouts then move on and get out again as the effects kinda disappear and don't do much with prolonged use.

Good

To anyone with oily, problem skin who has been considering this product, I definitely recommend giving it a try. and don't let the price put you off; my last bottle lasted me 9 months of twice-daily use.

A bit harsh for a "Daily"

I have Oily/dehydrated skin, so I think I thought this would be great for me, the combination of the salicylic acid and the tea tree I thought would really help me prevent breakouts. I think it really was just too harsh for my face especially as a go-to daily face cleanser, I'm pretty sure my face would have melted off if I had stuck with it any longer. I went to have facial a month or so into usi...

Read More

Great product

Started using this last year to combat my hormonal skin. It was oily and I had milia and this in conjunction with the other clear skin products really helped control this.

Good stuff!

I have struggled with hormonal acne for over 5 years now and this is the only cleanser that has seemed to sooth and reduce the amount of breakouts on my skin. It smells amazing, and leaves your skin feeling fresh and clean after every use.

I use this in the morning and switch to a stronger product at night when I have worn makeup throughout the day.

I love alpha h!

I have always sufferd with breakouts but recently had the worst breakout ever on my chin, I tried so many products, the "popular" ones advertised all over Instagram, but none of them worked. So I started doing my research on ingredients. That's what brought me to alpha h, and I've never looked back. I use this face wash every morning and night along with other alpha h products. ALL of my breakouts...

Read More

Saved my skin

Honestly I've tried EVERYTHING. Every brand, harsh treatments, spent so much money. This cleanser has hands down cleared up my acne. I have never known what it feels like to have clear skin. I'm soooooo happy this product - couldn't recommend enough!

Good quick clean

I found this product to be a good quick clean. When I didn't have time to do my full skin care routine I just used this and it made my skin feel fresh and clean. Will but again

Like it

I dont get many blemishes but when i use this in the shower and it clears it right up!

Suitable for sensitive skin

This product is quite gentle so suitable for sensitive skin. I can't wait to see results that i'm hoping for. I am definitely not a fan of the smell, its a little too fresh for my liking.

Super soft and gentle

Keeps my face fresh, easily removes excess makeup and is gentle on my sensitive skin. 100% would buy again

Lovely and gentle

This is a gentle cleanser that is perfect for mild to moderate acne. It is stronger than the Balancing face wash so may not be appropriate for super sensitive skin, but definitely not as strong as the liquid gold products. Definitely will repurchase

My 2nd bottle!

I've reviewed this before and I love it soo much that I've purchased a second bottle already now even when my current one is still a long way from finishing!!
It's such a joy cleaning my face with this cleanser. Gentle yet effective!! I'm also starting to use a bit of it on my arms with some current 'dots' as well.


Love!

Love this facial cleanser! I definitely recommend for a gentle face wash to cleanse the skin, and my skin has improved so much by using it

Like it

Pretty good, probably not recommended for intense teenager pimples, but great for controlling oil and cleansing your face!

love love love

I read a review of using this as a body wash for acne prone skin so decided to try it. I use in the shower to wash my shoulders, chest and neck and love it. It has helped reduce those pesky pimples.
When i do use it on my face i find it non-drying on my combo skin. It also gives a really thorough clean.

Fab Cleanser!

This is a fabulous cleanser! Even though it's a gel cleanser and doesn't foam up, it cleans the face effectively without stripping the natural oil. My skin doesn't feels dry up after cleansing and it's smooth. It also helps to clear up a lot of my hormonal pimples in a week that the triple action couldn't. So happy with it!

Smells good.

Smells great and fresh and doesn't dry skin, but that's where it ends for me. It's super runny which I don't like, I didn't think it helped my congestion and not a great choice on sensitive skin.

Highly recommend

I have had troubled skin my whole life and have tried everything under the sun! I have since come across alpha-h and it is amazing. This face wash is a miracle worker, my skin feels amazing during and after using it, it doesn't dry out my skin and my acne has decreased severely which makes me so much more confident and I don't even have to wear makeup anymore! I highly recommend if you have acne o...

Read More

Fantastic

I'm 31 and have hormonal breakouts ! This is fantastic use with the hydrating gel and acne gel found in the clear skin kit also

Pimples, be gone!

I use this cleanser when I have breakouts and it's amazing! It's gentle enough to use on sensitive skin yet effective enough to deep clean and help rid my skin of pimples. It's not drying either which is a bonus from a skin clearing cleansers. Would 100% recommend to people with troubled skin!

Beautiful cleanser, kind to the skin and WORKING!

I purchased this product along with the alpha-H liquid gold, and have been using this cleanser morning and night for two weeks. Firstly, it smells really lovely and fresh, you get hints of tea-tree however, this isn't overwhelming. It has good consistency, and I've noticed a lot of bumps I had under the skin on my forehead and chin have been clearing. I've had trouble with my skin for about 9 mont...

Read More

great for daily use

Nice gentle cleanser that smells fresh and amazing! Really great for daily use.

Awesome

A good wash to clear the skin!

Alpha H is the best skincare line I've used

I have been trying so many different products and I came across Alpha-H, don't even know why I started using this line but I'm so angry I didn't find it sooner!

The best for those who have sensitive skin, I didn't have any kind of reaction to any of their products and this is the best cleanser and leaves your skin feeling fresh. The products in it calm down any breakouts as well

Love

Love this cleanser. Use it morning alone and evening as step 2 of a double cleanse. Its done absolute wonders for my skin. I pair with a glycolic toner for all of the peeling! The result? Clearer skin than I've ever had

Perfect, gentle cleanser

This cleanser works so well to remove makeup and dirt, with absolutely no drying. I have combination/normal skin which leans a little dehydrated in winter. I find this takes great care of my skin, doesn't strip or dry out the skin. Very creamy and gentle, and non-foaming. I know some people are put off by non-foaming cleansers and feel they don't clean as well, but this is a myth and non-foaming f...

Read More

A must have.

Great product, use all the time

Amazing for keeping skin clear.

I exercise daily and always use this in the shower after as a body wash to help remove any bacteria from sweating and keep my skin clear. I also use it on my face when my skin has breakouts and it helps clear them up really quickly. I swear by this product to prevent me from breaking out after exercising. It also smells amazing because of the Tea Tree and Eucalyptus in it.

Great

I have this in the travel size and its great. it is so refreshing and not too harsh on your skin.

Not too harsh

This cleanser leaves my face feeling super clean but also super moisturised and refreshed. Too often a cleanser will dry out my skin and I'll be running for my moisturiser - not with this product. I love it!

Nice cleanser

I decided to give this cleaner a try for its anti bacterial properties for my combination oily skin that is still prone to the odd break out. I love the feeling of this cleaner - it feels refreshing on the skin. I haven't found it to be drying or harsh and cleans effectively.

Great for acne prone skin

This is such a nice product for inflamed, acne prone skin. I wouldn't use it on my face everyday as its a little drying... but I save it for when my skin is having an oily/inflamed day. It is super soothing and fresh, especially on irritated skin

Refreshing

I loved this cleanser for days when my skin was ultra oily. It was very refreshing, but it did dry out my skin to much on regular days

Drying

While this cleanser has some excellent ingredients for problematic skin types (niacinamide, salicylic acid) and also has some nourishing ingredients (aloe) - I think acne sufferers and people with oilier skins would be better off using one of the other Alpha-H cleansers.

This is very drying, and I know from painful experience that attempting to treat oily, problematic skin with dryin...

Read More

Stop breakouts but very drying

I am currently using this cleanser along with the clear skin hydrating gel and they work very well at clearing acne. I haven't had a breakout since using it. However I have semi-sensitive skin and these products are very drying. I found that after a month or so of use my skin was getting very dry, red and irritated. I found that I could fix it by also using Alpha-H's sleep power mist to my skin ca...

Read More

Good cleanser for oily skin

This cleanser is effective for oily skin without causing any irritation to my sensitive skin.

So clean and clear!

I suffer from very oily skin which then lead to being dehydrated by all the mattifying products I was using that were just stripping my skin and making the problem even worse. Since changing my face wash and moisturiser over to Alpha-H I no longer need to blot oil off my face multiple times during the day. My face is also so much clearer and even. I'm on to my second bottle of the Clear Skin Daily...

Read More

fave cleanser!

i love this product so much! first of all, i love how big the bottle is! i feel like its going to last me a really long time and is great value for money.

my skin feels so soft and clean after using this and its my favourite feeling. i use 2 pumps morning and night and lather into my skin. i used to use this with a rotating face brush but have recently gone back to doing it by hand a...

Read More

So fresh

I really like this product, it's really refreshing, I feel super clean afterwards. I've used it on face and body and while I love the scent – the tea tree makes me feel so clean - I think for body I prefer something that lathers a bit more. This product is so smooth I can't tell whether I've put enough on and if I'm actually washing my body or not. But for the face it's great, I actually prefer a ...

Read More

Great scent

This is one of my favourite products to use everyday. It is gentle on my face and skin. I found the formula slightly odd, as it doesn't lather like most shower gels - so if you like lots of suds, then this product may not be right for you. In saying this, it left me feeling clean, fresh and rejuvenated. I love the invigorating scent of tea tree.

Refreshing wash

I have normal to combination skin, so I find that this cleanser is a bit too drying on my face, though it would definitely suit someone with oily skin. As a tradie, I often sweat throughout the day and am prone to breakouts across my chest, shoulders and upper back. I find this product great for cleansing my body and controlling these breakouts. It smells and feels refreshing.

My skin is left feeling clean, invigorated with a cooling freshness.

I use this body wash in my morning shower and have found my skin is left feeling clean, invigorated with a cooling freshness. When applied liberally, the gooey gel cuts through any dirt and oiliness on my skin without any unnecessary foam.

Excellent results for combination skin

In my mid 20s I started to get bad breakouts after never having much of a problem before. I guess my skin changed as I got older. My beautician recommended this product to me and it has made all the difference. It is non drying, it doesn't irritate my sensitive skin and it is excellent value. I have been using it now for 4 years and I get comments all the time about how lucky I am to have such go...

Read More

love it

not too drying. keeps breakouts at bay. will continue to use.

I tried the entire Clear Skin Range and I am very happy with the results. This cleanser feels very light and I noticed my complexion was much less oily than usually after using it. Really LOVING these new Alpha-H products :)

This is a good little cleanser. It is fresh and has a lightweight gel texture, which foams upon contact with the skin. I really felt like it was cleaning my skin well, getting right into pores and eliminiating excess oil. It would be perfect for those with oily skin.