Wrinkles Schminkles is a range of 100% Medical Grade Silicone Pads that are worn while you sleep and treat Chest & Décolletage, Forehead & Eyes, Mouth and Neck wrinkles. Our Silicone Pads keep the skin taut so it can't crease or wrinkle while the healing properties of the Medical Grade Silicone create hydration and moisture - all while you sleep!
For best results of our range, use our Cleaning Solution to clean the pads and get more uses and our Morning After Glow serum to treat the delicate skin structure of the Chest, Décolletage and Neck during the day. Specially formulated with both active and natural ingredients to plump fine lines and leave your skin glowing.
Recent reviews on Wrinkles Schminkles products


Wrinkles Schminkles
Wrinkles Schminkles Eye Smoothing Kit
$39.95
User error got me off to a bad start!
I got one as a sample - thank you AB <3

For some reason I put it on the wrong way and spent 45 very frustrated minutes trying to keep them in place....I eventually realised they were on back to front and had run out of time to use them properly. I figured I'd put my fingers all over the "äctive" side that it shouldn't be used again, so binned it.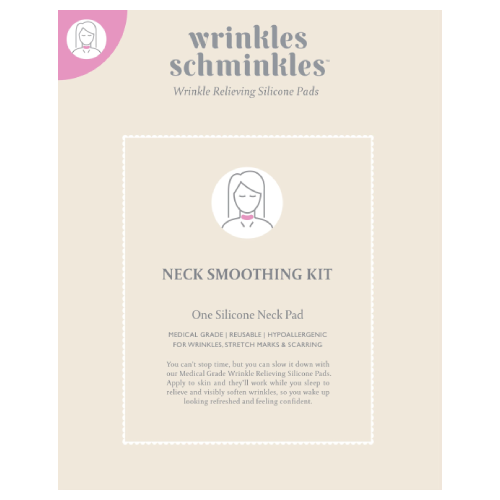 Wrinkles Schminkles
Wrinkles Schminkles Neck Smoothing Kit
$39.95
Difficult to use
Not bad, but the neck pad is really difficult to use and doesn't stay on your neck during the night, even if you lie down perfectly straight and don't move. When it is on it feels very intrusive on your throat! If you can get through the night, you will see some temporary results, but it doesn't really feel worth it to me.