SkinCeuticals Retinol 1.0 30ml
4 instalments of $31.75
Or 4 instalments of $31.75 with
LEARN MORE
4 instalments of $31.75
Or 4 instalments of $31.75 with
LEARN MORE
Official Stockist
Is this for you?
Perfect for problematic and photo-damaged skin, Retinol 1.0 contains 1% pure retinol, the highest concentration currently available
Cosmeceuticals
Artificial Fragrance Free
Sulphate Free
Eye Concern:
Age Prevention

Deep Lines
Skin Concern:
Acne, breakouts and blackheads

First signs of ageing

Pigmentation, uneven skin tone

Wrinkles and loss of firmness
Skin Type:
Dry

Normal to dry

Normal to oily
Frequently bought with
Please wait while we find a match
Questions & Answers
(3 Questions)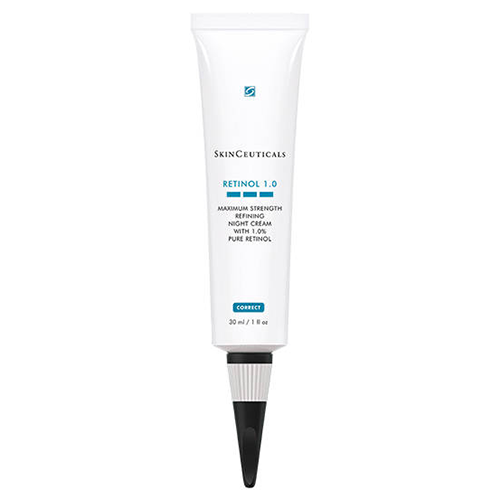 SkinCeuticals Retinol 1.0
Get an expert to answer your question about this product!
SkinCeuticals Retinol 1.0 Reviews
94% recommend this product
Most Helpful Positive
Very strong
Proceed with caution! After months, my skin finally tolerates it. The pain is well worth it!
Most Helpful Criticism
More information needed...
I have started using this recently and agree it IS really strong - you need to be very careful! When I first used it my skim freaked out a bit and got very dry, but i wanted to stick with it and I think I am becoming less sensitive (I've been applying a small amount once a week). The instructions on the packaging say to use a few drops, but it's a little hard to use sparingly because its consistency is less like a serum and more like a thick cream - so it's tricky to make those few drops spread all over your face and neck! I actually wanted to ask some advice on that - would there be something I could combine with this product that might act like a spreader medium, to stretch that small amount of product a little further? Thank you!
Hard to spread out

I love this product, BUT, I am having so much trouble spreading it out over my skin.
It drys up right away and therefor I can't move it around much and I have to use more and more.

Very strong

Proceed with caution! After months, my skin finally tolerates it. The pain is well worth it!

Worth the money!!

I love this retinol, it feels so nice on the skin, I've had zero irritation and it is helping my acne and uneven skin tone.
It is on the stronger side, so maybe try the lower strength first.
The only issue I have is the packaging, when you open it the cream comes out without you squeezing the tube.

Real Results

Upgraded to the 1% after using and .2% product for many months. Was worried about irritation as my skin is sensitive and dry however after surviving the first few weeks of peeling my skin looks amazing! So clear, smooth, tight and soft, I have received two compliments this week about my skin. Highly recommend, worth the price tag,

WOW

I ignored the advise to build up to 1.0, thinking it will just be stronger and work quicker. I used it the first 2 nights after another serum and gel, there was no extreme reaction but thought it would be too early to judge anyway. The third night I used after cleanser and toner, then let it sink in for an hour before applying any other product. The next day I woke up and my face had started peeli...

Read More

Strong!

I thought I had a tolerance to retinol- this product proved me wrong. This is the strongest retinol I have ever used and the results are showing. It has taken me a while to build up a tolerance and I can currently use it twice a week.

Hard core

Definitely feel this working as I have light peeling a couple of days after using. My skin looks a lot more glowy, however I've also noticed I'm a bit drier. Product can be a bit hard to use sparingly because it does't spread well. Will definitely keep using, but 1-2 times a week seems like the best amount.

Love it!

I have been using this retinol now for a week and am amazed at how smooth and clear my face looks. I haven't had any reaction at all as have been using retinol products for quite some time, but nowhere this strength. I'm in my 40s and I suffer from extremely uneven, quite severe acne scarred skin. Using this product has not only softened my scarring and changed the overall look of my skin but has ...

Read More

Definitely a noticeable improvement!

I started to notice the difference in the lines on my neck after only a few uses, I was using it once a week and my lines have faded so much. Definitely recommend this product!

More information needed...

I have started using this recently and agree it IS really strong - you need to be very careful! When I first used it my skim freaked out a bit and got very dry, but i wanted to stick with it and I think I am becoming less sensitive (I've been applying a small amount once a week). The instructions on the packaging say to use a few drops, but it's a little hard to use sparingly because its consisten...

Read More

A serious retinol - beginners beware

I ordered this retinol after years of trying very weak retinol products. I ignored all the warnings in the other reviews thinking i must have really tough skin because i have never had a problem with retinol products before . Oh boy was i wrong, so let me say it again for all you fool hardy people like myself - start SLOW. That aside, this is seriously powerful and effective stuff, i've purchased ...

Read More

Nothing comes close to this retinol!

I have tried most of the popular cosmeceutical brands of retinol and have found nothing comes close to this one!

Oops

I decided I needed to keep ramping up my retinol concentration, after using TO retinoid for ages (which I still love for AM or PM because it's so gentle, and has great oily texture) and Skinstitute retinol (also lovely, gentle and amazing price point) so I splurged on this one, and I found after using it a few nights in a row I did not have any irritation...except for around my eyes! I didn't real...

Read More

Very strong

The product is easy to apply and feels nice on the skin, however this is far to strong for me. I have been using this once a week for almost two months and I still peel like crazy about two days afterwards. This is a strong formula

The BEST of the BEST

Okay I've tried Medik8 Retinol 10 and 6. They are NOTHING compared to this. After 100's of dollars spent on Medik8 and only slight changes to my skin, I decided I needed the most powerful I could get. (Please make sure your skin can handle this, cause it's STRONG)
One week into my new Skinceuticals Retinol 1.0 and my skin looks already resurfaced, smoother, my acne pits are less prominent. A...

Read More

AFTER CONVERTING FROM 0.5 I'M HOOKED! Amazing results after first use!

I've used this 1.0 formula last night for the first time. I used the recommended amount of product (not pea size) tingling only lasted a few seconds - didn't apply around, eyes as instructed and I've woken up with smooth skin texture! A little bit of redness which my copper peptides will calm. My pores are smaller! So happy. AMAZING.

NOTE: I have been using retinol products for more t...

Read More

excellent product

I really like this retinol. I've used about 4-5 different brands over the years, and this is my favourite. My skin is not sensitive to retinols so this does not tingle, but it may if you have sensitive skin. In this case, you may need to build up to this strength. I like the creamy, but not overly rich, consistency of his cream. It does lighten pigmentation, but I've yet to find a miracle worker r...

Read More

Star

I get what I expected,my skin is more shine,less lines...it is strong so..for 2 weeks , put moisturiser before ;)

Love it!

I have sensitive skin and was hesitate to try retinol product at high concentration knowing it could irritate my skin more. I have been using this product for a over month now and it worked on my skin perfectly! I apply this product on top of the 242 cream 3 times a week, initially it caused a little bit of dryness, but it settles down very quickly. I can see the fine lines on my forehead is reduc...

Read More

Strong but effective

I prepared my skin for this product by working up the ordinary retinol range, but still found this too strong for immediate everyday use. I'm currently using it every second night and trying to work up to every night. I had some minor peeling but no painful irritation, but have found it fine for every second night. It's pleasant to put on, has no odor, and I've barely made a dent in the tube afte...

Read More

Packs a punch

Agree with other users this stuff is strong! Even for a seasoned vitamin A user. So I had to take a step back and use only once a week. I either mix with a moisturiser or layer on top and a barrier cream after.
Redness is minimal but the skin sloughing and heat sensitivity is quite significant. It's a very good product but I personally prefer the medik8 crystal 10

I've tried other retinols - this is the best.

Easily the best retinol I have used. Go easy when first using using to ensure you don't get an adverse reaction. But it has really helped with dulling out acne marks..

Best over the counter retinol

This is so highly recommended by skincare experts.
I had already used lower strength retinols so I thought my skin was ready for this.
Boy was I wrong. This is strong!
I only use a tiny drop, all over the perimeter of my face, never in the centre of my face, except a tiny bit on my nose.
Always four days later my skin peels, pretty noteiceably.
It doesn't make my skin...

Read More

Good stuff!

This retinol is the best so far I have used. I have tried many big brands and cheaper ones and this one works. I have tough skin and i have had to use 60% acid peels to get my skin to react, but this retinol seems to actually penetrate in to my skin and I actually peel!!! Yes its pricey but I use it on the areas I need mostly done for pigmentation, so it last for ages. Far from a waste of money li...

Read More

Amazing product

I've used oral retinoids 10 years ago and it worked wonders. However i started having adult, cystic acne about a year ago and i've tried many types of skincare products with little success (diligently, in a 7-10 step skincare!). I wanted a good retinoid and decided to try SkinCeuticals. I am very impressed with the product. I saw significant improvement after ONE application. Reduced acne, improve...

Read More

Great at smoothing my skin

I am turning into my 30s this year. Retinol A is my anti aging secret.

I use Vitamin C in the morning and Retinol A at night. Good results so far. If you have a sensitive skin, better start using Retinol A with a low concentration

Strong!!

Oooft, this stuff is very strong! I've used other brands' "1% retinol" and had no more skin peeling at all despite frequent use. I therefore decided to upgrade to this product and after ONE use, I had skin peeling (no irritation, just superficial exfoliation). So start slow with this even if you've used other retinols. Excited to see the long-term effects. I'm very impressed with Skinceuticals.

Read More

Definitely have noticed a difference

I have been using retinol for years and have tried many different products. I have been using this for a couple of weeks now and I have definitely noticed a difference, my skin feels brighter and fresher in the mornings after using this product. It hasn't caused any dryness and peeling for me as other people have noted but I have been using retinol for a while and have oily skin. Would definitely ...

Read More

Immediate difference

I've been using this product for a couple of weeks and noticed an immediate difference. It's the first time I have used retinol so I can't compare this to other retinol products. But I've been impressed. Skin feels softer and it has not been too irritating for my sensitive skin. Looking forward to seeing the long term results.

Retinol

Nicely boxed creamy feeling quite strong start slowly for your skin to accept this can create stinging but nmy skin will benefit in the long run

The real deal

I'm seeing great results with this. I purchased this a few months ago and have been very slowly incorporating it. I'm 26 years old and seeing early smile lines and dropping but this is softening them and tightening my skin well, especially labial folds. I use a very small amount about twice a week, and mix with a HA serum in my hand before pressing it into the skin. I haven't had any issues incorp...

Read More

Best retinoid ever!

Another fantastic product from the SkinCeuticals brand. As a man in his early thirties, age prevention has become a big focus for me in my skincare. Used in the evening, this high strength vitamin A cream helps to increase cell turnover and combat the physical signs of ageing, including fine lines, wrinkles and pigmentation. After a year or so of nightly use, my skin looks and feels amazing. It al...

Read More

Super strong

I thought I had built up my tolerance to retinol as I used The Ordinary .5% and then up to the 1% with no issues. This is obviously a stronger formula as I have found that I have had slight skin peeling around my mouth and nose. I was using it every three days but have dropped to maybe every 5 days as I build up a tolerance to this stronger strength. Even with the peeling though, I do feel like...

Read More

Best Retinol on the Market

For first time retinol users make sure you start with a lower dose! Once you are able to use the 1% retinol - your skin will work wonders! I find this retinol to be hands down the best as it's pure and not filled with any silicone fillers. Has been my go to for over 5 years now!

Best Retinol on the Market

For first time retinol users make sure you start with a lower dose! Once you are able to use the 1% retinol - your skin will work wonders! I find this retinol to be hands down the best as it's pure and not filled with any silicone fillers. Has been my go to for over 5 years now!

The bee's knees of retinol's

When buying a retinol, you can't overlook this product. It is strong(potency) for people new to retinol's and it can peel your face off if you use too much. Definitely recommend easing in to this potency, mixing with a moisturiser or oil every 3rd night. Works brilliantly on those new fine lines, and the deeper fine lines improve to softer lines. Me likely!

Amazing!

I was extremely surprised at how well my face responded! In 2 short weeks of using my new product, I've noticed some fine lines that were on my upper lip now very faint ...so excited! I have been very diligent about getting microderm facials once every month for the past 3 years but only see minor differences that last between 3-5 days but with this Retinol product so far I can already see that i...

Read More

Highly recommend

Effortlessly goes on, slight tingling but after a couple of days great results. Great introduction to retinol therapy. Well invested

Highly recommend

Effortlessly goes on, slight tingling but after a couple of days great results. Great introduction to retinol therapy. Well invested

Worth every penny!

This is strong but if used as directed you will have amazing results. I love it, it makes my skin smoother and my old acne scars are less visible. This will change your skin forever!!!

Fave retinol

i have been using retinols for a few years now as i have congested skin and want to prevent ageing! i was using the ASAP A+ serum for about 3 months and decided to switch to this one - and it is a far superior product! even after a single use my congestion was clearer and my complexion was more even and smooth!
it is on the more expensive side when it comes to retinols on the market but it i...

Read More

Strong but effective

I was using the 0.5 retinol but was not seeing any real results so decided to try this and I'm glad I did. The result after 2 weeks is smooth skin and pores are less noticeable. I did find my skin flaking after a few days and slightly red around the eye area. Will keep using to see further results.

Start low

Start low and build your tolerance up as this is strong but very effective

It reduces my mum's wrinkle

After had a good result with Skinceuticals retinol 0.5%, I bought 1.0% one for my mum. She's gotten into the purge period too but eventually her skin adapted and start showing the good effect after a month. She loves it and told me to repurchase it! Oh ow...

Highly recommend

Prior to using this product I used the 0.5 retinol to prime my skin for the 1.0. In the first week or two, my skin peeled a little bit and was slightly red after applying it. But after a few weeks my skin felt so smooth and soft. I've never used a product that has left my skin so soft and clear. I would definitely recommend using the 0.5 product first, as the 1.0 version is much stronger.

It works and a little goes a long way!

I have had this for months and it is still maybe half way through. But even with using such small amounts, I still notice quite an improvement in texture and brightness of my skin. I do use a number of other skincare actives but I know it is the retinol as I haven't seen any similar changes like it with other products.

I used to use another retinol but stopped for a while before this ...

Read More

Strong stuff

Despite preparing my skin for the strength of this retinol (e.g. using lower strength for a while beforehand), I still found this too full on for my skin. I have to use moisturiser after application otherwise it stings my skin and leaves it red for the following few days. I haven't noticed any difference to my skin but that's because I cannot tolerate any prolonged use.

Hello Youth!

From reading a few of the reviews I was hesitant to try this product as I've only used retinol once before and not for an extended period due to the fact that I realised I would be spending a lot of time in the sun on a holiday and would risk sun damage. I expected peeling, dryness and redness, all of which would clear, but, I kept putting off using it as I didn't want these reactions before signi...

Read More

Best retinol!

Always count on this bad boy to even my skin tone out & prevent my ageing. Will use forever. In love! For sensitive skin I recommend using once every 2-3 days as it is super strong (which means it's got the good stuff!)

Nope nope nope

I really wanted to love this retinol but no matter what way I used it it burned the hell out of my skin. I ended up with a burned looking red face.
I tried using it only twice a week and over moisturizer and still killed my skin.

Not for the faint hearted

Amazing!! But Not for the newbies

This is an amazing and effective retinol that has really helped make my skin amazing. It is quite strong so you really need to ease your way into this one.. love it

Great retinol

I really enjoyed this retinol. It was very effective but not as harsh as others I've used in the past

Great results but strong

This gives great results but it is very strong. You will need to start gradually. Peeling will also most likely occurs.

It works but you need to go gradually

I used The Ordinary first but didn't see any difference and decided to give this a try. My skin peeled lot (burned a bit as well) after the first couple of times but gets better gradually.

Make sure you hydrate after use as well as it can dry out the skin.

Obsessed

The stronger the better I say! This is amazing but be careful... depending on your skin don't use this too often as you skin can flake! I love this and it makes my skin look so radiant and smooth!

Best Retinol Ever!!!

This is the only retinol I've used that has made a big difference to my skin. Did make my skin peel initially. I would recommend starting off with 0.5 if you haven't used retinol before as this one is stroooong!! Worth the price!

AAAAAMAZEEEEE

My skin is so soft and smooth!
All the crud in my skin has come to the surface and super easy to remove with safe extraction.
First time I also peeled like other users, but I did use a lot of it without other skin products. Haven't peeled since.
Results were the best I've experienced over any other retanoid/retanol product, including prescription types!

Goodie

I was using the ordinary retinoids and didn't notice anything so I jumped to this. I peeled ever so slightly after the first use but nothing since. I use twice a week after using the aspect fruit enzyme mask and have a nice glow and reduced lines after 2 months of use. Make sure to hydrate +++ after use

Best retinol product on the market

This is by far the most effective retinol product you can buy over the market. I've done a lot of research to find the strongest store bought retinol and this is the one. I've recommended it to many friends and they can't get over how strong it is. Definitely worth the $$

Really works!

I have been using this product for a year now and I have to say it really does what it says. My acne scarring has softened and pigmentation also faded. It also tightened skin and I have also noticed skin texture a lot smoother. Highly recommended!

Too intense for me

I tried this the other day and it was a bit too harsh for my sensitive skin. I am sure it would be great for those who are less sensitive though, but is a risk for the price!

Hardcore but effective

Don't use this if you've never used retinol before, as it is rather strong. But if your skin is used to it, this has got to be the best retinol out there. Leaves skin so polished and youthful. I couldn't live without it!

It works!

My skin is resistant to treatments and this makes me peel!!! I have used many brands and I always come back to this one! If anyone knows anything stronger, let me know. But then again this product has not failed me when I want results. If you can put up with the peeling and just try to lightly exfoliate the dead skin in the morning and a good moisturiser and foundation, you should be able to cover...

Read More

Best Retinol on the market

I have dry/combo skin and I have pigmentation from roasting in the sun as a teenager. And some wrinkles that I really wish were not there! I brought this product on the suggestion of a friend. I have tried a few retinol products by other brands in the past and had some very unpleasant side effects that really turned me off retinol. My friend suggested this product as she said it was worth the c...

Read More

Great skincare

This product helps keep my fine lines at bay and my face is not breaking out as much anymore. It has also helped reduce my cystic acne which I am very happy about. If you are looking for a fantastic retinol or anti ageing product, definitely include this in your skincare and you'll reap the benefits

The best retinol to date

Hey guys, this little tube is so worth it. I saw a couple of reviews online and was debating whether or not it would be worth it for the cost and I'm so glad I bit the bullet.

I have very oily skin, lots of acne scaring and some fine lines beginning to form. I've used five or six different retinol formulations (between 1%-5%) and this has outshon them all. The results weren't instant ...

Read More

Quality not quantity

After using this retinol for 2 weeks with the B12 I can say that this is the best retinol cream I have used. Skinceuticals is an expensive brand but if it gives me results then I am a happy customer. My skin is definitely better off so much brighter and pigmentation is almost faded. I definitely recommend trying of course with the 0.5 for first time users.

Vitamin A+

As a dermal therapist I am all about results and Skinceuticals is a brand I trust. Retinol is scientifically proven to rejuvenate this skin. It promotes skin renewal and enhances collagen production. It's the no.1 product I recommend to my clients with concerns about skin texture. A++

Retinol

Really good retinol cream, surpasses my expectations.

Favourite Retinol Product

I have tried and tested numerous retinol creams, and this is by far my favourite! It has been combating the scarring left from my normal and cystic acne, without any pain at all! I was spending all my money on "peels" and later treatments, and to be honest I have found this to be just as effective. I use a dermal roller (skin needling) prior to applying my retinol 1.0, and I found it has made it e...

Read More

Liquid gold!

This is my favourite Retinol product!

My skin (sensitive) feels amazing every single time I use it, feeling smooth, firmer, and with a noticeable reduction of fine lines (especially on the forehead).

Also worth mentioning is the packaging - The tube is perfect as it protects the active ingredients (very little exposure) and makes it very easy to avoid wastage (you know w...

Read More

Very Highly Recommend

I suffered from constant breakouts in my thirties right through to my late forties and tried everything and nothing worked... until this product. My skin is now clear!! No more breakouts, my skin is smoother, the retinol has completely faded all of my red marks from previous breakouts, my complexion brighter it's an all round skin saver. You do have to ease into it, gradually increasing the numb...

Read More

Retinol

This is the best retinol product I have ever used, I tried the 0.5 first and now I'm using the 1.0. Fantastic product I will definitely repurchase.

Fantastic

This is the best retinol product I have ever used and trust me I have used so many different brands. The quality of the retinol is just another level, other brands may increase skin cell turnover and make my skin look brighter but this is the only brand which I have used where I have seen:

1. A reduction in the fine lines on my face.
2. Reduction in pigmentation.
3. Smal...

Read More

Love it

I bought this after years literally years of humming and hawing about It. Im so sorry I didn't buy it sooner. After one use my skin was clearer. I have used it for a few months now and noticed improvement on my forhead lines, frown lines. I did buy the 1% first would recommend using the lower strenght first. I can only use it twice a week. If I purchased the lower strenght built up as recomm...

Read More

Incredible

I have combination skin with acne scarring and pigmentation from sun damage. I purchased this to try and combat the scars and pigmentation, and so far it has been incredible. I have noticed a huge difference in the overall appearance and texture of my skin. This is a lot better quality than other retinols i have purchased, and you definitely get what you pay for! I cannot recommend this enough, we...

Read More

High quality

This is a really high quality retinol from an amazing skincare brand,
this has helped so many issues I had with my skin, mostly the texture and blemishes! my skin feels so plump and smooth since using this :)

Best retinol

I've used this for years now as it's probably the most effective OTC retinol product on the market. I've had dramatic results in texture and overall skin tone. I'm not troubled by fine lines, but I'm convinced I'd have more if it weren't for this. This is quite strong so I'd warn to start with small amounts every 2nd or third day, and use loads of sun protection!

It does refine your skin

I purchased this product without any advice from the Adore Beauty online chat room, I just did a search and read the information, then I Google searched Reviews. I was wary of purchasing the 1.0, as I typically have sensitive skin & was worried about breakouts. Using it every second day has most definitely refined my skin & I haven't had any breakouts whatsoever!

I'm almost 47 and ...

Read More

It really turns back time!

I am 42 and have been investing in skin care a lot over the past year, including professional peels and found that nothing was giving me lasting results to reduce fine lines, irregular skin tone, scarring, pimples and loss of skin tone.

I started to research and saw that Wayne Goss had returned to using Retin A. I then watched Mellissa55 on Youtube and was utterly blown away by her i...

Read More

Slightly flaky skin but works a treat!

Yes, this like any other retinoid does make your skin a bit flaky, however it also tightens your pores, softens your skins and refines the overall appearance of your skin. I pop it on at night after my shower, a tiny pea sized amount is all you need. In the morning I wake up to slightly shedding skin, however I give my skin a light exfoliation with some gauze soaked in warm water and then layer my...

Read More

Best skin product I've ever used

I have PCOS and really struggle with oily congested skin. Make up never look nice because of the bumps and congestion on my chin and jaw line. I didn't think this product would help because I'd already had professional peels and laser. I was wrong! It worked. After a week I have a small about of peeling and my skin was a little red and itchy but 6 days on the congestions is finding it's way to the...

Read More

effective

I am 52 & have used .5% retinol for a while so decided to try the 1% it is much stronger & actually burned my neck the first time I used it so beware if you haven't used it before use very sparingly & follow directions, but it is a good product. My skin is a lot smoother after only a couple of weeks use.

Amazing. Takes a while and a bit of pain, but totally worth it.

I'm close to 30 and wanted to start on OTC retinol as I noticed I was looking older than I really am. It's been 6 weeks since I started using this product (every three days) and it's been worth it. First 4 weeks saw lots of peeling and pimples, but it went away and I'm left with skin that not only looks younger, but doesn't require make up. Recommending to all my friends.

The best over the counter skin care product for anti-aging and acne prone skin

I am in my mid forties (eek) and have suffered from acne/pimples my whole life. I have tried every over the counter product available including pro active.

Retin A has mad a HUGE difference to my skin. I will never be with out it! Start with 0.5 percent Retin A, then move up to 1%. My skin, glows looks healthier and im getting complements from friends. I started using once a week ...

Read More