Shu Uemura Essence Absolue 150ml 150ml
Hair Concern:
Breakage and split ends
Colour protection
Dull, lacking shine
Frizzy hair
Hair Curl Type:
Curly
Straight
Very curly/African/Caribbean
Wavy
Frequently bought with
Please wait while we find a match
Questions & Answers
(No Questions Yet)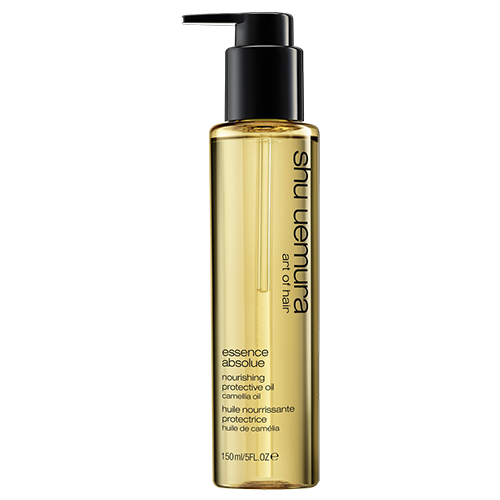 Shu Uemura Essence Absolue 150ml
Get an expert to answer your question about this product!
Ask a Question
93% recommend this product
Most Helpful Positive
Great
This is amazing. Makes hair shiny and helps detangling. Originally received as a sample and bought the full size.
Most Helpful Criticism
Smells nice
Very light weight oil, smells nice and leaves hair soft. However I didn't feel like it helped with frizzyness
Great

This is amazing. Makes hair shiny and helps detangling. Originally received as a sample and bought the full size.

Soft and Smooth Locks!

I received this as a free gift and have been using it for a few weeks now...I am finding my unruly, dry, frizz prone hair is far more well behaved, smooth and tangle free. This is a lovely leave in product, never too oily and the smell is really gorgeous.

Robust and longer lasting results!

I really love using this oil at the end of my hair care routine and in conjunction with the Shu Uemura urban moisture shampoo and gentle radiance cleansing oil shampoo. The oil is thick but isn't heavy and is absorbed quickly. It's nourishing and I notice less frizz for longer than the previous hair oil I was using. It has a nice light fragrance that Shu is known for.

Worth it

I received a large sample of this oil. It makes my hair feel like it did when I was a child with super silky hair. It smells beautiful too! It has a light floral scent. Definitely will repurchase when I'm out, but I only use 1-2 pumps and I have long hair.

Need this in your haircare routine

I received a deluxe sample of this in a recent order. I couldnt pass this up as I am a huge fan of the Shu Uemura Hair Care range.
First of all, smells amazing. It smells like it works haha
I have bleached blonde hair. Its dry and it is curly so not only do I have to maintain frizz; i have to maintain moisture and strength. As soon as I applied the product through my hair, I noticed how easy it was to run my fingers through my hair. This honestly acts like a detangler as well as a protectant and a nourishing agent.
This protectant and nourishing oil is well worth the price tag. This is a product that proves that it works as soon as its applied to the source.
A non regrettable purchase, I can promise that!

Smells nice

Very light weight oil, smells nice and leaves hair soft. However I didn't feel like it helped with frizzyness

Amazing smell

I received a deluxe sample size of this product in a promotion. After using it a few times already, I can now say this is my holy grail hair oil. I have fine, frizzy hair but always use oils after straightening or curling to keep frizz down and make it shiny and healthy looking. The oil smells divine and doesn't weigh down my fine hair or make it greasy. The price is a bit much but considering you only need a drop at a time, it's not too bad.

Good product

I received a sample of this, and I like it. It leaves my (fine, wavy, bleached) hair feeling slightly moisturised, but I need to use a fair number of pumps, despite my hair being quite short. The fragrance is also not to my preference, but I didn't react to it, so I don't mind. I'm not sure if the product is worth it at this price, but it does what it says it will do.

Absolutely beautiful!

This hair oil is nourishing and smells divine! It does NOT leave a sticky film or residue as it sinks right into your hair. You need very little so it lasts a long time. Worth every cent!!

Salon Results!

Love this hair oil. I'm usually reluctant to spend $$$ on hair products because I don't know if they will suit my thick, colour treated hair. I've been looking for a good hair oil so it was good timing when I received this as a sample. It gives me that hairdresser, fresh hair feel - which is worth the cash in my opinion. You only need a small amount to work through the lengths and ends. Will def purchase again!

Light weight

This is a nice light weight oil that adds a beautiful shine. It's not sticky or heavy, but I don't think this would be good for thick hair gals, great for fine though. A little goes a long way and it smells Devine

The most beautiful hair oil!

This has been my favorite hair oil since I first tried it at the recommendation from my hairdresser 4 years ago. It never weighs down my fine and not a lot of hair, no matter how much I put in. I feel the product is absorbed deep into my hair, whilst other hair oils I have tried seem to sit on the surface. It always leaves my hair feeling hydrated and soft. One bottle lasts a very long time despite regular use, I have used two in the last 4 years, and will definitely continue to purchase!

Best hair oil ever

I absolutely love this product!!!! I'm so happy to receive a small complementary bottle from adore beauty during my past purchase otherwise I would never know this product exists!!!! It's super light weight, smells amazing and makes my super dry hair look glossy and healthy. I will buy a full bottle of this when my sample size runs out. Thank you adore beauty for this discovery!!!!!

Love

I apply to my ends after styling and it has made my hair so much softer and shinier. I have extremely oily hair and don't notice my hair becoming oilier faster or looking bad.

Wow

Wow I love this, makes my hair look and feel amazing.

Silicone soft hair

This hair oil provides a slippery feel which makes hair feel luxuriously soft. However, you'd want to stay away from this if you're after natural products. The primary ingredient in this oil is the man-made silicone cyclopentasiloxane, of which is extremely harmful to the environment and marine life. Hmm....apparently it may also cause mild skin and eye irritation in humans and a small percentage of it reaches systemic circulation through dermal absorption. For this reason, I'm unlikely to recommend it.

My Favourite Hair Oil!

I absolutely love this oil - I have thin blonde hair, and have always found my hair super intolerant to oils, whether they result in discolouration, are too heavy, or even cause pimples around my hairline. This little beauty is amazing! I received it as a sample, and it has lasted so long - as soon as it is finished, I will be purchasing the full size as both my hair and I just love it! I wash my hair at night, put this oil in and sleep on a silk pillowcase, and I wake up in the morning with the softest, shiniest and smoothest hair! Love love love it!

Hair saver

I found this product absolutely amazing I have ageing very dry frizzy hair from having coloured it and bleached it for so many years my hair looked dead I've been using this oil along with a leave on overnight one by the same people and it really has made a difference to my hair I can look in the mirror Again and not see horrible hair looking at me that looked so thin. I know this product is pricey but a little goes a long way and it really does make a difference to your hair

Hair saver

I know this product is expensive but a little goes a long way it's absolutely amazing my hair is very dry and looks dead after so many years of colouring in bleaching and it's nice to be able to look in the mirror again and not see dead looking hair but shiny full bodied hair

Cannot speak highly enough of this sensational oil!

Absolutely magnificent product!
If there is one hair product I cannot live without... This is certainly it!
It Moisturises and Protects... Not to mention the beautiful glistening shine it gives my dark hair!
Special mention about this product,it lasts forever and smells divine!
It keeps my hair in exceptionally good condition and is value for money!


Love the scent

I love the scent of this! It's light and not too strong but smells oh so nice. The oil isn't heavy either and after blow drying my hair I can barely notice it's there. The bottle is a nice size too

Awesome!

I got this as a gift with purchase and really enjoyed it. Even though it was a little bottle, it actually lasted me quite a while even though I used it generously and frequently. I love the smell of it, though it's an oil, it doesn't make my hair greasy. Sucks that it's made with silicones though, one star off for that

My favourite

I use this before blow drying my hair and it's not a heavy oil at all. Also doesn't make my hair feel greasy. It's got a light scent which I can't quite pin down but it's really nice and subtle.

Very nourishing for dry ends

I have been using this product in the ends of my hair. My hair type is oily roots and dry ends. The product applies well and leaves my hair feeling silky and smooth. I was a bit worried I had applied too much as my hair looked a bit oily after I applied it the first time, but it dries to leave the hair with a lovely sheen and subtle but lovely fragrance. Happy with this product and I recommend to people who have dry ends and need some extra moisture!

beautiful product!

I've received this as a sample and I've been using it on towel dried hair and leaving it to dry naturally. my hair is so smooth and silky and reflective to the light, I love it!

Good heat protector

I like the scent of this essence. It's a good heat protector, however it does contain silicones

Nice!

Leaves my hair shiny and soft. It's lightweight and doesn't leave oily residue. Fragrance is pleasant and not too strong.
My hair is fine, wavy/curly, oily roots/dry ends.

Love!!!

This is my favourite oil for hair. I have fine, blonde hair - this replenishes my hair without making it oily or weighing it down. I love using this befor blow drying/ironing my hair. Smells beautiful too

Worth the Price

I got convinced into buying this product at the hairdressers, and I remember walking away wondering if I had just wasted my money on an overpriced product.
But I was so wrong!
My bottle lasted me about 3 years.

It is so useful...you can use it before styling with straighteners/hairdryers to protect your hair, or use it after styling to give a shiny, polished look.
You can use it as an anti-frizz product.
You can cover your hair in it and use it overnight as a hair mask.

Also, if you are concerned about it leaving your hair greasy...don't be! This is a super light oil and as long as you don't rub it in to your roots, then you won't have any problems.

Not effective

I found this too oily, and it only coated my hair. It does contain a lot of silicone, which initially feels moisturising, but it's a fine line of putting in too much and just becoming an oil slick. After I used a bottle I didn't repurchase. Another purchase talked into trying by my hairdresser! :(

Effective, but beware it is pure silicone

This is an effective styling product, but beware this product is mostly made up of silicones so if you are looking for a more natural styling product and lured by the 'camelia oil' just keep in mind that there is a very little of that in this product.

Nevertheless, a couple of pumps through my hair does not weight it down and gives texture and some body. It can be used to smooth ends although I don't think it's the most effective product for that.

Gold!

I originally received this as a sample with another order and am I glad I did! It's the best hair oil I've used. Literally a drop does the job of smoothing my hair and I have hair past my shoulders. Does not feel oily like some other products and the smell is so lovely. The bottle is a huge 150ml so it will last me a lifetime!

Amazing product!

I received 2 sample sizes in my last order and you only need the smallest amount and it makes your hair so smooth and silky like you've just stepped out the salon! Such a good product definitely worth buying

Magic in a bottle

I received this as a sample and I am so glad I did!
I applied it onto my damp hair after washing, the oil goes a long way, I only used less then half of the sample bottle. so I would think this large bottle would last a while. I seen the difference straight away, my hair is very silky and shiny. I was skeptical thinking it might be a one day thing but after straightening my hair and sleeping in it, I have woken to beautiful, smooth shiny hair.

Definitely buying.

Amazing!

Leaves hair soft, silky and smelling beautiful. No residue- it sinks right into your hair. My fav!