SALT BY HENDRIX Rose Quartz Face Roller
Skin Concern:
Dull, dry or dehydrated skin
First signs of ageing
Questions & Answers
(1 Question)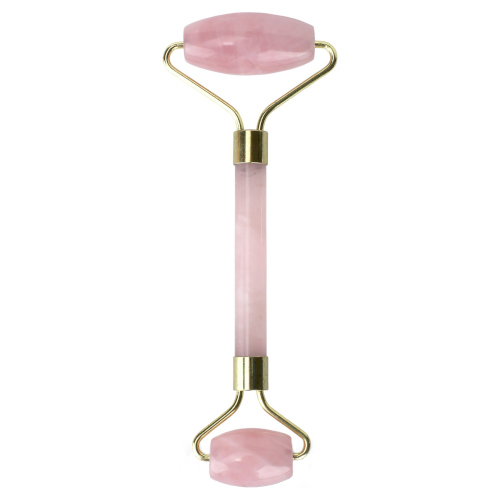 SALT BY HENDRIX Rose Quartz Face Roller
Get an expert to answer your question about this product!
Ask a Question
98% recommend this product
Most Helpful Positive
Amazing
Would definitely recommend this item. Bread for incorporating in your skin care regimen. Helps massage the beauty oils seamlessly
Most Helpful Criticism
Beautiful
This is such a beautiful tool to use with pushing in product from sheet masks, or any oils and serums, however I find it difficult to see how this is any different from all the other face rollers out there (its a very saturated market).
Amazing

Would definitely recommend this item. Bread for incorporating in your skin care regimen. Helps massage the beauty oils seamlessly

A cute gift to yourself or others!

I really enjoy using my roller, but I can't emphatically say that it does much for my skin. However, it is very relaxing and soothing, and I am thinking of purchasing one of the oils from the same brand as an extra gift to myself. If you've got the spare cash, I think this is definitely a 'splurge' item and beneficial to self-care after a long day or work week. It also feels like quality on the face and when you are holding it in your hand. The colour is also quite pretty!

Love this

Have been using this for a few months and love the feel of it! It's very relaxing and is very effective for rolling serums in.

Pretty

Just as good quality as other brands charging five times the price. I'm not convinced on the benefits but it feels nice and the ritual is a bit of treat. If you keep it in the fridge It definitely helps on mornings after a big night out!

Fantastic Product

I have had mine for a few days. I keep it in the freezer and use it after showering at night with macadamia nut oil. It makes my skin feel fresh, less puffy and refreshed. I am really amazed at how good it feels, I honestly did not expect this at all!

Instant calm

Whenever I use this tool i feel so calm after as it really does massage your skin and de puffs like no other! I put this in the fridge in supper and it feels so luxurious using this first thing! Love.

cutest beauty tool that is affordable!

I recently purchased this quartz roller and I must say it is the best! not only you feel like royalty with such a cool pink roller but also it is so affordable. I researched a lot on this jade roller hype before choosing the right one to purchase, some are just too expensive. This one by Salt by Hendrix is really good. I pair it with my Aesop lightweight serum daily and they work like magic on my skin. I really believe I have better-looking skin now!

Great

I love the feeling of this roller across my skin. It is so cooling and soothing, the feeling is addictive. Brilliant for the puffiness around my eyes in the morning and for relaxing in the night. I can certainly feel the serum being absorbed by my skin, which is glowing and softer.

Gotten great use out of it

Love to use this to sooth my headaches & to roll over face masks to really press serums in.

Quality

Bought this as my previous roller broke. This is very well made and super sturdy, high quality. Given the price tag, I think it is worth the money. Plus the smaller roller is just the right size for the eye area. Happy with this purchase!

Nice little tool

This is a great little tool. Feels like a little mini facial massage as you apply your favourite oils and serums. I feel like it possibly helps de puff your skin but other than that I'm not sure the effectiveness of it. Does feel great though so I continue to use it :)

So relaxing

I use this at night time to roll in my eye balm and serum; I have utilised it as a nighly massage treatment rather than skin tone/elasticity exercise. It's definitely helping me sleep a little better.

It's also great when you have a stress headache.

Good Tool but didn't see much of a difference in my skin.

Nice tool to add to your skincare routine but don't expect it to make a huge difference. It's particularly nice put in the freezer. The only problem I had was sometimes the attachable stone roller piece often fell out.

Amazing Product!!

I absolutely love this product!! It feels so relaxing and cooling on my face, laving me feeling refreshed. Great quality too. The quartz is perfect and the metal holding it together is strong

Great product!

I love using this product of a night time to apply my serums and moisturizer. I don't find it makes a drastic difference to the overall appearance of my skin but it still makes it feel so nice and plump. Such a great addition to my everyday skincare routine and to use after a home facial or dermal rolling, I even like to use it to massage a sheet mask deeper into my pores.

Works so well!

This is amazing for helping serums be more easily and evenly absorbed into the skin. And I noticed it actually reduced my breakouts (waking to much clearer skin!). Plus it feels luxurious and soothing on the face. Love it!

Great tool to have

This is a great tool to use for helping your face feel more rejuvenated. I find that it is easy to use, cooling and refreshing.

AMAZING - No disappointment

I love this Roller, it is so therapeutic to roll it over my face each night before bed. I have been using it along side my Lonvitalite Dermal Roller. My skin has honestly never looked so good. I wash and clense my face, derma roll anywhere from 5 mins to 10mins then use my Quartz roller for my serum as my face can be a little tender after the Derma Roller. I also follow up with my LED Face Mask for 20mins 3 times a week.
Keeping the Quartz roller in the fridge makes it so refreshing. Believe it or not but it actually feels soft on the face - which seems unbelieavle seeing as its made of Quartz - I kid you not! well priced and should be a must have in your beauty regime.

Game Changer

I absolutely love this, my skin has improved in a week of using this device along with my regular skin care routine and I find my makeup stays flawless all day!

The best one I've tried

I love jade rollers and have a little collection in my bathroom haha. So far this has been my favourite as the quality is awesome but the price isn't too high. If you're looking to give one a go then this brand is great!

Absolutely refreshing

I absolutely love this product, it so refreshing and cooling on my face and neck, I use it to apply serums and moisturiser to help my skin really absorb all of the products on my face and not my finger tips and the smaller roller is perfect for under eye creams and serums. This is an absolute must have in my skin care routine. Highly recommended.

Works as expected

Honestly, this isn't a miracle product. It would probably take consistent use to see any significant change. However, I love using it. I keep mine in the fridge to cool it down, and it feels really pleasant rolling it over my skin after applying my skincare or in the morning when my face is especially bloated after sleeping. I like that this is an affordable product, considering how many uses you can get out of it. And the packaging is so pretty! One of the few boxes that I haven't thrown away.

Massages

Give yourself a massive with this nice little tool. Haven't seen a huge difference but it helps me relax.

Beautiful

Feels beautiful on the skin. Rolls serums on to skin with ease.

So relaxing

This is such a gorgeous little beauty tool! Feels like a little facial every time! Massage in all your favourite serums and oils! Bliss!!

Excellent quality and great for oils

I got this to see if it would help work in my oils and I was amazed! I use it primarily for oils but also for serums after skin needling and it really makes things absorb not only faster but deeper. I also use it for lymphatic drainage and that has paid off as well. It's a truly beautiful tool and the quality is excellent, I keep it in the frig on really hot days too for a quick pick me up, it's highly versatile!

Beautiful Beauty Tool

this is a gorgeous roller that feels so beautiful and smooth on my face. I use it to roll in serums and oils, especially oils, and it feels so good, like a gentle massage for my face. I also love how it has the smaller roller for the under eye area. I have considered storing mine in the fridge, as in summer the cold rose quartz would feel super refreshing too. would make a lovely gift for a skincare obsessed friend also.

Amazing feeling on your skin

Highly recommend! Is soothing and relaxing on your face. Use to moisturise in a face sheet.

Luxe

I quite like this facial roller. It's amusing to use and it's relaxing massaging my face with a pretty looking stone. I'm not sure it's made any noticeable changes tp my face, however it's simple to use and not very time consuming so I will continue to use it. The price point is also pretty good.

Amazing

I love the feeling of this roller across my skin. It is so cooling and soothing, the feeling is addictive. Brilliant for the puffiness around my eyes in the morning and for relaxing in the night. I can certainly feel the serum being absorbed by my skin, which is glowing and softer.

A Mini Facial!

I originally brought this product because I'm having a series of orthodontic work done, which means lots of swelling and I've read that it helps with water retention and swelling. It does that and so much more! Whilst it doesn't completely remove swelling I have definitely noticed a quicker reduction than before using the roller. With a little bit of essence or face oil it feels like like a mini facial, so calm and relaxing on the skin!

Definitely recommend for yourself or as a gift!

Love this

Being a Rose Quartz lover, I was always going to buy this. I love how it feels on my skin and how it massages my serums into my face. I have noticed a difference in how the serums sit on my face which is awesome and look forward to seeing some long term results.

Feels great

This feels great on the face and neck! It definitely helps serums soak into my face heaps better than my hands. Plus it feels great as a face massager.

Birthday present idea

Great birthday present for a friend, luxurious and beautiful. My friend loved it's application and uses it daily for a spa feeling

So cooling on my face

I use the shorter end on my face and the longer end for my neck. I love the coolness of the rose quartz stone especially after a hot day. My face gets a little flushed on hot summer days. I use it to massage the serum onto my face and it cools down my skin at the same time too.

A must have

This is an amazing tool, feels like I'm in a Day Spa when using it. Skin feels so refreshed and me soothed.

I keep it in the fridge as suggested in other reviews. I may use it multiple time a day as it is so uplifting and rejuvenating.

Using with serums and am now going to try Eye Babe from Hendrix as the review are fantastic.

Unsure

So I've used this a few times and I'm a little unsure, u do see improvements but it just feels weird

Love it

This is amazing. My skin feels less puffy but super hydrated. I love that the roller is real rose quartz and doesn't squeak as it rolls. I have been using this every night for a week and its so relaxing before bed

A wonderful product for the mind and body

I never knew I needed this until I saw it on Adore and now I can't imagine my skin care without it - definitely an essential!
It removes puffiness all over the face, especially around the eyes, and makes you look and feel brighter and refreshed. The coolness of the roller calms redness significantly more than any other product I've tried. I've also noticed that the chilled sensation helps with physical and mental symptoms of anxiety.

My friend loves it.

Bought this for my friend and she absolutely loves it! However I bought the jade version and it fell apart, so not sure how well made they are.

Cooling and soothing

I really like the thought of this product so purchased to give it a go. Read other reviews and put it in the fridge like suggested, definitely worked. So soothing and relaxing, a great way to unwind at the end of the day. I don't know if it's going to improve my skin structure but is definitely a nice way to treat yourself at the end of the day and leave your face feeling cool and refreshed.

Love it

Love this! I use it to help the absorption of my face oils and moisturisers. Sometimes I put it in the fridge and it's a nice treat on those really hot days.
Definitely recommend for minimising eye puffiness too

Definitely Worth a Try!

I ordered this after reading about the hype around it and I must say I really liked it. I use it after applying rosehip oil at night. I like the fact that it just leaves my skin really soft and It feels nice and cool. I keep mine in the refrigerator. I haven't noticed a drastic difference in my skin but it does help with the morning puffiness.


Good Product!

The face roller is made very well. It is good to use on face. Combination with the use of anti-aging serum and rolling daily, could already see effect of tighten jaw-line.Will definitely recommend to others

Rose Quartz of my Heart

This is my first Face Roller purchaser, I can happily say I am so pleased with the results - my skin tone complexion is now even and has an extra glowy appeal. Magic touch - store in the fridge to cool and de-puff face after lying horizontal all night.

Beautiful product

Beautifully made, quality product. So relaxing!

Relaxing

This is super relaxing and worth the price. When I first used this I had a bit of pain on the side of my jaw, after rolling it for a few minutes it actually went away. Works great with serums and moisturisers. The shorter side is great for rolling above the eyes. Also a good tool for massaging.

Saved my skin

Whenever I'm hungover or feeling dull I put this in the fridge and roll over my face and I instantly feel more lively and de puffed. Amazing

Nice cooling roller

Feels nice and heavy in the hand, first time using a roller and enjoying rolling each evening.

Beautiful

This is such a beautiful tool to use with pushing in product from sheet masks, or any oils and serums, however I find it difficult to see how this is any different from all the other face rollers out there (its a very saturated market).

Luxe skincare routine

I received this as a gift and I really like it. It's visually pleasing and is the right weight to hold and use. I'm not sure about the benefits it claims to have, but I enjoy using it as part of a relaxing routine in the evening.

Very cool product

A friend gave me this for my birthday and I love it! It feels heavy and luxurious to hold and the cold rose quartz roller is very relaxing to use over my face.

I can't comment as to whether it's reducing puffiness, etc, as I use other products at the same time but my skin hasn't looked better so as part of the combination with other serums it must be doing something right!

Interesting product

Recently purchased as I'd been reading a lot about rose quartz and jade rollers. I really like this product and keep it in the fridge to then use after applying my serums at night. Feels super refreshing and cool on the skin. Am still a tad sceptical but will continue using it and see if there's any longer term results.

One use and I am hooked.

This is amazing. I cannot believe the amount of glow I got after one use. I am so happy. My skin looks and feels amazing after 4 days of use. Even gets rid of the tension in my lower jaw. No more puffy eyes. Highly recommend.

At home spa treatment

I will only use this after it has been in the fridge as the cooling sensation takes the treatment to a whole other level. With only 5 minutes of use, the puffiness and fine lines around my eyes are basically non-existent.


Netflix and roll!

Funny how little things like this become essential. Great for rolling around facial, while watching something on telly. It's addictive!

Great, but a bit expensive

I like a good face roller, but I find this one a little expensive for what it is. I daresay it would be possible to achieve the same thing by massaging with your fingers - but if you like a good ritual and a splash of luxury, this would be for you!

Instant skin reviver

I love how this reduces puffiness and fine lines and relieves under-eye bags almost instantly. The roller is soothing, feels luxurious and the best part is that it only takes about 5 minutes to do the entire face/neck.

TIP: Pop it in the fridge a few minutes prior to rolling for an extra cooling effect.

Like Yoga for the Face

I can be a sceptic for lots of new fads but this is a train I've jumped aboard and am rolling with (pun intended). I've tried a couple and found that the biggest deciding factor was quality of the roller. This one feels substantial in weight (ie. heavier and not as 'cheap' feeling) and more solid. Special points for not squeaking as you roll.

I've managed to incorporate this into my routine of natural and other cosmeceutical grade active skincare, and use this as a prep post cleanse and pre-tone/essence/serum/moisturiser! I've seen real benefit to how my face looks and feels especially when I'm tired (note: puffy). A great tip: super refreshing after it's been in the fridge!