Napoleon Perdis Boudoir Mist Spray Foundation 74ml
Official Stockist
FLAMMABLE

This item is flammable therefore postage is restricted to Standard Post within Australia
Skin Type:
Dry
Normal to dry
Normal to oily
Oily
Questions & Answers
(No Questions Yet)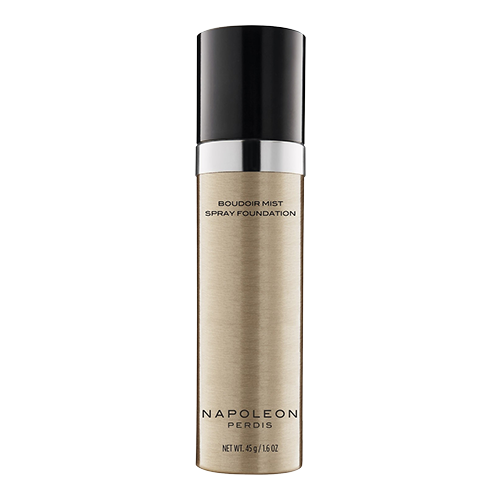 Napoleon Perdis Boudoir Mist Spray Foundation
Get an expert to answer your question about this product!
Ask a Question
50% recommend this product
Most Helpful Positive
Flawless
This foundation is a light to medium coverage, it gives a flawless finish and lasts all day
Most Helpful Criticism
Flawless but runs out too quick
This is a special occasion foundation. Gives a flawless look. It's not something that you could afford to use everyday as it runs out quickly.
Flawless but runs out too quick

This is a special occasion foundation. Gives a flawless look. It's not something that you could afford to use everyday as it runs out quickly.

Flawless

This foundation is a light to medium coverage, it gives a flawless finish and lasts all day

flawless

This product is amazing. I use a very light spray over the top of a layer of foundation (or BB cream) and it looks divine. It locks in your makeup, and puts an all-over flawless finish. You probably couldn't use it as a foundation alone, as you would need to use a lot more of it but if you pair it with another foundation it truly is genius!! I absolutely love it!

odd but good

I found this a little odd to use at first but its quite a nice very light product, definitely as a finishing spray or very light makeup days.

Light coverage but a bit patchy

This is a spray on foundation which I've never really used before so my inexperience in applying is probably why I didn't really like it. I found the spray to go on quite patchy and I had to use my hands or a brush to blend anyway. It was a bit messy too. The foundation was light and fresh looking but not really anymore than other foundations I've used. Was ok but I wouldn't rush back to buy again.

Great

This product is amazing. I use a very light spray over the top of a layer of foundation (or BB cream) and it looks divine. It locks in your makeup, and puts an all-over flawless finish. You probably couldn't use it as a foundation alone, as you would need to use a lot more of it but if you pair it with another foundation it truly is genius!! I absolutely love it!

Best airbrush in a can

Full coverage air brush.

Hold can slightly away from the face with light spay to ensure even application. Fan dry with a sheet of paper to dry any damp spots

A little pricey but well worth it on the occasions for your ;special makeup

Disappointed to hear this product is being discontinued. I love it for a perfect makeup on the town night

Uncertain

I might have been using this wrong but it just didn't meet my expectation. I had to go over it with a brush after I had sprayed to blend it in which defeats the purpose of using it from a can when I could have used any liquid

Doesn't spray consistently

Love the concept of this product however I can't get it to spray consistently without leaving big spots of wet foundation when it is meant to create that airbrushed look

smells funny and colour matching is needed

i love napoleon perdis foundations however you need to try this in store first as the shades are different to the other foundations, also this smells kinda weird but you get used to it. has a nice buildable coverage and gorgeous finish despite my oily skin, just devasted i got the wrong shade as it was expensive

Definitely try before you buy for correct colour match

I was super excited to try this foundation. I normally wear look 2 in Napoleon Perdis so that is what I purchased. Sadly it was much too much dark for my skin. It was super orange. The coverage was good but I couldn't really use it as it was just way too dark.

Best Foundation I've Ever Used

This is the most amazing foundation ever. I have no idea how it makes your skin look perfect, but it does. I wish I could use this everyday, but with the price, it's more for a special event-wedding, job interview, important date, or day where you need to look really good. I've tried other brand's spray foundations and nothing comes close to how amazing this product is. I really couldn't believe how good I looked after using it! I wish the brand was still available in the US, but sadly it's not. Excellent at covering fine lines, rosecea, and uneven skin tone. I miss using this so much. I wish it were more affordable, but other than that it's perfection.

Fast and fantastic

I LOVE this foundation! I have used two other different Napoleon foundations but liked the air brush idea. I was told by Napoleon make up artists that it does run out quickly though.
I love the coverage, its' quick for work mornings and despite what others have said never found the smell offensive at all?
I normally have a head band on or my hair in a towel to avoid getting any on your hair etc. and didnt have any issues getting it on clothes, simply spray a little closer.
I still have used primers and concealers underneath and if I missed a spot use my foundation brush or fingers to blend a bit better. I bought it online and bought the same Look as I was in the other foundations.
I will definitely be buying it again, but usage will depend on how quickly it does run out.


The first thing I noticed when using this product was an overwhelming chemical smell. That made using the product very unpleasant. The application is a bit awkward until you've had some practice, so don't wear white or have any white towels or anything nearby until you've got the hang of it. The coverage is fairly good, and it seems to look better after a couple of hours. As I had to blend with my fingers after application I don't know if the "airbrush" claim is a good selling point, but it's certainly a novelty. I can't decide if I would buy this again, as other Napoleon foundations seem to do a better job with less fuss involved.

This is a gorgeous, fast and easy to use foundation. I like to use it over a tinted moisturiser to get a medium coverage which looks like I am not wearing foundation. It is a bit smelly, but the smell disperses after about 10 seconds and you can't smell the product when you're wearing it. Spray closer to the face for fuller coverage, or further away for a sheer coverage. I use the Napoleon Perdis Camera Finish on my t-zone to matte it down. Great for special occasions when you want the air-brushed look or on those days you're running late!

-It's best to wear a head band or pull your hair back before use. -Also a good idea to cover your clothing - specially if it is a light colour -Smells funny but that goes away very quickly. -I spray it on my face in circular motions about 20cm away fro