Napoleon Perdis Foundation Stick 14g
4 instalments of $17.25
Or 4 instalments of $17.25 with
LEARN MORE
4 instalments of $17.25
Or 4 instalments of $17.25 with
LEARN MORE
Official Stockist
Is this for you?
Napoleon Perdis Foundation Stick is a Hypoallergenic double beauty duty base formula that offers variable coverage from very minimal to maximum depending on your mood for the ultimate complexion perfection.
Skin Type:
Dry

Normal to dry

Normal to oily
Frequently bought with
Please wait while we find a match
Questions & Answers
(1 Question)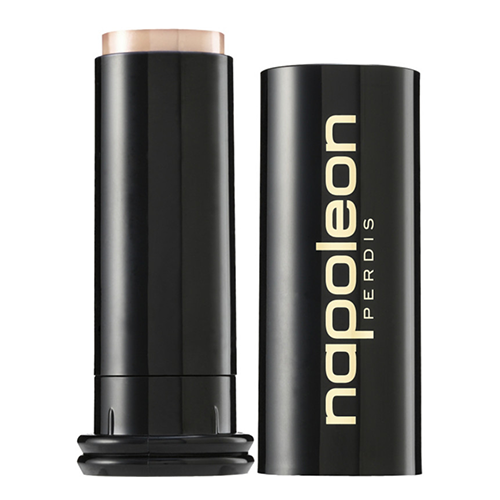 Napoleon Perdis Foundation Stick
Get an expert to answer your question about this product!
Napoleon Perdis Foundation Stick Reviews
60% recommend this product
Most Helpful Positive
Best foundation
Perfect foundation for my skin. best foundation stick I have used and I have tried many!!!!
Most Helpful Criticism
TRASH
i really try and be openminded when using foundation sticks as the environment your in can affect how it looks etc but honestly this is a NO from me honey, NEXT.

Its sticky and just does not look good on my normal to combination olive skin.
Best foundation

Perfect foundation for my skin. best foundation stick I have used and I have tried many!!!!

Look 2

I've had this foundation stick for a very long time. It perfectly matches my skin tone. I tend to use only as a concealer or to cover imperfections. It is perfect on days when you do not want to wear full face make up, but just to cover little imperfections. It's full coverage and it does a great job, as long as you get a good color match.

Foundation sticks are the best

I love this foundation was my go to for a long time! easy to apply whilst you can build on the coverage! nice creamy feel and doesn't dry out the skin.

Heavy coverage

This is a classic Napoleon Perdis product, which really hits the NP "LOOK" of heavy coverage foundation and TAN TAN TAN.

It's heavy and will cover absolutely anything and everything, it's great on oily skin but it is impossible to get a sheer or light coverage with this product.

It also transfers like crazy onto everything you own.

Love it

Just like all the other Napoleon foundations this one does not disappoint! However I tend to use it more as a concealer, just personal choice. Still great for all over face!

Too thick!

If you like natural makeup this isn't for you, it's very heavy and even with one application it looks too cakey! Otherwise the texture is very smooth and easy to apply

Absolutely amazing

This foundation is amazing, personally I add prep & set drops to help the application as it's not a liquid but honestly it's definitely worth the price.

Thick

Very thick and oily. Too heavy for me, looks very cakey and unnatural

TRASH

i really try and be openminded when using foundation sticks as the environment your in can affect how it looks etc but honestly this is a NO from me honey, NEXT.

Its sticky and just does not look good on my normal to combination olive skin.

Good for stage makeup

This is very much your classic foundation stick as you would expect it to be- thick, difficult to blend and somewhat cakey. While it isn't the easiest to work with, and there are definitely better formulas available, the end result is perfect for stage makeup.

Heavy!

Easy applicator not messy at all. I use this for when I want a heavier foundation and its great for travelling.

Good

Doesn't look heavy on the skin, gives a natural finish.

So heavy

this is such a thick foundation i feel like i have put 7 layers on, with just one layer, so you cant build up the coverage with it, which i dont like, the colour is nice although it does change colour i find after a little while on the skin.

Used to be a favourite

I used to love this product but over the years I noticed it tended to clog my pores more than other products and had a tendency to get quite cakey especially if a little too much was used. It is a nice quick product to use and I do like my foundation to be high coverage, but I found this just wasn't a winner for me. It also made my skin quite oily looking

Used to be a favourite

I used to love this product but over the years I noticed it tended to clog my pores more than other products and had a tendency to get quite cakey especially if a little too much was used. It is a nice quick product to use and I do like my foundation to be high coverage, but I found this just wasn't a winner for me. It also made my skin quite oily looking

Great

This was recommended to use as it matched my skin colour perfectly, great product although not sure of the stick design.

Fabulous

Great Product & coverage.

Lasts all day & is build able

The perfect handbag accessory

I love this stick for the simple fact that it is an actual stock and not a liquid foundation. I throw it in my bag for work and nights out and can do touch ups on the run.

Love my cover stick

I love this cover stick for easy application on the go to just give a little touch up when needed

AMAZING

AMAZING

AMAZING

Such great finish and stays on all day

Easy to apply

Easy to swipe on, but it has very minimal lasting power. Transfers easily and shade range is poor

Okay

This is a nice foundation stick but a little too thick for me. I like more of a sheer finish and this was just a little too heavy. The colour matched perfectly though and looked quite natural

Way too thick

This gives great coverage, but it's very heavy. Looks very cakey, which is a shame. At one stage I was actually using it to conceal bruises on my legs because the shade I was matched was too dark for me, I get very tan but my face and neck don't because of sunblock, the lady at the store matched me to my arms and I looked orange haha.

blocks my pores

Unfortunately found this foundation very heavy and it blocked my pores and caused breakouts. I didn't particularly like the stick to apply it and it didn't spread at all

Too heavy

This foundation is way too heavy. I would only ever wear it for going out, and even then it's very heavy! I don't recommend

Full coverage

love this foundation stick! easy applicator not messy at all! love love love!

Hmmm

Acne skin beware!! I loved this product when I first bought it, but after using it daily for a couple of months I have been left with super clogged skin! It didn't give me huge cysts but loads of tiny bumps all over my face. The product is loaded with silicones and waxes which are super clogging for the skin. I won't be using again. It's ok for one night out occasionally but not for daily use.

Broke me out

Coverage is quite good but it blocked my pores and I ended up breaking out. It feels quite heavy, unfortunately just too thick and heavy for me

Great coverage

Doesn't look caked on, great coverage with smooth finish

Great coverage!

This foundation gives great foundation without looking cakey !
Feels smooth and not sticky, goes well with Napoleon primer and camera ready finish powder!

Strong heavy coverage foundation

Use this in conjunction with the press powder and I get a full coverage look. I only recommend this for going out. I find the foundation stick only lasts a couple of hours long so I recommend using a good primer if you were to try this one

Great coverage

I wouldn't use this everyday but use on special occasions. Bit tricky to put on as you have to mix with primer but builds so well. Love the coverage.

Didn't work for me

Didn't like it at all. Way too much for my skin and it really clogged my pores! Big no for me!

Great

This is a great full coverage foundation and long lasting

One of the best foundations

I have been using Napoleon's foundation stick look 4 for a total of 8 years. During this time I have not tried any other foundations as for me, nothing compares. It is a buildable foundation, you can go light, or heavy and it will not look cakey. It is the only foundation that I have found that cover my acne scars, marks and deep pores. My skin type is dry and oily at times, the foundation lasts a...

Read More

Full coverage but overrated

I used this foundation stick throughout my entire teen years and have since moved on to 'bigger and better' foundations (currently use the Giorgio Armani luminous foundation and Estee Lauder double wear) and its made me realise how overrated this one is for the price. Its full coverage but I found it was a little drying on the skin especially if my skin was dry already and the shade range is limit...

Read More

Breakout central!

This broke me out like crazy. I agree that the coverage is awesome (that tends to be the case with stick foundations) but the way it wore on my skin was just ugly. By the end of the night it was looking really bad and I woke up with pimples on my forehead and cheeks :(

Love it.

Love it. So easy to apply and achieve varying levels of coverage. Blend it with a brush for a great finish.

My go to!

I have been using this foundation for years! I have a mixture of oily and dry skin and when I apply this, it stays on all day/night. It's easy to apply and blend with a beauty blender. Great foundation and shades.

Great for a night out

This foundation is REALLY thick and I think the only time this would be great is on a night out.
I think it looks too full on for during the day and it feels too heavy for your skin.
I would prefer if it was in a pump bottle as I find it it awkward to apply on my skin as I either have too much or too little.


Not sure what the fuss is about

No doubt this foundation stick has great coverage, but it really does sit heavy and thick on the skin, and being able to physically feel a layer on my skin is a big no no in a foundation. For me I was cakey looking within an hour after my natural oils started to come through, so while it was amazing on first application, I wouldn't recommend as it doesn't stay flawless all day.

LOVE

This is one of my most favorite go to items. It's a heavy coverage and I use this when I'm going out. Long lasting and doesn't make me break out.

Easy application, minimal waste

Have used this foundation on and off over the years, it's probably still my favourite stick foundation out there (or on par with Kryolan's TV Paint stick). I use look 2 , scribble on my face and blend out with a wet sponge for a flawless finish. NP what went wrong with products like this! will stock a few in case they disappear soon :(

LOVE

i absoluely LOVE this product. its so good for a quick and easy makeup application in the morning. but also good for application when you want a full face of makeup and take your time.
i like that its buildable and doesnt really trasfer when you touch your face. i have used a brush and beauty blender to apply. either are great.

Life saver

This product is honestly amazing, it has been a life saver over and over when I'm in a hurry. Great coverage, and beyond easy application.

Light to heavy

I have normal skin, I have been using this product for over 10 years.
I like that it can be used lightly for a natural look or heavily and conceals well, I use it under the camera finish powder.

One of my faves!

A great foundation! A little bit goes a long way however if you use too much it can transfer. Best used with the NP Camera Finish powder

Amazing

Love this foundation, great coverage, stays on your face all day and easy to use. Highly recommended.

Great coverage

Good coverage, long wear, stays Matt and doesn't move. Would buy again but a bit out of my price range. Definitely better for occasional use so it doesn't go to waste for daily using at such a high price.

My favourite foundation!

I have been using this foundation for years and I can't fault it. I wear a small amount for day time wear, just for a light coverage, but if I'm going out I'll use more for a fuller coverage. It can even be used as a concealer. My skin can get very dry in the winter and I can still use this foundation stick. I just make sure I moisturise with a cream and then with an oil. It never looks cakey. Wou...

Read More

Thick/Full Coverage

Really full coverage foundation - not good on dry skin as it really shows but perfect for normal- oily skin.

Alright

Very buildable to full coverage however can look a bit cakey. Also very pricey :\ would prefer the hourglass!

Okay

I used to wear this foundation years ago and love it. I thought I'd give it another go the other day and remembered why I stopped using it. Although it has great coverage and pretty easy to apply. It can feel very thick while wearing it and I found can end up looking very oily at the end of the day

Great coverage, long lasting

I really enjoy this foundation for a more dramatic look when extra coverage is needed for example at night with a dramatic lip. It's awesome to use for areas that require a little more attention and it glides on like a dream. Be aware that it is super heavy, as most sticks are and the finish will not be the most natural, however a dewy setting spray can easily assist with that!

Full Coverage

Really full coverage foundation - easy to apply in warmer months but in winter it can get a little hard to apply in stick form. I have combination skin and it seems to work good when my skin is oily or dry. Its a good foundation but after trying the Napoleon Stroke of genius I think it is so much better than this one.

The perfect concealer!

I have been using the Napoleon Look 2 foundation stick for over 10 years (obviously not the same stick), and I refuse to use anything else. It is a heavy coverage, but it does not have to look heavy! I do not suit a full face of foundation and do not apply it over the whole face, or apply the stick directly to the face (or yes, it will look caked on). Instead, I apply it with my fingers as one wou...

Read More

Full Coverage

If you're looking for a FULL coverage foundation this is perfect. It definitely gives the full coverage look. If you havent used Napoleon foundations before be careful with picking a shade as they dont have many options.

wouldn't recommend

I wouldn't recommend this product unless you needed heavy coverage. It blocks your pores quite significantly and feels very heavy when wearing it

High coverage

This is great if your going out and want a full glam look, although the coverage is amazing, i found that it does not feel lightweight and you feel like you have SOO much makeup on and have caked it on. but if your someone who does not mind the feeling of wearing a lot of makeup this product is for you. i also found that is does discolor over time you need to use the stick quite quickly or once yo...

Read More

smooth, high coverage

I purchased Napoleon foundation stick just recently. I've tried a lot of other foundations, but found myself coming back to this one. I have olive cool complexion, and slight freckles. I opted for look 3, so I can give my skin a nice healthy glow, and no 3 looking pale no 4 washed out. I add a little Napoleon primer to my foundation Now application, which makes it easier to apply, as it is a Matt...

Read More

Full coverage

Full coverage foundation. Great for night time wear not so much day time. I did find it gets a bit dry so not good for people with dry skin. I also found that the stick itself dried out a little half way through it.

COVERAGE

great coverage that will last all day through blood, sweat, and tears.

Slimy?

I think for the price, this should be a lot better than it is. I felt the product glided on my skin but looked oily and greasy. Not the look I was going for!

Good coverage and easy application on the go!

I love this product it offers good coverage and blends well with my dry/combination skin! For me this is more of an everyday product and then I will use a liquid foundation when I need more coverage for an event.

Amazing

I suffer from rosacea so I have a fair bit of redness around cheeks nose and chin. This is the first product I've tried that ACTUALLY covers it!
I'll never buy anything else again. I don't normally spend $69 on anything make up but I will be from now on

Best stick foundation ⭐️

This is my go to stick foundation, with a fully buildable finish it makes my skin look amazing and matte, lasts on day, lightweight formula!

Great, full coverage foundation

This foundation is so convenient to use. I am a minimalist when it comes to my makeup routine so prefer items that are quick and easy to use - this foundation does the trick for me! I have normal/dry skin so find that when I prime my skin, the foundation coverage lasts the entire day.

Flawless foundation

I love that you can use this product as concealer and foundation and you can alter the coverage from light - full by mixing some primer with it on your hand. So versatile and easy for on the go!

Amazing coverage foundation

One of my holy grail foundations for going out... Definitely a fuller a coverage! You can make it light but I just don't see the point. Amazing if you love a fuller coverage.. Great colour range too and goes on super easy!

Great coverage but a little dry

Really great for full coverage looks - I have dry skin though so it didnt work well. I think some of the other Napoleon liquid foundations are a lot nicer. I also found that the stick started to dry out a little as time went on.

Good coverage but can look dry

I found that this product has great coverage but also makes the skin look dry after a few hours of wear. So not good for someone with dry skin. I also found that by the time I got to the end of the stick - it was getting dry itself. It was an okay product (Great for someone who wants coverage) but not something I would purchase again.

Underrated!

I feel like this is one of the most underrated products from Napoleon Perdis! It contains beeswax so it's actually really good for dry skin, unlike typical stick foundations. You can also get a medium to full coverage with this foundation and it provides a dewy finish to the skin. I love that it's also very easy to blend into the skin.

Good product but drying

I do like this product it has great coverage but due to it being a stick it is very very drying on my face. I would stick to a liquid foundation

Not the best

I found that every time I used this foundation I ended up looking abit cake faced. It settled into and my creases aswell which wasn't pleasant. Not suited to me.

Good but expensive

Good product however you need to by a serum to make it 'spreadable'... in the end I would buy liquid foundation.

Not the best

I have combination skin and this just did not work. It's very hard to blend and it's very thick. Doesn't last through the day at all. Looks very cakey if your not careful. Wouldn't recommend. The only way I made it work it by taking a beauty blender and dabbing the stick foundation onto that then using that to apply it to my face. This way it give you a light coverage and looks quite natural. But ...

Read More

Not for me

I have quite oily skin and this definitely did not suit me that well due to the thickness and beeswax in the product. It was also very full coverage, quite cakey and hard to blend which made it look unnatural. Would be good for a different skin type and for people who want very full coverage

not for oily skin

I love most Napoleon products but this is not one. it creases and didnt last as it just melted off my face. It is so thick and full coverage but for oily skin will not stay at all. if you have dry skin this may work however



Love this

This is a great foundation stick. So easy to use and wears well. Very smooth finish with this.

Great for normal skin types!

This foundation is great for normal skin types. It is not suited to oily skin due to the beeswax and also not suited to dry skin as it is a very thick foundation.
It is great to use as a concealer and also perfect to use the darker colours for a cream contour!
It is very long lasting even if you use it everyday it would still last you over a year.
It gives a great full coverage...

Read More

not worth the money

I purchased this so i would have something quick to apply in the mornings however its takes so long to blend, i don't know how something can be so dry and so oily at the same time.

Cakey finish

Very thick, full coverage foundation.
still unsure if i like this as you can't wear it as a natural finish.

Great concealer

Full disclosure- I use this as a concealer not foundation. And for this , it works really well, particularly for touch ups on the go. Easy to carry, lasts ages and blends well. Pity the colour range is so limited . Great for photographs as well!

Full coverage for Bad skin Days

I use both this and China doll and have been for years. Love to use this as a base coat, than I layer with China doll

Not a fan

I love most Napoleon products but this is not one. It is not good for oily skin at all! I found it literally would wipe of my skin after only a few hours. I would not recommend this foundation for anyone with oily skin

Not as good as other NP foundations

Like with most stick foundations you get less product in this than with a normal liquid foundation. I found it was full coverage but settled into pores and looked cakey very easily. If you're looking for full coverage the NP China Doll is a much better option in my opinion!

Perfect for most skin types, not so much oily skin!

I used to use this foundation years ago and loved it - great coverage and covers all flaws. It ran out too quickly for me and I couldn't really afford to keep buying it. I recently decided to go back to this as I remember loving the look of it. However, now I get really oily skin so this doesn't seem to be a great option for me anymore. When it goes on it looks and feel great, but unfortunately my...

Read More

Best foundation!

I have been using this foundation for nearly 2 years and it is the only kind I have ever found that actually matches my skin tone. I feel like I am wearing no make up at all. Pair it with the powder and pre-foundation primer and you will have an all-day glowing make up day. It is cheap for how long it lasts. One stick will last me around 5 months.

fast delivery

thank you for fast delivery

Fast Delivery- Great Product

Thanks For the Fast Delivery- My fist time purchasing off of you and it went fantastically. It actually arrived the next day! awesome.
The product itself is amazing, I have always liked their makeup, but this allows for complete coverage without that thick heavy look. Its fantastic! I will never buy any other foundation again.
I like that its so small as well, small and light but las...

Read More

Love it!

I have been using this foundation for years and honestly have tried to change to a cheaper foundation but can't. It gives you a flawless look, you can have light coverage or build it up to a fuller coverage. It can even be used as a concealer. It seems to last me awhile, I even scoop out the end of the tube to make sure I get my moneys worth.
Definitely recommend just wish it was cheaper.

Staple!

I have been using this foundation for about 3 years now and I don't ever see myself changing. I used to get pretty bad break outs, especially when I'd wear make up. I finally took the plunge and bought this napoleon foundation after a friend recommended it. My skin loves it. It provides awesome coverage and makes my skin look great (even though its not!) and the best thing is that I don't have to ...

Read More

WONDERFUL

Once again. FAST shipping, great package and very please with the service.

will continue to purchase from this site.

Love this product - guaranteed quality!!

Love this product - use all the time! Get great coverage and long lasting! Love it so much brought it as a present! It was well received and she loved the extras you threw in too!! Xx

Great Product!

I have been using this foundation for a couple of years now...It lasts me a long time and the coverage is excellent
I use the Napoleon Camera Finish powder over the top for a flawless finish!

flawless! but not long lasting :(

I have quite bad acne at the moment and everything im using completely dries out my skin, plus I have a kind of hairy face. So i cant wear liquid at the moiment otherwise it goes patchy and streaky.
but this foundation over a tinted moisuriser, covers everything! it leaves no redness and hardly any trace of acne! the only thing i find extremely annoying is the feel of it, it feels dry and t...

Read More

Perfect Coverage

This foundation leaves me looking flawless, it's the only foundation I use and recommend!

I adore this product, a must have in any woman's make up case

When first introduced to stick foundation I thought it would go on lumpy, and was hard to convince to make the switch from liquid to stick, but I am glad I did. I have never looked back I love the coverage you get, and find that the stick foundation lasts at least double if not more the time the liquid used to. Can not recommend Napoleon Foundation highly enough.