Kiehl's Ultra Facial Cream 50ml 50ml
4 instalments of $12.75
Or 4 instalments of $12.75 with
LEARN MORE
4 instalments of $12.75
Or 4 instalments of $12.75 with
LEARN MORE
Official Stockist
Is this for you?
Tested against even the most extreme conditions, this Kiehl's Ultra Facial Cream will keep your skin hydrated all day long. Created with Squalane and Imperata Cylindrica, this facial moisturiser will replenish skin with hydration by absorbing moisture from the air and improving skins ability to retain the moisture. Added Glacial Glycoprotein Extract works to protect skin and as a result, this lightweight face cream is particularly good at maintaining well-balanced skin in harsh weather conditions.
Skin Concern:
Dull, dry or dehydrated skin
Frequently bought with
Please wait while we find a match
Questions & Answers
(3 Questions)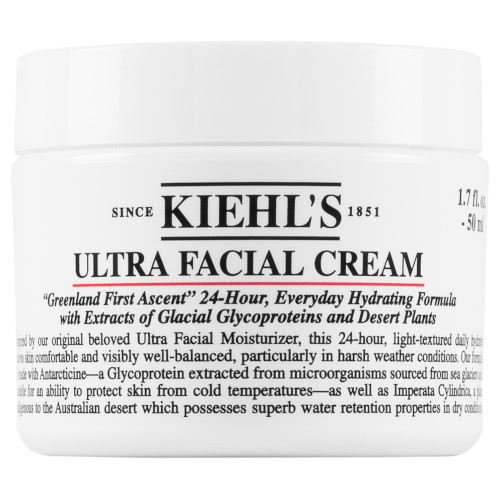 Kiehl's Ultra Facial Cream 50ml
Get an expert to answer your question about this product!
90% recommend this product
Most Helpful Positive
Wonderful!
It's really hydrating and doesn't make my skin feel too greasy after applying it.
Most Helpful Criticism
refreshing yet comedogenic
I really liked having a thin layer of this cream on my face but after a few weeks some little whiteheads started to build. Not sure if it is good for oily skin
Wonderful!

It's really hydrating and doesn't make my skin feel too greasy after applying it.

Favorite new moisturizer

I tried this after seeing Joanna recommending it and I've loved it so far. It goes on so nicely and my skin stays hydrated for a long time without feeling oily.

Loved it

Amazing moisturiser. Very thick but does the job well

For dry skin

Very good for dry skin. Mum loves it.

It does the job

Very good product and good value. It is a good moisturizer

A Beautiful Moisturiser!

This moisturiser is one of the best I have come across. It is extremely hydrating while not being too heavy and sits nicely into the skin. Will most definitely be a repurchase in time for winter.

suitable for combination skin

I have combination skin of oily and dry. This cream leaves my skin so hydrated and plump without making it oily and shiny.

Love this product

I have rosacea and this product moisturises my skin nicely without irritating it. I use it morning and night. One of my staples.

Hello hydration

I use at night and it helps keep my skin hydrated up until morning, my face looks so glowy and feels so healthy & hydrated.

Best moisturiser

After researching through youtube and looking at reviews on AB this was the best moisturiser that i found for dry skin and I am so amazed at how nourishing this really is! A little goes a long way and I woke up the next morning feeling so refreshed and hydrated. Highly recommend!!

Very hydrating

Keeps my skin hydrated and fresh

Great for sensitive skin!!

Received a sample and having never tried Kiehl's was excited to try on my dry sensitive skin. Applied at night and the next day my skin was softer, brighter and clearer. Additionally, it appeared as my skin was more plump and hydrated! Love this product, plan to purchase in the near future.

Beautiful Moisturiser

I have been meaning to try this moisturiser for years but for some reason never had. I am so glad I purchased now, it is lovely. A minimal clean smell, and applies beautifully. Calming and hydrating, and not at all sticky. Absorbs well and has been great for my skin whilst coming off acne medication.

THE BEST MOISTURISER!

This product is my all-time favourite moisturiser. The feeling of your skin after applying this product is absolutely amazing. It hydrates, moisturises and leaves your skin feeling so smooth! I have recommended this product to numerous friends and they have all said the same thing. It is q bit more expensive, but certainly worth it with how amazing the skin feels. The products in this are mostly n...

Read More

non irritating and not greasy

I have used the small one and just got the full size for my husband as it seems to the be the only one he will tolerate. it absorbs well, hydrates the skin and is a good base for makeup. Doesn't break either of us out and hubby has easily irritated sensitive skin

Lovely

I received this as a gift with purchase. I tried this product after a Kiehls face mask and my skin was just glowing. I have normal / dry skin and it absorbed quickly and left my skin plumped up and soft. I'ts unscented, which I love, as I often find highly scented products dry my skin.

very good

SAVING GRACE FOR MY FACE

I'd heard raving reviews about this product from friends and watched lots of product review videos by youtube beauty gurus. This is my first luxury skin care product and I am BLOWN away!! The tiniest, most unbelievably small amount covered my entire face and neck. VERY impressed <3

Too good

To good such a great moisturiser, sinks into the skin so well and loved the results. One of my favourite facial moisturisers that is so light and does not cause any side effects.

Nice and moisturising for those with drier skin types

This is a nice rich night cream to use when you don't have skin that is prone to breakouts and maybe have skin on the drier and breakout free side! Skin wakes up looking very hydrated and dewy however wouldn't use this if you are a bit more on the congested side!

So far so good

I've only been using this for a short time, but it's a lovely gentle moisturiser. It gives a nice dewy look to the skin, and is very hydrating. I feel like it's really improved my skin texture also!

daily moisture

really nice for daily use under makeup and on top of serums.

Great moisturiser

This is a really great non irritating moisturiser. Works great after using a retinol product. I have found sometimes during the day if it is quite hot, it can be a bit too thick, and doesn't play especially well under an SPF. However it is perfect for night time use.

Great for cold climates

Every so often I buy the limited edition ultra creams they bring out every year, just because I like the packaging. The cream is nice, unscented, and non-irritating. I find it works much better during the winter months, as it can be quite thick. I also think it is better suited to dry skin, rather than combination/oily, which is what I have. But if you live in or are travelling to a cold climate, ...

Read More

One of my favourite go-to creams

This has been my go-to face cream for several years since I first discovered it!
It keeps my face hydrated throughout summer days, I love the consistency of it and the lightness it feels when its applied.

I use this generally in the summer time cause its a nice thin layered cream, whereas in winter I enjoy a slightly thicker cream to prevent/treat dryness.

Would r...

Read More

Great Product

Great product for the price. Not too thick and oily and sinks into the skin well.

Great everyday moisturiser

I purchased this product after trying other Kiehl's products and I use it every day under makeup and usually with serums at night too. I have combination sensitive skin and this makes a really great base for makeup, I don't find it too greasy and it has never made me break out. I'll definitely be repurchasing.

Lightweight and nourishing

I'll admit I am biased - I love Kiehl's for everything it's worth (even though I can only afford a few of their products at a time). But this moisturiser is beautiful. I have dry/combo skin which means the balance between being flaky and oily is very delicate, and this moisturiser appeals to both of these concerns. I use it at night predominantly in summer and during the day and night throughout w...

Read More

Classic hydrating cream

Classic cream from Kiehl's. Hydrating skin well. Simple and good.

So light and sinks into my skin like a dream

I bought this after hearing how good it was from my friend. Having tried many other products I can safely say this one has been the best for my skin so far. No more dryness or oily areas. My skin feels gorgeous

refreshing yet comedogenic

I really liked having a thin layer of this cream on my face but after a few weeks some little whiteheads started to build. Not sure if it is good for oily skin

Reason for its greatness

There's a reason why this is so highly recommended! Super moisturising for all seasons!

Perfect for dry skin

I sent this cream to my mother in Brazil and she loved it. She has extremely dry skin and this cream has transformed her skin.

Nice and moisturising

This is a nice cream that is moisturising without being too heavy - good for the day to seal all your serums in without feeling too heavy on the skin.

Not for me

This was too rich for my sensitive skin. Other people tell me they love it, but personally, it was average. I broke out (mildly) after a few days of using it, so swapped it to a body moisturiser and it was fine!

Hydrating

This is a good alternative to my Sodashi balancing cream for the price. It's super hydrating, so with my combination oily/dry skin, I only use a tiny amount. Neutral smell and quite good value for money. I do find it doesn't quite balance my skin as my Sodashi moisturiser.



Great

This leaves my skin feeling moisturised and SOFT

OG Moisturiser

This is one of the first moisturisers I ever used and I always find myself coming back to it! One of the best around!

Basic Moisturiser

This is a nice moisturiser, it's a basic hydrating moisturiser but it's nothing special. I want my moisturiser to wow me and this didn't do that for me so the search for my holy grail daytime moisturiser continues....

Average

I have dry skin and even though it claims it is designed for dry skin. It was not hydrating enough especially at night. Pricey for this small size.

Feels amazing

Beautiful texture and feel. Just right at night in summer or winter. Recommend +++++

Good basic cream

This is a gentle soft cream that is kind to the skin. It mixes really well with serums and I find it is great to use when I am using a stronger products or peels. It is expensive given its simplicity but it is still good

Can't fault

Quiet moisturizing and keeps my skin hydrated all day. Great product to use when my skin is shedding or dehydrated.

super glowing

I tried this sample one the other night. wow next morning my skin was glowing! I will definitely buy this full size.

Ehhh alright

This moisturiser is a thick gel consistancy. It is hydrating and moisturising product. I'd say great for normal skin types for me I have dry skin this wasn't thick enough for a night time moisturiser. Works well as a day time product under makeup. Doesn't have a strong scent or anything. Just a mediocre moisturiser.

Simply the best!

Love Love Love this product. so hydrating and my skin feels so soft and amazing!

Hello smooth skin!

My dry skin is gone and replaced with this amazing cream. I just love this moisturiser.

Simple & straightforward

A really nice face cream for sensitive skin. No fuss and leaves my skin really smooth after using the Ultra Face Wash.

It moisterisers

This is a good moisturiser. My friends like that it doesnt have a scent, I actually like a scent so maybe its not for me.

Love it!!

I suffer from dry skin and this product keeps my skin very hydrated! I would recommend this to anyone!

Soft supple skin

I recently went through a tub of this and was really happy with the results, my skin was glowy and felt super moisturised in the morning. I tried a cheaper brand when I ran out but wasn't nearly as happy with my skin, so I've gone back to old faithful. No regrets!

Basic moisturiser that is inoffensive

This cream moisturiser will do what it claims to do, is it really ultra moisturising? No not really, but will it moisturise? Yes. I love to use this in the mornings as it is a good base for makeup but I prefer something heavier for my nighttime routine. I have combination skin and this neither makes my skin oilier or drier which is good. I also have sensitive skin that is prone to eczema and this ...

Read More

Juicy skin feels

Ok, listen up girls.. I've got that "sometimes I'm oily, sometimes I'm dry skin" and honestly, most moisturisers either provide the moisture good or just make me way too oily.
This moisturiser is amazing! I'm no longer itchy from dryness or oily from too much hydration. It's the best combo.
ALSO! Important girls... container is recyclable unlike some other IT brands. Cost per mls is a...

Read More

Great

This is an amazing moisturiser that does not break me out or inflame my sensitive skin

Allergic Reaction

At first I loved this product. but then I stoped using it for a month and when I went back to it, it stung my face and turned it bring red. The next morning I woke up with bumps on my face. The product was still in date. This has also happened to my friend when she stopped and started using the product.

Simple is best

I use this in summer, and the Burts Bees night cream in winter. Just a simple moisturiser for my skin without anything triggering my sensitive skin. For use on a daily basis, night and day.

A new favourite

This is probably my new favourite moisturiser. It is so smoothing to apply and feels nice and fresh. I love that there is no scent.

Delivers results day-to-day but not long-term

I love how my skin feels the next morning after I use this product the night before - my skin is super soft and supple thanks to this great moisturising cream. BUT while I can attest to the moisturising properties of this cream on a day-to-day basis, after a few months use I haven't noticed a long-term or permanent change in my overall skin moisture levels.

YYAAAYYYYY

I am so so happy I found this moisturiser. After trying and failing to find a moisturiser that was kind to my face and my bank balance I was convinced I was going to spend the rest of my life using expensive products way above my pay grade as they seem to be the only ones that stop my face feeling tight by 10am. Then I tried Keihl's and I am thrilled, the cream seems thick however goes onto the sk...

Read More

Great

This is a classic moisturiser. It is very moisturising and perfect for the morning

Great moisturiser

I had been suffering quite badly with dry skin as working within an air conditioned facility - tried many moisturisers but this one suited perfectly! A thick consistency, which absorbs into face quickly leaving a glowing complexion. Instantly feel hydrated and have noticed remarkable changes to the dryness levels of my skin! Will deffinatly be repurchasing when run out

One of my favourite moisturises

A staple in my skincare routine , lovely light hydration.

A permanent fixture in my beauty routine!

After receiving this as a sample.. I had to buy it! Theres only so much one application can do for you. I have been using this 2x a day for the last 2 weeks with an AHA and my skin is so clear, smooth and devoid of those fine cheek wrinkles! I will forever be buying this moisturizer!

A prefect moisturiser

It's really hydrating, and great for sensitive skin. It's soothing on my dry and sensitive skin. It was great to use during a retinol purge period, and was very gentle. One of the few times I'm glad that there aren't any active ingredients in a product!

Classic for a reason!

This one's a classic! I use it morning and night and it really does hydrate me all day.

Best Moisturiser

My skin absolutely loves this. It's so hydrating but not at all greasy. My mum and sister also tried it and they were really impressed.

Cut favourite

This is my go to night cream - nourishing and soft; I always wake up with the loveliest skin. So cheap for what it is!

Good moisturizer

I like this moisturizer, it is nourishing and isn't too heavy after being applied. Soaks up easily. Not the biggest fan of the packaging though. Prefer a bottle personally as it feels more hygienic to use. Also this brand isn't completely cruelty free (as they sell in China and it is required by law there to test on animals). I was gifted a few of their products and whilst I have enjoyed using the...

Read More

Love it!

This is a great addition to my skin care regime. Thick and lush, feels like a hug for my face.

NIce basic moisturiser

Really nice moisturiser, great for everyday.

Super hydration

I purchased this product based on a friends recommendation. I was looking for a rich hydrating moisturiser to use as a night cream during the winter months as around my nose was getting dry & chapped. I was really impressed! My boyfriend now uses it he has very dry skin and is always outside prone to wind ect. I did try to use as a day cream but it didn't work with my foundation, I was getting a v...

Read More

Great all rounder

So we have all read the hype on moisturisers for older women. I am 70 years old, with hardly a wrinkle and I put it down to using only the best moisturisers. I have tried many, and this is definitely one of my favourites. I like to swap as the season changes, so for me, this is a great one for summer and in between seasons. Believe me, for the price you will not be disappointed as it delivers on ...

Read More

Best facial cream

For years, I had been using free samples of this cream, as I wasn't willing to pay the full price. Well, I took the leap and haven't looked back. This cream is so beautiful, soft, smooth and velvety, leaving my skin feeling amazing and super nourished. I use it in the evenings and wake up with soft, hydrated skin. 100% recommend!

Very hydrating!

I love to use this moisturiser as a day and a night cream, as it is so incredibly hydrating and makes my skin look and feel super soft. It also works so well underneath my foundation! Highly recommend, great for dry skin types!

Hydrating and gentle

While this is not my absolute HG moisturiser, it is one that I come back to from time to time when my skin craves something that's simple and keeps my skin hydrated all day. This is great for sensitive skins as it is fragrance free and truly one of the most gentle moisturisers on the market - i always keep a tub of this at home!

1000 times yes!

Amazing! Super hydrating, is incredibly moisturising and makes skin feel lush and plump! Helps keep makeup dewy and doubles as a primer. Not too heavy even in warmer weather and perfect when it's cold. I have fine lines and dehydration and highly recommend for this skin type!

Facial Cream

this facial cream is really moisturizing you do only need a small bit, 50ml is alot of product so you get your moneys worth

Pretty good

I was excited when i received this product. I have been using now for 5 days or so, Ive noticed in the arvo my eyes start watering and stinging. I havnt changed my makeup so I know its not that. I believe its this product, not sure why. Its great on the face, easy to apply, Skin looks shiny and nice. I have sensitive dry skin so its good regarding sensitivity however I feel it doesnt penetrate int...

Read More

Love!

This is a cult fave for a reason! My dehydrated skin drinks this up, perfectly prepped for makeup application. This is so good I don't need a primer and the Hydrating effects are really long lasting. Great for the cold weather but also light enough for summer!

Lightweight and hydrating

I thoroughly enjoyed using this moisturiser. It's extremely lightweight but it also intensely hydrates the skin at the same time. It also doesn't clog my pores so I think it would be great for all skin types.

Great

I think I am oily skin but it is light and soothes my skin.

Was a gift for my partner

I initially bought this a gift for my partner who has incredibly reactive, sensitive and dry skin. I just couldn't watch him use Sorbelene and Cetaphil on his face anymore!! I bought him the large tub and he has loved it! On his second tub! No irritation, no burning, no redness and his skin just drinks it up! I may or may not have pinched it a couple times because its so moisturising... This seals...

Read More

Hydrating without being too thick

I use this as a day cream for my extremely dry skin and it hydrated well without being too thick under my makeup

Great for night time

Even though i have super oily skin i just cant seem to not use it! It almost has the same consistency as a gel and definitely hydrates the skin. I like how easy it is to just lather on without feeling like anything is tugging at your skin. I prefer to use this at night time because my oils definitely seep through with this moisturiser.

Im in love!

This is my all time favourite moisturiser! I have very dry skin, and I use this as my day time moisturiser. Its hydrating without being thick and sticky on the skin. Works really well under makeup as well. LOVE!

Great basic moisturiser

This moisturiser delivers on hydration and sits well under sunscreen, primer and make-up. It's pretty basic but gets the job done and is good if you want something that delivers on what it promises without any of the faff. Unfortunately, it also ended up giving my quite CCs on my forehead so I had to stop using, but my sister has been religiously using this for years and still loves it.

Can't go without!

I can't go a day without using this moisturiser - I use it in the morning after I wash my face and at night before I go to bed. My skin has never felt better!

Love it!

I expected a good moisturiser but this certainly impressed me. Absorbed nicely... and left my skin smooth and hydrated.

So soft!

I have dry skin and this moisturiser has been so good! It feels amazing on the skin and isn't too heavy.

light but hydrating

it is light, not much of a scent, but works wonders i have used 3 of these already.

Not too sure about it

First and second try i use it, my skin turned to red like somehow allergic to it so i stop using it. And its a bit oily. Not very happy about this one but maybe works on someone else.

Lightweight but very moisturising

Simple all round moisturiser that does what it says it will do. No fuss and not too scented but very moisturising. I've managed to get my boyfriend loving this moisturiser too, so that says a lot! Product is great but only issue is the pot situation, surely there is a more hygenic way instead of a tub.

Best moisturizer for any skin!

I love this moisturizer, whether it is for the day, night, summer or winter. My whole family uses this as their to go moisturizers. I wish it came in a bottle rather jar, I feel like the oxygen may ruin the ingredients but this size of the jar is perfect. They do have the bigger jar which they sell on Kiehls' website but I much prefer this one for travelling. This cream sinks into the skin very qu...

Read More

Great for thirsty skin

I have very dry and flakey skin in winter and this has really brought moisture to my skin.

Plump. Dewy, Moisturised Skin!

This is a cult fave for a reason! My dehydrated skin drinks this up, perfectly prepped for makeup application. This is so good I don't need a primer and the Hydrating effects are really long lasting. Great for the cold weather but also light enough for summer! Love!

Fantastic!

I have dry skin and I finally found this Kiehl moisturiser which helps a lot to my dry skin. Good recommendation for dry skin.

Good moisturiser

I heard many good reviews about this product, and many make up artists use this as a base before applying foundation. I started to use it recently, it is very easy to apply on the face and keep my skin moisturised for the whole day.

Love.

Love this product, light and airy on your skin and doesn't make you shiny!

A little goes a long way

LOVE this product. The tiniest bit goes a long way, which is great because it comes in a small container. I've been looking for a moisturiser to balance out my oily skin and this has made a noticeable difference - my skin looks hydrated, doesn't get oily throughout the day nearly as much, and looks plumper. I'm a big fan!

Amazing moisturiser

I first heard of this product from listening to a make up tutorial from Mario Dedivanovic (Kim K's MUA) and I thought surely its not that great - I'm a skeptic.
However, i have been using it for months and it is amazing, I just ordered my second tub!
I have sensitive skin and moisturisers sometimes irritate my skin and leave it dry - ironically. This one is amazing, highly recommend ...

Read More