Kiehl's Ultra Facial Cream 50ml 50ml
4 instalments of $12.75
Or 4 instalments of $12.75 with
LEARN MORE
4 instalments of $12.75
Or 4 instalments of $12.75 with
LEARN MORE
Official Stockist
Is this for you?
Tested against even the most extreme conditions, this Kiehl's Ultra Facial Cream will keep your skin hydrated all day long. Created with Squalane and Imperata Cylindrica, this facial moisturiser will replenish skin with hydration by absorbing moisture from the air and improving skins ability to retain the moisture. Added Glacial Glycoprotein Extract works to protect skin and as a result, this lightweight face cream is particularly good at maintaining well-balanced skin in harsh weather conditions.
Skin Concern:
Dull, dry or dehydrated skin
Frequently bought with
Please wait while we find a match
Questions & Answers
(3 Questions)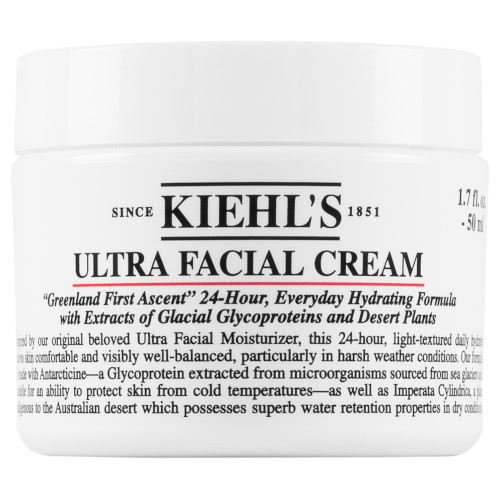 Kiehl's Ultra Facial Cream 50ml
Get an expert to answer your question about this product!
Kiehl's Ultra Facial Cream 50ml Reviews
92% recommend this product
Most Helpful Positive
moisturising
This leaves my skin softer and gives decent moisture to it.
Most Helpful Criticism
Not rich enough for my dry skin
I have used this product about 2 years ago and loved it, and decided to repurchase. Unfortunately it is not as good as I remember. My skin is dry/combination and as it is winter at the moment, I'm finding this moisturiser just isn't cutting it and I am using an oil underneath for added hydration. This may suit less dryer skin types.
moisturising

This leaves my skin softer and gives decent moisture to it.

Fantastic

This cream is so hydrating. It makes my skin feel so soft and hydrated without making it too oily.

great, but...

look, it's a great moisturiser. it doesn't have a scent which i really love for my face and will keep you hydrated all day. i just think there are comparable products that are a lot cheaper and do basically the same thing, such as the embryolisse lait-creme, innisfree green tea range or even the ordinary moisturiser.

big yes

ever since i purchased this, my face is always smooth and hydrated! i always use this before my makeup and my face always feels fresh even with my makeup on. a small amount goes a long way too!

Your new best friend

I've lost count on how many times I've repurchased this. It's your go to, never fail moisturise. Great under makeup and reliable. Also at night when my skin is a little dry, I put a few drops of Argan Oil and it feels heavenly. I just wish they would release an SPF version with the same texture and I would be loyal forever.

So hydrating

my dry winter skin loves this, I am due to repurchase - it does sting a bit if my skin is extra dry or irritated but it drinks it up. LOVE. I will comment on the packaging, I don't love the sanitation factor of a tub - but, i'll still use it.

Very good on a cold day

A lovely and very richly and deeply moisturising facial moisturisng that is great for drier skins or when your skin needs a hydrating boost. I love this cream on those cold days when I go running and my skin really cops a beating with cold weather, strong cold winds and rain, this cream is very nourishing.

Hydrating moisturizer

It's a nice hydrating cream for those with younger skin..
Recommended to use if your under the age of 30 ..
Coz it's hydrating but not rich enough if you have dry skin and mature skin..

average moisturiser

I bought this as I tried the ultra facial cleanser first, hoping using two of them together would my skin. To be completely honest, this is an average moisturiser. Even though it's lightweight and feels amazing once you put in on your skin, it did not really help my skin improve. however, it feel amazing to use it before wearing your makeup as its not a overly thick cream. I would recommend this f...

Read More

Love this moisturiser

It is a little on the expensive side but it feels so good on your skin and really hydrates it

Perfect everyday facial moisturiser

It's not oily, but it nourishes and moisturises deeply. It's fresh and light, just what you want for a facial moisturiser.

Nice moisturizer

I like this product, felt a bit of a tingle when applying but caused no irritation to my dry/sensitive skin. Skin looked plumped and hydrated - created simular results to FAB. At time i thought it needed to be more hydrating, but this was fixed layering with an overnight mask, but this could be due to my dry skin.

Fantastic moisturizer

This is a staple in my routine. Great for day time and night time use. Lovely formula

Nourishing Moisturiser

A nice winter moisturiser. It's not my favourite smelling moisturiser but great for dryer climate.

Super nourishing

Really happy with this product. Very rich and hydrating, non-irritating, perfect for winter!

Not rich enough for my dry skin

I have used this product about 2 years ago and loved it, and decided to repurchase. Unfortunately it is not as good as I remember. My skin is dry/combination and as it is winter at the moment, I'm finding this moisturiser just isn't cutting it and I am using an oil underneath for added hydration. This may suit less dryer skin types.

Pricey

I'm always looking out for great face creams. Recently I always read the reviews. Unfortunately I was disappointed with this cream. It doesn't deliver the same as other top face creams which I've purchased from Adore Beauty. It's just OK. On the up side. It isn't tacky, doesn't leave residue on my skin. Just very small and too pricey. I'd say it more suited for normal skin type and younger s...

Read More

Great for damaged skin

I have been searching for a good daily moisturizer that helps my dehydrated skin, without being greasy. I have been using the Clarins gel moisturizer, but found as the weather has become colder and more dry that I have to use excess just for my skin not to feel tight.
I thought i wouldn't like it initially because it felt very lotion-y, aka greasy, but I am amazed at how silky, plump and bri...

Read More

A Nice Middle-Road Moisturiser

This moisturiser is really nice, light and hydrating. It's good for summer months when I don't want something heavy, however I find myself gravitating to other brands. This one is a good start for sensitive skin.

skin is soft

I love this stuff I have brought it a few times it's so nice on your skin and I feel like it doesn't strip your skin. LOVE IT

Simple Moisturiser

I was looking for a simple moisturiser for night time use, which the ultra facial cream fulfils. The texture is great and it absorbs well. It leaves my skin feeling soft and plump through the night.

THE BEST!!!

I have been using Aspect Photostat for quite some time and was on the hunt for something more affordable. THIS. IS. IT!!! Honestly such a similar texture, I think I actually love it more, and so does my wallet.

Lightweight!

I bought this for myself but it slowly became my boyfriends moisturiser; I do like it but I fell for the Aspect Phytostat which I love more. My boyfriend wants to buy it over and over again. He has oily skin and it works really well for him. I may repurchase in the future, who knows!

Light weight cream and still hydrating!

I have oily skin and this works perfectly on top of my serums. It's super lightweight - which is what I look for in cream and it still provides great amount of hydration! I LOVE

Fantastic moisturiser!

This moisturizer is one of the best I've used. It feels really soothing and hydrating. It applies a little thick so I use it mostly as a night cream as I don't have time to wait for it to dry in the morning. Perfect for winter!

Nice, but does not wow me

This moisturiser is quite nice, goes on smooth, makes me feel nice and hydrated. However, for the price point, it does not really do anything special and I feel as though there are moisturisers for much cheaper that would achieve the same results.

Best face cream!

Hands down the best face cream that provides extremely positive results with my skin.

Basic, but super effective and non-irritating moisturiser! Couldn't live without

Honestly such a good all-rounder moisturiser - couldn't live without it now after trying it for over 6 months! Super light-weight but really hydrating too! Love the consistency so much and doesn't feel heavy even though how hydrating it is! Great skin-prep option for before applying make-up - I now use this over priming now cause it does the job so well prepping the skin! 1000% recommend. I also h...

Read More

Love this face cream, it's within a good budget but feels bougie. It's soft and silky and would recommend to anyone.

It's a great go to face cream, only downer is no the spf so I use it as a night cream. It's light weight and doesn't leave a creamy feeling afterwards.

A great moisturiser

This moisturiser is a great all rounder. I use it both morning and night as it feels light enough on the skin to sit well under makeup, but also has a thickness to it that makes me feel like my skin is getting moisturised during the night. Would repurchase.

The perfect winter moisturiser

This moisturiser I only use when the weather starts to get cold as its super hydrating and sits well under makeup. I've been using it for so many years even when I've gone to try a new one for winter I always come back to this. The price seems a up there for some but a little goes a long way! Even my hubby steals it :)

Forever Favourite

Over the last 10 years this moisturiser has been with me through the trials and tribulations of combination skin and the process of having oily teenage skin to dry-sensitive skin in my twenties. I've also used moisturiser from La Mer, Drunk Elephant, Darphin, Bare Minerals and Kate Somerville to name a few but the Kiehl's Ultra Facial Cream has been one I've always turned to as an amazing all-roun...

Read More

Soft skin

This is very moisturising and does not feel heavy. Leaves my skin feeling soft

A little goes a long way

I was a bit hesitant due to the price tag, but you only need to use a small amount for the cream to go a long way. It has a really nice, lightweight feel and sinks in almost straight away. Makes my skin feel really smooth too.

Love

So hydrating, sinks in within a couple of minutes, no scent, leaves my skin feeling hydrated all day. A new staple in my morning routine.

Obsessed

I have very red sensitive skin so have to be careful what products I put on my face. This moisturizer is so buttery and hydrating and barely makes my face blush. Perfect for my night time routine!

Melts into your skin

Love this. A little goes a long way, feels so lightweight and soaks right into my skin always feel so fresh and bright after using this day and night. Will definitely be buying again :)

Lightweight and super hydrating

I love this moisturiser. You only need a tiny amount as it spreads well and is super hydrating without feeling heavy. My skin feels light and fresh after using this moisturiser.

Every girl who sweats through cream's dream

i have been so happy with this product. so light weight and hydrating. it doesn't make me shiny and my skin can still breathe.

Dry skin saver

This moisturiser has been great for my dry skin. Leaves it with a nice glow. It's also good value for money, as it lasts a long time and you only need to apply a small amount.

Light weight high efficacy!

So far the best moisturizer cream I have purchased. Not oily like some creams which can create white bumps, this product is so light at the same time does a good job! My skin is so plump after using!

Love it

feels beautiful on my skin and locks in the other serums and oils from my routine. nice texture and not too much scent if any at all. I prefer this over the bottled moisturiser

A very moisturising moisturiser!

This cream is great for the colder months. The formula is super hydrating without being oily. I could recommend this for those with dryer skin or in between seasons. I use this as a day cream, it's lightweight and protects my skin from the elements. If you are looking for a gentle hydrating moisturiser add this one to your cart :)

Fave moisturiser

I ordered this about a month ago and it has quickly become my favourite moisturiser I've ever used. A little bit pricey though unfortunately.

Deep hydration not oily

Love how hydrating this is without being oily. It's perfect for winter and night time.

Impressed

I was cynical about the hype surrounding this moisturiser but I am a total convert. It feels thick and heavy but it sinks in completely and sits well under makeup.My skin looks clear and glows after using it for about a month now. I will definitely repurchase this.

Moisturising and thin - nice feel to it

I was trying new moisturisers as I have very dry and sensitive skin from ezcema and was looking for a new one. This was nice and didnt irritate my sensitive skin however I feel like I need something longer lasting moisture wise so I wont be repurchasing.

Best of the best

This is without a doubt my favourite moisturiser. Whenever someone asks me what moisturiser they should start using I recommend this one!

super moisturising

this is exactly what i expected. super moisturising, smells divine and makes my skin so so soft. definitely recommend

Smells great!

A gorgeous moisturiser which is good for sensitive skin and makes my face feel super soft!

Indulgent without the price tag

I have a 3 month old baby and for the last 3 months my skin care has taken a backseat to being a parent - and now my skin is in the worst shape it's been in for years. I have dry, combination skin and I'm starting to get fine lines around my eyes as well as bags (thanks sleepless nights!) This cream is thick and indulgent without being overly heavy on the skin. It seems to melt into your skin rath...

Read More

Best daily moisturiser ever

This is my second purchase of this product. It is light, blends in so smoothly. No sticky/oily residue after applying and keeps me moisturised all day. An absolute pleasure to use and makes me feel like I am really taking care of my skin.

Fave face cream

This is my second jar of this and I can say that I love this moisturiser. I have normal skin which can be dry at times and this cream is super hydrating and always makes my skin feel awesome. It's a little on the heavy side but absorbs quickly. Doesn't have SPF but sits well under sunscreen and make up. Love it and will be buying again!

Suitable for all skin types

It's very lightweight yet lovely texture. Slides on smoothly to the skin, it's not tacky at all instead very creamy. Can be suitable for all skin type as it provides lovely hydration.

Moisturising without feeling thick

product is moisturising without feeling thick, a good cream formula. i have dry-nromal sensitive skin with some closed comedones on my forehead but did not find this product to aggravate it

My favourite

I always come back to this moisturiser. Super hydrating but soaks in perfectly. i have oily skin and love using this cream at night, I wake up with refreshed plump skin! Definitely recommend!

The Best Moisturiser

I've been using this moisturiser for the past 5 years or so, after a friend recommended it. Ever since I refuse to use any other moisturiser. I truly believe this moisturiser got rid of my pimples! My skin always feels so much better after using this. I just use it in the morning before doing makeup - its amazing. My sister had some dry spots around her eyes from an allergy and it cleared it up af...

Read More

Beautiful and light

Promised a lightweight and long lasting product. Has not disappointed. I love this. Applied for me, everyday with a serum prior it is perfect for my combination skin. I don't wear make up, and this leaves an almost dewy finish. I would highly recommend x

Love

I have been using this moisturiser every day for two years. I particularly like it because my mineral powder foundation sits very nicely over this moisturiser and the primer I use.
My skin feels hydrated.

Lovely and creamy

A lovely, moisturising and hydrating cream for the face and neck, without any feeling of richness. The cream is lovely, soaks in quickly and is good for all skin types.

The best

Only recently started using this as my morning and evening moisturiser and am super happy. feels super smooth and rich going on but still light weight and never feels heavy. Just a tad pricey!

Good value moisturiser

This moisturiser is nice - it's very hydrating and pretty good value. However, on application it did sting my sensitised skin a little bit. Would recommend for dry skin types, it might be too heavy for oily skin types.

Good

My skin is moisturised after using this cream and it layers well underneath makeup

Love love love

Have been using day and night!! Would recommend for extra hydration

Wonderful!

It's really hydrating and doesn't make my skin feel too greasy after applying it.

Favorite new moisturizer

I tried this after seeing Joanna recommending it and I've loved it so far. It goes on so nicely and my skin stays hydrated for a long time without feeling oily.

Loved it

Amazing moisturiser. Very thick but does the job well

For dry skin

Very good for dry skin. Mum loves it.

It does the job

Very good product and good value. It is a good moisturizer

A Beautiful Moisturiser!

This moisturiser is one of the best I have come across. It is extremely hydrating while not being too heavy and sits nicely into the skin. Will most definitely be a repurchase in time for winter.

Incredible daily moisturiser

Absorbs into skin very quickly and is fragrance free so it doesn't sting on dry patches like many other moisturisers. Layers beautifully under makeup and is an absolute necessity during dryer months. Have noticed that the price has gone up since I began purchasing though!

suitable for combination skin

I have combination skin of oily and dry. This cream leaves my skin so hydrated and plump without making it oily and shiny.

Love this product

I have rosacea and this product moisturises my skin nicely without irritating it. I use it morning and night. One of my staples.

Hello hydration

I use at night and it helps keep my skin hydrated up until morning, my face looks so glowy and feels so healthy & hydrated.

Best moisturiser

After researching through youtube and looking at reviews on AB this was the best moisturiser that i found for dry skin and I am so amazed at how nourishing this really is! A little goes a long way and I woke up the next morning feeling so refreshed and hydrated. Highly recommend!!

Very hydrating

Keeps my skin hydrated and fresh

Great for sensitive skin!!

Received a sample and having never tried Kiehl's was excited to try on my dry sensitive skin. Applied at night and the next day my skin was softer, brighter and clearer. Additionally, it appeared as my skin was more plump and hydrated! Love this product, plan to purchase in the near future.

Beautiful Moisturiser

I have been meaning to try this moisturiser for years but for some reason never had. I am so glad I purchased now, it is lovely. A minimal clean smell, and applies beautifully. Calming and hydrating, and not at all sticky. Absorbs well and has been great for my skin whilst coming off acne medication.

THE BEST MOISTURISER!

This product is my all-time favourite moisturiser. The feeling of your skin after applying this product is absolutely amazing. It hydrates, moisturises and leaves your skin feeling so smooth! I have recommended this product to numerous friends and they have all said the same thing. It is q bit more expensive, but certainly worth it with how amazing the skin feels. The products in this are mostly n...

Read More

non irritating and not greasy

I have used the small one and just got the full size for my husband as it seems to the be the only one he will tolerate. it absorbs well, hydrates the skin and is a good base for makeup. Doesn't break either of us out and hubby has easily irritated sensitive skin

Lovely

I received this as a gift with purchase. I tried this product after a Kiehls face mask and my skin was just glowing. I have normal / dry skin and it absorbed quickly and left my skin plumped up and soft. I'ts unscented, which I love, as I often find highly scented products dry my skin.

very good

SAVING GRACE FOR MY FACE

I'd heard raving reviews about this product from friends and watched lots of product review videos by youtube beauty gurus. This is my first luxury skin care product and I am BLOWN away!! The tiniest, most unbelievably small amount covered my entire face and neck. VERY impressed <3

Too good

To good such a great moisturiser, sinks into the skin so well and loved the results. One of my favourite facial moisturisers that is so light and does not cause any side effects.

Nice and moisturising for those with drier skin types

This is a nice rich night cream to use when you don't have skin that is prone to breakouts and maybe have skin on the drier and breakout free side! Skin wakes up looking very hydrated and dewy however wouldn't use this if you are a bit more on the congested side!

So far so good

I've only been using this for a short time, but it's a lovely gentle moisturiser. It gives a nice dewy look to the skin, and is very hydrating. I feel like it's really improved my skin texture also!

daily moisture

really nice for daily use under makeup and on top of serums.

Great moisturiser

This is a really great non irritating moisturiser. Works great after using a retinol product. I have found sometimes during the day if it is quite hot, it can be a bit too thick, and doesn't play especially well under an SPF. However it is perfect for night time use.

Great for cold climates

Every so often I buy the limited edition ultra creams they bring out every year, just because I like the packaging. The cream is nice, unscented, and non-irritating. I find it works much better during the winter months, as it can be quite thick. I also think it is better suited to dry skin, rather than combination/oily, which is what I have. But if you live in or are travelling to a cold climate, ...

Read More

One of my favourite go-to creams

This has been my go-to face cream for several years since I first discovered it!
It keeps my face hydrated throughout summer days, I love the consistency of it and the lightness it feels when its applied.

I use this generally in the summer time cause its a nice thin layered cream, whereas in winter I enjoy a slightly thicker cream to prevent/treat dryness.

Would r...

Read More

Great Product

Great product for the price. Not too thick and oily and sinks into the skin well.

Great everyday moisturiser

I purchased this product after trying other Kiehl's products and I use it every day under makeup and usually with serums at night too. I have combination sensitive skin and this makes a really great base for makeup, I don't find it too greasy and it has never made me break out. I'll definitely be repurchasing.

Lightweight and nourishing

I'll admit I am biased - I love Kiehl's for everything it's worth (even though I can only afford a few of their products at a time). But this moisturiser is beautiful. I have dry/combo skin which means the balance between being flaky and oily is very delicate, and this moisturiser appeals to both of these concerns. I use it at night predominantly in summer and during the day and night throughout w...

Read More

Classic hydrating cream

Classic cream from Kiehl's. Hydrating skin well. Simple and good.

So light and sinks into my skin like a dream

I bought this after hearing how good it was from my friend. Having tried many other products I can safely say this one has been the best for my skin so far. No more dryness or oily areas. My skin feels gorgeous

refreshing yet comedogenic

I really liked having a thin layer of this cream on my face but after a few weeks some little whiteheads started to build. Not sure if it is good for oily skin

Reason for its greatness

There's a reason why this is so highly recommended! Super moisturising for all seasons!

Perfect for dry skin

I sent this cream to my mother in Brazil and she loved it. She has extremely dry skin and this cream has transformed her skin.

Nice and moisturising

This is a nice cream that is moisturising without being too heavy - good for the day to seal all your serums in without feeling too heavy on the skin.

Not for me

This was too rich for my sensitive skin. Other people tell me they love it, but personally, it was average. I broke out (mildly) after a few days of using it, so swapped it to a body moisturiser and it was fine!