Jurlique Rosewater Balancing Mist 100ml 100ml
Frequently bought with
Please wait while we find a match
Questions & Answers
(No Questions Yet)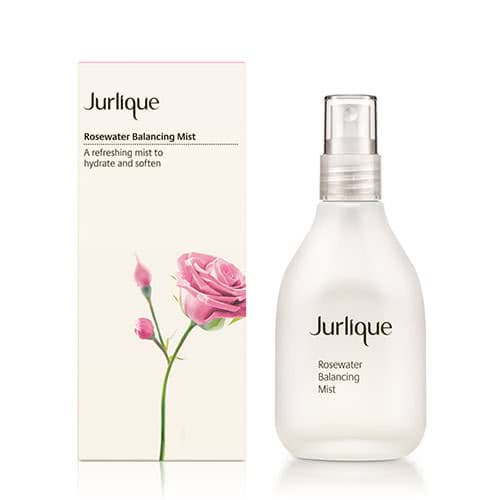 Jurlique Rosewater Balancing Mist 100ml
Get an expert to answer your question about this product!
Ask a Question
90% recommend this product
Most Helpful Positive
Beautiful
This is so so lovely. Smells so gorgeous and works as a toner or a facial mist. Awesome!
Most Helpful Criticism
Smells Pretty
This product is only good because of the scent and that's pretty much it. It's nice if you feel like adding something a little extra into your routine and feels luxurious but isn't really necessary. A bit pricey for just a pretty smelling spray.
Beautiful

This is so so lovely. Smells so gorgeous and works as a toner or a facial mist. Awesome!

The Best Facial Mist

I just adore this product! It is so refreshing and makes my skin look and feel amazing. I either spritz it directly only my face once cleansing or into my hands and then apply it that way. It is the truest rose scent I've tried and smells so lovely.

Must have for office desk

I bought this lovely smelling product to protect my face from the harsh air con in my office to keep on my desk and I have never looked back since! It is extremely refreshing to spray a few times a day & it keeps my face soft and moisturized. Now I even take it with me on planes or in any other harsh environment on your skin. A must have!

That smellllll xxx

Received this in the goodie bag and omg so hooked since. That smell just makes me feel instantly happy and my skin feels amazing too, I would spray it I've rmy face after toner and does feel so lovely wouldn't even need moisturiser.

Lovely hydrating mist

This mist is lovely and hydrating and the packaging feels very luxe. Its a lovely product but be warned the rose scent is very overpowering.

Can't praise this enough!

This is a staple in my bag or in my drawer at work. Jurlique's fabulous rose scent is so soothing and it's like an instant pick me up after being in aircon or heating all day,

I also use it to freshen up my makeup. Either way, I'm completely hooked!

A rosey way to refresh your day

I've tried a number of facial mists, but Jurlique's one is the best for me. The best aspect of their mist is the utterly, gentle smell of rose! It helps me to refresh myself when I feel tired, especially during a long day or after a long flight as well. And, if I had to spend long hours in an air-conditioned room, my face also feels hydrated after a couple of sprays. Love it so much!

Beautiful

I LOVE this. I received it as a free sample and have been loving it as part of my daily routine. It smells divine, and leaves my fresh washed skin moistened and soft. Great for any time of the day. Definitely recommend this product.

LOVE

This product has become one of my favourites!
It makes my skin calm and hydrated and I love that I can mist any time of day when my skincare feels dehydrated even over the top of my makeup!!

Pure indulgence

I received this as a sample and it is a beautiful mist. I use it every morning and every night immediately after showering. I also use it when flying for a refreshing pick me up. The mist is very fine and I usually spray 3-4 pumps over my face and neck and it drys very quickly. I'm not sure if it actually does what it claims but the act of inhaling the scent during spritzing is an incredibly indulgent experience well worth the money. I have since gone on to purchase this in other fragrances (Peony and Tangerine) as I'm not a big fan of roses and the bottles have lasted me ages.

Smells Pretty

This product is only good because of the scent and that's pretty much it. It's nice if you feel like adding something a little extra into your routine and feels luxurious but isn't really necessary. A bit pricey for just a pretty smelling spray.

i love this little product

so good! smells amazing and lasts quite a while! feels refreshing

Great for hydrating!

This mist is absolutely lovely! I use it during summer when I'm not wearing makeup only moisturiser. And just spritz it over my face a few times a day when my skin is feeling dry. It is very refreshing and hydrating and gentle on your skin.

Once you try this it's hard to use any other mist

I have tried many other rosewater mist but nothing compares to Jurlique. It comes with a price tag but the great experience of fresh roses smell cannot be beaten. Use this mist to treat yourself once in a while if not everyday.

Best facial most I've ever used!

This rose water facial best is incredible. The nozzle releases the spray in an actual list not like a spray bottle which many other brands are. The smell lingers for a period of time and doesn't just dissipate. I spray mine over my arms as well.

This rosewater mist!!!

is by far the best mist i have ever tried! its very refreshing and feels really nice when you spray it on your face hydrating you throughout the day!

Heavenly

The rose scent of this mist is soooo calming and instantly refreshing. Ive been spraying this more than necessary just because of how nice it feels. I use it as a toner after cleansing and before my serum and moisturiser. My skin is super sensitive with eczema at the moment and this didnt irritate at all!

So lovely and refreshing

Can't rate this product highly enough. I first bought it to take on a long haul flight (before strict liquid restrictions came in) and it was so beautiful. The fragrance is light and it just leaves you feeling so dewy and refreshed. Reasonable price as it lasts for ages. A nice little luxury that makes you feel great.

Gorgeous face mist

This face mist smells so calming and lovely! It's pricey but super nourishing. I've repurchased this a few times now.

Comfort!

Jurlique has been around for a long time but I have never used it myself until I bought a set containing this Balancing Mist. I love it and use every day as part of the routine. Your skin feels soft, healthy and moistened. I cleanse first and then spray your mist 2-3 times in the palm of your hand and place on your cheeks and forehead. Let a couple of minutes pass before your next step! Serum and then Moisturize. Your skin feels healthy!

Smells divine

Definitely my favourite mist - it is hydrating and smells soooo good!

Alternative to regular moisturisers

If you are feeling tired of your routine a nice quick-fix for a moisturiser is this hydrating mist. I used this for approxiametely three-six months and it kept my skin in
good condition in between using cream moisturisers.

Refreshing and lovely

Such a lovely product makes you feel luxurious and refreshes skin and makeup! and smells absolutely amazing!

The best

I love this mist so much it smells absolutely delicious!

So good for on the go

Love this mist for travelling and in aeroplanes as it's so moisturising and smells Devine. I spray in hair too for an extra hydration boost/help fly always. Saves my skin on flights too!

Beautiful modlifting spray

I use this just to refresh me/my makeup through day. I bought it in rose AND lavender (lavender I use to relax or at bedtime) they smell luxurious and jurlique have NAILED their scents. Will never be without this

Smells amazing

this product is great! it smells so nice and refreshing! very hydrating for the skin!

Beautiful

So refreshing on skin and it smells so sweet

Fabulous

Wow, How comforting is this spray to apply on a hot or muggy day to make you feel good! Even on a normal day, (spray 2-3 pumps) in your hands and dab on your cheeks to refresh and liven you up. Your skin looks really healthy as well!

One of the original rosewaters

this is a really nice rosewater spray, very gentle and soothing on the skin. Glass bottle is great quality, although makes it a little heavy and difficult to travel with.

Lovely and refreshing

I have been using this face mist for a few years now as part of my skin routine and as a refreshing pick me up during the day. It has Jurlique's lovely signature rose scent and is light and refreshing. It is a little pricey but I find a bottle lasts me months. I use it to set my make up on hot days and find it more refreshing than the Avene facial spray. It's coming into Summer now and I am glad to carry the bottle in my bag for an instant refresh because it leaves my skin feeling dewy. Give it a go!

Favorite rose mist

I love this product and have bought many bottles now, although pricey you can tell the quality difference when you use cheaper brands. We keep ours in the fridge in summer for a skin pick me up after errands or gardening and i use it under and over make up

Smells lovely but is very pricey

This balancing mist does smell and feel absolutely delicate and divine, but it is very expensive for what it is. I was very pleased to receive it as a gift, but I don't think I'll repurchase once the bottle is finished.

Sweet treat

Smells of marshmallows! Feels lovely on skin

Hydrating

Although a bit pricey for a mist i really like this product. I have combination skin and will use this over my makeup during that day if my skin feels dry. I keep a bottle in my desk at work to help combat the effects of air conditioning - very refreshing.

Lovely hydrating mist

I've been using the Jurlique rosewater mist for over 10 years. It is light yet hydrates the skin and leaves it ready for the next step. A product I'm never without.

Good for sensitive skin

I use this along with the antioxidant rose face cream and together my skin is smooth and well moisturized. Bit pricey but it's a beautiful face mist

Refreshing

A spritz of this revitalises your skin and feels so refreshing. Great for travelling and smells lovely.

Great for combination skin

I have combination skin and this balancing mist adds hydration and smells beautiful. It's not overly drying and helps even out my complexion

Soothing and lovely scent

A great product, it doesn't just feel very soothing to my dry skin but the smell is refreshing. Its a mood lifter but then I love roses, if you don't like a floral scent you might not like this. I like the packaging too and the mist sprayer delivers a very fine spray making the product last. The glass jar seems like quality packaging

Refreshing mist

My go-to pick me up mid afternoon, the mist is fine and refreshing. Skin feels hydrated after a few sprays. The amazing rose scent is also a mood lifter for sure.

The perfect gift!

Bought this a gift for a rose water lover, she is thrilled with it, loves the feel and smell. Happy to say the packaging was perfect too. lt looks beautiful, smells absolutely delightful and is oh so refreshing, leaving the skin feeling perfectly hydrated. It's a quality product that feels totally luxurious!

nice

This smells amazing and its fun to spray on my face whenever I feel like it, but it doesn't really do much for my skin

Fantastic hydration

I love this product especially when I am in air conditioning. I like to spritz a few times through the day & it works well over makeup.

Travel buddy

This is my travel must have. Its hydrating and smells amazing. I spritz it when I get off the plane or when I just need a little extra hydration

Excellent

So refreshing and hydrating over moisturiser, smells amazing, feels like an indulgent spa treatment, I absolutely love this especially on a hot summer day to refresh

Beautiful rose mist

I love the rose scent of this face mist. I have sensitive/combination skin and it's worked great for me. It instantly refreshes the face!

Refreshing for the skin

I think this mist is a little pricey for what it is. But cost aside it's very refreshing and can use any time you feel your skin could do with a wake up. Smells like lovely roses. Very pretty

LOVE this product

I had heard so much about this product and finally decided to purchase it. Its an amazing product, I use it before bed but in Summer I use it multiple times a day and it keeps my skin feeling refreshed and hydrated.

lovely

This mist is honestly one of my favourite things. The mist fragrance is Jurlique's signature rose scent with marshmallow extract, which is just heavenly. I've been using this mist for years now and I don't think I will ever get sick of this fragrance! I spray it on my face when it feels dry, neck and on my hair. It instantly refreshes me and works well to hydrate my dry patches in the interim before I apply moisturiser.
Wouldnt recommend for people that want a spray to carry in a bag, as its in a glass bottle which is relatively heavy for the size.

great mist

for a mist, it's probably a bit expensive but it does feel refreshing on the skin. it's not sticky on the skin, which is great, and it smells like lovely roses. i'm not sure if i would repurchase but it's a great addition to my everyday routine

Perfect for travel

Love this facial spray for travelling as your face often gets dry and it's just nice to have a refreshing spray to add moisture back into your skin

Misty

This product is definitely refreshing, smells nice and leaves a misty glow. I use it on occasion after moisturising. However I haven't noticed any real benefit for my skin so probably would not repurchase.

Refreshing

Didn't think much of this product as it didn't really seem to do anything, I didn't know how to incorporate it into my daily routine and I'm not one to be spritzing my made up face in the middle of my shift and risk my makeup shifting or melting or feeling tacky.
However last month I took a trip to Europe and spent 22hours in the air - regularly spraying my face with this kept it balanced and fresh.
It was the first plane trip that didn't leave my skin feeling tight and compromised.
Will definitely continue to have this with me when traveling.

Nice step to add to skincare

Love adding this step to my skincare routine. I would call it absolutely necessary but leaves skin feeling so fresh

calming

my summer face revels in the this rosewater delight.
too hot to moisturise as the cream dribbles off your cheeks but the mist rejuvenates and refreshes as it aspirates and lightly floats on to your face.
for winter after I have Jurlique cleansed and Jurlique exfoliated I apply Rosewater Mist to my face to cool and soothe my crystal clear skin thus readying it for my Jurlique moisturising concoction.
the sensation of the rosewater going onto my face is reminiscent of passing a waterfall and being lightly sprayed. it was delightful and relaxing as is the mist of jurlique.

a refreshing lift for your skin

If I don't have this product, I miss it. It's that simple. I can't move from cleanse straight into serums or moisturisers, I need the uplifting spritz that this mist gives and it's kind of tricky to explain why. It could be the gentle settling of the spray on the face, preparing it in dewy anticipation for the next little skincare rirtual. It could be the gentle, sweet, reassuring rose scent. Yes, it's both of those things. It's locked into my beauty ritual without any doubt.