Dermalogica UltraCalming Barrier Repair 30ml
Questions & Answers
(2 Questions)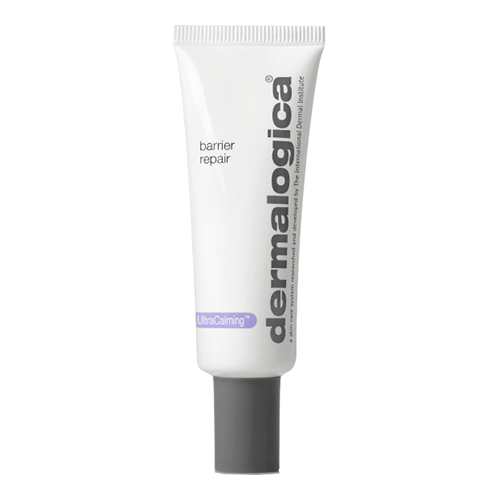 Dermalogica UltraCalming Barrier Repair
Get an expert to answer your question about this product!
Ask a Question
96% recommend this product
Most Helpful Positive
Best thick face moisturiser I've ever used
Awesome for my combination dry skin
A lovely 'calming' product

This product feels beautiful on your skin. I use this in alteration or in combination with the ultra calming gel depending on what my skin is doing. Feels very soft on your skin and sinks into your skin without feeling greasy.

Great for when you're peeling

I was given this when I was sick with the flu and had my nose peeling. Just a day of putting this on over night repaired the skin and didn't get redness or sores after

Best thick face moisturiser I've ever used

Awesome for my combination dry skin

No frills - does exactly as it says

This Barrier Repair does exactly what it says. It creates a very smooth calming barrier on your skin. I loved the feel and it eliminated all redness. I felt like I had to use too much to really moisturise for an entire day. That might just be me. However it's a lovely product.


This has changed my skin!

For someone suffering from a red, irritated and sensitive skin barrier this is a god send. Yes the tube is small but it does exactly what it promises. My skin hasn't been this good in ages. Don't hesitate.

So soft

I have fairly dry skin on my cheeks and she started using this on me during my monthly facial. The difference is amazing. I put it on in the morning after washing my face and doing lotion but before my makeup. The way my skin feels is incredible and it is really making a difference in the moisture my face holds without being greasy.

Amazing stuff

I was quite stressed and ran out of my normal skincare so was using body wash to cleanse my face and then I got an irritation on my neck which became more irritated. regardless of what I used on it , it didn't go away.
I did a research and brought this.. initially the sensation was weird as it has a silicone/velvet feel to it and was unsure if it would help but within a few days my neck cleared up and now I keep one on hand for when I get skin irritation

Perfect for sensitive skin

I used Barrier repair whenever my face is feeling irritated or overly red, it immediately calms, cools and moisturises. Feels like velvet on skin and doesn't have a strong scent. Only downside is the small product size, but a little goes a long way.

Silky smooth moisturiser

This Barrier Repair does exactly what it says. It creates a very smooth calming barrier on your skin. I loved the feel and it eliminated all redness. I felt like I had to use too much to really moisturise for an entire day. That might just be me. However it's a lovely product.

Expensive but worth it

In the height of my extreme eczema, this product is a lifesaver. With a compromised skin barrier and inflamed, itchy, stinging skin, this is like a light film that covers the issue skin and seals in moisture. I haven't found a better product to use on my eczema than this and although it is expensive it is really worth the money - I have to use a lot when I get a flare up all over my face, but it shortens the time of the flare so I guess it is worth it! If you have problem skin please consider trying this product.

very calming and hydrating to the skin

i used it once and i am in love with this, i have dry and sensitive skin. i had a bit of redness on my skin when i tried this on and i was amazed that in few minutes this product made it go away. it also hydrates a lot. a little is enough for the entire face.

Interesting texture

This product feels like velvet on the skin - it really feels beautiful - I'm not too sure about using it as a replacement for a moisturiser (as a friend suggested) as it doesn't feel like that. It really does feel like a very smooth, protective barrier. I have sensitive skin and this is a great addition to my routine.

Velvet touch

its a very unique moisturizer as its a silicone, gel consistency with a velvet feel to it however once its on the skin in soaks in and moisturizes like a dream with no uncomfortable film or residue, i have eczema on my arms and it moisturizes it so well.

Interesting!

This product is interesting! It's a gel like consistency, leaves no residue on the skin, absorbs quickly, has almost a silk like/silicone finish similar to primer. It doesn't irritate the skin. I've never tried anything like it but I think I quite like it!

An excellent moisturiser

I have sensitive skin and this product does not cause me any irritation. It is a clear, gel like consistency that leaves a kind of matte finish feel, but absorbs quickly into the skin with no residue. It is very small at 30mL making it remarkably expensive, but a little goes a long way.

Like velvet

This cream feels like velvet, and although it doesn't penetrate the skin like a regular moisturiser, it's like it shields the skin from a harsh environment - especially drying winter climate.

Thick texture

I got a sample of this with my purchase. Its texture is so thick that it's more like an ointment than a cream. I feel it builds a nice shield against dry air and seals in the moisture of the skin. I think this one would work well for sensitive and dry skin.

A barrier it is!

I love the smooth feeling of this on my skin. It's a silicone-like barrier that makes my skin feel soft and protected. Makeup goes on well on top but this alone leaves the skin looking less red and almost like I've applied a primer or CC cream. I have red and easily irritated skin with psoriasis and this works really well! It is pricey but not much is needs each application. I squeeze out the very last drop!

Feels so silky

I used the product when my skin was feeling highly sensitive due to using harsh products and it really did calm my skin down and act as barrier between my skin and my makeup but still allowed for a smooth application of my foundation as it leaves the skin feeling very silky.

great for sensitive skin

I got a tester of this from Dermalogica and its so hydrating and calming for red/hot/sensitive and acne prone skin, I'm saving up to buy a full size one because you cant go wrong with Dermalogica!

Love!

got this as a sample, and now purchasing the product! absolutely loved the feeling this left on my skin! sort of like a silicone feel?
Works great as a primer or even just over the top of a serum.

will keep using

this product is eyewateringly expensive but it's the only thing that seems to do the trick for my hormonal acne on combination skin. I love the silky feeling it gives my skin and it basically works as a primer - my nars foundation glides over it evenly. My boyfriend has noticed significant improvement in his rosacea since using it as well. Only gripe is that it doesn't come in a larger size.

Brilliant Product

Glides on so easily but isn't greasy. A little goes a long way. Perfect as a make up primer.

Fantastic protection for sensitive skin

I've always suffered from sensitive skin which has a tendency to flare up in red blotches. This barrier repair cream is a life saver when it comes to calming the redness and irritation. I use it over my normal Dermalogica moisturiser and find that a small amount goes a long way. It glides on effortlessly and provides a smooth base for any make up to follow. I find it comfortable to wear in both summer and winter and it leaves no oily residue or shiny build up on your skin. A fantastic product that really works!

Amazing Protection

I first used this product when my husband purchased the Dermalogica UltraCalming travel kit for me to test out. I had been suffering for a year with sensitive and red skin, after I'd spent a lot of time outside in the cold and wind for work. I would have dry, flaky, itchy patches under my eyes, along and between my eyebrows and along my hairline that were extremely red and sore to the point of light bleeding at one time. It was a nightmare. I tried quite a few products by various brands out there. Once I tried the UltraCalming kit however, I was set free. The Barrier Repair in particular was my life saver. A tiny amount, like a baby pea or smaller, is all that's needed for the entire face, even though you think to yourself "is this really enough?". It glides on effortlessly and provides a serious protection. After only a few days of using this product I noticed a HUGE improvement in the quality and feel of my skin and I was no longer in pain from itchy, sore patches. These areas cleared up completely. This was over 2 years ago and I still use, love and recommend this product to anyone who needs serious hep with sensitive skin. It really does provide the protective barrier it claims to.

Great Product

Dermalogica UltraCalming Barrier Repair is a great product
I have very sensitive skin and it forms a barrier on your skin against all the elements of the environment

great product for sensitive skin

This product comes in a small tube, but it goes a long way. The cream has a silicone feel to it which I find very soothing on the skin. I have sensitive skin, and I've found that this cream is good at reducing inflammation and is great in winter.