Biologi Bf Hydration Body Serum 50ml 50ml
Is this for you?
A transformative serum that is completely natural. Featuring an incredibly high concentration of Finger Lime, is a natural source of skin-loving antioxidants, your skin is rejuvenated and left looking healthier than ever.
Cruelty Free
Vegan
Australian Made
Artificial Fragrance Free
Sulphate Free
Skin Concern:
Dull, dry or dehydrated skin

First signs of ageing

Pigmentation, uneven skin tone

Sensitivity and redness

Wrinkles and loss of firmness
Frequently bought with
Please wait while we find a match
Questions & Answers
(1 Question)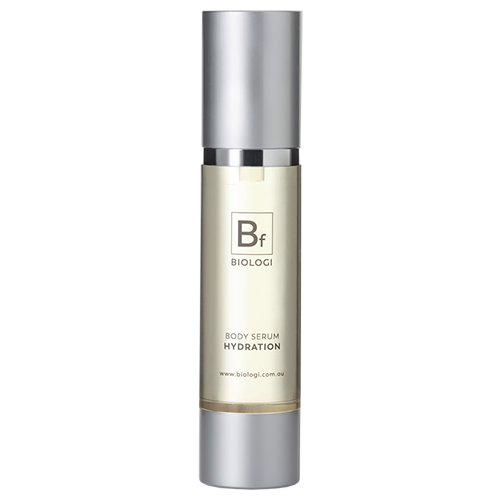 Biologi Bf Hydration Body Serum 50ml
Get an expert to answer your question about this product!
92% recommend this product
Most Helpful Positive
It works!
I use this every morning on my face and my skin feels and looks better than ever.
Most Helpful Criticism
All over body
It's nice to have a luxe product for the body and not just the face. This makes my skin feel soft and silky.
It works!

I use this every morning on my face and my skin feels and looks better than ever.

Hello Biologi ILY

This may be the true love of my life. It's one of those things that you should always have on you. This has brought my severely-compromised skin barrier back from the brink, cured the contact dermatitis that I get from being too ambitious with eye creams, banished all traces of eczema, you can go on holiday literally with only this, a cleanser and SPF and you'll be right as rain, and if you put it on sunburn (shh) you'll *probably* prevent your epidermis from divorcing your dermis.

It's also super handy to use when you have been a little too keen with the acids and/or retinols and you are shedding like a cat, it soothes b*tchy pimples and it'll remind you to call your mother.

Dry patches be gone

I get dry patches here and there and nothing worked except this!! Worth every penny

Feels amazing

I've been using this for just over a month now and my skin is amazing! I use it on my face as well as body, I have sensitive skin and my eczema has cleared up since using it. It feels great, and bonus is cruelty free!

All over body

It's nice to have a luxe product for the body and not just the face. This makes my skin feel soft and silky.

Summer serum

Mildly citrus scented, this body serum did nourish my dry skin although not elbows! Economical as only a bit is needed. Perhaps workable in warmer months, definitely not emollient enough for winter!

Amazing for eczema

This serum is incredible. My eczema flares up in winter and this was an absolute life saver. I had relief the next day after the first use. I have also been using it on my face sometimes to give my skin a break from my other products - my skin is so much more hydrated now. It also really sped up my routine! I have loved that so much I have recently purchased their luminosity serum.

I am absolutely loving the results and I also love that I know exactly what's in the product. Will keep repurchasing!

Great hydration through winter

My skin gets extremely dehydrated in winter and this is a lifesaver. Love to use this on my elbows, knees and feet.

Favourite

Works really well on dry skin on legs in winter time! Well worth the money as it doesn't feel thick or heavy like some creams might

Adds intense hydration

Added intense hydration to my skin and softens my skin like crazy

Great for dry skin

I suffer from dry skin and this product keeps my body very hydrated! I would recommend this to anyone with dry skin, especially in winter


Great Product!

I recently bought this product as I was having trouble finding a good facial oil as my skin reacts to many moisturisers. This serum hydrated my skin and left it feeling soft and un-irratated.

Plump skin but sticky

I have purchased the smaller trave size of this product twice now, using it consistently for 3 months on adult acne skin. I definitely broke out and 'purged' for the first few weeks of using this product, usually tiny white heads would appear over night all over my face. But after those few weeks I noticed my skin became less red and would appear less inflamed in the morning. I use this in conjunction with the Bd and Bk serum and have noticed reduction in redness and the tone of my skin. I have a 'glow' now. But I only use the Bf when my skin is extra dry from acne medication and although I find it tacky, I apply it at night so it can sink in by the morning.

Excellent multi-purpose serum

I suffer from very dry, pigmented skin and this is a god-send. It can be used anywhere on the body and is even perfect to use one my toddlers when they experience nappy rash, cuts, scrapes, etc. I will continue to buy this.

Hydration ❤️

I suffer from really dry skin and also had eczema since I was very young. My hands flare up over everything I touch. I had read that the Biologi Hydration Body Serum can be good for eczema prone skin so decided to try it. I have been really impressed my hands feel softer and I have noticed that they stay hydrated for longer. I have used on other dry patches on my skin and have noticed a great improvement. My hands are more hydrated which means that my flare ups have been less. I have been trying on other eczema spots and seeing a real improvement.
My daughter has dry patches on the side of her face and I am loving using the serum so natural for such young skin and so hydrating.

Thank you.

Every winter for the last three years, I've had a rash that suddenly appears when winter starts and disappears when summer comes around. Last year I was prescribed three different steroid creams to deal with the rash, each time of which I've had to be given a stronger one. It was a complete confidence killer because I couldn't wear t-shirts without being self conscious of all the scars I had all over my arms. Once the rash started again a couple of months ago, I decided to research some ways to stop the rash without using any steroid creams. So I started using soap free wash and ordered the Biologi Bf serum. I also use nappy rash cream, which to my surprise, has also helped. Two months on and I'm now on my third bottle of Bf serum and I am so happy I decided to click on the ad that came up on the Instagram feed. I use it for my whole body and am so surprised at how moisturised my skin feels all day long, just from the smallest amount of serum. I am extremely grateful for this serum and I have recommended it to all my sisters. Thank you Biologi.

excellent

this product is honestly amazing! It nurishes my skin and makes it feel so hydrated and soft! I definetly recommend this product to anyone and everyone, especially if you have dry skin!

good for dry skin

I liked this, it works great for my dry skin but I do find that it goes quickly. Also, always patch test, I found it doesn't agree with some more sensitive areas of skin

hydrating

I suffer from dry skin and this product keeps my body very hydrated! I would recommend this to anyone with dry skin, especially in winter

very hyrdating!

It is very hydrating as it penetrates deeply into the skin and leaves a lovely scent afterwards! It is definitely slightly more expensive, but worth it for the great quality! I love to use this serum before bed, especially during winter,

excellent

makes my skin feel amazing, so soft and hydrating! it smells amazing and lasts for hours

Do yourself a favour! Buy this serum

Extremely effective, 10% vitamin C. Great for hands and neck. Can also be used on face. A little goes a long way.

So impressed!

I love how versatile this serum is!

I use it on my face, body, lips and cuticles. It soaks into the skin so fast and provides hydration I have never found/experienced with another product! No more scaley, dry winter skin!!! :)

So impressed!

I love how versatile this serum is!

I use it on my face, body, lips and cuticles. It soaks into the skin so fast and provides hydration I have never found/experienced with another product! No more scaley, dry winter skin!!! :)

I'm really unsure about this

After reading amazing reviews and seeing that article on daily mail i honestly expected miracles as i suffer from eczema. I haven't noticed a massive difference since using it, that being said i use it quite sporadically so perhaps if i used it more regularly i'd notice more results. The consistency of the serum is quite runny and has a slightly oily texture, it comes out in an airless pump bottle, it does absorb quite quickly into the skin. It doesn't leave your skin feeling tacky which is a plus however I absolutely detest the smell!

Dull

I found these products very dull on my akin even after using them for a while to try and see the difference.

Eczema

This product really helped my baby's eczema. First it flares up and then it goes down! Its the only natural product on the market which means I dont have to use hard steroid creams!

Body hydration

This serum has really made a difference to my skin in a matter of a few days. It has made my skin soft and supple.

incredible product

I suffer from dry skin and this product keeps my body very hydrated! I would recommend this to anyone! Another important factor is the amazing smell, I look so forward to using it everyday!

Dry Skin Saviour!

I have always struggled with extremely dry skin, on my face and body and this Bf Body serum works wonders! Honestly after a few days use I had already seen a significant improvement in my skin, it felt super soft and moisturised (not only on a surface level but deeper). Would highly reccomend this to anyone with sensitive or dry skin or if you want an introduction to the Biologi products I would start here!

Proceed with caution

I have purchased this twice, and really really really tried to love it. When I first started the bf I had incredible results - my skin was calm and literally flowed. I thought my life had changed. Then after about ten days I started breaking out, and my skin lost that even toned glow and started getting red and angry. During this time I emailed the company several times asking for advice, and got really generic responses - "your skin is purging - persevere!" Etc. I persevered, after a month got no relief so stopped all together. My skin went back to normal and I chucked the bottle out. A few months later on a whim I repurchased it to give it another go. This time the "healthy glow" stage only lasted a couple of days before my skin went to custard again, and actually started to react really really badly - extreme redness. So i've Given up on biologi for me for good. So, take note that among all the 'wonder' reviews out there, there are other people that this won't work for (like me). I have truly sensitive skin and despite being natural etc, this isn't an option for me.

Amazing

I use this as a face serum as well as body as it gives me the best hydration

My favourite out of the others !!!

Once when my package arrived I couldn't wait to open the package up to try! I instantly applied it on areas of my pet scars from a couple weeks ago where My skin has become a little dim and I noticed an instant brightening effect! 4th day using the product and the area of the Scratch scar is becoming smaller and smaller. I am definitely amazed since it work better than most vitamin e oils on the market !

My Fave!

LOVE my Bf Body Serum, it's my fave out of the 3. It's such an all-around fab product. I use it on my body and my face. It leaves my skin so soft. It's also really helping with redness due to breakouts pre using Biologi which I'm so happy about. If you want to try a product that actually makes a difference, then definitely give this product a go.

Light and fresh!

I'm new to the Biologi family and spent a lot of time considering whether to invest in these products.
It has now been a week and I am so impressed. My skin feels light and fresh. I wake up in the morning and my face is dewy and glowy, rather than puffy and red!
I'm excited to see the changes in my skin over the coming months!

Helped SO MUCH With My Dry Skin!!

I absolutely love how this product makes my skin feel! I use it at night after cleansing and I wake up with soft, hydrated and glowing skin! I like to use it again after cleansing in the mornings as my primer so my makeup stays put and my skin doesn't dry out. It also helps with my acne too, but if I need a product for acne I go for the Bd Lumosity serum. I just love all of these products!

Magic

My hero product. I have used this on my nephews eczema and it was amazing also on sunburn. I have started using it more heading into Nz winter as my skin starts to dry out I wouldn't use anything else now that I have been using biologi

Amazing hydration

Amazing hydrating product! Works wonders on sunburns

So hydrating!!

I've been using the Bf serum for around a month now and am loving it! My skin is so hydrated and has definitely helped to clear up the odd pimple as well. Highly recommend!

Dream product!!

I absolutely love Biologi. All three serums are amazing. This one I use the most - it has been incredible on scars and times when I have been sun burnt. I love it every day though also - it's soft and gentle on the skin and incredibly hydrating.

Such a great serum for sensitive skin

I do a lot of pool swimming so I always find my skin being very dry and irritated after swimming, however, I notice a huge difference once using Bf daily for a while. I also really enjoy this product as it is very light on your skin and keeps the number of products on your face to a minimum, while still being effective.

Moisturizing my dry sensitive skin like no other product

I have been using all three Biologi serums for over a year. The Bf is my go to for my sensitive face, and so good when I have had too much sun, or my face has reacted to a sunscreen. It is the only face and body moisturiser I take when I'm travelling. Love the Bk around my eyes at night and Bd under make up during the day as well. Love all the compliments I get about my beautiful skin. Thank you Biologi !

Super hydrating!

I have always suffered dry skin, so to see a difference so quickly was amazing. This serum gave me overnight results! It has evened out my skintone on my body and helped keep my face and lips super hydrated with this colder weather!! LOVEEEEE

The best!!!

This serum is a game changer!
My skin has never felt so soft and most importantly my skin feels and looks healthier and that's because it is. Thank you Biologi... finally a serum that works and doesn't have any nasty ingredients!!!
Highly recommend to anyone...

Liquid GOLD!!!

I haven't had a single skin concern yet that I haven't put BF on and it hasn't healed it! It prevented me from getting pregnancy stretch marks, got rid of dermatitis under my rings, skin rash on my grans face, my baby's nappy rash, and rash for the matter on my baby! Winter dryness that normally hits by now, hasn't! It's the best! Thanks Biologi for making such a great product !

Amazing results and maintenance

I absolutely love all biologi serums but Bf is my favourite. I have had so many great comments on my skin and even after face treatments they had nothing to advise me on and was told to keep doing what I am doing.

Love this product!

LOVE this product! It is one of my number one go to body serums and because it is all natural I can continue using it while I am pregnant. It absorbs straight into your skin, its super hydrating and no oily residue after use xx

My Girlfriend is happy

My Girlfriend has been asking me to buy her all of the serums from Biologi and told me they were now stocked on Adore Beauty so thank you. She has been using them for a couple of months and the incredible change in her skin is amazing. Im now using them hence the reason I need to replace them.

Hydration

Absolutely amazing product, I also use this product on my toddler when teething, amazing results within hours!

Amazing product!!

This product has been amazing for my skin. My skin is normally dry however it is now hydrated and has sorted out my skin

6 stars ⭐️

These products are life changing! Not only have they cut down time getting ready but they have restored my skin completely! Thank you Biologi for creating a product like no other

The perfect all over body serum

I just love using this light body serum. It not only nourishes the skin perfectly but also gives me peace of mind knowing that I am using a natural healthy product.The human skin is the outer covering of the body and is the largest organ.It plays an important immunity role in protecting the body against pathogens. It makes sense to use Biologi knowing it will protect and nourish the skin.

Amazing results

Incredible results on new and old scarring, plus it is so gentle on my skin!
It's a one stop shop... it does everything!

5stars+

This is the best product I've ever used on my skin, I use it all over. It's made my dry skin look and feel so much better. It's helping calm my teenage son pimple skin. And I love that's it's not full of crappy chemicals. It works try it!

Best product I have ever used

I suffer from sensitive skin and always break out with bad eczema on my face. Since using biologi products I haven't had this issue at all. I haven't had any eczema break outs and my skin feels so hydrated and soft. I am so greatful that Biologi has brought our products that actually work. I have wasted so much money on products that haven't worked and Biologi has changed my life. I highly recommend you try these products

Great body serum with acid

I have been looking for a body lotion with an active ingrediance like acids or Vitamin C. This serum is a blend of fruit acids and vitamin C that feels the skin feeling smooth and hydrate. It contains 100% Finger Lime that increase the skin moisture retension and help with sun damage skin. It feels a bit sticky at first but it absorbs very fast and leave the skin smooth. I also like the citrusy smell.