asap rejuvenate + correct
4 instalments of $38.81
Or 4 instalments of $38.81 with
LEARN MORE
4 instalments of $38.81
Or 4 instalments of $38.81 with
LEARN MORE
Official Stockist
Is this for you?
asap rejuvenate + correct contains seven powerful treatments to treat and correct your skin. Containing an entire facial routine in an easy-to-carry pack to help your skin be the best it can be, no matter where you are. This kit is also ideal for those who are new to the asap skincare range, for all skin types.
Frequently bought with
Please wait while we find a match
Questions & Answers
(1 Question)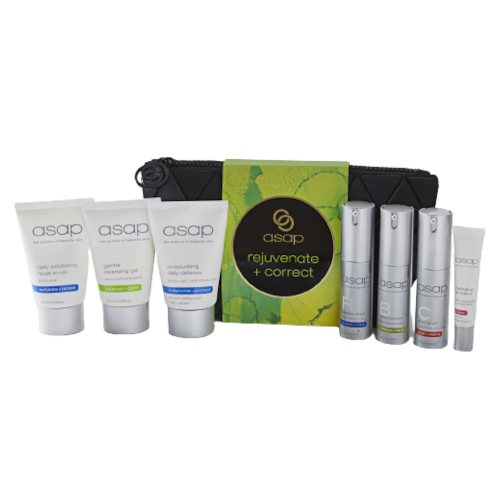 asap rejuvenate + correct
Get an expert to answer your question about this product!
asap rejuvenate + correct Reviews
93% recommend this product
Most Helpful Positive
Absolutely adore
Absolutely everything about this rejuvenation pack is beautiful and soft on the skin.
Most Helpful Criticism
Good but not great
Ok but wouldn't use everything in here. Love the cleanser
Absolutely adore

Absolutely everything about this rejuvenation pack is beautiful and soft on the skin.

Great Starter

Such a greater starter! Particularly love the B and R serums which I have since repurchased. The cleanser is nice and gentle but still takes my makeup off well. The SPF is quite thick and does sting my eyes when accidentally put to close or washing it off.

good starter kit

Loved all these products, It has almost your entire routine. The lip balm is an awesome bonus! I found it super hydrating.

Great product

I bought this product as I used the asap Cleansers and Day cream and I thought it was a great travel size. As a result I also got an opportunity to sample the serums that come in this pack which I was super impressed with and bought as a result.
Really great starting point if you want to try an easy regime of products

Great value for money

This is the starter pack you need! Great value for money and i rate all the products on their own also great for travel too, especially the cleansers and these can be refilled.

What a good kit!

I love this ASAP kit. I already use all of the products in here, but I was looking to get a kit with the travel sizes that I can refill if I need to. This is perfect!

Value for Money

This is the second ASAP pack I have bought. In between using the first one and this one I tried another range of products and felt that my skin lost that 'glow.' I have a skin type that tends to be on the drier side so I use a more heavy duty moisturizer for night time but overall love this range. The packs are a great way to sample the products but there is also enough to keep you going for a ...

Read More

Great introduction to the brand

This kit has everything you need to get started if you're new to asap or cosmeceuticals.
It's also great if you're on a tight budget but would like to start/keep using cosmeceuticals as it has everything you need to maintain beautiful skin.

While I'm not in love with the sunscreen, everything else is fantastic!

Great starter

This kit is a great if you're new to ASAP. I found the products were a great introduction to the range and complimented each other well. I went on to purchase the ultimate kit. A great brand. Oh and love the cosmetics bag that comes with the products.

Love this brand

Perfect for travel. Love this kit, had all the products I love.
And seems to always be on sale!

Amazing skin essentials!

This was my first time trying ASAP skincare & I adore every product included in this pack. The cleanser is gentle & perfect for my oily/combination skin. Having just turned 40, I wanted to trial some serums, & this set has everything I need. The B complex serum is my fave & has made my complexion clearer & more even. The C serum is good, however I find that it pills when applying with/over the ot...

Read More

Great value

Great starter pack. I was wanting to try this range and absolutely love the results

A bit of everything

Good way to get a bit of everything for a reasonable price. I find the sizes of these products much more manageable to travel with. Lip balm tastes a bit funny, but everything else is great.

Try before you buy

Good range of products to try. The B serum is pretty good and be careful you don't burn yourself with the vitamin C. Overall pretty good selection

Excellent value

I switched to asap products when I became pregnant. I found this pack to be great value for what you get. Products are really good

Great value

Great to try all the products first and see how they feel on your skin. A great all round group of products here.

very good

This is a wonderful way to try the range! I suffer from dry skin and this product keeps my skin very hydrated!

Has overhauled my skin

After trying a few ASAP products wanted to purchase more so felt this pack was a great way to save and give them all a go!! All products have easy instructions for use and I find it an easy regime that has really transformed my skin. The exfoliater and C serum being my new favourites!!
A little also goes a long way so this pack will last me longer than I expected.
My skin is glowing, l...

Read More

Great for travelling

This ASAP rejuvenate pack is absolutely full of skincare goodies. Great pack to look after your skin while travelling or if you are wanting to try out the range and don't want to commit to the full size products quite yet.

Game Changer!

I recently bought the Rejuvenate pack after reading a lot of great reviews on these products.
I have been having skins concerns/hormonal breakouts for the past 2 x years and previous products I had been using weren't making any difference.
I can't express enough how amazing these products have been for me and how much my skin has improved since i've been using them for the last month...

Read More

Fell in love with the brand after using this pack!

These are all decent sized products and a great way to try the best ASAP has to offer, highly recommend.

Good but not great

Ok but wouldn't use everything in here. Love the cleanser

Generous sizes to trial

The serums are the star of this pack.
Have reviewed the super B serum separately- it's awesome.
The Vitamin c was hit and miss for me.. it brightened up my complexion but I did not like the feel of it during the day or under makeup. It gave me a good tingle though which I liked
The r serum is very potent exfoliant. Im still awaiting a response on if it's advised to follow up w...

Read More

Great

this was my visit time trying asap and this pack was a great variety of each product, and i liked them all

Perfect for travelling

I'm so glad I bought this pack, I have dry aging skin and this has totally changed my skin texture ive notice some of my pigmentation is fading, fine lines and wrinkles are not as pronounced and my skin glows!

incredible

I suffer from dry skin and this product keeps my skin very hydrated! I would recommend this to anyone!

love this

I found an improvement in my skin's texture after regular use. This is a wonderful way to try the range!

Got me hooked

I bought this kit to try out this brand and fell in love with various products. A great way to try out a decent amount of product before buying full size


Amazing kit

I love every product in this pack, great way to trial with the 15ml size serums. Has all the essentials for AM and PM routines!

great

First time ever using asap. Was recommended to try the products prior to having laser resurfacing, and I ecstatic that I did! Products are awesome!!!!

Face changing!

I bought this pack as a way to trial some of the key asap products, and it did not disappoint. I have been using the C and B serum every morning and the radiance serum and B serum on alternating evenings with my own retinol. After a week, there has been a huge difference in my skins texture and clarity. I can't wait to see results in a month! Highly recommend.

Awesome

Splurge is worth it 100%.
couldn't recommend this anymore! absolutely love it so much, clears my dry acne prone skin

Stick with it, the purge is worth it!

I'm FINALLY getting around to writing a review on this after purchasing a month ago. After a week I was honestly worried, my skin had gone bananas - I looked like an acne prone teenager. My Google search history would have been pretty funny at the time. I then jumped onto the Adore Beauty Live Chat and spoke to the lovely Zara who said that my skin was going through the "purge" and assured me t...

Read More

This review is for the anti-aging night cream in this collection

I received the ant-raging night-cream as a tester which goes a long way, I dare say so do the others in this pack. I've been using this as an every second night cream and when I wake my skin feels very hydrated which I usually experience with high oils that are commonly in moisturisers however this absorbs rather quickly in the skin.
This one product alone from this collection has made me a...

Read More

Expensive but great products!

This kit is very expensive but it's a great way to try the entire range! I have pretty oily skin that can be sensitive at times. Would definitely recommend to anyone with a similar skin type! Cleans my face super well and helps with hydration.

love

Purchased 1 week ago and it is fantastic. Thank you the lovely staff that helped with my hydration issues

Amazing

I have only been using this product for 3 weeks and I am so happy to see such amazing results so quickly. I have very sensitive skin , so I am always cautious to try and use new products . But the ASAP range is fantastic . Also this pack is such a great option as a first try and would be so great for travelling.

Great Introduction to ASAP products

Great introduction to ASAP products. I've been using the products for 2 weeks now I have seen improvements in my skin tone, and smooth texture. My skin is sensitive and has mostly been fine however beginning to get a little dry. I'd probably get a hydrating moisturiser to use along side these products.
Perfect travel size.

Perfect sample pack

I loved this product. I was looking for a new skin care routine and have tried a few ASAP products. This pack was perfect to see what products worked. I loved the serums that came with it. Since using it for a week, my skin looks clearer and my pimple scars appear lighter. Would definitely recommend these products!

Great starter pack

I never had a skincare routine before buying this pack, I used to just cleanse my skin and that's all. This pack has made me realise that good serums and a good routine truly does work for your skin. I love the feeling of the R serum at night, only downfall is that the moisturiser feels pretty thick and leaves a white cast on my face, but that is a minor issue. I feel like it works great under mak...

Read More

Great value

Love the look of this pack. Seems like a great trial pack and travel size too. I really like when you can get a trial pack to just see how your skin goes with the products. I think this will be on my next purchase list for sure.

love them all

my beautician got me on to these products and I live by them now.

i live by them

my beautician got me on to these products and I live by them.

Disappointing

I bought this a few months ago to dip my toes into the world of serums and boy was I disappointed! Using all these products as directed my usually oily skin prone to blind pimples became incredibly dry and flaky. I ended up having to go back to my old skin care regime and reintroduce some of these products individually, it took quite some time for my skin to recover. The daily exfoliator should no...

Read More

Excellent Products

I have combination skin and had read some of the good reviews so I wanted to try this brand. I wasn't sure which product to buy so I purchased the starter pack. At first I thought my skin looked very oily and my pores were very visible especially on my forehead, however I read someone's review who said to wait a couple of weeks for skin to settle. After two weeks my skin did settle and the results...

Read More

Love

I bought this kit to try out this brand and fell in love with various products. A great way to try out a decent amount of product before buying full size

Best

Best face creams ever tried nearly every other face cream & serums & will be sticking to ASAP brand from now on

Great starter pack

I purchased this as a starter pack because I wasn't sure what serums would work best with my combination skin. I love that there are so many products to try and that they are a decent size to see if they make a difference. Great little kit

Such a great travel pack

This is my go to pack for anytime I travel. These are perfectly sized products, which I find last me around 5 weeks. I love all of the products except for the C serum. I am sure it is great by I am 26 and find it is not a product I need right now. The bag this come in is great too but it would be helpful if it was a little bit bigger, so you can fit other products in there too.

Some products are excellent

While I didn't like all of the products, for the price this was a great way to sample the asap range.
I have sensitive combination skin and found most of the products didn't suit me they were too drying and abrasive.
If I could choose, I would leave the cleanser, exfoliant and c and b and serums and keep the moisturiser, lip balm and rejuvenate serum.
The lip balm is beautiful t...

Read More

Great introduction to ASAP's range

This was the first ASAP purchase I made, and I have no regrets about it! Surprisingly my favorite products are the two cleansers, the sunscreen which is 50 spf!!! and the lip balm. These products also last a really long time! Like months! Definitely worth the price! As for the vitamin B, C and R, great products, but there needs to be a bit more clarification about when to use them, in what combina...

Read More

Great pack

This is a great pack for people being introduced to ASAP. Well recommended!

Fantastic Intro Pack!

I bought this in January when a beautician recommended the ASAP products to me. I love every product in it and am now an avid user of ASAP. My skin has never looked or felt better in my mid 40's. I will definitely purchase this pack again before I head on my next overseas holiday as they are the perfect travel size.

Mum loves it

I brought this as a gift for my mum and she has no complaints. She loves everything from this kit. So happy with it.

Great as a gift

I brought this for my mum for mothers day and she is absouelty OBSESSED! She has been raving about to me about this ever since she recived them! Such a great introduction without spending a fortune!

Surprisingly good, re ordered full sizes.

I have just re ordered both serums in full sizes. I noticed a difference straight away to my skin. I am 62 have wrinkles, sun damage, sensitive, combination, acne prone skin. Using the serums I had no bad reactions & noticed an immediate improvement in texture & sun colourings. The C does have a different feel to it but my skin does not react well to overly moisturising products. I was also surpri...

Read More

Addicted to asap!

I purchased this pack to take on an overseas holiday with me and it is an absolute dream! Loved every product, particularly the Radiance and B Serum. The pack lasted me for ages and kept my skin hydrated and blemish free (even when travelling on yucky, long flights!) for the whole of my trip. I have seen such a change in my skin and will be recommending asap to all my friends and family.

AMAZING!!!

I had only tried one mini product from asap and loved it so I thought I would give this pack a go. I honestly love all the products, I definitely see an improvement with my skin and I will definitely be buying the full size products when I run out! Great bundle!

Fantastic as a starter / introduction to ASAP brand

I purchased this pack based on the recommendation of my aesthetician to try this brand. As I had not tried ASAP skin care before, I thought this pack was a great option to begin with.

ASAP skin care has been a game changer - I have noticed a great improvement in the overall health and appearance of my skin.

My favourite product in this back is the radiance serum!
<...

Read More